Part of Malaysia is a peninsula, while the other part is on an island, so it isn't surprising that you need not go far to find seafood here. Join Chris Yip as he recounts his recent experience savouring the seafood delicacies at one of Tanjung Tualang's best seafood restaurants.
If you ever wanted to enjoy an unforgettably sumptuous and authentic Malaysian seafood experience, consider Tanjung Tualang! There are a number of quality seafood restaurants located in and around the small township – at last count, 13 of them!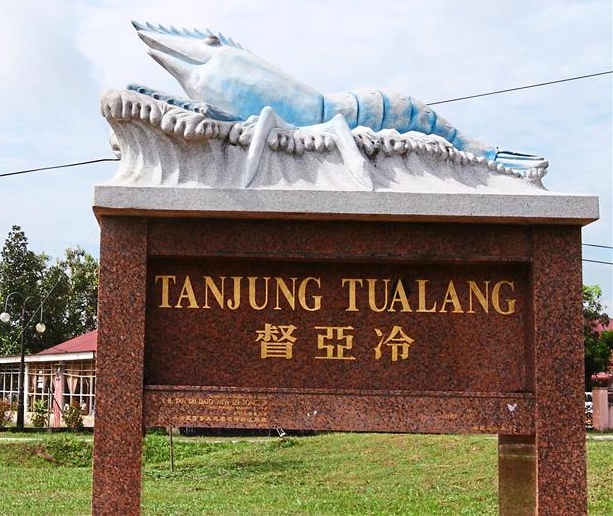 Tanjung Tualang became famous at the turn of the 19th century when it developed into an important centre for the emerging tin mining industry. However, the town actually got its name from a local native tree called tualang, and later, was further reinforced by a notable tin mining company in this area called Toh Allang Chinese Tin Limited.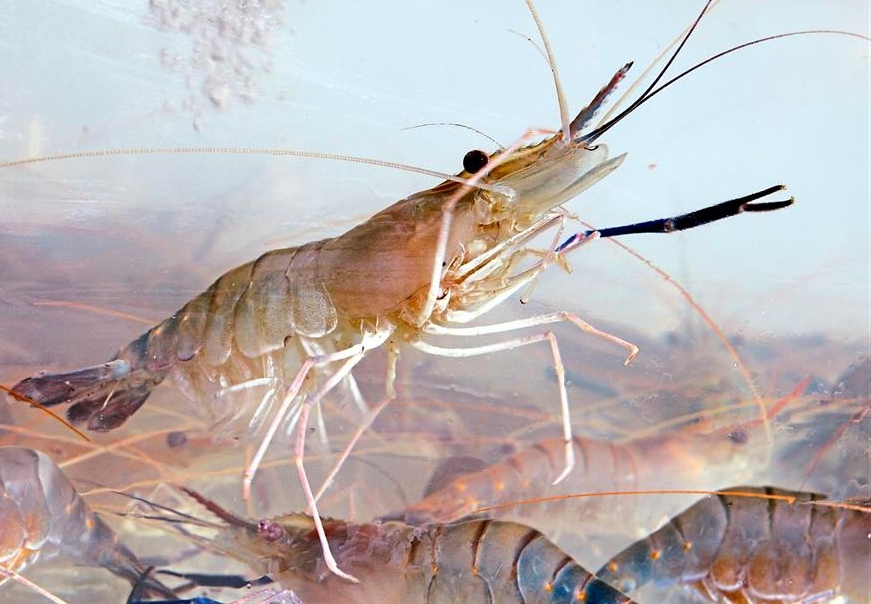 I had arrived in foodie-famous Ipoh one Tuesday night, fresh from a pleasant stay up at Fraser's Hill. The following morning, along with various family members from Ipoh in tow, I left bound for Tanjung Tualang. It was a pleasant drive along the North-South Highway, and we headed south and then later got off the highway at the Gopeng exit toll. We enjoyed the rural scenery as we drove along the trunk and rural roads, and passed through Batu Gajah, arriving some 27km further south at Tanjung Tualang just before noon.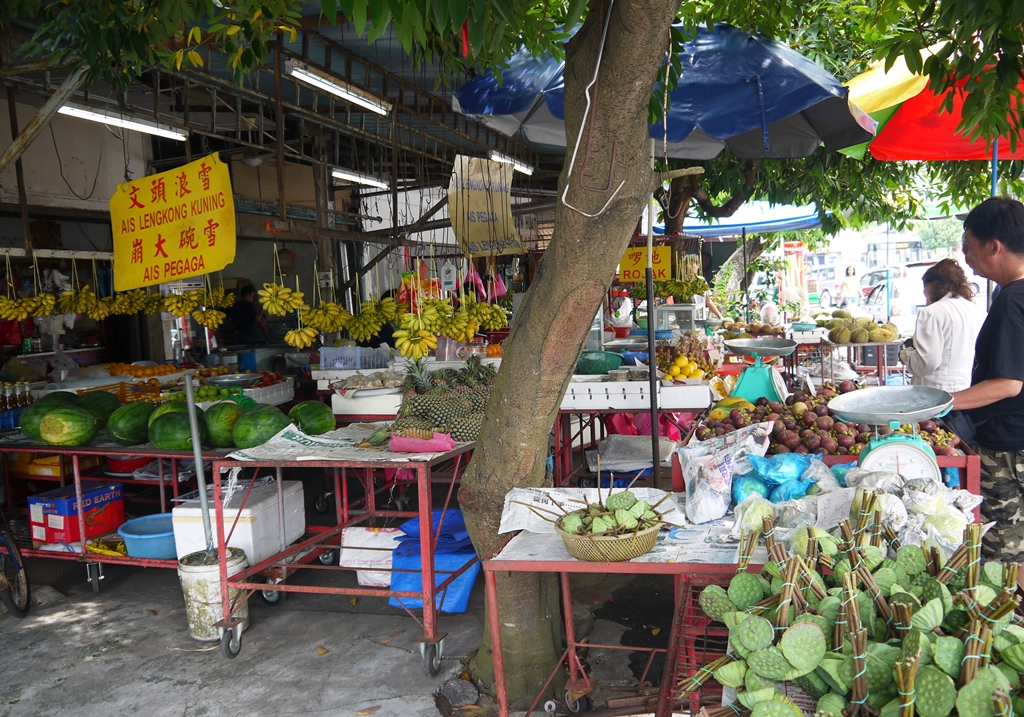 It was a quiet Wednesday in that small town, so we explored a bit. Tanjung Tualang is known for its udang galah, or large freshwater prawns – alternately referred to as crayfish or big head prawn – that are farmed here in dozens of disused mining ponds. These abandoned ponds are remnants of the golden era of the tin mining days of old, and now have been repurposed for the prawns. The huge species of river prawns originated in the wild, but in more recent decades, have been reared commercially in many of the numerous old mining pools found between Tanjung Tualang and Kampar, a small township to the east.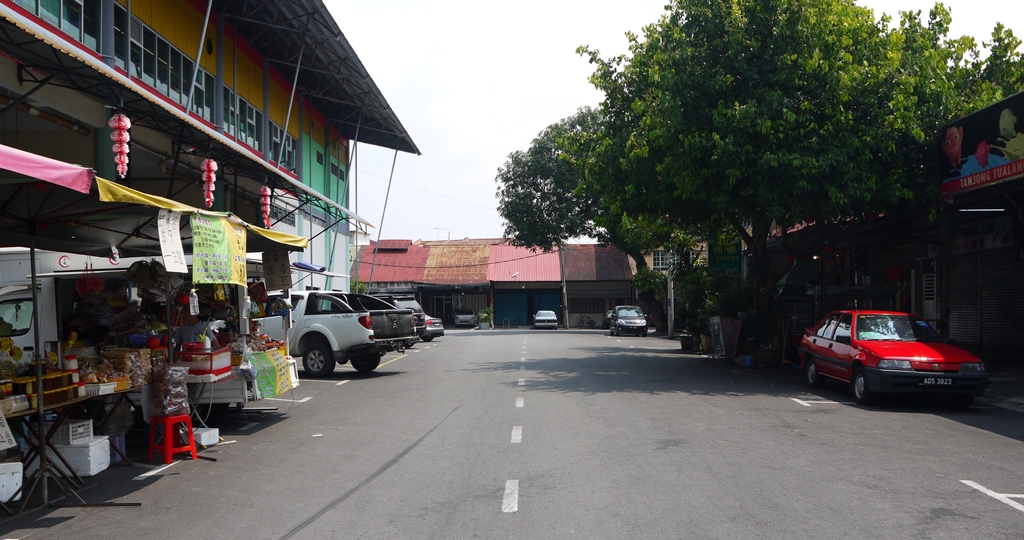 A small town of less than 10,000 souls, there's little to see and do here. In fact, many residents have to drive to Batu Gajah for some of their shopping, banking, and other needs. But for all that Tanjung Tualang might not have, one thing it definitely has is incredibly fresh seafood – most notably the huge freshwater prawns for which the small town has become known.
Not surprisingly, Tanjung Tualang is normally busier on weekends, when droves of hungry tourists and seafood lovers from other cities, states, and even other countries arrive by the busloads or in streams of cars. There are just around a dozen well-trafficked seafood restaurants, the majority being air-conditioned with a few non-air-conditioned ones. They are all concentrated within six small streets that intersect with each other in the centre of town.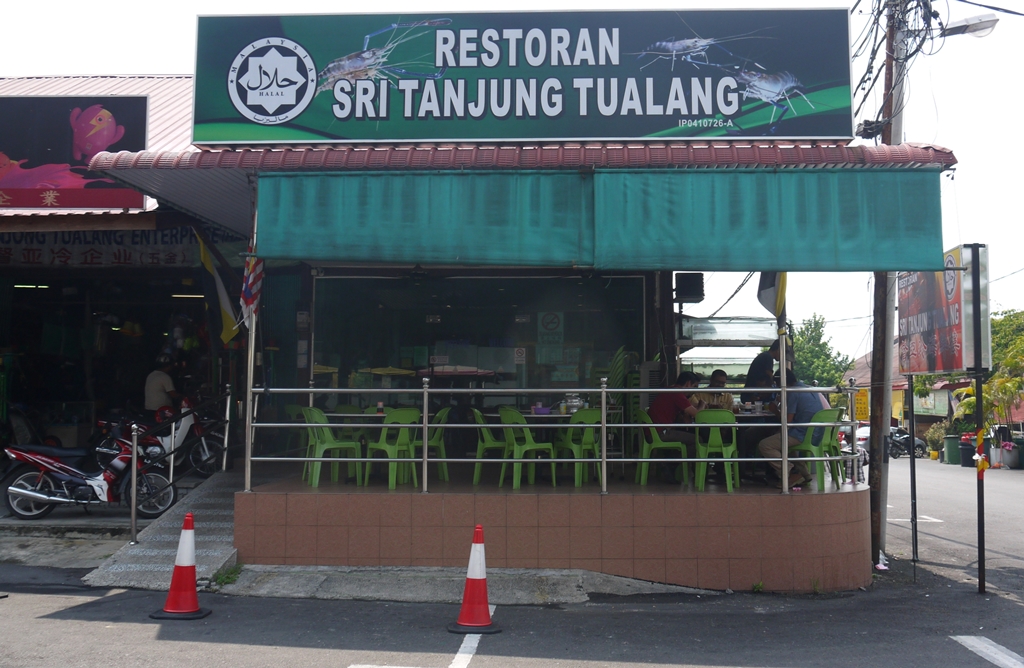 I had come to Tanjung Tualang once before a few years earlier and enjoyed the quintessential Chinese seafood offerings at Seafood Restaurant Yew Kei. This time, however, I wanted to try something different and chose Restoran Sri Tanjung Tualang to taste (and write about) its cuisine. At the end of the day, not only was I not disappointed… I was in fact extremely delighted with both their style of cooking and their hospitality!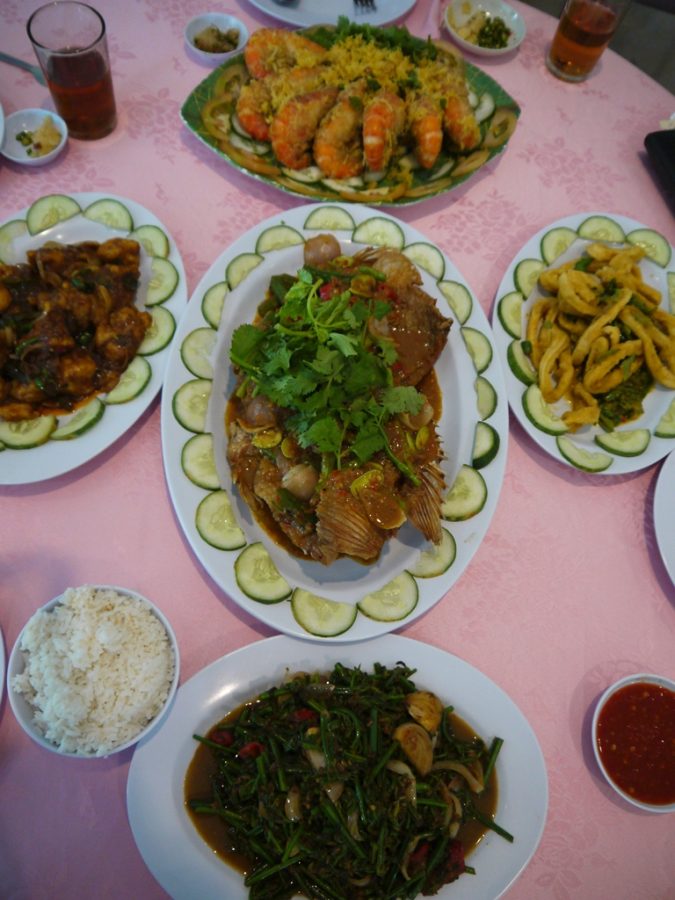 We were warmly welcomed into the luxurious-looking interior of the air-conditioned restaurant by its Chinese manager, Thomas, who arranged a lunch with his veteran Chinese chef who specially selected the dishes for us to experience. Trusting the chef is rarely a bad idea, and so it was here. Not knowing what would be served filled us with anticipation, and we waited eagerly for each delicacy to be brought to our table.
As each of the five mouthwatering dishes was served, all four of us exclaimed with delight. I had trouble holding myself back from diving straight into the feast even as I carefully took photos of each dish. Let me tell you, that demanded some serious willpower!
We enjoyed such treats as butter udang galah, deep-fried battered calamari, deep-fried tilapia. As if that weren't enough, a chicken dish and a plate of paku pakis (a Malaysian species of edible wild vegetable) also featured. After one final photo was taken of all five dishes (which were, surprisingly, still intact), we took a deep breath and went into a feeding frenzy!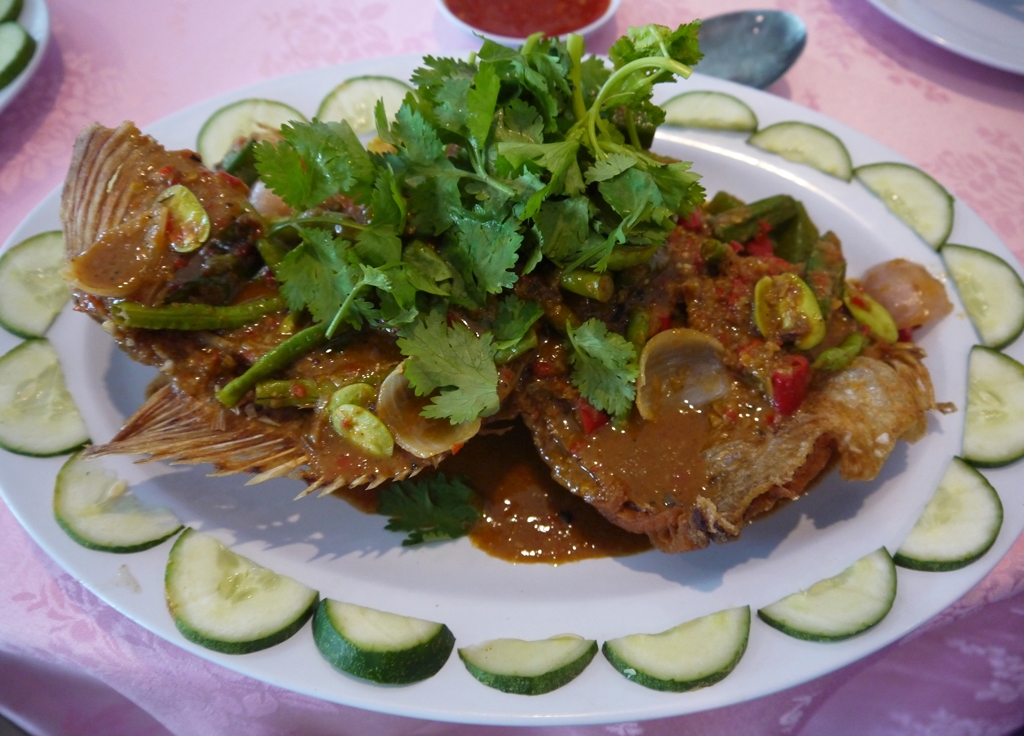 The first thing we noticed was that each of the five dishes tasted somehow different from the usual Chinese seafood fare. The attractively presented Butter Prawns had a gentle yet distinctive aroma, flavour, and cooking style. In a way, it was reminiscent of Malay cuisine, but combined with the usual Chinese ingredients of ginger and garlic, plus the buttery egg yolk strands.
The small fresh curry leaves garnishing the dish added to the look and taste while touches of turmeric, sambal belacan (made with chili and shrimp paste), and chopped lemongrass tickled our taste buds. We delighted in the succulent prawns that were juicy, boasting a natural sweetness. The huge prawns were springy in texture, indicating freshness and a 'just-right' cooking time. This is perhaps the main drawcard of Tanjung Tualang, revered as Perak's best place for freshwater prawns. You'll never go wrong ordering prawns at any of the seafood restaurants here!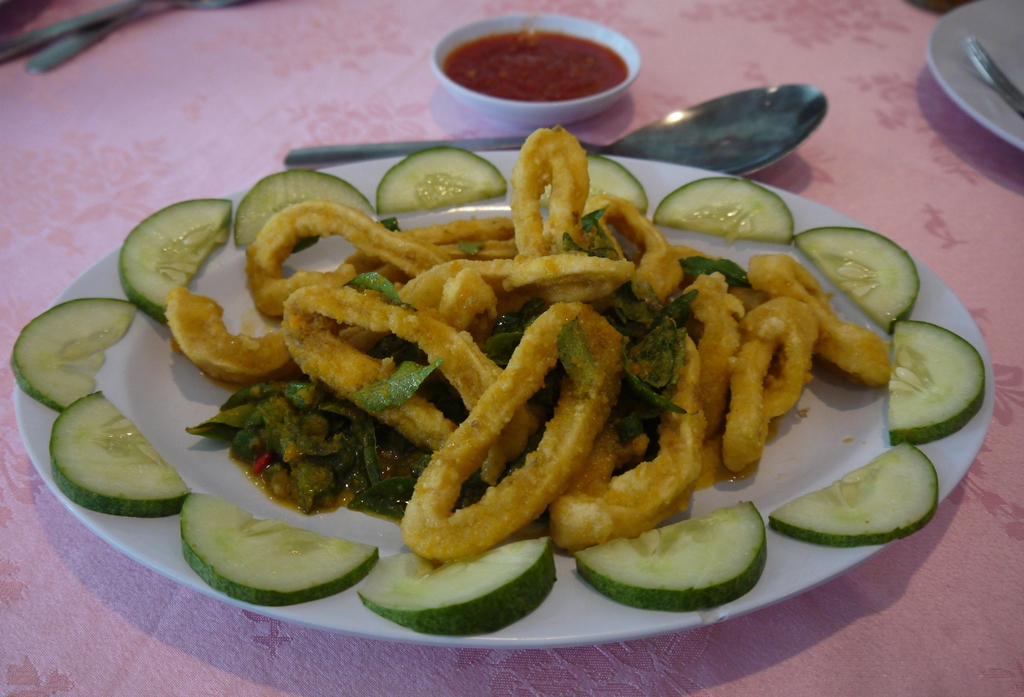 Despite the fame of the prawns, for our meal, the fish was no doubt the star attraction in terms of size, appearance, and presentation! The large tilapia, straight from the tank, was deep-fried and drenched in a special sauce. The taste was tangy and tantalizing, effortlessly balancing between strong and subtle. It was really spot-on, kudos to the chef!
As with most places here, the prices were reasonable – perhaps what you'd expect at a mid-market seafood restaurant in most Malaysian cities. Even better, despite the moderate prices, the food and service was definitely 5-star, and truly, Restoran Sri Tanjung Tualang earns a favoured place among the host of seafood restaurants in Tanjung Tualang. I had wanted to try something different, and that's exactly what we found! Overall, we felt the meal was superb, with each dish deliciously sumptuous and memorable. Clearly, we enjoyed our seafood soujourn to Tanjung Tualang.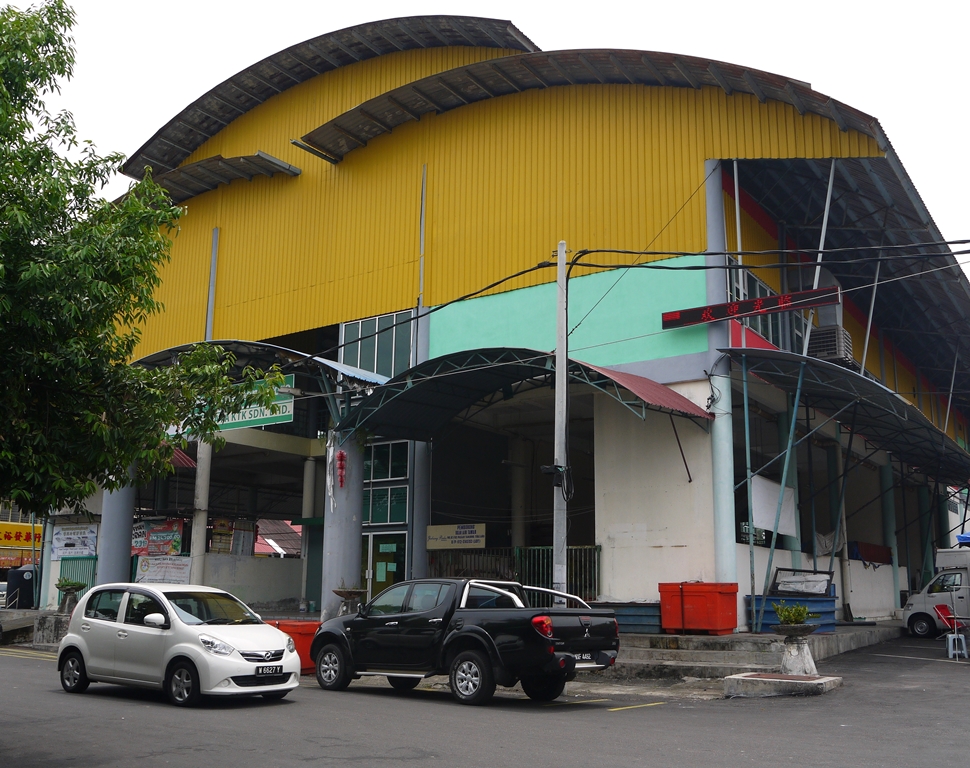 After leaving the restaurant, we walked around the streets for a short while and bought some homemade sachima or Sark Keh Ma (fluffy rice flakes, battered and fried, and sweetened with syrup), a sweet Chinese delicacy originating from northeast China. There were many other treats sold at the various stalls lining the streets, most at prices lower by 30% or more than those in other towns and cities. After our exploring, we finally left Tanjung Tualang to return to Ipoh, very satisfied with our seafood lunch… at least until hunger pangs and thoughts of Tanjung Tualang's seafood restaurants come to mind again!
---
"ExpatGo welcomes and encourages comments, input, and divergent opinions. However, we kindly request that you use suitable language in your comments, and refrain from any sort of personal attack, hate speech, or disparaging rhetoric. Comments not in line with this are subject to removal from the site. "
Comments