Last weekend, the Royal Malaysia Police (PDRM) announced a warning banning cycling on highways and high-traffic roads. Those found guilty would receive a fine of at least RM300 or a maximum of RM2,000 and/or three months jail.
While seemingly unprompted, this prohibition aims to tackle a longstanding concern of road users in Malaysia. You don't have to be a seasoned motorist to know that local drivers are proficiently errant when it comes to vehicular usage, and the country's reputation when it comes to the number of annual traffic accidents is quite infamous.
This latest attempt on improving road safety follows a bout of affected motorists who took to sharing videos of their encounters with bad cyclists. Recklessly switching lanes and haphazardly decreasing speeds, this whole group of cyclists were putting other road users in danger in attempts to avoid collisions.
An existing law
From an enforcement perspective, there are specific laws regarding this situation, that is the Section 79(2) act of traffic ignorance. Cycling on highways and busy roads exposes these cyclists and other road users to safety risks.

Director of the Department of Traffic Investigation and Enforcement (JSPT) DCP Dato' Azisman Alias
With such a specific clause found in the Akta Pengangkutan Jalan 1987 (Road Transportation Act 1987), signages barring bicycles, trishaws, and other slow-moving vehicles can already be found at every toll plaza on expressways and other highways.
Heated debates within the cycling community soon ensued, with seasoned cyclists trying to outline compliant routes for cross-country journeys and triathlete training, and others voicing out disdain for new, inexperienced hobbyists hijacking and sullying the community's reputation.
In response, PDRM stood by their statement, stressing that cyclists, leisure riders and otherwise, had to comply with these existing safety laws.
They should cycle at suitable locations. In fact, along busy roads, the exhaust fumes from other vehicles might even jeopardise their health.

DCP Dato' Azisman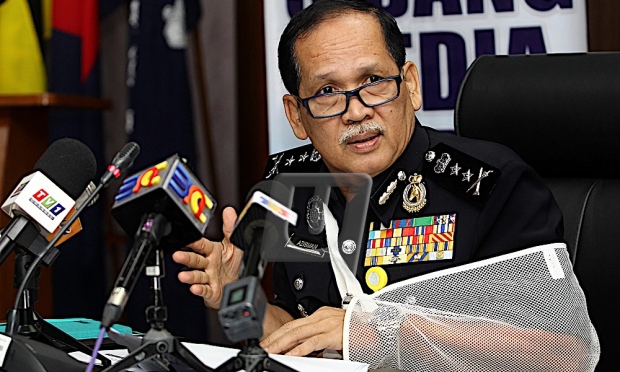 Additionally, the Malaysian Institute of Road Safety (MIROS), proposed licensing bicycles like motorcycles were to ensure their status as vehicles for public roads.
Though in good nature, notable cycling groups, such as a longtime Penang G Cyclist Group, and current Youth and Sports Minister Datuk Seri Reezal Merican Naina Merican objected. Licensing costs additional money, and bicycles are the most affordable mode of transport for many in low-income groups. Adding this step into owning a bicycle would be more of a hassle than helpful.
A possible solution?
In the comment thread following this Malaysiakini article on the matter, many concerned citizens raised questions on existing legislation and infrastructure, noting that most efforts were lackluster to begin with. The threat of jailing offenders, conversely, is also too harsh a stance.
Some offered examples of other cities successfully implementing cyclist-friendly infrastructure such as highlighted below.
Hellooo malaysia. This is what we should do instead of simply being mad at cyclists simply for demanding more rights https://t.co/UJVi8iXb9g

— Nabil Ersyad (@NabilErsyad) September 20, 2020
Other angles of worry were also raised. A Twitter user pointed out that most of the recent cycling news centered on cyclists who could afford bicycles that were road-hardy, along with aerodynamic gear. Many in the videos also seemed to consist of the athletic group, a costly pursuit in Malaysia.
Hate how the narrative of cyclists covered by media in Malaysia is always the safety and issues of the rich decked out in gear for their expensive weekend hobbies, and not about kids who need to cycle to local playgrounds, school safely or a form of eco-friendly local transport pic.twitter.com/VbURX7Zd3I

— Khairil Yusof (@kaerumy) September 20, 2020
Children, for the most part, are confined to residential and low-traffic areas. But it is also important to note that continuous construction and reckless driving of car owners redirected away from major sites can also turn a low-traffic area into a high one.
The issue of fines and jail time would affect the factory workers and security personnel most. A large percentage of them use bicycles to get around and often have workplaces far from residence dormitories such as industrial areas, typically a heavy-traffic area.
It is evident that more is needed in the awareness and education of the public on road laws and usage, as blatant disregard is clearly to blame here. The actions of a few have threatened so many, and trying to put an end to such behaviour with stringent penalties isn't wholly effective in the long run. In the end, parties on both sides would be well-served by trying to see it from the other party's perspective!



" ExpatGo welcomes and encourages comments, input, and divergent opinions. However, we kindly request that you use suitable language in your comments, and refrain from any sort of personal attack, hate speech, or disparaging rhetoric. Comments not in line with this are subject to removal from the site. "



Comments