When considered in context – and for the country as a whole – there is reason for concern and vigilance, but the situation in Malaysia is not especially alarming.
The absolute number of daily new Covid-19 cases in Malaysia is not in itself that huge, but the trends of late are certainly cause for concern. After many weeks of new cases running at or below 30 a day, most people likely felt reasonably safe and believed that the risk of contracting the disease was small.
Then towards the end of September, the daily cases shot into triple digits, which was a 200% jump and resulted in worried comments and general wariness. Then this month, cases suddenly started rising considerably to an unprecedented (for Malaysia) level, reaching 691 cases on October 6th, a record for Malaysia, and more than double the worst numbers previously seen when the country first went into lockdown.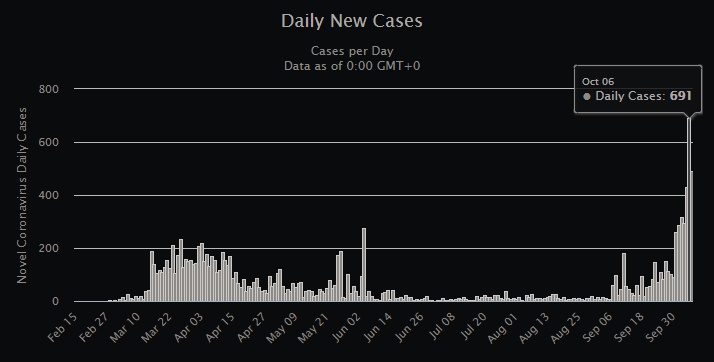 However, the government seems determined to avoid another lockdown, which makes sense given the damage it does to the economy and to people's psyches. Another reason may be the fact the growth is not widespread and the increase around Greater KL, the country's main population centre, is not that significant.
We did a simple analysis by state and compared the number of cases each state had six weeks ago (September 1st) and what they had six weeks later. It soon became clear that the vast majority of cases came from two states, Kedah and Sabah.
SABAH
KEDAH
KUALA
LUMPUR
SELANGOR
ALL
OTHERS
TOTAL
Sept 1st
426
218
2,590
2,175
3,946
9,355
Oct 6th
2,738
1,447
2,707
2,451
4,161
13,504
Increase
2,312
1,229
117
276
215
4,149
The six-week increase in new cases in the Greater KL area has been a fraction of the increase in Sabah and Kedah states
The table shows quite plainly that KL and Selangor have had only a few cases in recent weeks despite the large number of residents. It is noteworthy that excluding the four states which have had the most number of cases this year, the other nine states have seen relatively small increases.
The outbreak in Sabah was made much worse by the recent local elections and thousands of people travelling around the state. In fact, a number of government employees came back to West Malaysia infected with the disease, including the Religious Affairs Minister. The large jump in Kedah can largely be attributed to the virus in a prison there where crowded conditions enable it to spread quickly.
Penang, which is a favoured location for many resident expats and of course a very popular domestic travel destination, has only had 152 recorded cases since the outbreak first arrived.
Malaysia has admittedly not carried out an impressive number of Covid-19 tests; in terms of tests per 1,000 population, it is actually quite low. Singapore, which has one-sixth the population of Malaysia, has done nearly twice as many tests as this country. However, with only 141 deaths attributed to the disease, Malaysia has performed well given its population, and in this regard, the deaths per million population – somewhere between four and five – are essentially level with Singapore, which has recorded just 27 fatalities, the most recent of which occurred all the way back on July 14th.
In response to the recent uptick in cases, with effect from October 9th, four "red zone" areas in Malaysia are being put on a focused lockdown, alternately called TEMCO (Targeted Enhanced Movement Control Order) or CMCO (Conditional Movement Control Order), depending on the source. The exercise will last for 14 days in a bid to improve contact tracing efforts in these affected areas. Three are in the state of Sabah, while one, Klang, is in Selangor. These efforts, along with stricter enforcement of current SOPs, are what is expected to be the path of defence, rather than another nationwide MCO.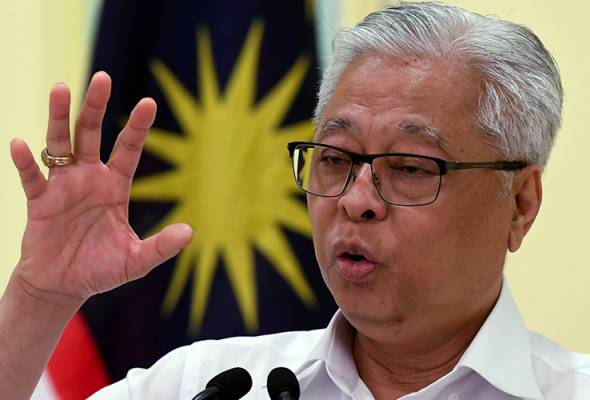 While there is certainly a reason to pay heed to Malaysia's surge in cases, it's also important to put it in the proper context. The robust healthcare system in the country is more than capable of handling the current numbers. Now the goal is to keep the spread contained as much as possible, ensuring that 'the curve' (which represents new daily cases) is manageable by the healthcare system.
So for most of us, it just means continued vigilance: wearing a face mask at all times in public areas, washing our hands regularly, avoiding crowds and social distancing as much as possible, and importantly, not behaving as though everything is back to normal now. As countries around the world are now finding, that is unfortunately not the case at all. The coronavirus is a persistent and insidious microbe, and it's likely to be many more months before we'll be able to say that it's fully behind us.



" ExpatGo welcomes and encourages comments, input, and divergent opinions. However, we kindly request that you use suitable language in your comments, and refrain from any sort of personal attack, hate speech, or disparaging rhetoric. Comments not in line with this are subject to removal from the site. "



Comments