August and September of this unbelievably eventful year saw a hesitant but pride-filled Merdeka and Malaysia Day combo celebration. The whole nation united over what was a successful effort to flatten the infection curve of a global pandemic, and much hope was to be had after a strict period of social distancing and the Movement Control Order.
For fashion designer Pavithra Varathan, this year's Merdeka-cum-Malaysia Day was an opportunity to touch on a number of topics with her Kanjivaram silk saree brand ZOBHA.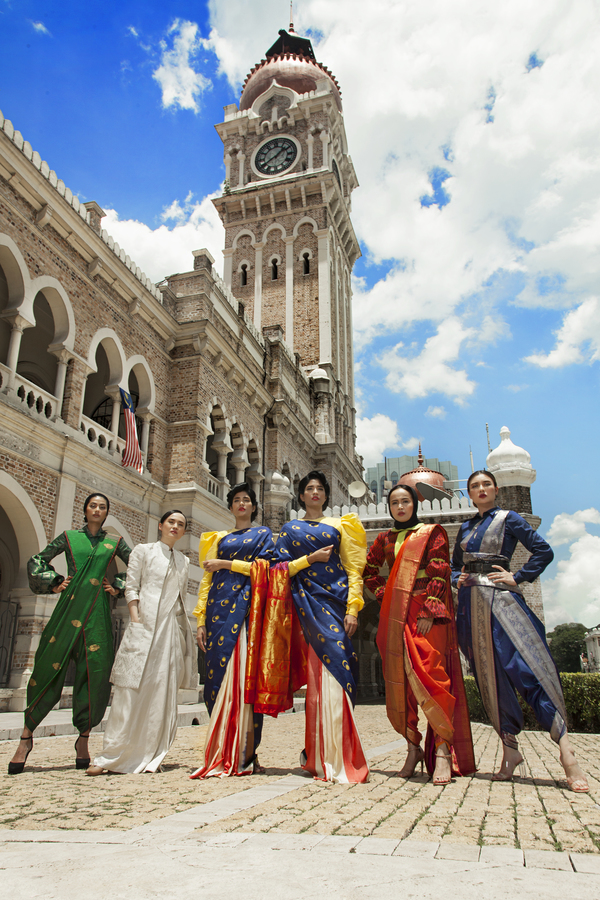 The 63rd National Day celebrating independence and unity was highlighted with a special curation of twin masterpieces emblazoned with national symbols. This unique creation was further commemorated with Malaysian models and Merdeka-born twins Thanuja and Anuja Ananthan showcasing the garments at an exclusive shoot at the Sultan Abdul Samad Building.
Representing the Jalur Gemilang, Malaysia's national flag, the Kanjivaram sarees were specifically made to embody the fourteen stripes of equal width, representing the thirteen states and the federal territories that shape the nation. Woven as part of the saree too was a royal bold blue associated with unity, serving as the backdrop to gold crescent moons and stars, the identity of royalty and the entities that govern the nation.
A signature of the Kanjivaram saree, the pallu/mudhani (decorative trim) at the ends of the cloth were embellished with designs of Malaysia's Bapa Kemerdekaan (Father of Independence) Tunku Abdul Rahman, as well as a fascinating detail of Malaysia's architectural achievements in a skyline spread.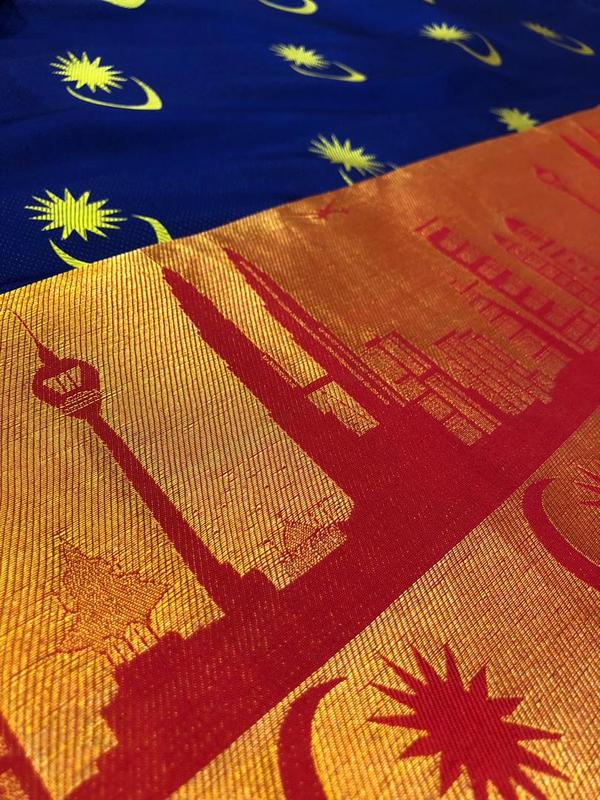 The Kanjivaram saree
Predecessor beliefs in ancient Sanskrit records noted the saree is a four-and-a-half to eight meters-long unstitched cloth draped into a manner forming a lower garment, chest band, and head or shoulder covering.
Since the 6th century B.C.E, many tactful pleating methods have continuously shaped and evolved across the Hindu kingdoms. As one of the world's oldest garments at 5,000 years of history, many women across South Asia, from politicians to farmers, continue to wear the saree on a daily basis and for all occasions.
For Kanjivaram sarees, an intricate process begins with the harvesting of mulberry silk. The word 'Kanji' refers to the region of Kanchipuram in the South of India where the sarees are woven, and 'Varam' translates into boon. Threads of silk are immersed in rice water and sun-dried before weaving to increase tensile strength and stiffness.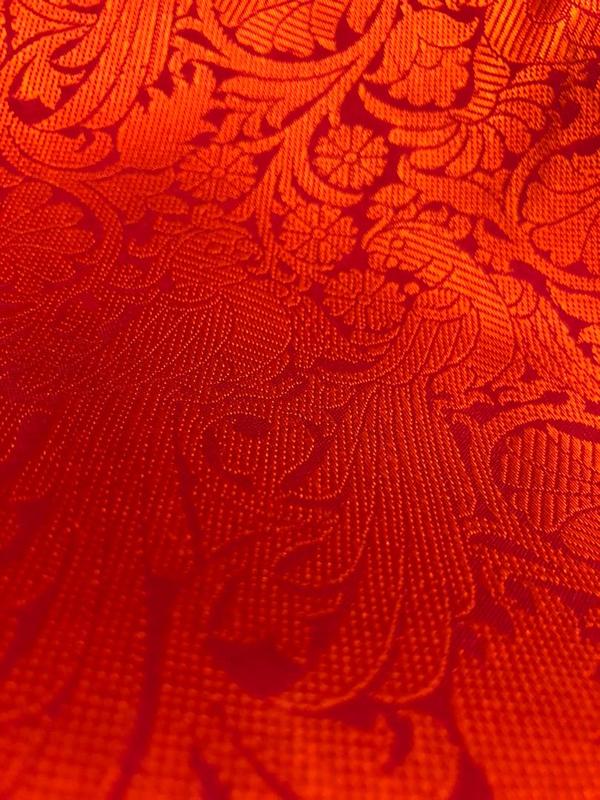 Utilising a tari (a vintage weaving loom), an authentic and classically beautiful 49-inch Kanjivaram saree is made in an average of twelve days. The pallu and the body of the saree are generally created separately, and interlocked with such neat precision that even if the saree is damaged, the border will not detach. This is the speciality of the Kanchipuram weavers, a technique so distinctive that no other region can replicate it.
When asked if such talent could be brought to Malaysia to encourage local production, Pavithra noted that logistics of a singular loom could cost at least RM6,000 – RM7,000; and that about 30 looms are needed for her level of production. Her envisioning for ZOBHA to be a custom Kanjivaram saree supplier to Malaysia thus has to be curated remotely, and her designs sent to her 27-strong team of authentic Kanchipuram-native weavers.
Pavithra's mission
Alongside the Merdeka specials, custom outfits using Kanjivaram silk were also curated in honour of Malaysia's front-liners. National uniforms of the Malaysian Police Force, the Malaysian Medical Force, Firefighters, and the Malaysian Military inspired the design of these outfits modelled by notable fellow Malaysian female entrepreneurs. With tailored blouses designed by Trihamsa, textiles such as the songket and brocade added to the silk display, and highlighted the unity of the multicultural nation.
The collection is to be donated to the National Art Gallery or the National Museum to share the stories of unity and strength of Malaysia in facing the next decade together.
"To be called Malaysian is to help each other during times of distress and I believe as a nation we must stand together to battle this pandemic."
Pavithra Varathan, founder and designer of ZOBHA
Unfortunately, in the midst of these celebrations of identity and culture, a controversy erupted on social media, one Pavithra was compelled to also respond to with the curation of her pieces.
Local actress Mira Filzah drew criticism from the local Indian community on social media as she posed in full traditional Indian wear, complete with facial accessories fit for a bridal ensemble to promote her latest line of coloured contact lenses. Lip-synching to a song from one of Bollywood's famous epics, Devdas, Mira soon trended under accusations of culturally appropriating one of Malaysia's marginalised communities.
While she defended herself with reasoning that Bollywood culture was a big part of her life like most Malaysians, others retaliated against her reasoning for using the culture for personal profit in a media landscape that has not been inclusive, and ignores any kind of real representation for Indians.
Pavithra, understanding the perspective of an industry player, stressed that an understanding of what is being communicated to the public is a must. A consideration of culture, gestures, appropriation, appreciation, and respect must be kept in mind. Malaysia, being a country famous for multiculturalism, isn't without mistakes, but only through addressing and educating the ignorant can we progress forward as one nation united with respect.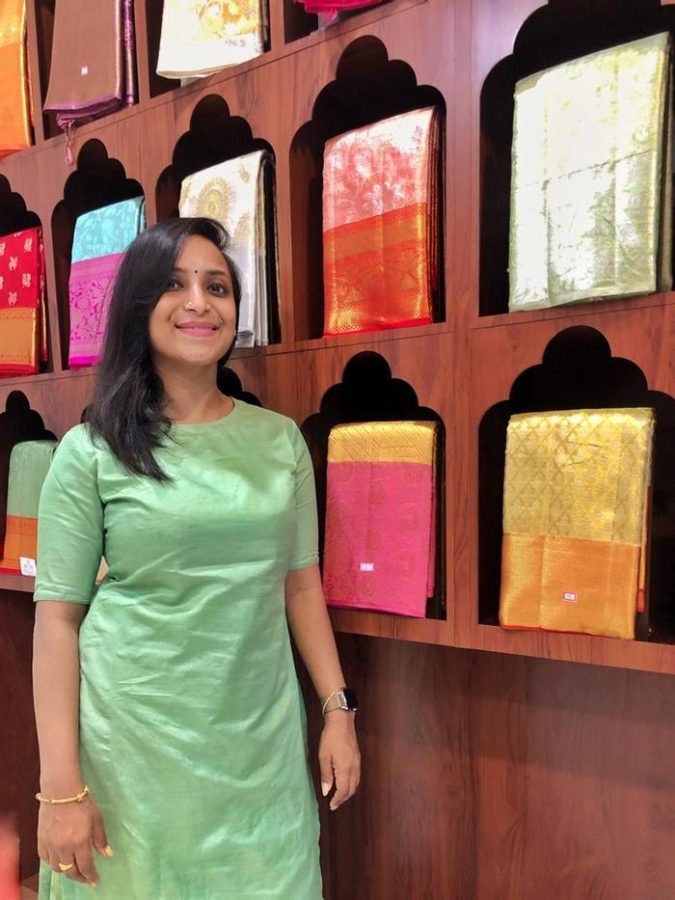 She fondly recalls a time going to school in Baju Melayu and cheongsams for Merdeka celebrations, and meeting friends of other cultures also swapping traditional wear as a sign of embracing and appreciating the various cultures of Malaysia. Through the ZOBHA Merdeka campaign, Pavitra hopes to continue this spirit of inspiring people to embrace cultural legacies and local history, with a special touch on ancient artistry.
To view more of the ZOBHA collection and to purchase a custom Kanjivaram saree of your own, visit their store at 12, Jalan Tun H S Lee, City Centre, 50100 Kuala Lumpur; or on Instagram (@kancheevaram_weaves_by_zobha) and Facebook (@kancheevarambyzobha).
---
"ExpatGo welcomes and encourages comments, input, and divergent opinions. However, we kindly request that you use suitable language in your comments, and refrain from any sort of personal attack, hate speech, or disparaging rhetoric. Comments not in line with this are subject to removal from the site. "
Comments