"Welcome back, America!" tweeted Paris mayor Anne Hidalgo.
Exhausted by four long years of lies, bullying, and a transactional, inconsistent, and frequently inept approach to foreign policy, global allies and innumerable people around the world were grateful and relieved to learn that US President Trump has been denied a second term, losing to former Vice President Joe Biden. The projected win was called by all major news outlets after a tense week of vote-counting. Biden has now secured the necessary electoral votes to become the 46th president of the United States on January 20, 2021.
Though the Democrat's victory wasn't the landslide many observers had hoped for, the electoral vote count will quite likely settle in Biden's favour at 306-232 (270 votes are needed to win), and it's worth noting that Trump did lose the popular vote decisively. Once all the votes are counted and certified, Biden is expected to have earned somewhere between 4.5 and 6 million more votes than Trump, and will make history for earning the most votes of any presidential candidate in US history, a record previously held by President Obama. Biden also looks likely to win in the typically Republican-leaning states of Arizona and Georgia.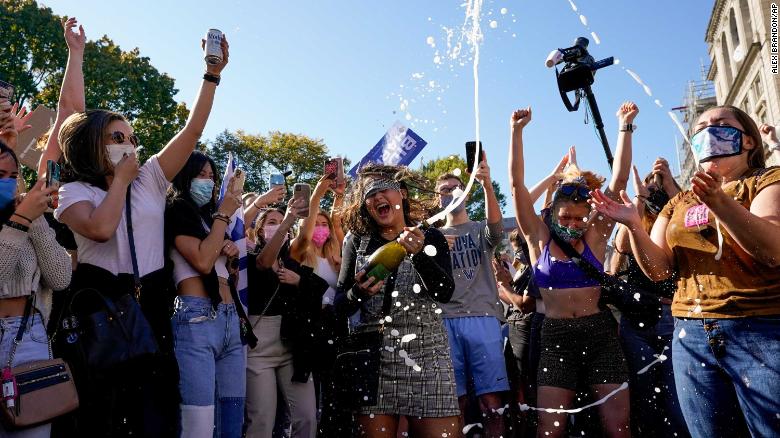 Also worth noting is that in the US, defeating an incumbent president is extremely difficult and quite rare, as well. Trump becomes the first sitting US president to be denied a second term in nearly 30 years. As an impeached president who was defeated in his bid for reelection, a number of political observers have opined that Trump has become what he most fears: a loser. (Rather humorously, some wise guy has redirected the URL for www.loser.com to go to Donald Trump's Wikipedia page.)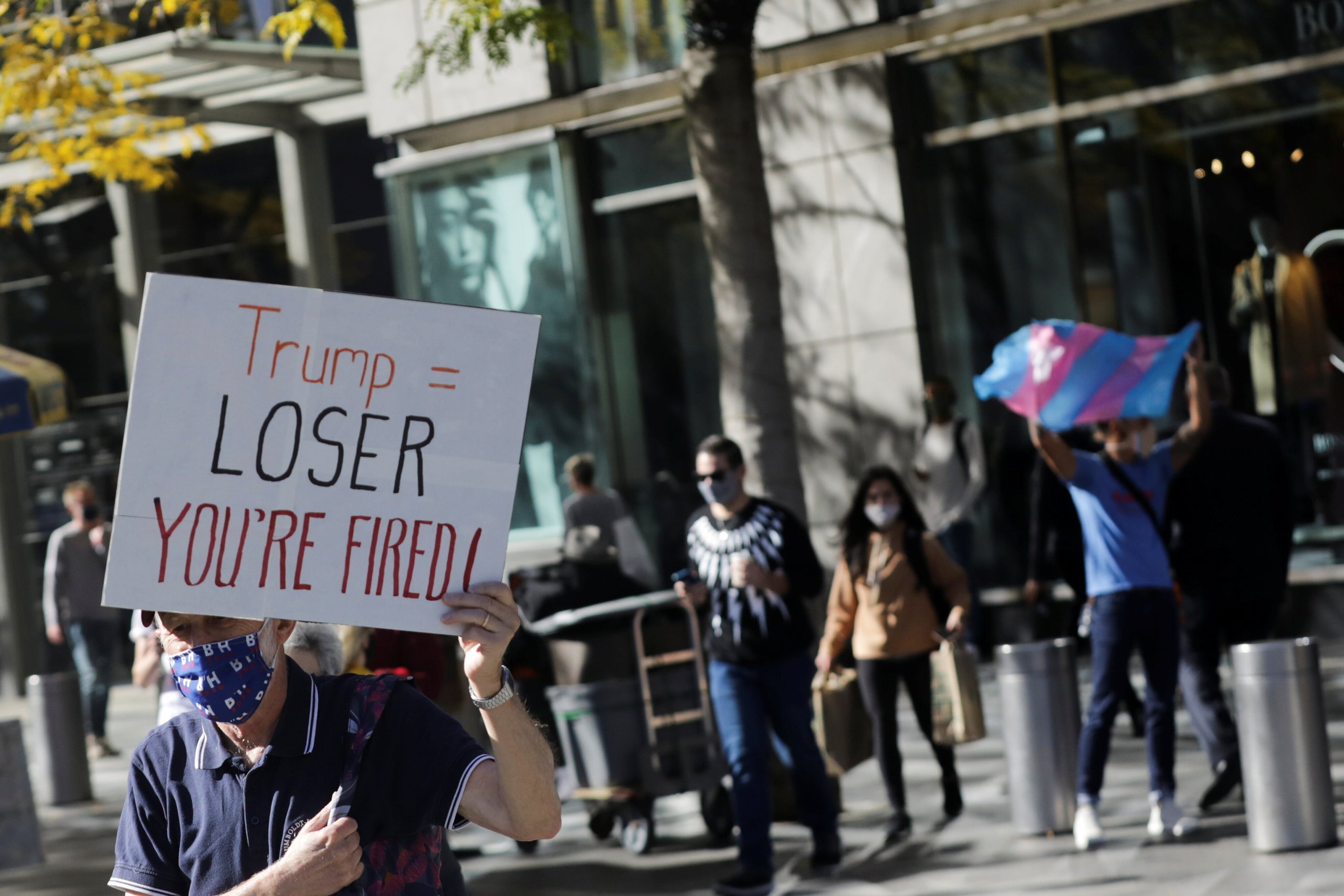 Fireworks lit up the skies over London and throngs of people cheered in the streets as news of Biden's victory broke. Mayor Sadiq Khan, who has had a number of public spats with Trump, took to social media to congratulate Biden on the win, saying that it was "time to get back to building bridges, not walls."
Somewhat initially lost amid all the high drama and tension of the last few days is the fact that Biden's running mate, Kamala Harris, now takes her place in history as America's first woman and first woman of colour to be elected vice-president. Harris is both Black and Asian-American.
Even Trump ally Boris Johnson, the UK's Prime Minister, congratulated Biden and Harris, noting in particular the historic nature of Harris's election, and adding, "The US is our most important ally and I look forward to working closely together on our shared concerns, from climate change to trade and security."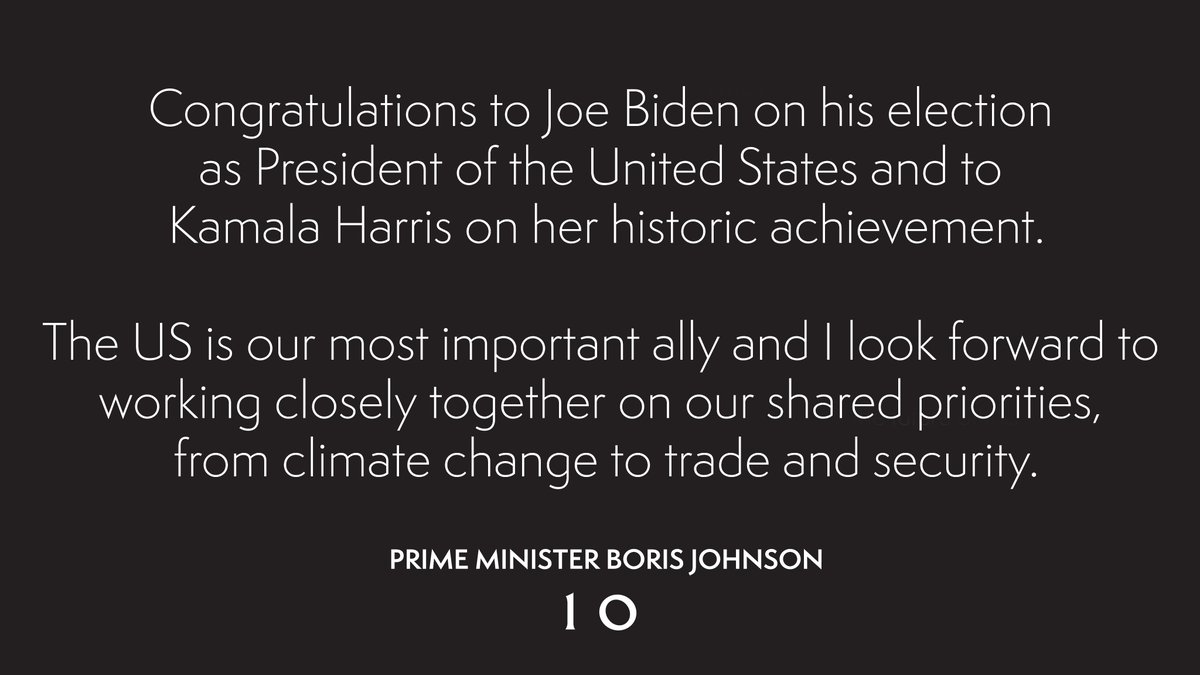 Scottish First Minister Nicola Sturgeon lauded Vice President-elect Harris, saying, "The first woman in the White House — and the first woman of colour, too. This is a big and special moment."
Elsewhere around the world, from Canada to India, leaders and lawmakers congratulated Biden and Harris, with several expressing that they were ready to move on from the Trump era.
Here in Malaysia, Prime Minister Muhyiddin chimed in with a statement of congratulations, adding, "Malaysia has closely followed the electoral process in the US, with much anticipation. American voters have decided decisively to endorse Mr Biden as the 46th President of the United States for his leadership and vision."
During the four years of Donald Trump's presidency, America's reputation and international image plunged dramatically. A survey from the respected Pew Research Centre, released in September of this year, showed the lowest percentages of people abroad who viewed the US favourably in Pew's two decades of surveys on this point. But in the face of Trump's years-long assault on decency and democracy, tens of millions of Americans have risen up and loudly declared that US democracy will not perish.
To no one's surprise, of course, Trump is not taking the loss gracefully, or indeed even accepting the results of the election at all. He was, as he has been for much of his time in office, on the golf course when he was given the news that he lost the election. To say he didn't take it well is an understatement. He fired off a series of tweets — his preferred method of communication — saving the most petulant, rage-filled messages for when he returned to the White House.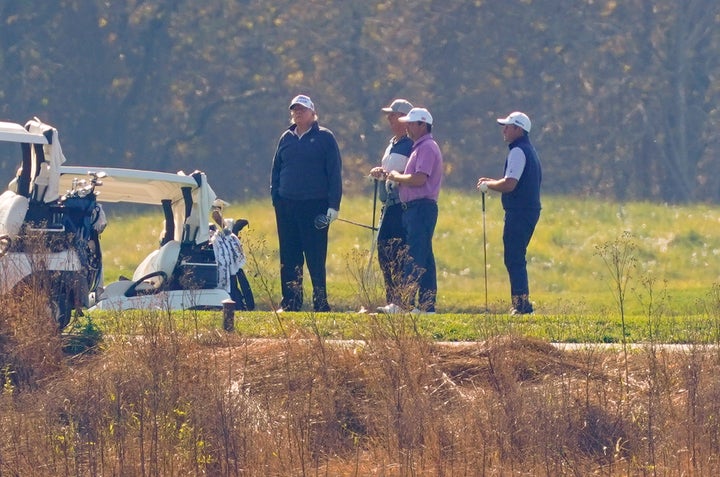 "I WON THE ELECTION!" he cried in a blundering, all-caps tweet (immediately flagged by Twitter) that he used once again to denigrate American democracy and falsely suggest that all his votes were legal, while many for his opponent were illegal and fraudulent. He also reiterated his unsubstantiated claims that mail-in balloting was rife with fraud, which is simply not at all true. Mail-in voting has been practiced successfully in the US dating back to the Civil War era, and multiple studies and investigations have all found there is no widespread or systemic fraud in any form of voting in federal elections. Mail-in voting is secure, legal, and legitimate.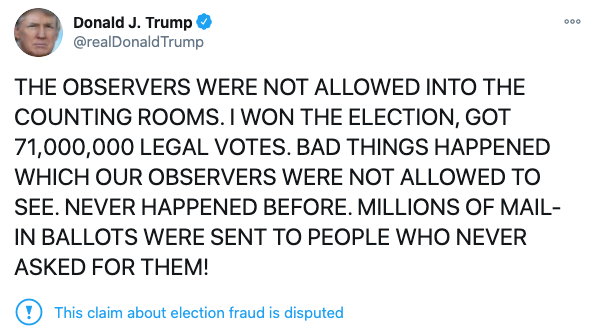 Trump will no doubt continue flailing wildly and grasping at straws as he denies reality and refuses to concede the election. The only question is for how long. Already, some of his allies and even his aides are reportedly seeing the writing on the wall and know that it's over. So far, Trump's legal efforts have proved completely ineffective, as his ragtag team of lawyers file lawsuits in multiple states. Some have already been rejected or dismissed outright as baseless. It is exceedingly unlikely that any court decision, even if in Trump's favour, would change the outcome of the election and overturn the will of the American people.
Whether he accepts it or not, Donald Trump's tenancy in the White House will come to an end very soon. The next 10 weeks could be a dangerous time if he decides to create as much drama and chaos as possible before his term ends. Conversely, he may go out with a whimper and we could see a relatively benign transition to a Biden presidency. It remains very unclear which path Trump will choose.
Americans have made their decision, however, and they have clearly said to Donald Trump: "You're fired!"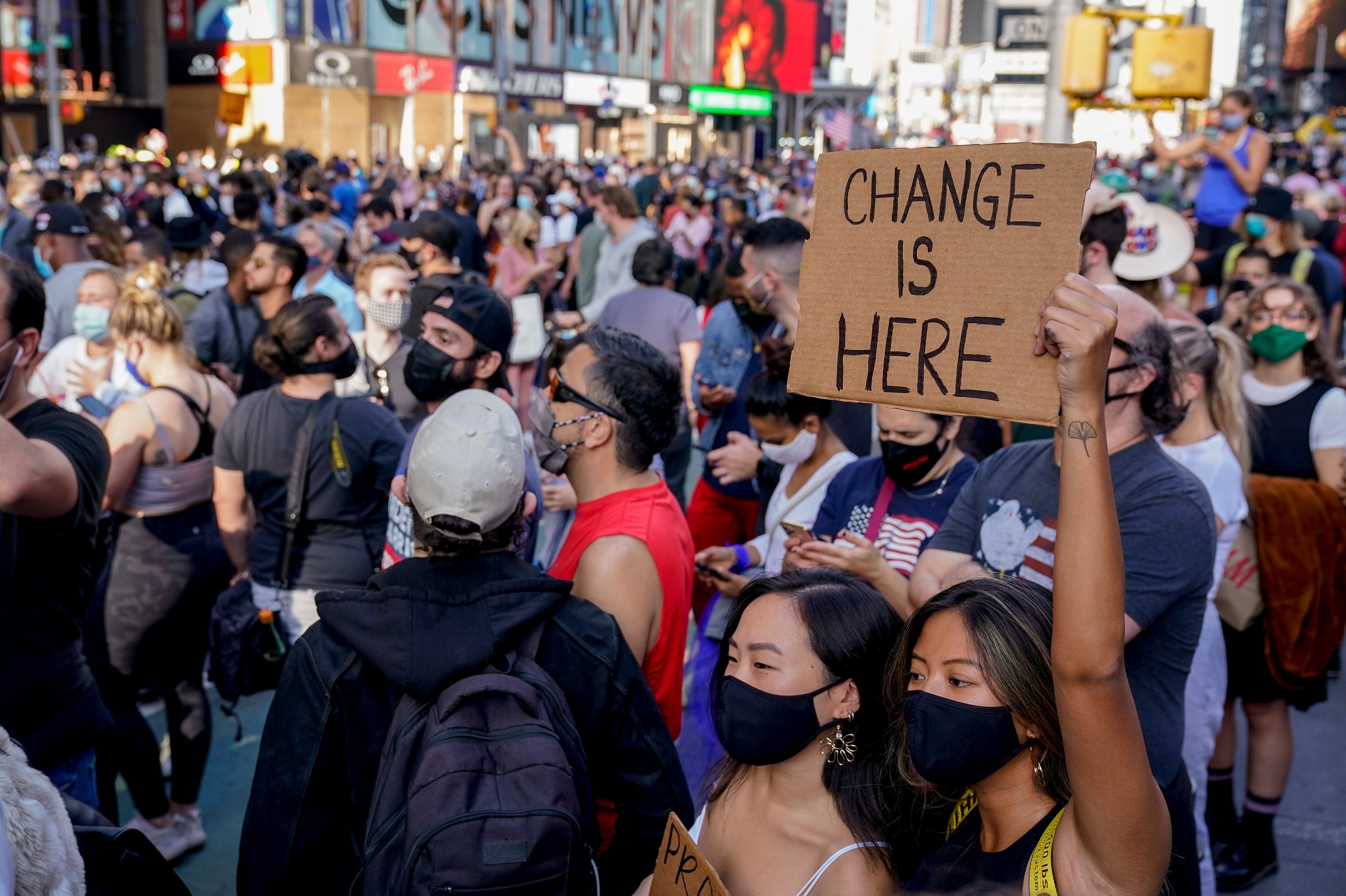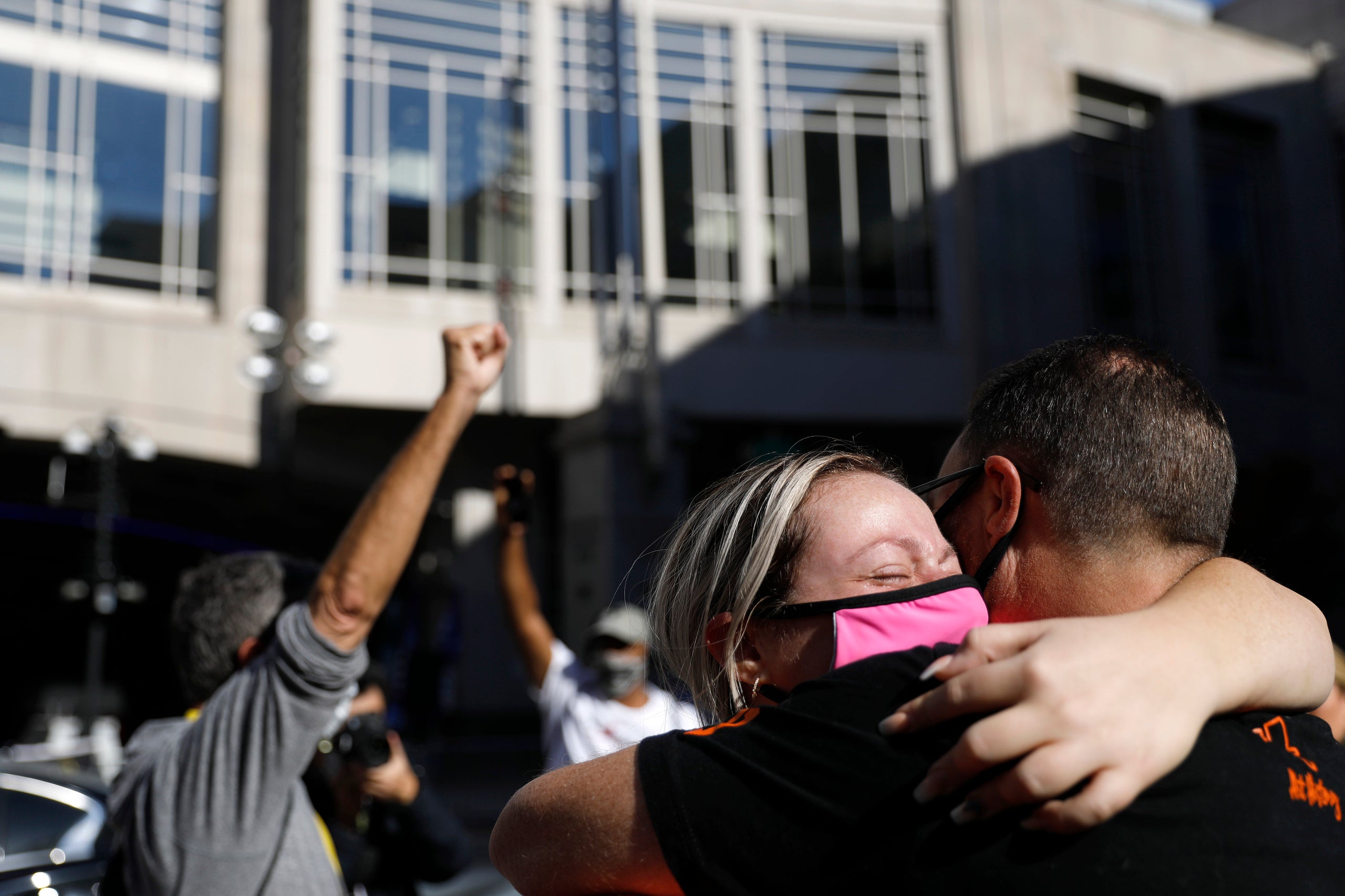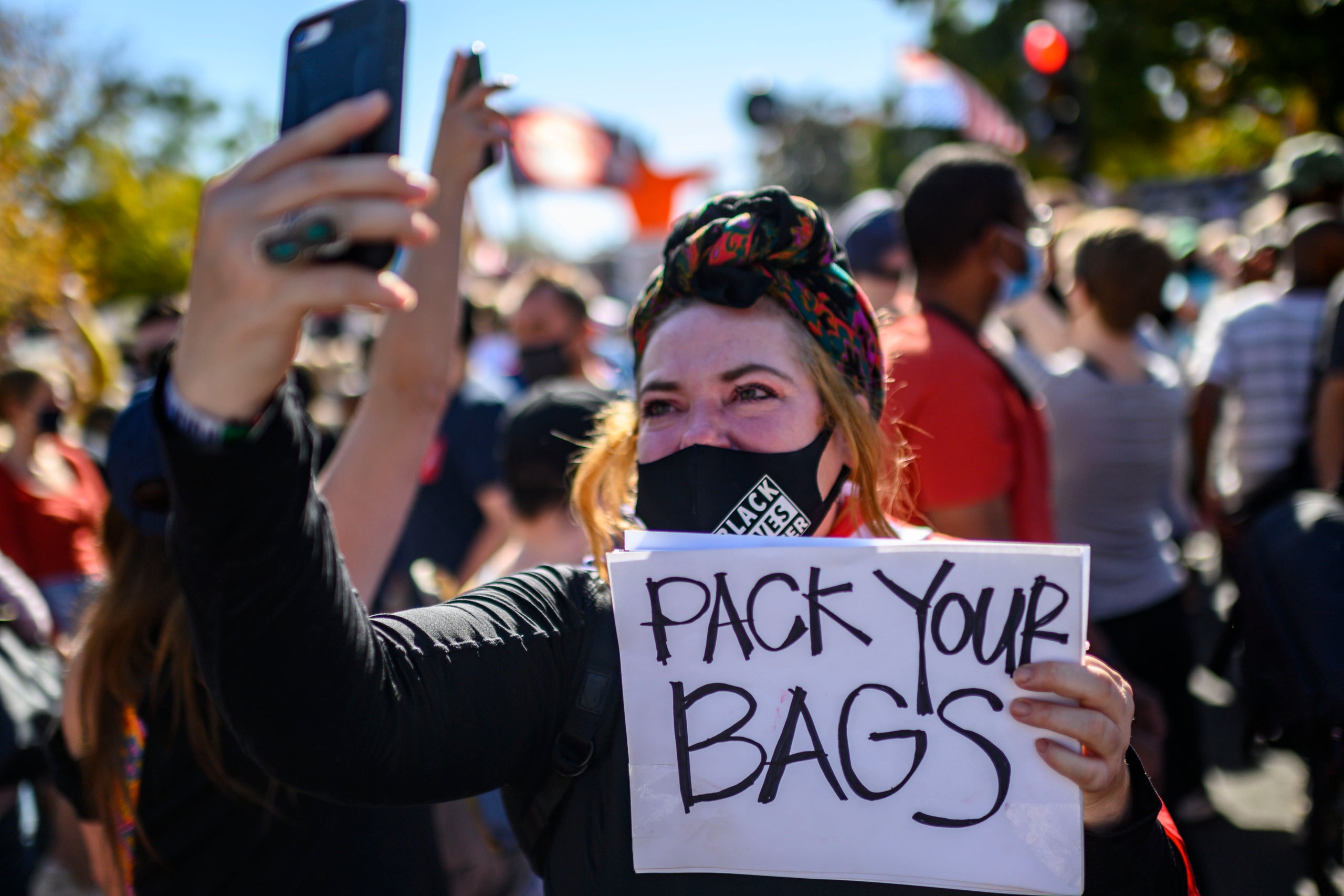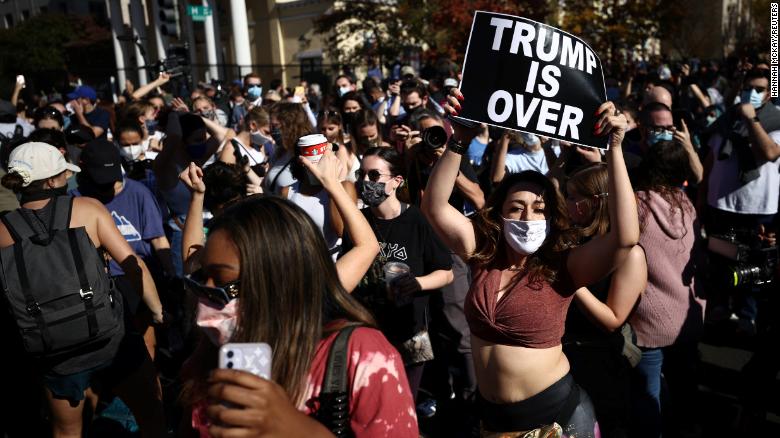 ---
"ExpatGo welcomes and encourages comments, input, and divergent opinions. However, we kindly request that you use suitable language in your comments, and refrain from any sort of personal attack, hate speech, or disparaging rhetoric. Comments not in line with this are subject to removal from the site. "
Comments