Experts warned us months ago that winter would bring a catastrophic resurgence of the coronavirus pandemic. They told us outbreaks would be worse than ever. They suggested this respiratory disease would likely follow a similar seasonal pattern as others. They were right.
And at a time when we truly should be taking the disease more seriously than ever, most of us are just really tired of it. Tired of the restrictions, tired of not being able to travel, tired of the lockdowns, tired of the SOPs, tired of the daily "how many cases did we have today?" checks. After over eight months of "all corona, all the time," it makes complete sense that everyone is just exhausted. And that's just for those of us in the general public. Imagine how tired the medical and law enforcement frontliners are – the ones who really have to deal with Covid on a daily basis. Covid fatigue is real, there can be no doubt.
And of course this is to say nothing of the millions of families who have been personally affected by the illness or death of a loved one due to the pandemic.
But not only are we not out of the woods yet, for a significant number of countries worldwide, particularly in the Northern Hemisphere as the weather grows colder, things are getting much worse. A grim winter season was foretold months ago by infectious disease experts, and their predictions are proving correct right before our eyes.
Most of the world's population lives in the Northern Hemisphere, and since people spend more time indoors during the winter months, contagious illnesses tend to peak in these colder months. For respiratory illnesses in particular, this is a seasonal effect that's widely expected to hold true for Covid-19, experts have said.
A model from the Institute for Health Metrics and Evaluation at the University of Washington predicted a staggering rise in Covid-19 cases and deaths by January 1, 2021. Their model projects the fall/winter surge should peak globally in mid-December at some 30,000 deaths per day, and in the United States in early December at about 2,900 deaths per day. (Currently, the US is recording around 2,000 deaths per day, and the outgoing Trump administration is doing essentially nothing at all to address the crisis, so the model's predictions seem rather plausible there in the coming weeks.)
Also according to the IHME model, India, the United States, Brazil, Mexico, and Japan will lead the world in total deaths by January 1. The inclusion of Japan is a surprise, as the country has currently only recorded 1,963 deaths, while the other countries noted represent the top four in deaths. Cases there are soaring, however, and the 'curves' which track Japan's cases are very pronounced and distinct, with each peak worsening (see below). However, it frankly seems extremely unlikely that Japan will come close to eclipsing the death tolls of many European countries, which are already well into five digits, in the next six weeks.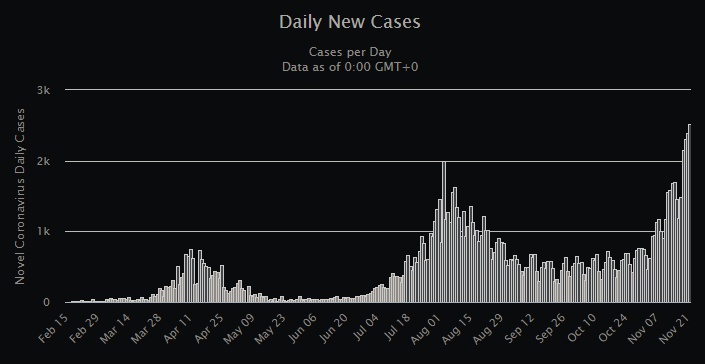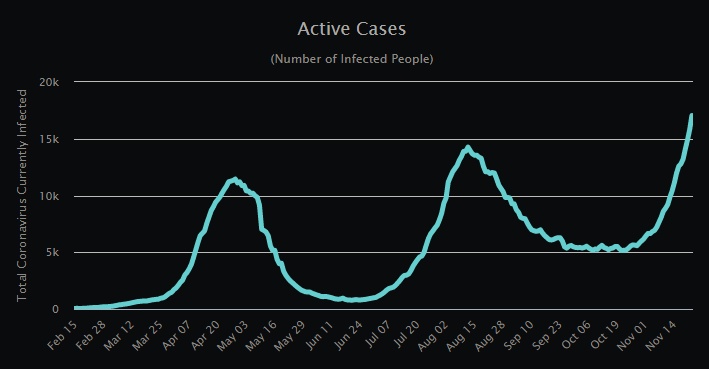 Also noteworthy, infectious disease models like this one are based on general assumptions about human behaviour, so there is a large amount of uncertainty, simply given the unpredictable nature of people.
New candidate vaccine successes have buoyed hopes for an end to the pandemic, but even once approved, the complex logistical challenges of distributing a vaccine – likely with specific cold-temperature shipping and storage requirements – to hundreds of millions of people will come into play. It has been estimated that some 8,000 jumbo jets could be required to get the vaccine to countries around the world, and the effort is already being touted as the biggest transportation challenge in aviation history.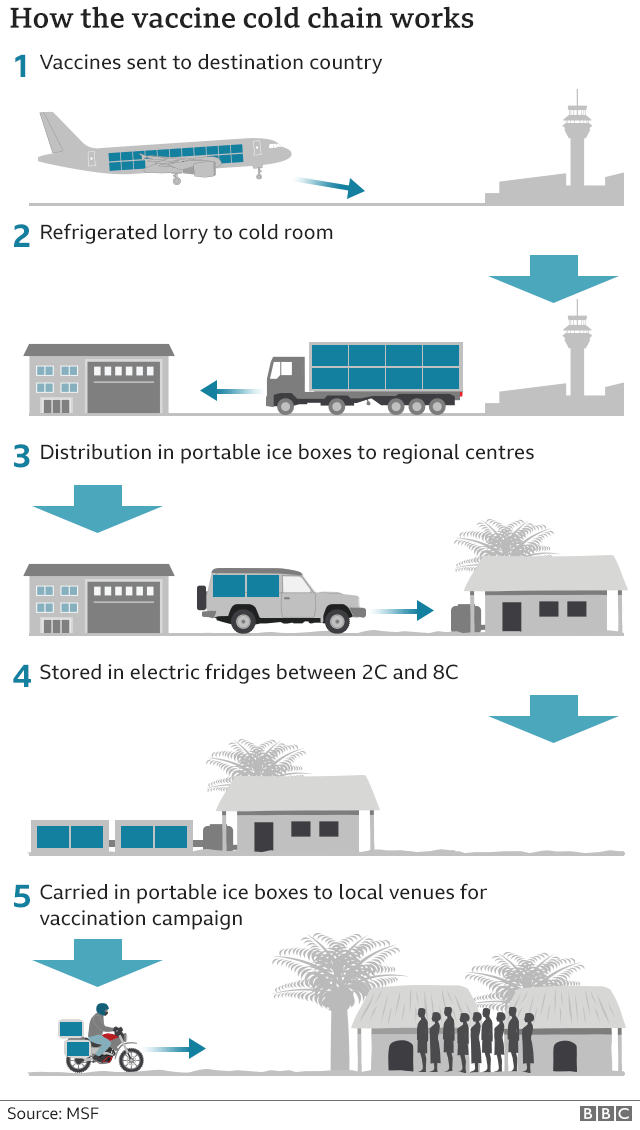 The speed and desperation with which progress has been made on a coronavirus vaccine is virtually rewriting the rule book for vaccine development, a process which typically takes several years. Despite the apparent quick success, for most of us, a vaccine is still realistically many weeks or even a few months away.
Malaysia is still in relatively good shape compared to many other countries, but we can't deny that the situation here is worse now than it was at any time in the first half of 2020, at least where raw numbers are concerned. From the beginning of the outbreak until October 5, Malaysia never logged more than 2,600 active cases on any single day. Since October 6, that count has soared dramatically, and as of October 28, has been over 10,000 every single day. As of November 22, there are 12,843 active cases in Malaysia, and the death toll has risen from 136 in early October to 335 as of November 22.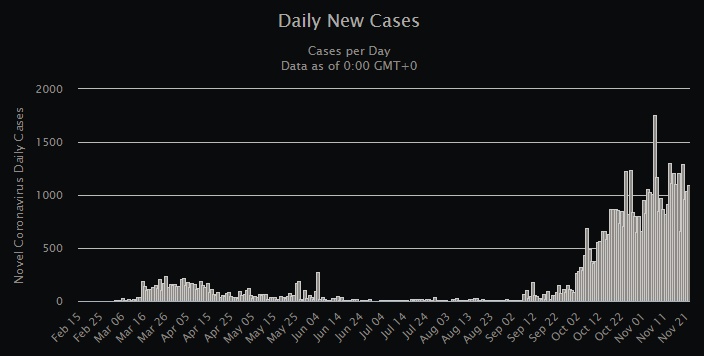 The Conditional Movement Control Orders that have been deployed and extended, then expanded, then rescinded in various states to the point where just about everyone is baffled, have unfortunately had a less-than-robust effect on swelling case numbers in Malaysia (though it's too soon to definitively gauge their overall effectiveness). November 22 marked yet another day of four-digit growth, with 1,096 new cases recorded, over half of which were in Selangor. Over 83% of the new Selangor cases on November 22 were in the Teratai cluster, which in a cruel irony is linked to worker dormitories for Top Glove Sdn Bhd, the world's largest glove manufacturer.
Meanwhile, the long-awaited travel bubble between Singapore and Hong Kong – a test case if anything else – has burst because of a new resurgence of cases in Hong Kong, with travel that was to have begun on November 22 once again postponed indefinitely.
In Europe, several countries are seeing a renewed surge of Covid cases, representing either the third or fourth wave of the pandemic, depending on the country. France, Spain, the UK, Germany, and Poland are all seeing five-digit increases of new cases, from 16,000 to 34,000 per day. Italy has not updated its case numbers, but it seems almost a foregone conclusion that there's a surge there, as well.
Further east, Ukraine and Russia are also seeing their case numbers soar. Iran remains a troubling hot spot, as well, with cases (854,361) in the top 15 globally, and deaths there (44,802) among the world's 10 highest. Like many countries, Iran has seen a major surge in cases (new and active) in the last two months.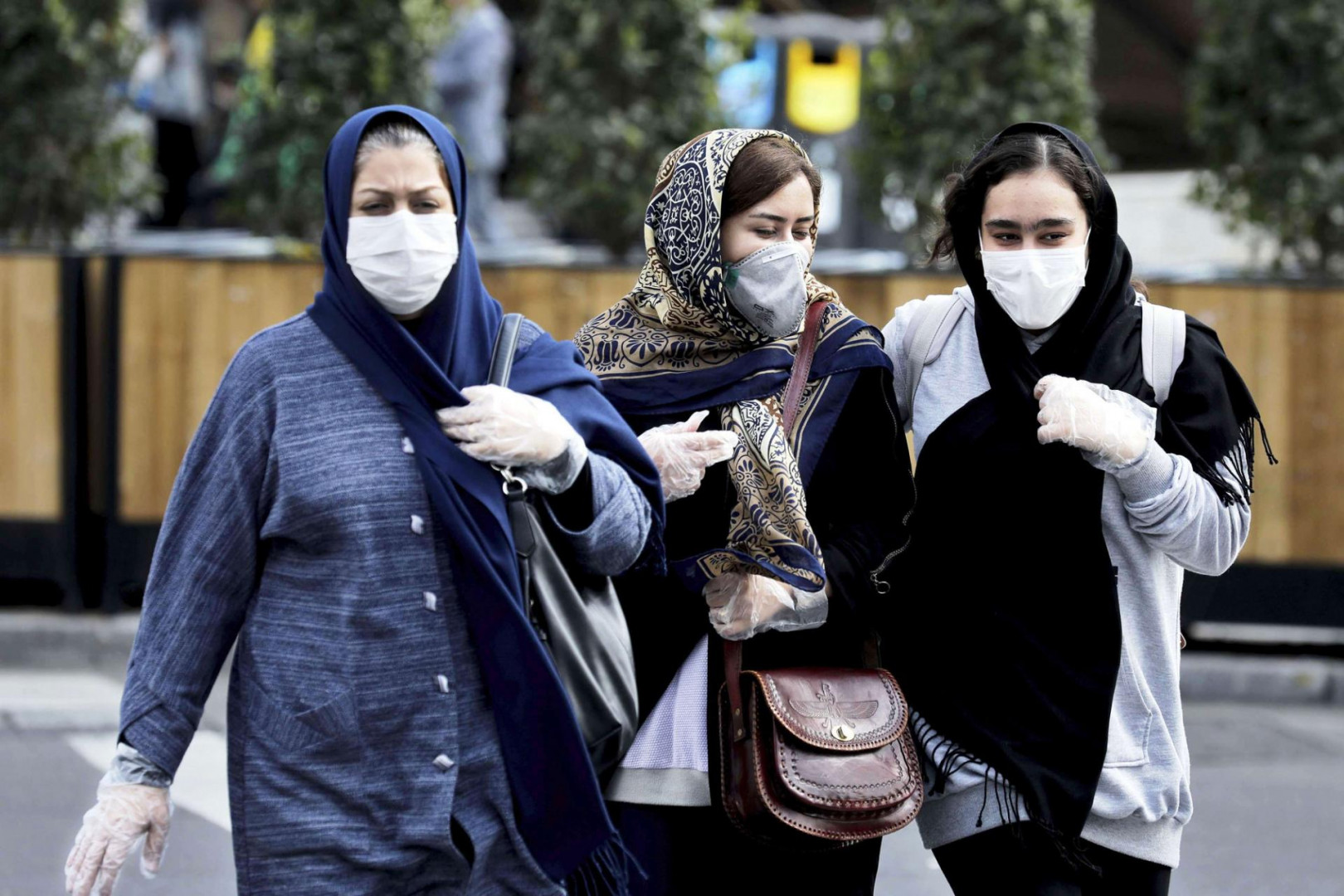 In the tropics, people don't tend to spend the "winter" months huddled indoors, of course, so despite the significant rise of cases, Malaysia and other surrounding countries are unlikely to see the explosion of infections and deaths that colder-weather countries may experience over the coming weeks and months. But experts still urge vigilance, despite our Covid fatigue. Wear your mask (properly), wash your hands frequently, avoid crowds, and help authorities with any necessary contract tracing by scanning the MySejahtera QR code consistently every time you are out and about.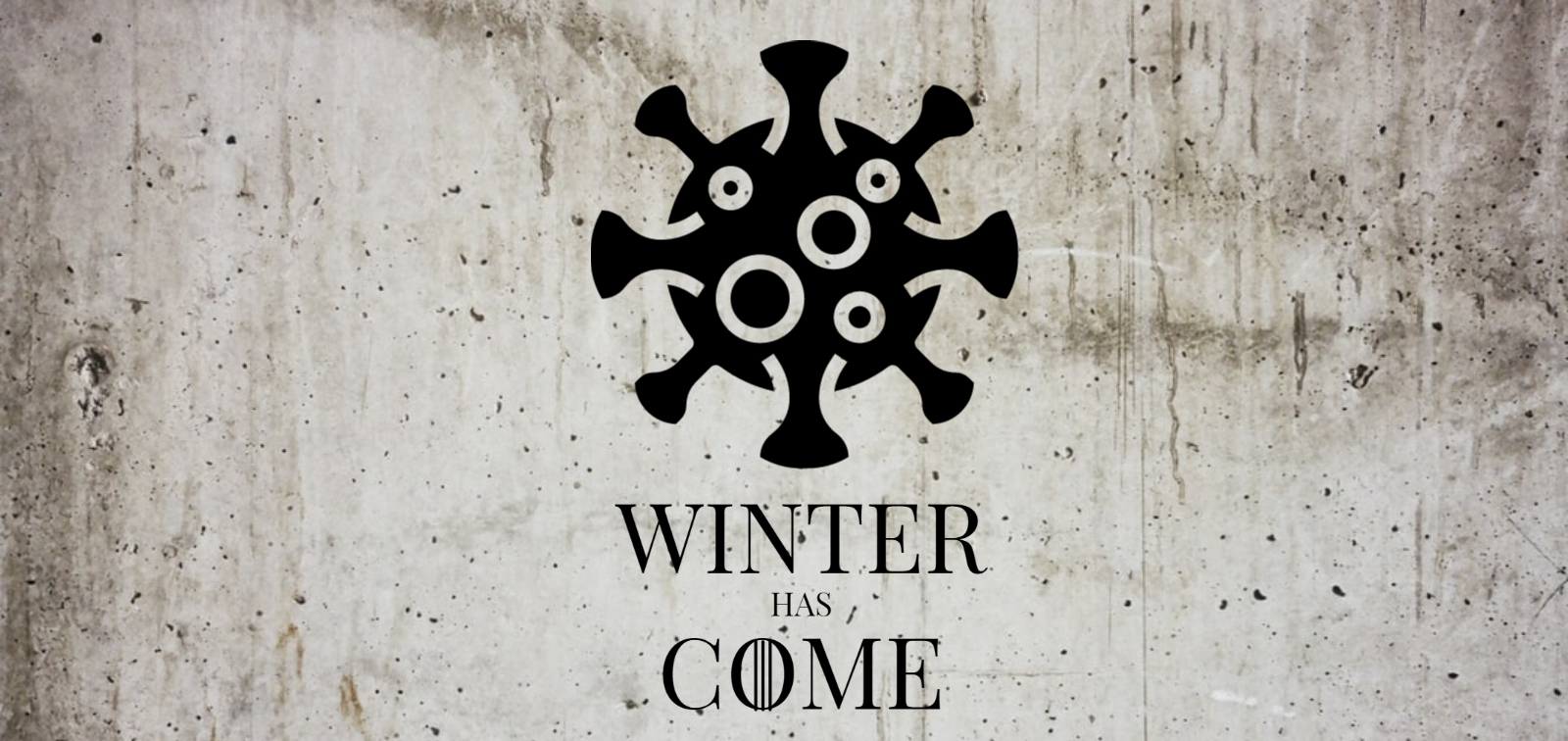 ---
"ExpatGo welcomes and encourages comments, input, and divergent opinions. However, we kindly request that you use suitable language in your comments, and refrain from any sort of personal attack, hate speech, or disparaging rhetoric. Comments not in line with this are subject to removal from the site. "
Comments