The InterNations survey of over 15,000 expatriates worldwide does not take into account countries' policies or attitudes towards foreigners.
Improving ever so slightly from its 2019 ranking, Kuala Lumpur notched another nod to its quality of life for expat residents, placing eighth globally, according to the 2020 results of the InterNations Expat City Ranking. The overall ranking covers 66 cities worldwide and is based on the results of the annual Expat Insider survey conducted by InterNations, considered among the most comprehensive surveys about living and working abroad. The methodology can be found at the end of this article.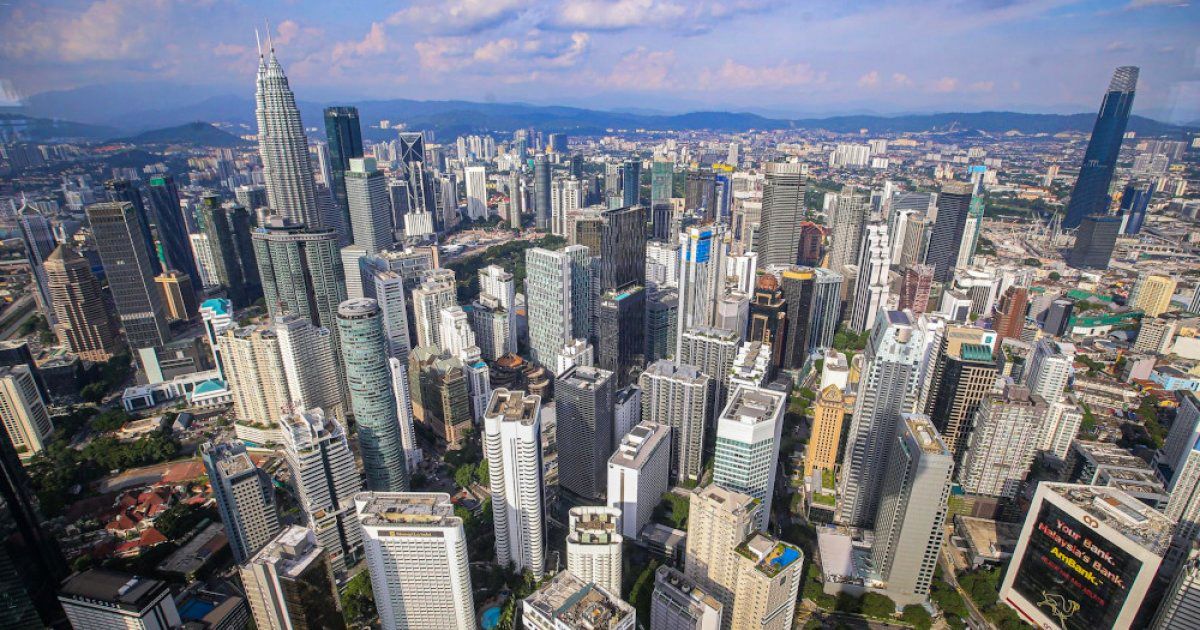 All in all, Asian cities ran the gamut from top 10 to bottom 10. Perhaps the biggest fall from grace was reserved for Hong Kong, whose social and political unrest – and the financial instability that it's caused – saw the once-lauded expat destination tumble to 57th place.
It's worth noting that the Expat Insider survey was conducted in March of this year, just before the world was upended by the coronavirus pandemic, so it remains to be seen how the countries and cities fare in a post-Covid world.
The only two Asian cities to feature in the top 10 this year were Singapore (5th) and Kuala Lumpur (8th).
Singapore scores high in nearly all areas of the Expat City Ranking 2020. It performs best in the Quality of Urban Living Index (9th), which is largely due to its excellent results in the Safety & Politics subcategory (2nd). A British expat living in Singapore describes it as "an amazing place to live and extremely safe." In fact, nearly all expats in Singapore rate the political stability positively (90% vs. 61% globally) and feel very safe there (97% vs. 82% globally). For personal safety, Singapore ranks second worldwide, bested only by Tokyo.
Additionally, it seems to be easy to get settled in Singapore as an expat: the city-state ranks 16th in the Getting Settled Index. Expats are particularly happy with the ease of making new friends (58% happy vs. 47% globally),and they find it easy to get used to the local culture (70% happy vs. 61% globally). Maybe this is why 76% also feel at home in Singapore (vs. 64% globally).
A short distance away, in a country that's very different, Malaysia's capital city also fared well, placing in the top 10 for the fourth year in a row. Ranking #8 out of 66, Kuala Lumpur does particularly well in the Finance & Housing Index (1st). Exactly seven in ten expats in Kuala Lumpur (70%) say that housing is affordable (vs. 41% globally), and over four in five (84%) also say it is easy to find (vs. 55% globally). Moreover, more than three in four survey respondents are happy with their financial situation (76% vs. 61% globally) and the local cost of living (77% vs. 46% globally). A Swedish expat who lives in Kuala Lumpur agrees: "It is easy and affordable to live here."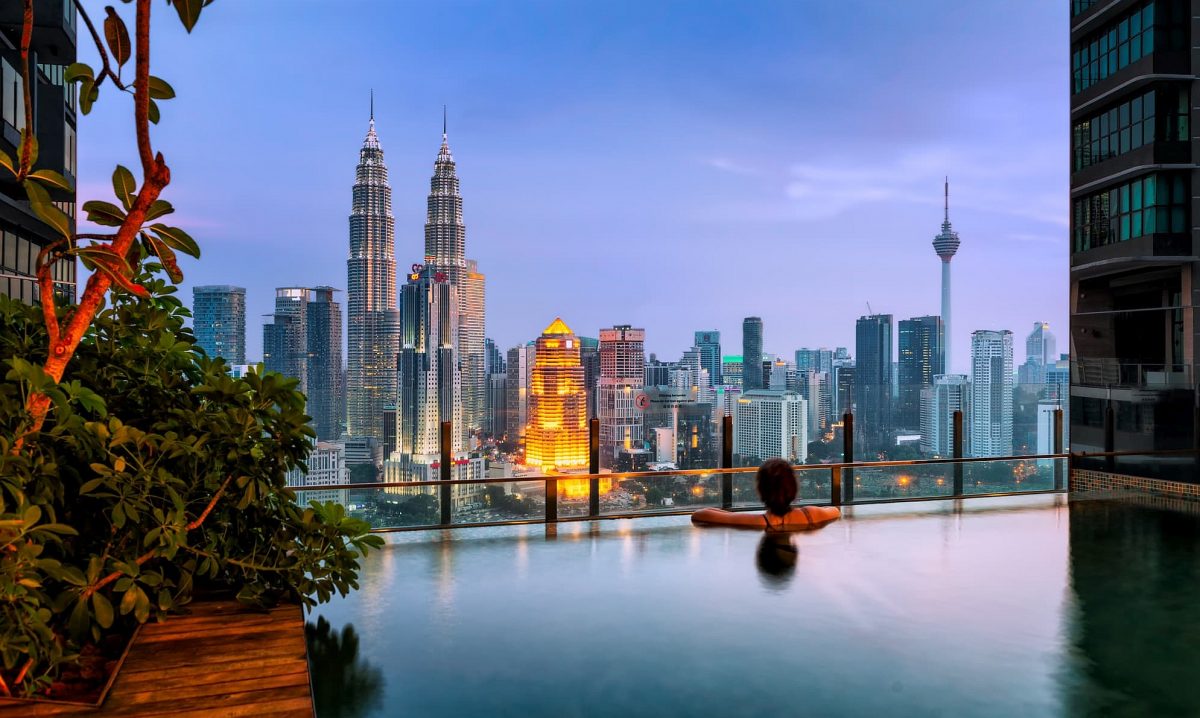 Kuala Lumpur also performs well in the Getting Settled Index (7th). A Singaporean expat living in Kuala Lumpur shares: "Moving to Malaysia as a foreigner has been easy, and so has settling down here." This can be largely attributed to the ease of living in the city without speaking the local language and the ease of making new friends. More than nine in ten expats (91%) say it is easy to live in Kuala Lumpur without speaking the local language, which is 37 percentage points above the global average (54%). What is more, the city ranks 8th in the Friends & Socialising subcategory, with 72% of expats being happy with their social life (vs. 59% globally) and 60% finding it easy to make new friends (vs. 47% globally).
On the other hand, Kuala Lumpur narrowly escapes landing among the bottom 10 in the Quality of Urban Living Index, where it ranks 51st out of 66 cities. It does particularly poorly in the Safety & Politics subcategory, with just 68% of expats rating their personal safety positively (vs. 82% globally). Additionally, fewer than three in eight survey respondents (36%) are satisfied with the political stability (vs. 61% globally).

Heading a bit further down the list, we find Ho Chi Minh City (Saigon), which is ranked in 19th place overall. Though the Vietnamese city does especially well in the Cost of Living Index and Finance & Housing Index, its Quality of Urban Living and Transportation indices drag it down, as well as does its very poor Health & Environment subcategory index (59th place). An expat from the USA shares: "Ho Chi Minh City is noisy and polluted, there are minimal green spaces, and some areas are very dirty." A Swiss expat also comments on the state of the environment, saying that "there is massive plastic pollution all over the country, especially along the shoreline — it is a devastating sight."
Shanghai, meanwhile, landed at 21st place on the list, getting its best results in Finance & Housing and the Urban Work Life indices. Over 70% of expats responding were happy with local career opportunities there. Amazingly, Shanghai came in first for disposable household income, with 71% of expats there reporting that their income was more than enough to cover their expenses. Housing, on the other hand, fared dismally, with only 17% of respondents happy with the affordability of housing (vs. 41% globally). Additionally, it seems to be challenging for expats in Shanghai to be immersed in the local way of life, as 29% report finding it difficult to get used to the local culture (vs. 21% globally).
Bangkok, meanwhile, was ranked 30th overall, but came in dead last for its urban environment, with 64% of expats displeased with this factor (vs. 21% globally). An expat from Germany says, "there is awful air pollution in Bangkok and a lack of green spaces." Expats are also unhappy with the political stability – just 26% rate this factor positively (vs. 61% globally). The Urban Work Life Index (50th) does not a look a lot better: expats are dissatisfied with their local career opportunities (49% unhappy vs. 34% globally) and the state of the local economy (33% unhappy vs. 18% globally). This is outweighed by slightly above-average results in the Getting Settled Index (28th), with 75% of expats saying that the local residents are friendly (vs. 68% globally). Another 72% are happy with their social life in Bangkok (vs. 59% globally).
Two of the worst-ranked cities for expats in the world are also in Asia: Hong Kong and Seoul. While the extreme political instability and obscene cost of living in Hong Kong make its poor ranking (57th overall) unsurprising, Seoul's dismal ranking may raise a few more eyebrows. The South Korean city's 64th-place ranking is largely due to its grim work-life balance (where it's ranked dead last) and challenging personal life index, with about half of the expats there reporting that it's hard to find new friends and feel at home, with one German expat noting that Korea doesn't seem to be ready to embrace the idea of foreigners living in the country as locals.
The survey does not currently take into account expats' views on how welcome they feel in their host country, or ask any questions about the ease of getting work visas or other practical matters. It can only be assumed that, after a year of enduring various entry lockouts related to the pandemic and increasingly unfriendly policies regarding work visas, to say nothing of the ongoing MM2H debacle, expats will be less bullish on Malaysia. We have suggested to InterNations (and they have responded favourably) that questions regarding the host country's policies and attitudes towards expats be included in future surveys, as this can both directly and indirectly affect an expat's quality of life in a foreign country.
ABOUT THE EXPAT CITY RANKING 2020
The Expat City Ranking is based on the annual Expat Insider survey by InterNations. For the survey, more than 15,000 expatriates representing 173 nationalities and living in 181 countries or territories provided information on various aspects of expat life. In addition to their satisfaction with life in their host country, respondents were also invited to share their opinions on the city they are currently living in.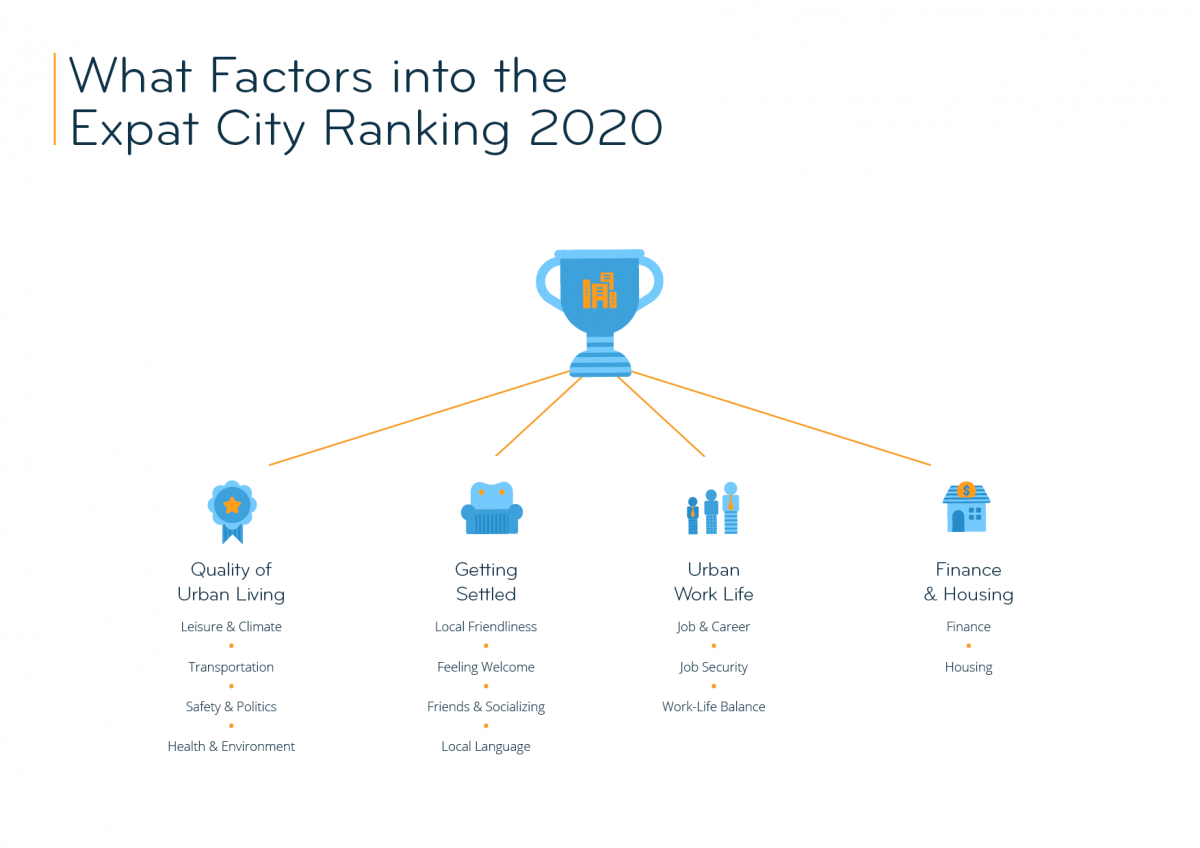 Participants were asked to rate more than 25 different aspects of urban life abroad on a scale of one to seven. The rating process emphasised the respondents' personal satisfaction with these aspects, considering both emotional topics and more factual aspects with equal weight. The respondents' ratings of the individual factors were then bundled in various combinations for a total of 13 subcategories, and their mean values were used to draw up four topical indices: Quality of Urban Living, Getting Settled, Urban Work Life, and Finance & Housing. These were further averaged in order to rank 66 cities worldwide. In 2020, the top 10 cities for expats are:
Valencia
Alicante
Lisbon
Panama City
Singapore
Málaga
Buenos Aires
Kuala Lumpur
Madrid
Abu Dhabi
The survey also includes a Local Cost of Living Index, which does, however, not factor into the overall ranking to avoid overrepresenting financial aspects.
About InterNations
With around 4 million members in 420 cities around the world, InterNations is the largest global community and a trusted source of information for people who live and work abroad. To learn more, visit internations.org.
---
"ExpatGo welcomes and encourages comments, input, and divergent opinions. However, we kindly request that you use suitable language in your comments, and refrain from any sort of personal attack, hate speech, or disparaging rhetoric. Comments not in line with this are subject to removal from the site. "
Comments