The two-week latency period for Covid-19 means that new cases in the beginning of the MCO period could have been infected prior to its enactment.
Many people have been faithfully checking the daily new case numbers during the latest rollout of the MCO, a somewhat watered-down version many are calling MCO 2.0 (or, a bit more derisively, 'MCO 1.5'), knowing that if the case numbers continue to climb, the lockdown will most likely be extended or strengthened.
But attaching that sort of result on the case numbers up until today has largely been a mistake.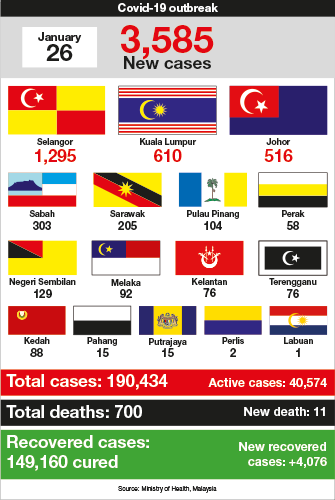 As we've learned over the last year, it can take up to two weeks for signs of the virus to emerge following infection. It usually takes a little less time, but two weeks is accepted as the maximum interval. So today, January 26, marks the day that the initial MCO (which was in a handful of states and federal territories) reaches that two-week threshold – and the day it was initially meant to have expired, prior to the lockdown being expanded and extended.
So now that the initial two weeks have passed, any new daily cases going forward will have been infected during the MCO period (at least in the most populous states, which have been struggling the most to flatten their Covid curves).
So, in a nutshell, now is the time to start monitoring the numbers.
The government has been fairly adamant that a total economic shutdown is not something they want to do at all. In fact, it seems it would be very much a last resort to do so, as the economic repercussions of a total nationwide lockdown would be devastating.
In a briefing on January 25, the health ministry said that it expects the current round of MCO restrictions to be lifted after four weeks at a maximum.
If that holds, the MCO would be over by Chinese New Year (which begins on February 12), after which relaxed restrictions under a conditional MCO are likely to be implemented, quite possibly for three months or more.
Health director-general Tan Sri Dr Noor Hisham Abdullah stressed that the ministry hoped the measures taken so far would bring down the number of daily new cases to double-digit levels by May, saying that the current MCO would not last more than four weeks.
It was imposed in several states and the federal territories on January 13, expanded to all states (except Sarawak) on January 22, and is currently scheduled to end on February 4, a period of three weeks from the initial implementation. If the MCO lasts for four weeks, as Noor Hisham said, there would be a one-week extension, taking it right to the beginning of Chinese New Year.
"After the cases stabilise at around 3,000 a day, we hope to see a decrease in cases in another two weeks. If we impose the MCO for four weeks, followed by a CMCO after that, maybe we can achieve daily double-digit cases by May," he told the media at a Covid-19 briefing on January 25.
Unfortunately, after three successive days of declines in the daily new cases following a record high of 4,275, the number rose again today. But once again, now is the time start watching trends.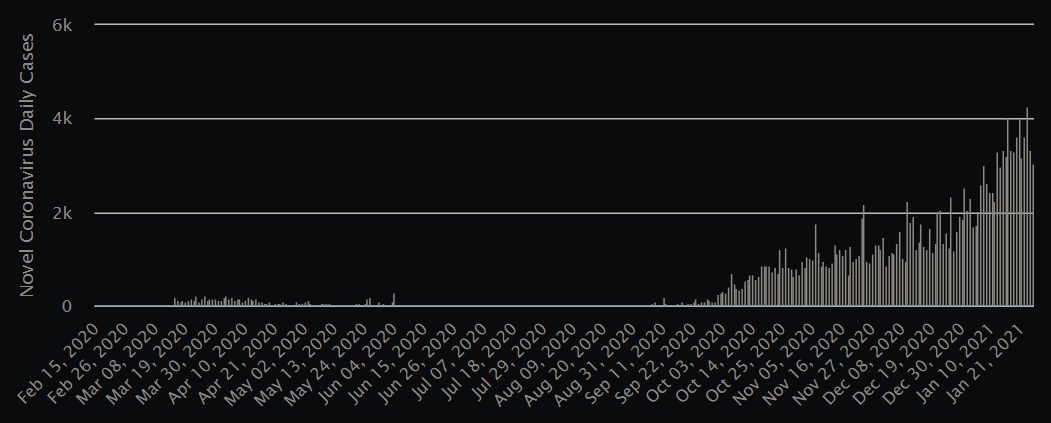 Dr Noor Hisham noted that the country's current infection rate or R0 (pronounced 'R naught)' had improved slightly from 1.20 to 1.06 today.
As a refresher, in epidemiology, R0 reflects the basic reproductive number of an infectious diseases, with the number representing the expected number of cases to be generated by one infected person. So, for example, if a disease has an R0 of 15, an infected person can be expected to transmit the pathogen to an average of 15 other people. (A disease with a sustained R0 this high could represent a catastrophic epidemic, and very few diseases are this highly contagious – measles, with an R0 of 12 to 18, is among the most infectious diseases in recorded history.)
An R0 of less than one would suggest that the outbreak is on the decline. Malaysia's R0 is 1.06, so we're pretty close.
One issue Malaysia is having now is a healthcare system that is being strained to its limits, which was cited as a key concern in implementing this MCO. As of today, there are 40,574 active cases. Most are mild, some are even asymptomatic. But 280 are severe enough to require hospitalisation in an intensive care unit (ICU), and there are a limited number of ICU beds in the country's hospitals. That forces doctors to sometimes have to make tough choices, which is exactly what's been happening in hard-hit countries like the UK and the US, whose own robust healthcare infrastructures are being stretched to the breaking point – to say nothing of the physical and mental well-being of the medical frontliners delivering the care.
The number of ICU cases in Malaysia has risen notably in recent days, edging upwards from around 250 to 260 now to 280. With 11 new deaths today, the country's year-long Covid-19 toll stands at 700.
Some of the numbers that will be used in making decisions – the ones the public can most easily follow – include the daily new cases (along with the moving average of those case numbers), the number of active and ICU cases, and the R0 number. The first two metrics are part of the data reported daily on the MySejahtera app.
Worldwide, over 100 million cases have been confirmed since the disease's outbreak just over a year ago, and well over two million people have died. And now, with myriad problems plaguing the rollout of vaccines worldwide, there is, as Dr Noor Hisham summed up earlier this week as Malaysia officially marked one year in its fight against the pandemic, no end yet in sight.
"We all need to soldier on," he said. "Everyone, no matter who you are, must shoulder this responsibility to save our country together."



" ExpatGo welcomes and encourages comments, input, and divergent opinions. However, we kindly request that you use suitable language in your comments, and refrain from any sort of personal attack, hate speech, or disparaging rhetoric. Comments not in line with this are subject to removal from the site. "



Comments