Millions of us who have loved exploring the world through National Geographic photographs since we were children, still look forward to the publication's compilation of the most breathtaking and unforgettable images from each year that passes. It goes without saying that the photos taken all over the world in 2020 captured a lot of pain and suffering in what was arguably the "worst year" so far in the 21st century.
With Covid-19 ripping through countries leaving tragedy and loss in its wake, and the addition of chaotic and polarising political environments causing divisive and occasionally violent tensions, contributed to what surely felt like hell on earth for many. Most also say that it's far from over yet.
A Year That Tested Us, Isolated Us, Empowered Us. Hope Endured.
National Geographic's special 2020 "The Year in Pictures" issue includes the work of gifted photographers from around the world (including one from Malaysia), capturing, among other things, how the pandemic has ravaged countries, along with scenes natural disasters, social justice movements, isolation, life and death, and the hope we still carry within us.
Here are just a few of the powerful photos captured by Nat Geo photographers and others last year, along with their text describing the events at the time of the photo's capture. For the full line-up of images, CLICK HERE.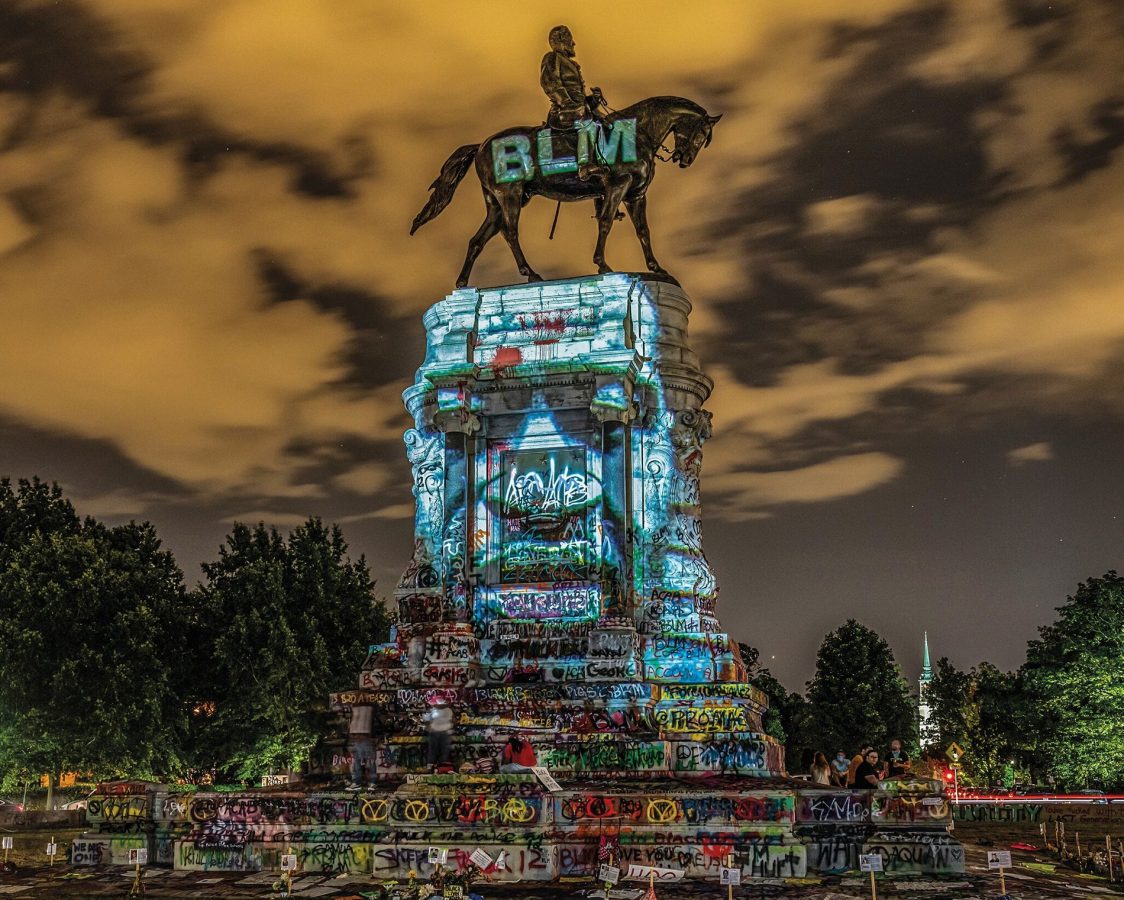 18 JUNE, RICHMOND, VA
The statue of Robert E. Lee is transformed into a Black Lives Matter monument with a projection of George Floyd's portrait. "It's time for the healing to start," tweeted Levar Stoney, Richmond's mayor. "For public safety, for our history, for our future — the monuments to the Lost Cause are coming down." Lawsuits attempted to block removal of the statue.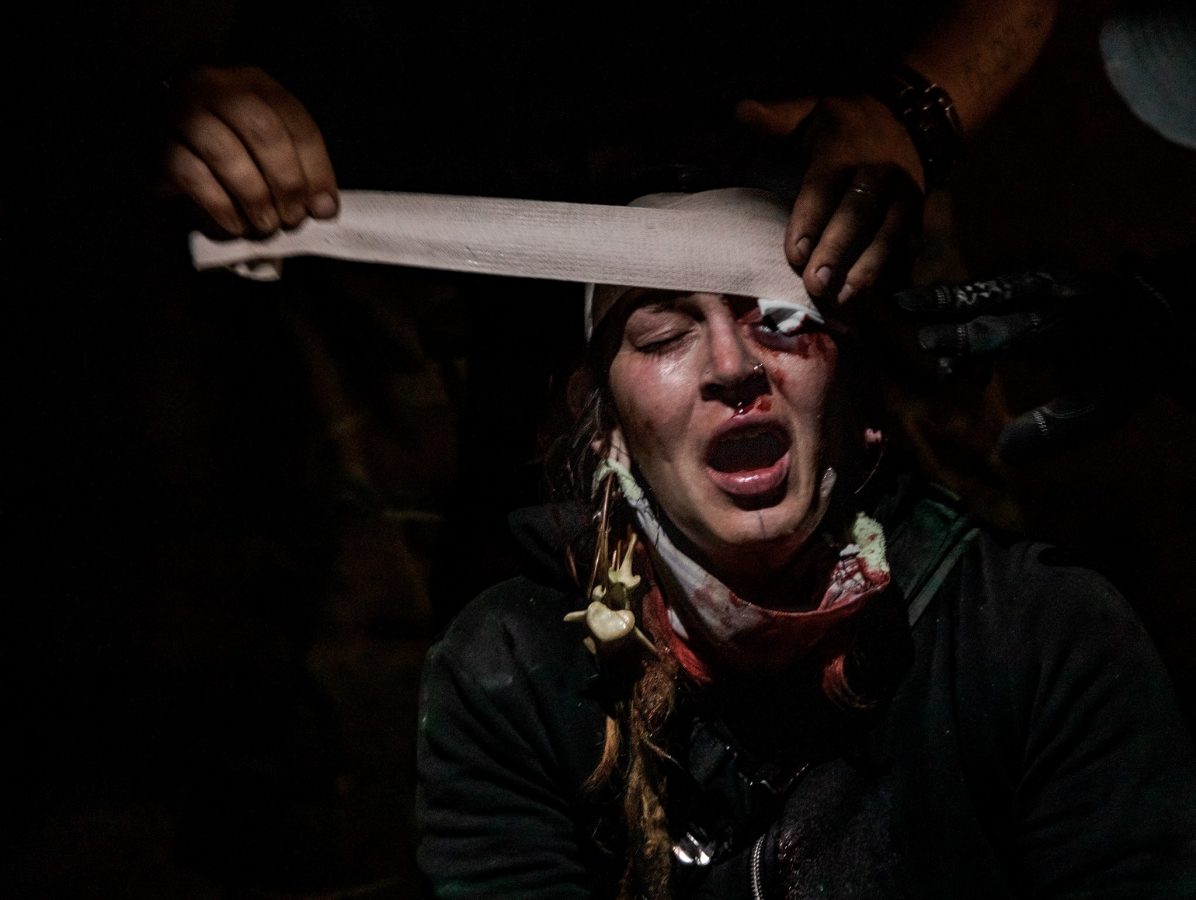 29 MAY, MINNEAPOLIS, MINNESOTA, USA
The killing of George Floyd by city police officers ignited protests across the United States and around the world against police brutality. David Guttenfelder covered the demonstrations close to his home in Minneapolis. "There's not one protester, not one attitude – it's all driven by grief," he says. "Grief over this man but also grief of a lifetime of this pain." Four days after Floyd was killed, protesters set fire to the precinct building where the officers were stationed. The police fired rubber bullets and tear gas at the crowd. Amid the anger and chaos, Guttenfelder heard someone shouting: "We're hurting. We're hurting." The following day, a protester received first aid after being struck near the eye during another clash.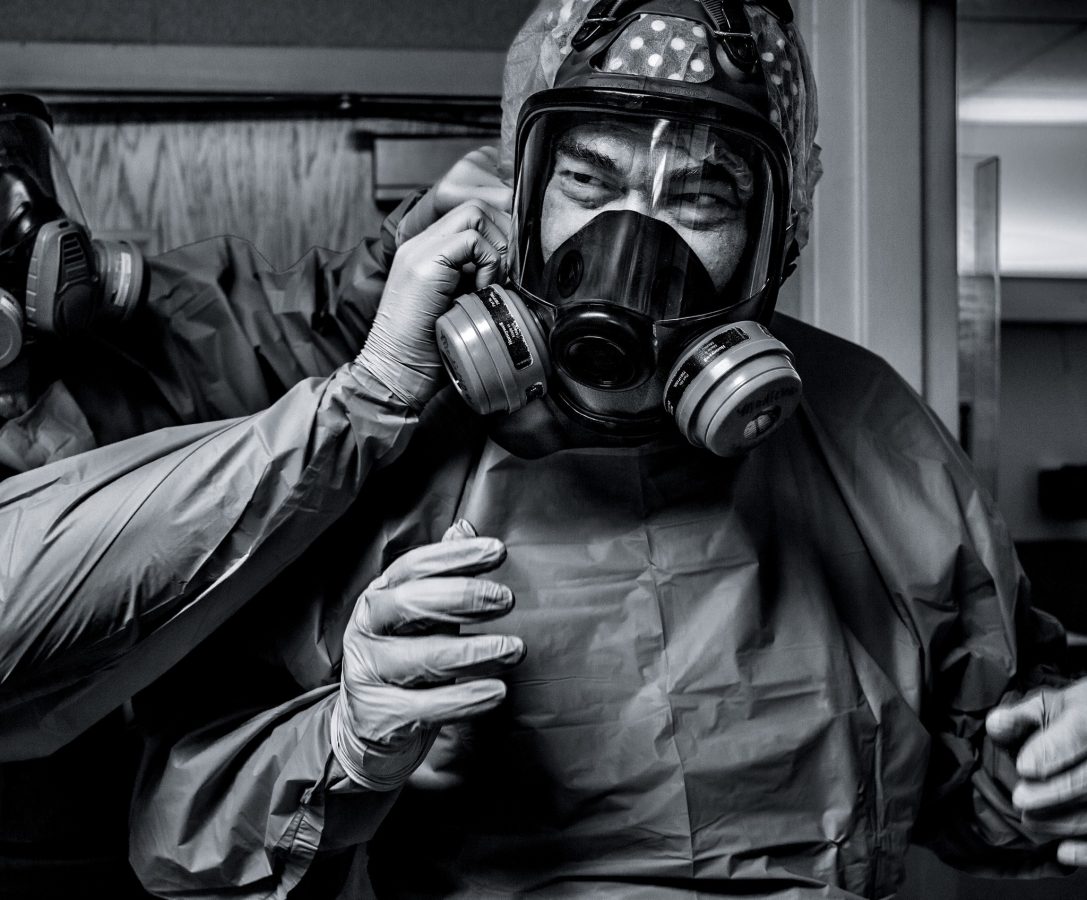 23 APRIL, BOGALUSA, LOUISIANA, USA
The pandemic caught many healthcare systems short of emergency supplies, a situation exacerbated by uneven government responses to the crisis. Physician Gerald Foret dons a protective mask before seeing Covid-19 patients at Our Lady of the Angels Hospital in Bogalusa. The hospital was running low on N95 masks, so Foret used a spare respirator that was on hand. The full-face mask offered nearly complete protection from airborne particles when he entered the negative pressure unit where coronavirus patients were treated.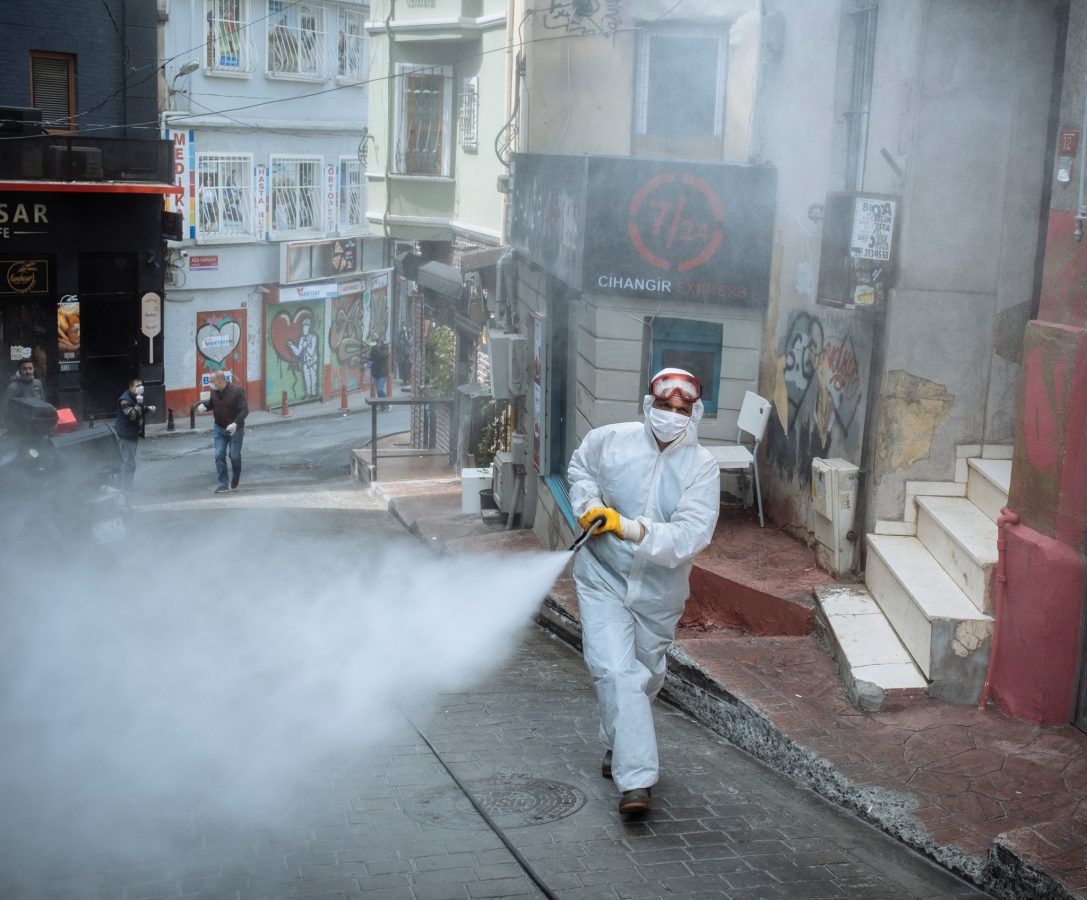 14 APRIL, ISTANBUL, TURKEY
A city employee disinfects a street in Beyoğlu, a tourist district empty of tourists. When communities shut down across the world, many people could retreat to their homes. Others, newly deemed essential, had to keep working. Like many countries, Turkey sent out armies of workers in protective gear to spray the streets, hoping to contain the virus and, perhaps, reassure its citizens that action was being taken. The World Health Organization later warned that this method was ineffective at halting the spread of the coronavirus and that the disinfectants could potentially harm people's health.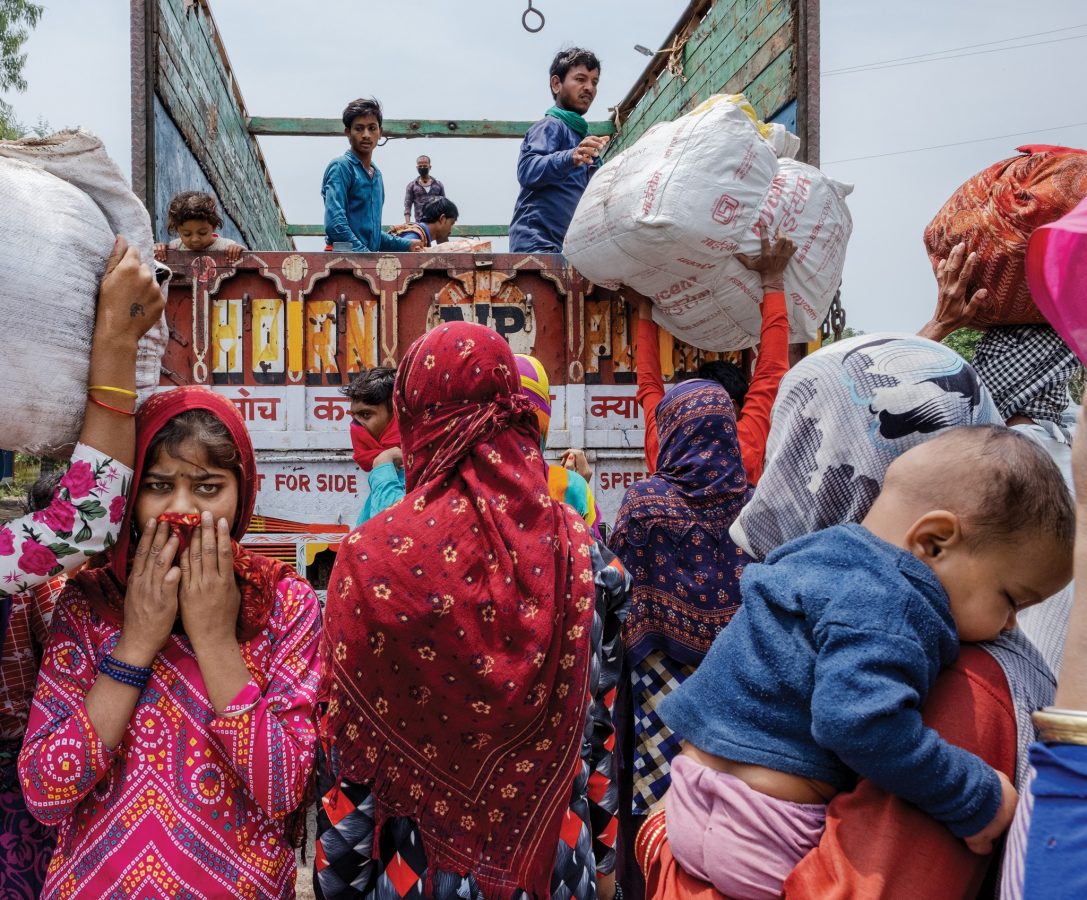 6 MAY, LUCKNOW, INDIA
Financially, the pandemic landed hardest on low-income people. In India, an estimated 139 million people are internal migrants, having moved from their rural homes to cities to work for daily wages. When the country went into lockdown, millions lost their jobs. Afraid of food shortages, many tried to return home. Public transportation was shut down, so they walked or biked or caught a ride on a truck, like this one near Lucknow. Eventually the government arranged for trains and buses to transport migrant workers. The International Labour Organization said the pandemic will push 400 million of India's informal workers deeper into poverty.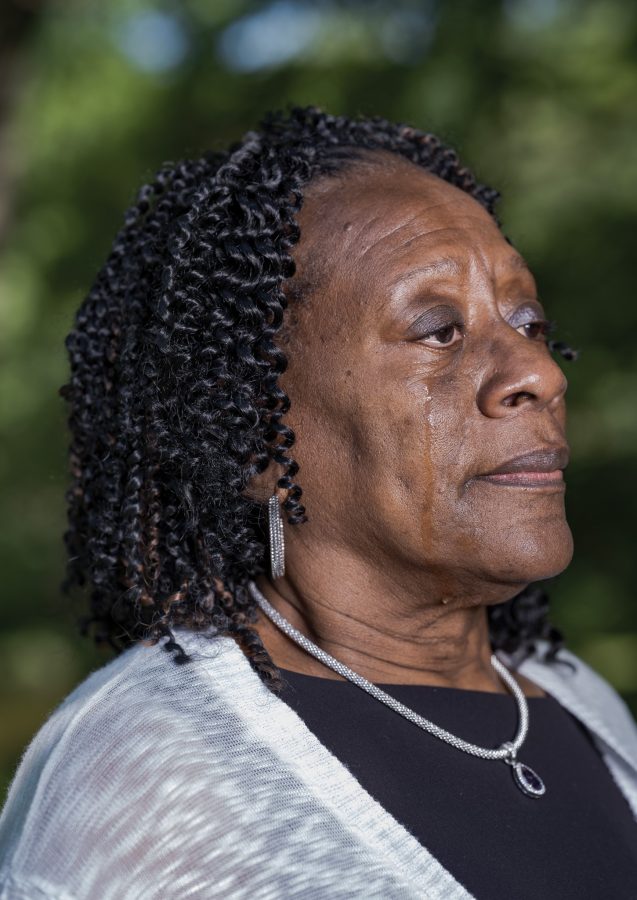 15 JUNE, DETROIT, MICHIGAN, USA
In April, Elaine Fields lost her husband, Eddie, and her mother-in-law, Leona Fields, to complications from Covid-19. Two months after Eddie's death, she stood by his grave in Detroit and cried. The inability to gather family members for a funeral weighed on Elaine, who also hadn't been allowed to be with her husband of 45 years when he died. "Our mourning has been stunted," she said.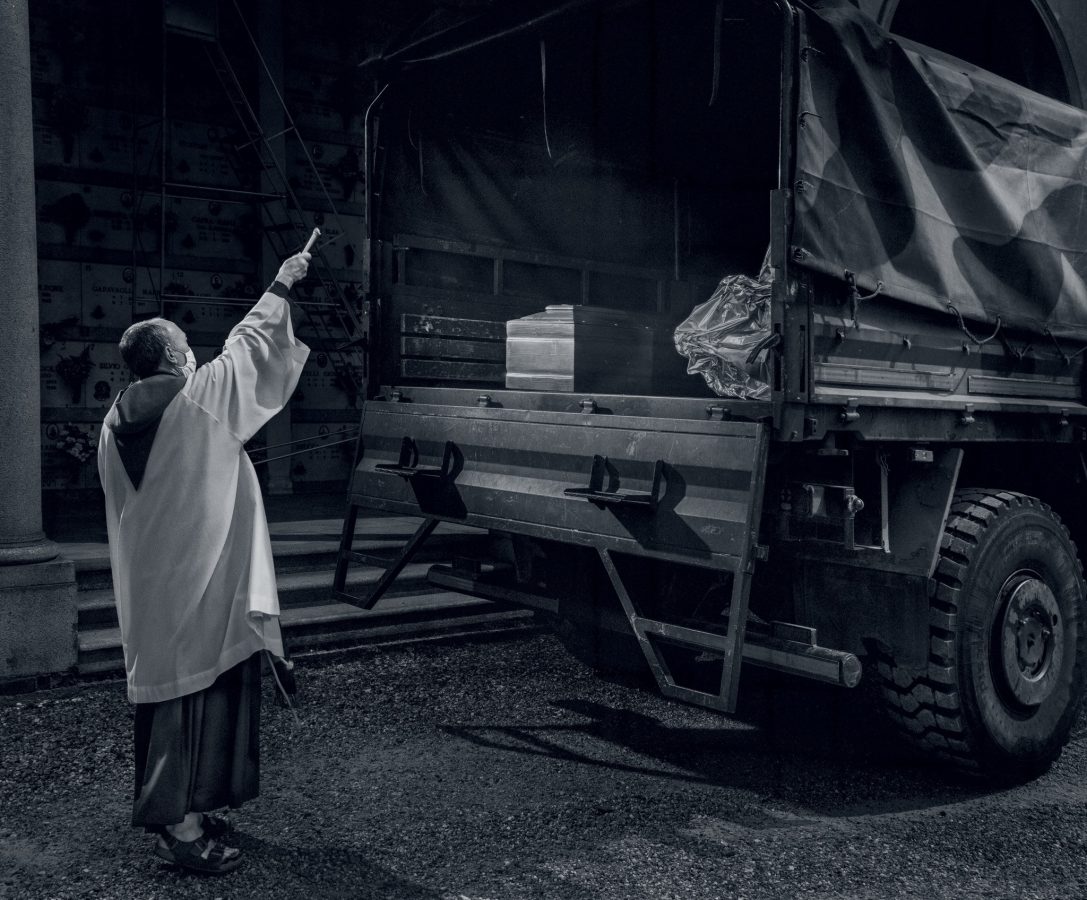 17 APRIL, NOVARA, ITALY
A priest in the northwestern Italian city of Novara blesses coffins arriving from Bergamo, one of the early centers of Italy's outbreak. Morgues and crematoria were at capacity there, so the Italian Army was dispatched to move bodies elsewhere in the region to prepare them for cremation or burial. For some families, weeks went by before they found out where their deceased relatives had been taken. Funeral home employees became frontline workers, struggling to cope with the mental and physical toll of a virus that devastated their communities.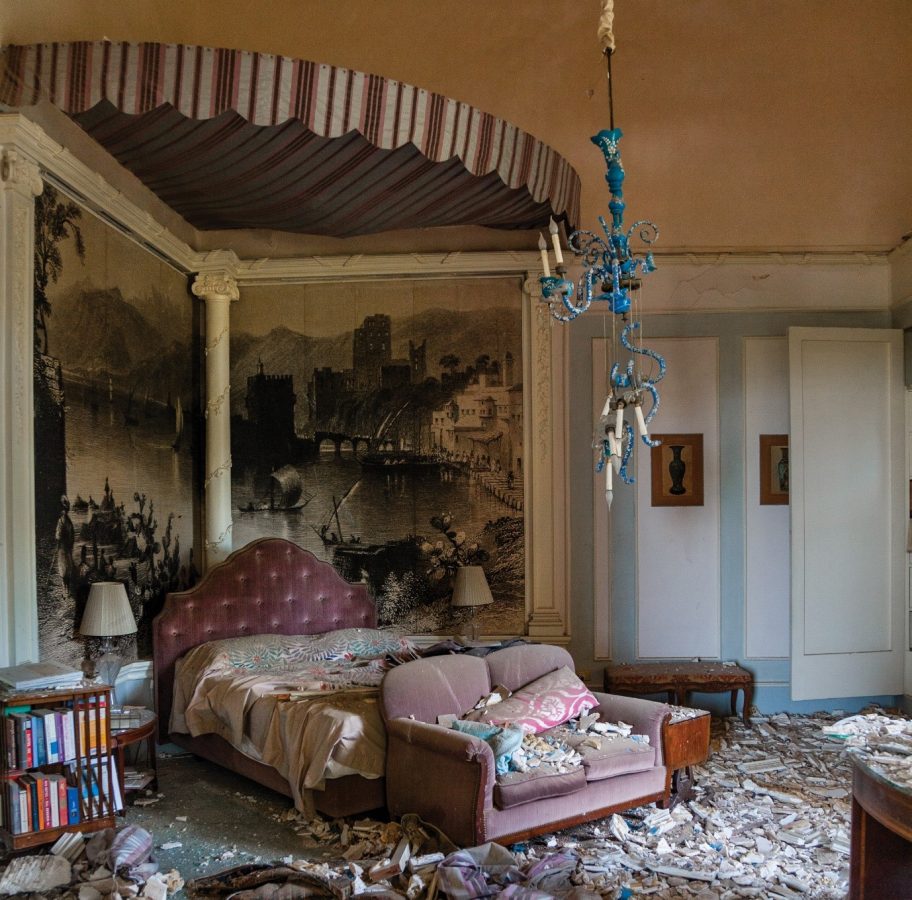 12 AUGUST, BEIRUT, LEBANON
In August an explosion of stored ammonium nitrate in Beirut's port tore across historic neighborhoods, leveled buildings, killed some 200 people, and injured 6,500. Ariana Sursock, 18, was in her family's home, the 1870 Sursock Palace, with her 98-year-old grandmother, who later died from injuries caused by flying glass and debris. The explosion, linked to a lack of government oversight of safety protocols, led to protests and calls for political change. "I'm not going to start the restoration before we know where we are going [as a country]," said Roderick Sursock, Ariana's father.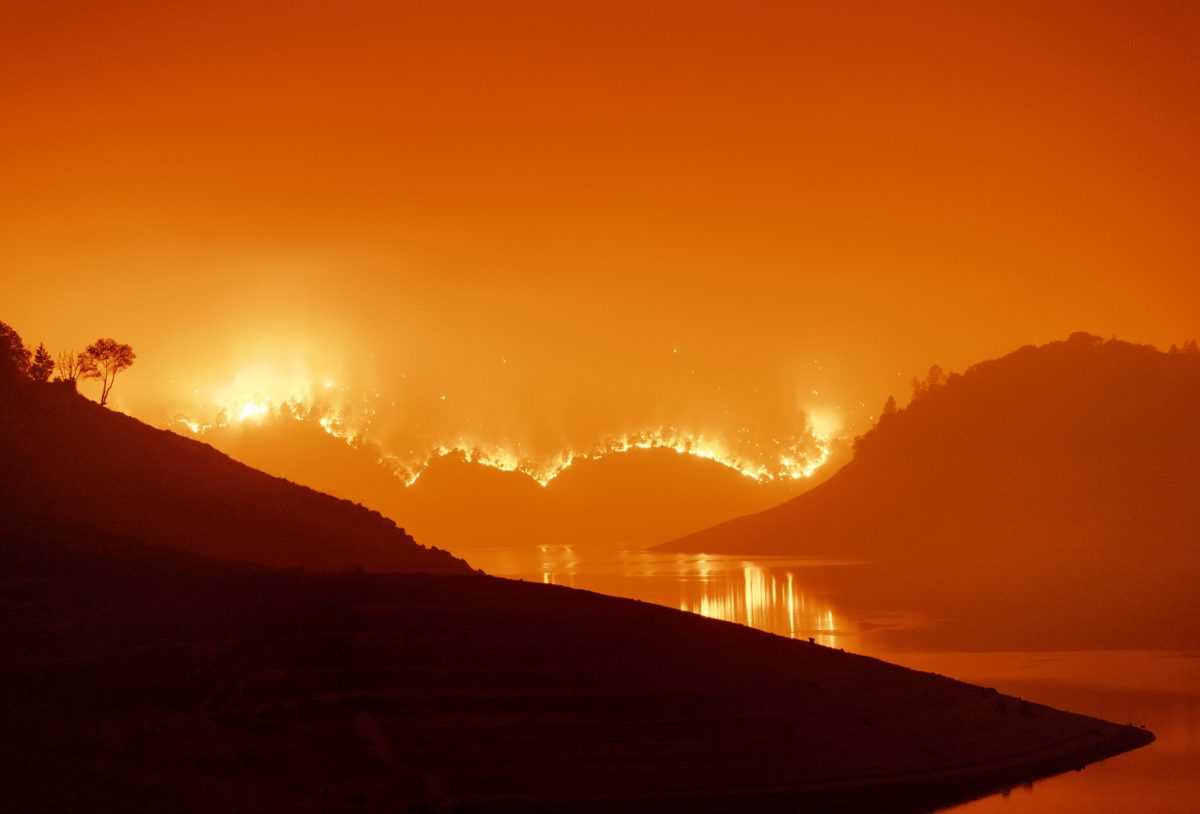 10 SEPTEMBER, LAKE OROVILLE, CALIFORNIA, USA
California's North Complex fire scorched more than 200,000 acres in just 24 hours this past September. The conflagration started as two separate fires in August during a powerful lightning storm that swept across Northern and central California. Weeks later, the fires, stoked by vicious winds, merged and exploded in size. The North Complex fire quickly destroyed much of the town of Berry Creek and killed 15 people – a grim reminder of the catastrophe that struck Paradise, California, just 40 miles to the northwest, in 2018. Cal Fire, a statewide firefighting and emergency services agency, says that fires in California and the West have grown larger, hotter, faster, and more dangerous, particularly in the past several years. There are a few reasons for this: A century of overzealous fire suppression ignored the role of natural fires in maintaining forest health. In addition, a population boom during the past half century has seen homes and towns proliferate on the edge of wild areas. Years of drought left dead trees to fuel the fires, and climate change gave California its hottest August ever recorded.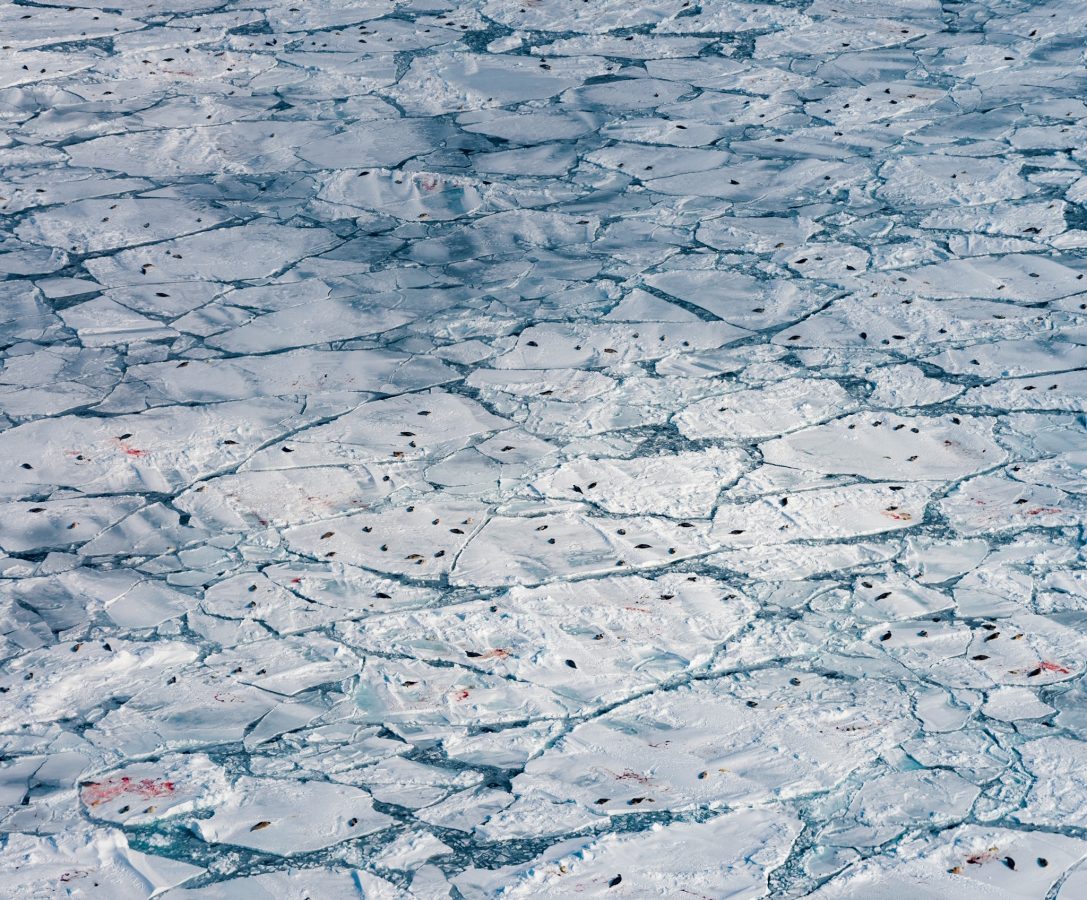 29 FEBRUARY, NEAR MADELEINE ISLANDS, QUÉBEC, CANADA
Blood stains the ice where harp seals give birth in the Gulf of St. Lawrence. Pups need solid ice to survive, but a warming world and shortage of stable ice in recent years have led to a rise in pup deaths. The situation could eventually prompt this population of harp seals to leave the gulf in search of increasingly elusive ice nurseries.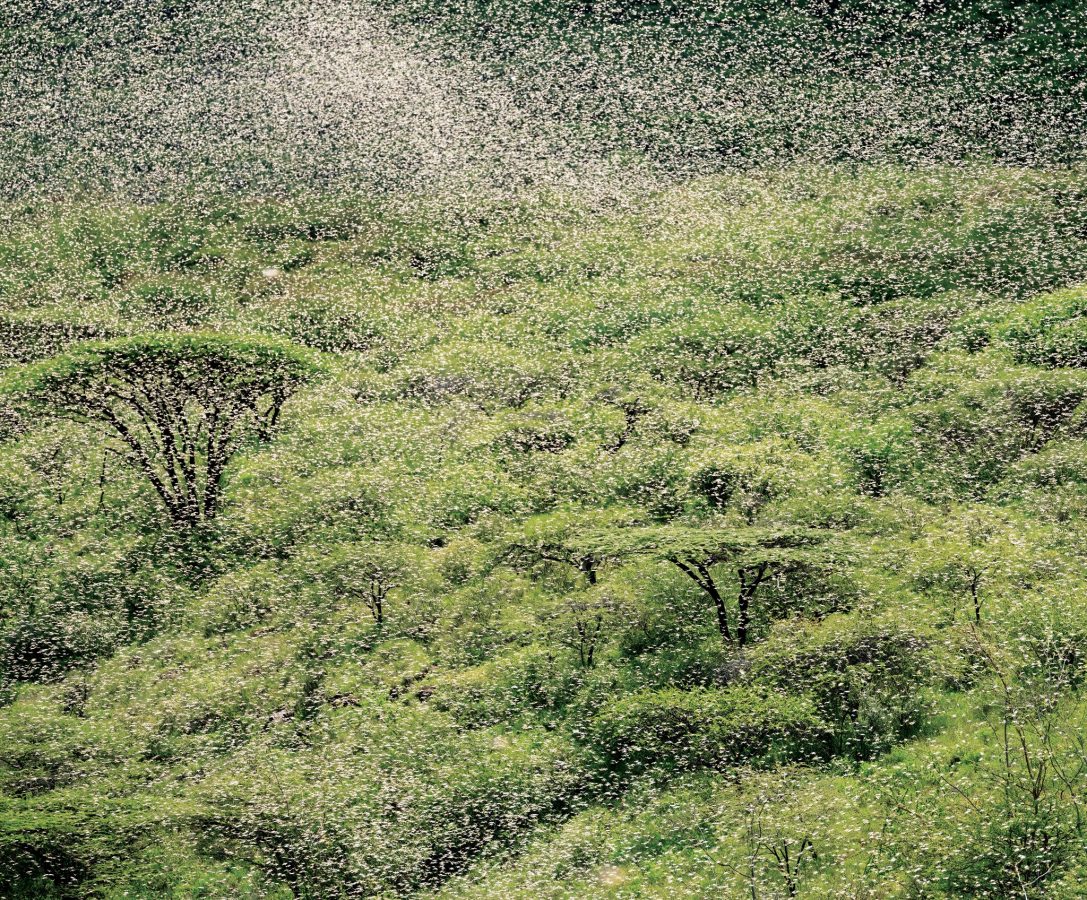 5 MARCH, BARSALINGA, KENYA
In a year of plagues, East Africa got an extra one: desert locusts. The swarms, which began moving into the region in late 2019, became a terrifying threat to Africa's farmers. In January, Kenya had its worst locust outbreak in 70 years. The insects flourish when arid areas get heavy rain and blooms of vegetation, triggering a population boom. Winds from the Arabian Peninsula push the swarms into the Horn of Africa, leading to hunger for millions of people. A single swarm can swell to 70 billion locusts and destroy more than 300 million pounds of crops a day. Even a smaller swarm of 40 million can eat as much in a day as 35,000 people.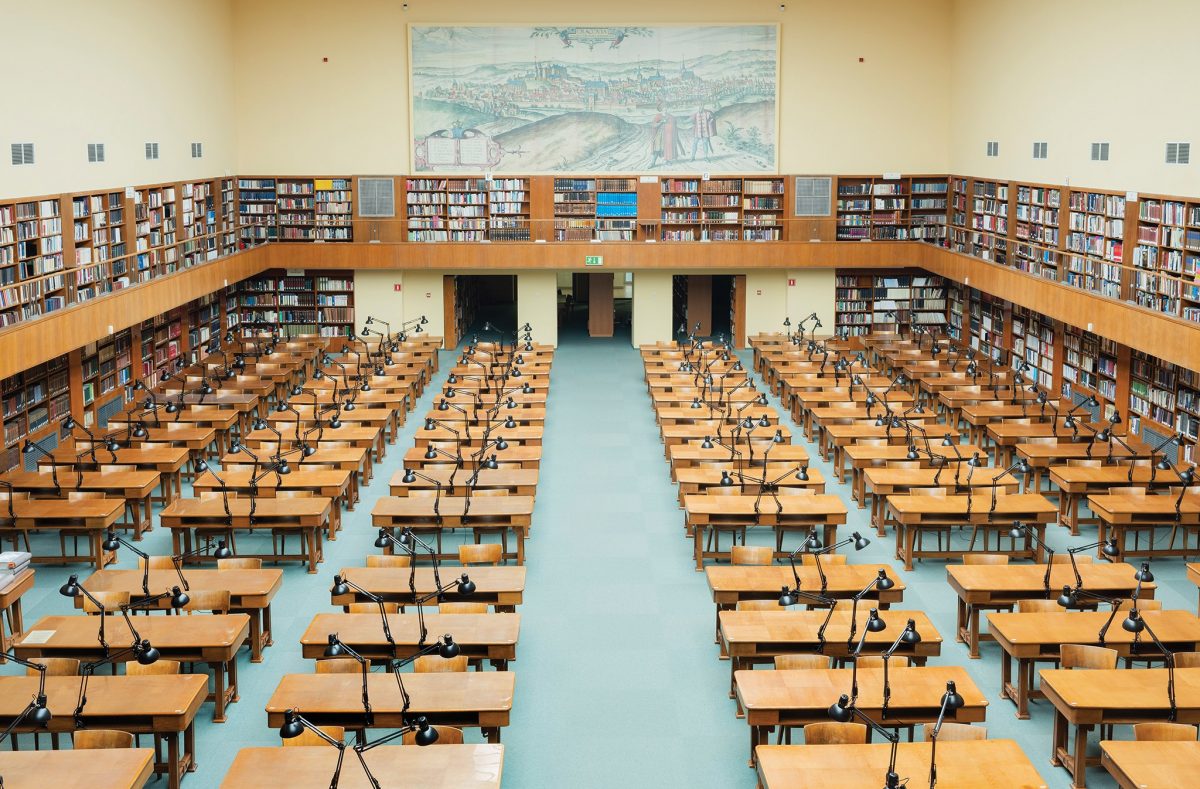 10 MARCH, KRAKÓW, POLAND
Jagiellonian University, founded in 1364, has survived religious upheaval, annexations, and world wars, in addition to the deportation of 155 academics to a German concentration camp in 1939. On March 10 the school suspended lectures and closed many campus operations, emptying one of the world's oldest and most resilient learning institutions. The main reading hall, shown here, turned desolate. Schools around the globe made similar accommodations. From preschools to law schools, educational leaders are grappling with how to reopen safely. For those at Jagiellonian, the 2020-21 school year is a blend of online and in-person learning.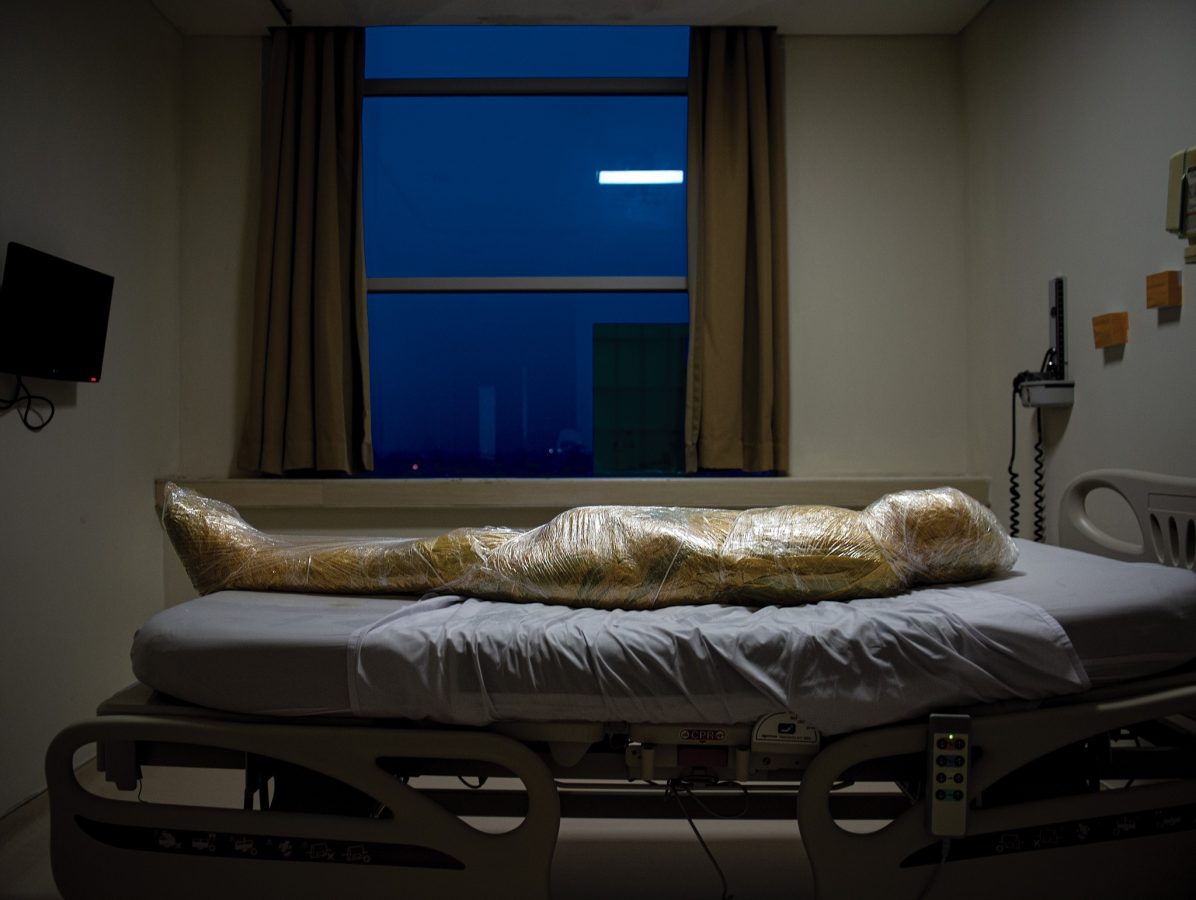 18 APRIL, INDONESIA
The body of a suspected coronavirus victim, wrapped in plastic, awaits a body bag in an Indonesian hospital. The multiple layers were part of a hospital protocol to help suppress the spread of the virus. As is the case with most victims, family members were not allowed to say goodbye. The uproar over this photo, first published in July by National Geographic, thrust photographer Joshua Irwandi into the spotlight. Celebrities and government officials in Indonesia had denied that Covid-19 was an issue in the country, which had lifted many social restrictions. This picture said otherwise. "It has galvanised and renewed discussions of Covid-19 in Indonesia just as the country was then preparing for a 'new normal,'" said Irwandi. It laid bare a reality in a country where more than 200 health professionals have now died of Covid-19. "It was our wake-up call," said Irwandi. "It illustrated the statistics that we seemingly grew numb towards." For Irwandi, the photograph and its aftermath were reminders of the power of a single image.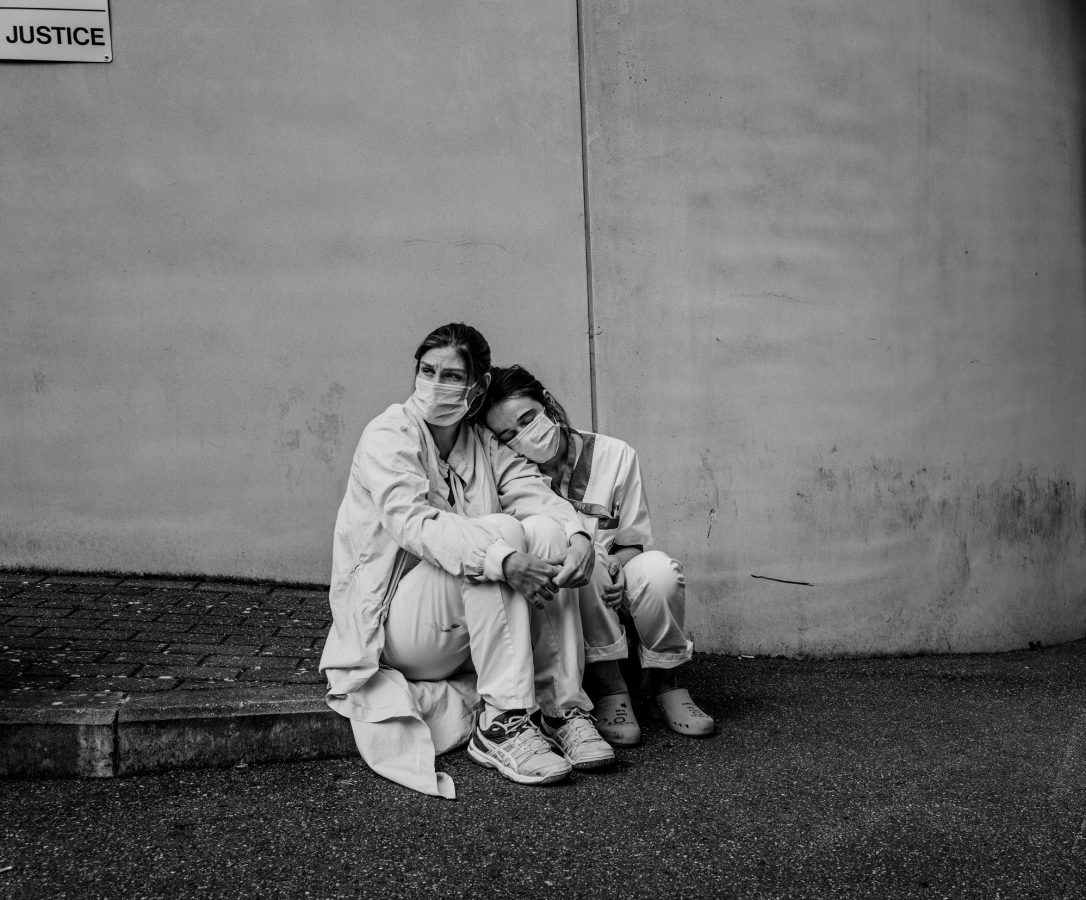 1 MAY, MONS, BELGIUM
Taking a brief break during ceaseless frontline work treating patients with the coronavirus, nurses Caroline Quinet (at left) and Yasmina Cheroual rest outside CHU Ambroise Paré hospital. The pair, who had known each other for only a few months, pulled long shifts in the intensive care unit. Like many medical facilities around the world, Belgian hospitals initially were overwhelmed by a rush of patients with the virulent, ever changing new disease. These nurses, pulled from their standard duties, were thrown into full-time Covid-19 work—reinforcement troops for a long, exhausting battle.
3 APRIL, BOULDER, COLORADO, USA
A birthday Zoom call is reflected in Brendan Davis's glasses, under a foam crown he donned for the celebration. As happy hours, holidays, and work meetings became virtual, "Zoom fatigue" entered our lexicon. Health experts warned that our brains were ill-equipped to handle long, emotional, and social-cue-filled interactions online.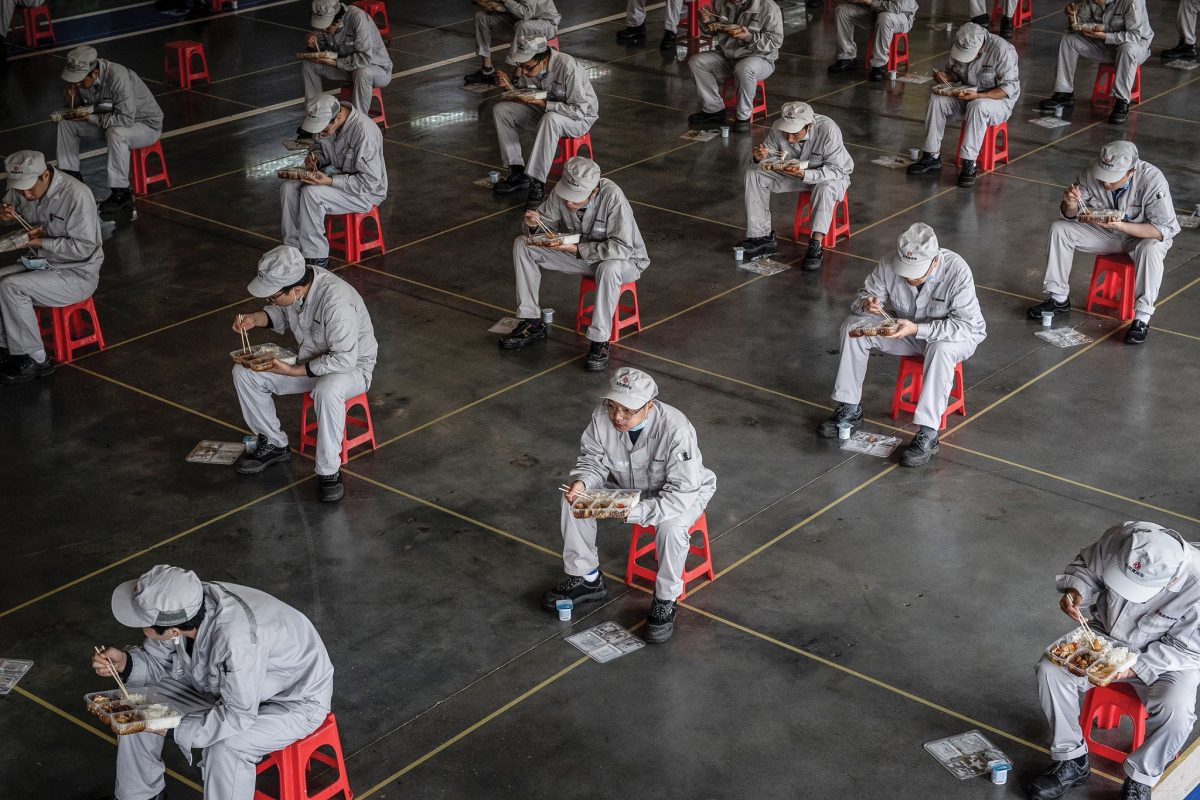 23 MARCH, WUHAN, CHINA
Auto factory workers eat a socially distanced lunch under new restrictions to halt the spread of Covid-19. The virus likely first emerged in November 2019 in Wuhan, a hub of steel and auto manufacturing. A strict curfew was put in place in January 2020. More than two months later, after a drop in daily infections, residents were allowed to slowly restart their lives, though not without careful precautions: Workers, like these employees of Dongfeng Honda, were required to wear masks, undergo temperature checks, and maintain safe distances. "We still need to remind ourselves that as Wuhan is unblocked, we can be pleased, but we must not relax," People's Daily, a state-run paper, warned.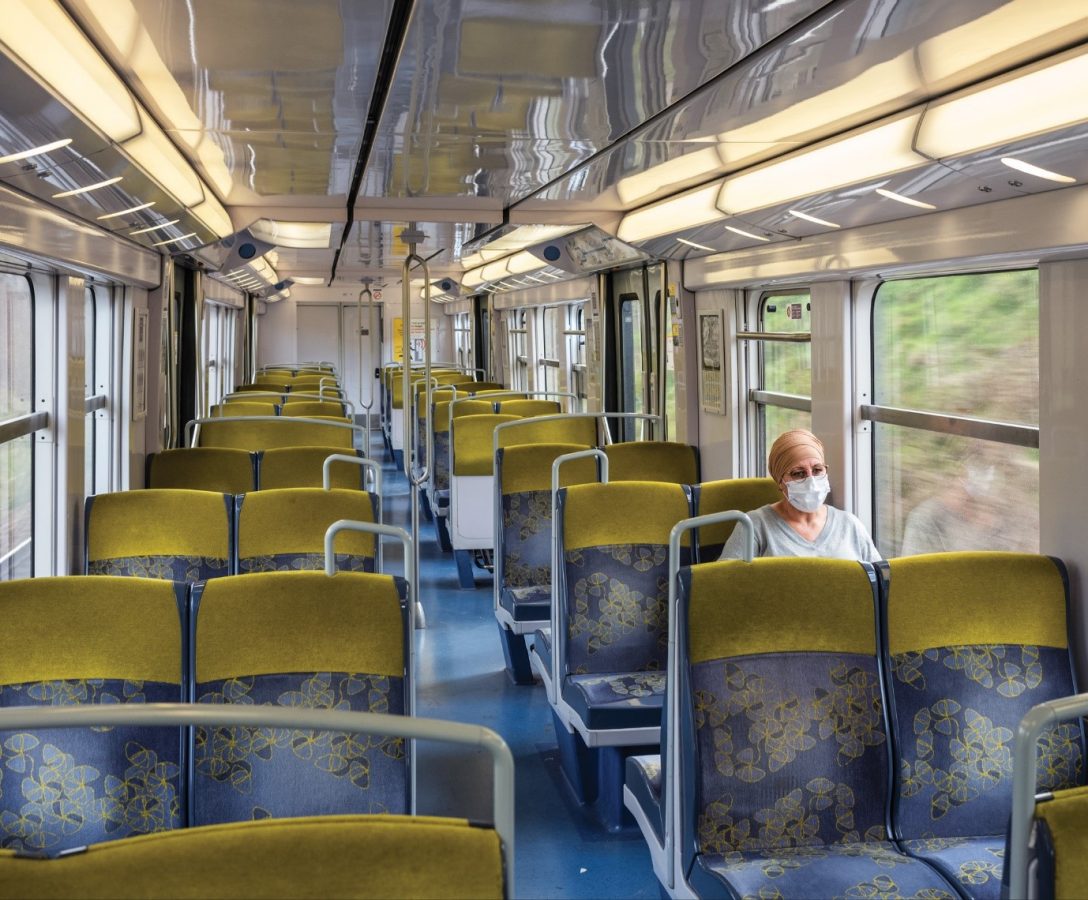 19 MARCH, PARIS, FRANCE
With many flights cancelled, the train from the city centre to Charles de Gaulle Airport is nearly empty. When stay-at-home orders were issued in mid-March, Paris became one of the first iconic cities to shut down in the face of the coronavirus. William Daniels observed that he had never seen his city so quiet. "One day when I was shooting at the main entrance of Les Halles, one of the biggest commercial malls in Europe, I heard birds singing," he said. "I'd never realised there were birds at Les Halles of all places. It gave me hope."
12 MAY, AMMAN, JORDAN
Fatima Mohammad, 37, a Sudanese refugee, stands near her sleeping three-year-old son, Sami. Jordan hosts the second highest number of refugees per capita in the world, after Lebanon. More than 100,000 displaced people live in camps, while 542,700 live in cities and towns. These urban refugees have been hardest hit by the lockdown. Non-Syrian refugees in Jordan aren't allowed work permits and receive no financial support from Jordan's government. As a result, refugees from countries such as Sudan, Yemen, and Somalia struggle to eke out a living. The day after this photo was taken, a three-day lockdown was announced to stem the spread of Covid-19, barring nonessential workers from leaving their homes.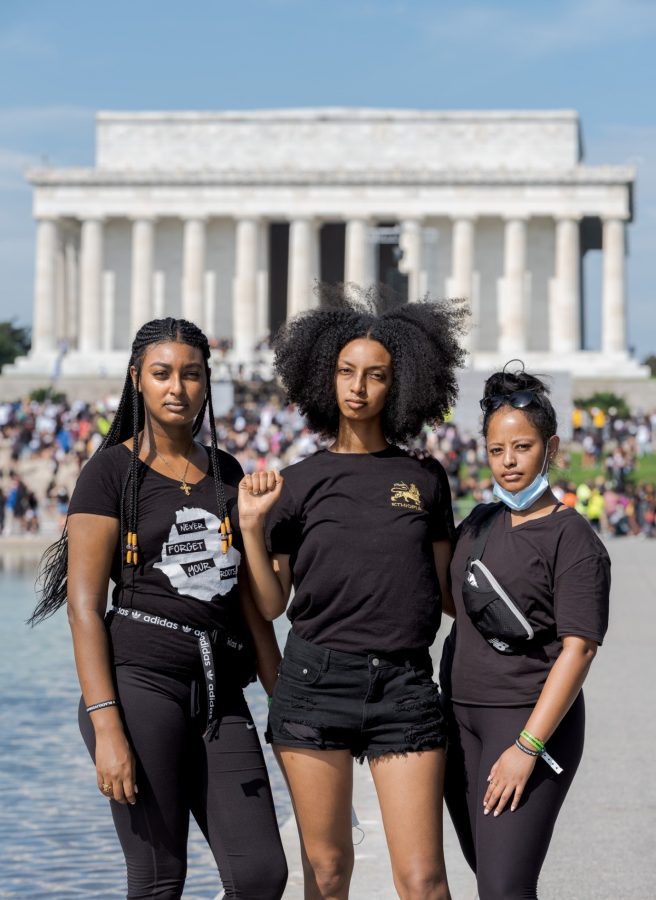 28 AUGUST, WASHINGTON, D.C., USA
Alem Bekele (left), her sister Herani Bekele (centre), and Bayza Anteneh, young professionals from the Washington, D.C., area, stand in front of the Lincoln Memorial during the march on the National Mall in August. "We're out here because we're tired of injustice, and we're here to make a difference for future generations," said Alem Bekele, echoing the concerns of many protesters. Each of them was involved in D.C. protests last summer. "With the killing of George Floyd, a switch went off. I would log off work early and go to a protest," Anteneh said. "It lit everybody up."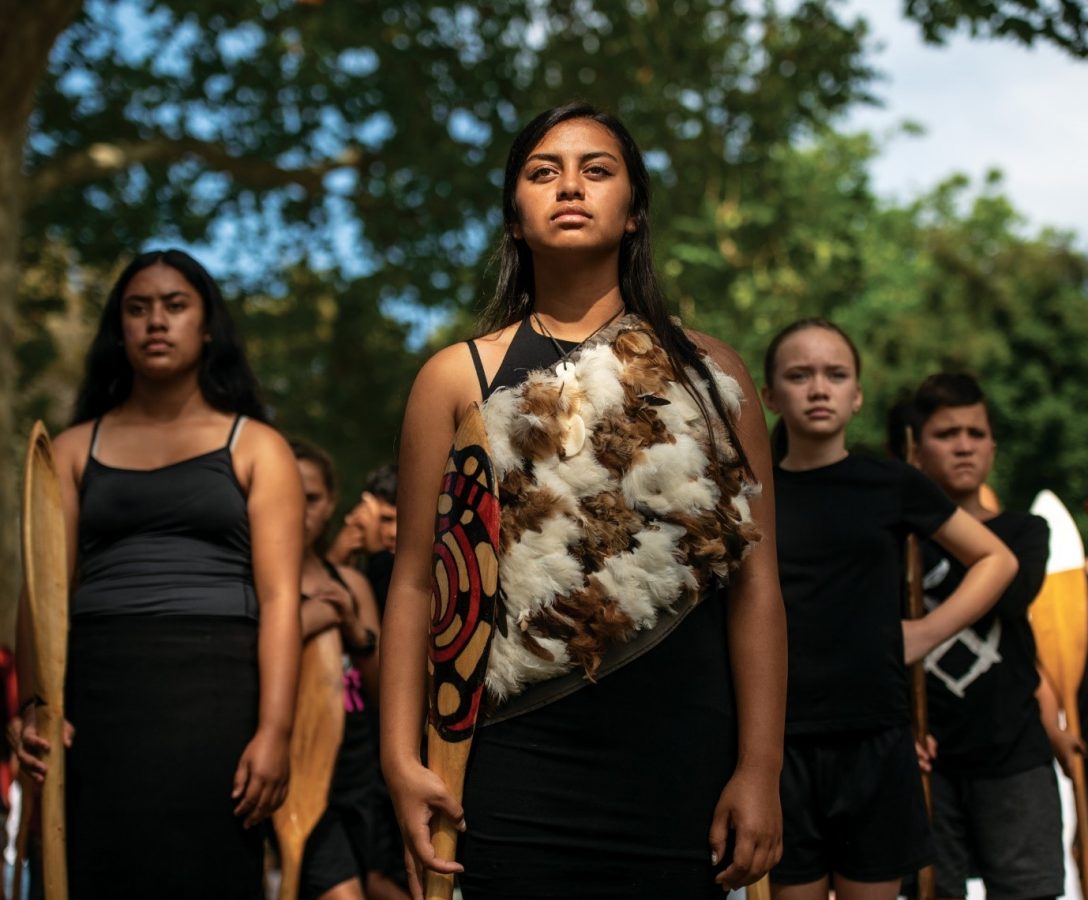 3 FEBRUARY, WAITANGI, NEW ZEALAND
Bronwyn Clifford, 16, stands with other Maori women on New Zealand's Waitangi Day, which is observed each February to commemorate the Treaty of Waitangi, signed by some 500 Indigenous leaders and the British in 1840. Today, Maori youth use social media to mobilise support for the return of ancestral land confiscated during the colonial era and to build momentum for the political partnership between Maori and Europeans envisaged by the treaty.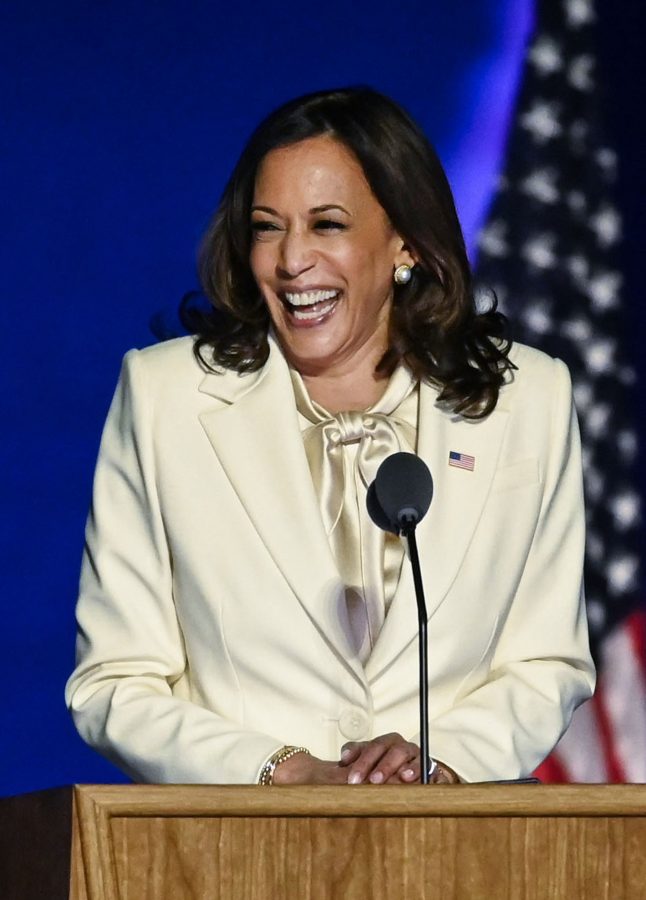 7 NOVEMBER, WILMINGTON, DELAWARE, USA
"Our country has sent you a clear message: Dream with ambition," Vice President-elect Kamala Harris said, as she and Joe Biden gave victory speeches. Dressed in white to honour women suffragists, she became the first woman, first Black person, and first Asian-American to win the vice presidency. "Every little girl watching tonight sees that this is a country of possibilities."
21 JULY, INTERNATIONAL SPACE STATION
Some seven weeks into his stint aboard the ISS, Behnken (at left) and Chris Cassidy exited the station to conduct a space walk to install a toolbox for a Canadian Space Agency robot and perform other maintenance tasks. The five-and-a-half-hour exercise marked the 10th space walk for the veteran astronauts and the 300th by Americans. Hurley, Behnken's partner on the Crew Dragon, snapped their photo from inside the ISS. Twelve days later, Behnken and Hurley ended their mission with a splashdown in the Gulf of Mexico.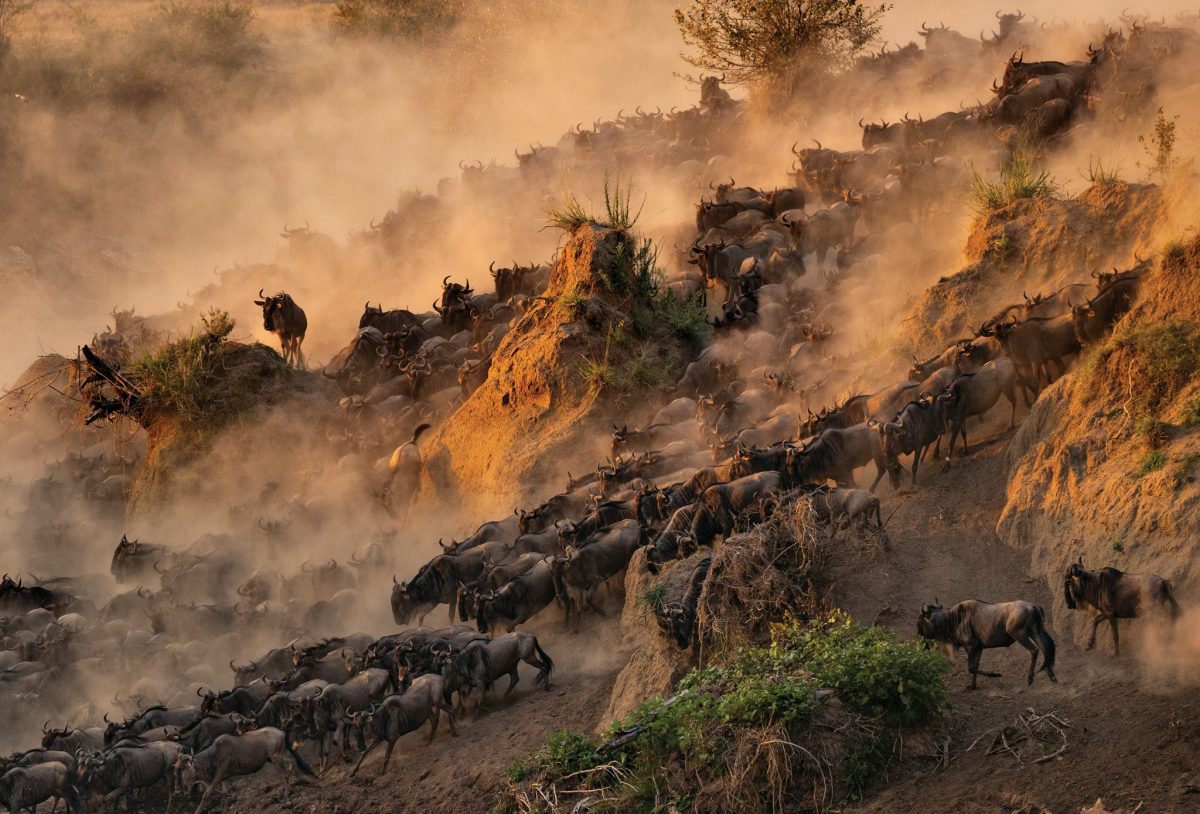 18 SEPTEMBER, MARA RIVER, KENYA
Every year, more than a million wildebeests rumble north across the Serengeti in a migration that is one of the world's great spectacles. In 2020 it was no different. Herds followed seasonal rain from northern Tanzania to Kenya's Masai Mara. During one summer sunset several thousand wildebeests gathered at the edge of the Mara River and spilled down its banks. Crocodiles awaited them in the water and hyenas on the other side of the river. Fresh green grass did, too, and so they pushed forward, as they always do.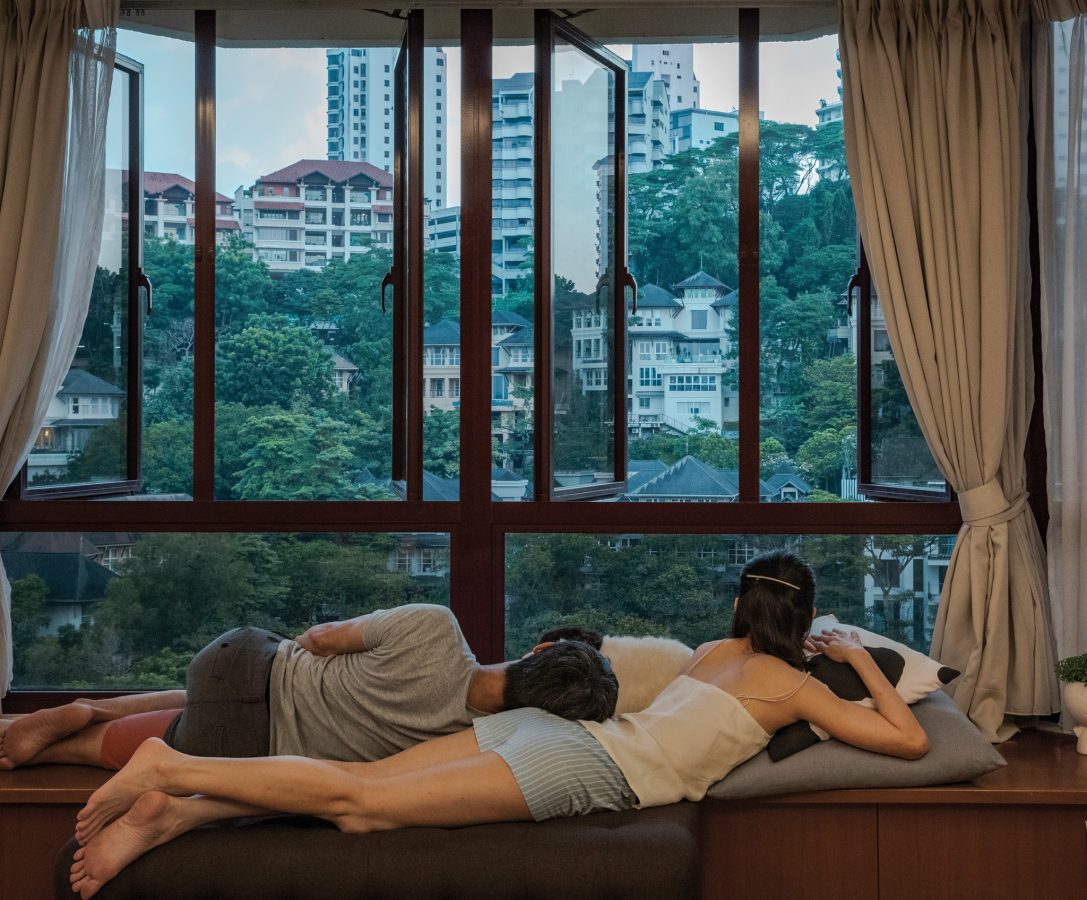 30 MARCH, KUALA LUMPUR, MALAYSIA
Photographer Ian Teh spends much of his working life on the road. The pandemic allowed him to stay home with his wife, Chloe Lim, in Kuala Lumpur. "My partner and I are lucky that both our families are safe," he says. "The pandemic has been an opportunity for us to connect with our loved ones, virtually." One day, he took a self-portrait: "We are sitting by our favourite spot in our apartment, looking out to the nearby houses and greenery. It's peaceful."
---
"ExpatGo welcomes and encourages comments, input, and divergent opinions. However, we kindly request that you use suitable language in your comments, and refrain from any sort of personal attack, hate speech, or disparaging rhetoric. Comments not in line with this are subject to removal from the site. "
Comments