Of late, there has been quite a bit of attention drawn to autism or autism spectrum disorder. Many airports around the world (including Malaysia Airports), shopping centers, bookstores, movies, and even Walmart have jumped on the bandwagon to promote education on autism and inclusion for individuals with autism. But why?
Autism is a complex disorder that primarily affects how the brain works. Autism is a spectrum, and within the spectrum, presents individuals with mild, moderate and severe autism. All autistic people share certain difficulties, but being autistic will affect them in different ways. All people on the autism spectrum learn and develop. With the right method of support, all can be helped to live a more fulfilling life of their own choosing.
Generally autism is diagnosed in children 3 years old and younger, however for individuals with mild symptoms, autism can be diagnosed much later in life. An example would be Susan Boyle, the Britain's Got Talent contestant, who was diagnosed with autism as an adult!
Autism is a neurodevelopmental disorder that affects:
Language and Speech; Children with autism exhibit a delay in speech or no speech development
Rigid interests or repetitive behaviors; Over interest in specific topics, and repetitive behaviors such as hand-flapping, spinning, lining items up, obsession over inanimate objects
Socialization; Generally struggles to socialize with peers, or prefers to play alone
Current statistics of the prevalence of autism is 1 in every 68 children in USA and approximately 9,000 children are born every year in Malaysia with autism.
There are three clinical levels of autism: Level 1 (mild), Level 2 (moderate) and Level 3 (severe). Data over 40 years implies and has proven that early identification, early intervention, and intensive intervention (30-42 hours a week) improves a child's quality of life drastically, and 50% of children are able to re-socialize back into mainstream academia successfully after two or three years of intensive intervention. Autism affects more boys than girls. In every five children that are diagnosed, four are boys.
Individuals on the spectrum, with the right support can go one to lead a full independent life. Although the media highlights primarily individuals that are severely affected, we also see many that go on to university, and are successful in their careers!
As to what causes autism, there have been many theories, conspiracy and otherwise, but basically, there is no evidence to date that suggests a specific cause to autism. Some current research, however, suggests that genetics and environmental factors may play a role.
ABOUT ABC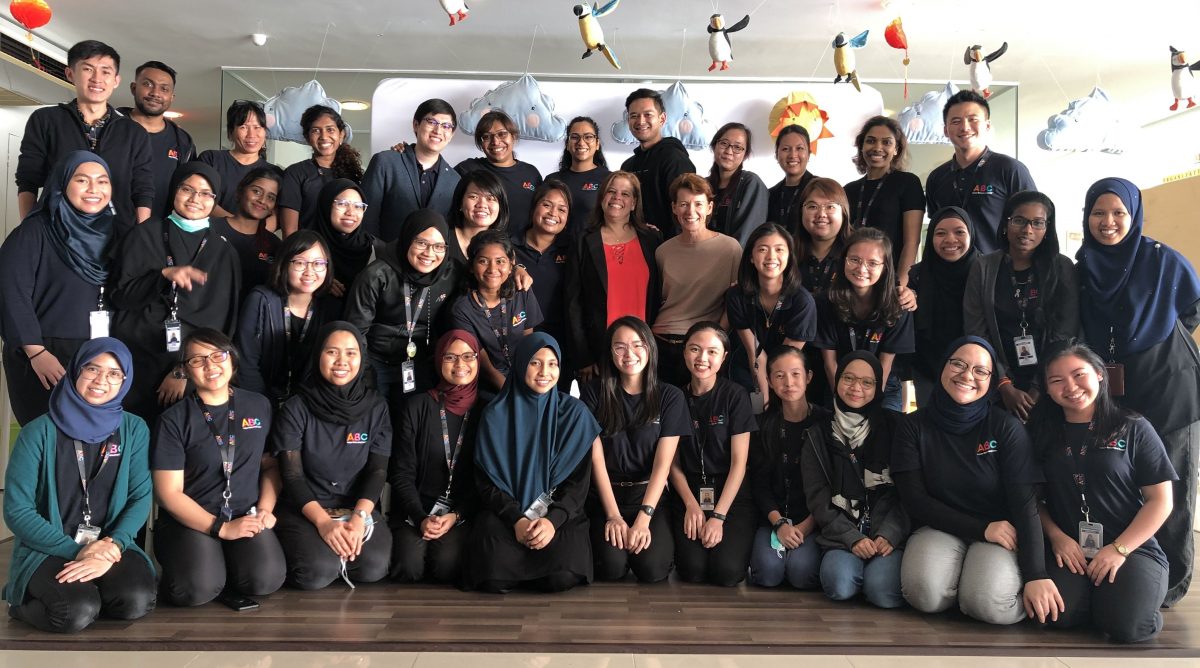 The Autism Behavioral Center, ABC, was established in 2016 and conceived with the objective of bringing international standards and high quality of support and supervision in ABA therapy to Malaysia. There is a huge lack of trained therapists in Malaysia, particularly in the method of ABA therapy, which is currently considered the 'gold standard' in autism treatment due to its success in reintegrating a child back into school and society, backed up with over 20 studies to prove the method's effectiveness and success in developing a child's skills.
ABC continues to prove the highest quality in services, which includes training of therapists, international standards of assessments (VB-MAPP), reports and Boards Certified (BACB) supervision. It also reaches out to the vast majority of families by providing autism and behavior management workshops in schools, free autism screenings for children 30 months and below, and working alongside Malaysia Airports as the official trainer for ground staff for the "Butterfly Effect Initiative."
ABC aims to be a home-grown name in autism intervention and treatment, opening soon in every state in Malaysia. It primarily supports individual with Autism, as well as children with learning difficulties and behavioral difficulties, primarily children with ADHD, speech delay, and behavioral challenges.
ABC is currently the largest 1:1 Applied Behavior Analysis (ABA) center in Malaysia, with 40 individual therapy rooms ; 1 child : 1 room : 1 therapist.
ABC is supervised directly by a Board Certified Behavior Analyst (BCBA), Ms. Dita Chapman who has been working in the field for over 14 years. Ms. Dita facilitates ABA trainings, programming and supervision in ABC using the Pennsylvania Training and Technical Assistance Network (PaTTAN) technology developed in USA by Dr. Amiris DiPuglia (BCBA) & Mr. Mike Miklos (BCBA). Through support from Ms Dita Chapman, ABC follows the PaTTAN's training model, protocols, and procedures while ensuring high integrity and social validity.
Our main objective is to provide quality International Standards of ABA Intervention through PaTTAN Technology (Pennsylvania Training and Technical Assistance Network).
ABC supports families primarily through our intensive ABA programs, parent trainings and school shadow services. ABC currently services clients from all over the world, 50% of our current families are expatriates and 50% are local.
Services provided by ABC:
Center based
1:1 ABA therapy program (half day, 15 hours a week) or full day (30 hours a week) at the center with direct supervision by Board Certified Behavior Analyst (BCBA). ABA primarily addresses speech delays, social skills, maladaptive behaviors, and school readiness skills.
Home Based
Therapy services are conducted in homes/schools, primarily addresses speech delays, social skills, maladaptive behaviors and school readiness skills.
Shadow Aide Services
A trained ABA therapist supporting in school to assist in communication, socialization, emotion regulation, academics, taking and following through instructions and tasks.
FOR FURTHER INFORMATION, PLEASE CONTACT US AT:
SP AUTISM BEHAVIORAL CENTER SDN BHD (ABC)
Level 3, 45E, Bangunan Bangsaria, Jalan Maarof, 59100 Bangsar, KL
+603 2201 1107 / +603 2202 1107
+6012 285 2007
FB: Autism Behavioral Center
IG: abc.malaysia
---
"ExpatGo welcomes and encourages comments, input, and divergent opinions. However, we kindly request that you use suitable language in your comments, and refrain from any sort of personal attack, hate speech, or disparaging rhetoric. Comments not in line with this are subject to removal from the site. "
Comments