Days of anti-military demonstrations protesting the recent coup in Myanmar have seen everything from gowned princesses to buff, half-naked men hitting the streets to let their grievances be known.
Though it's a deadly serious effort – a young protester in Myanmar who was shot by police has just recently been removed from life support – tens of thousands are taking to the streets of Yangon, Mandalay, and beyond to take a stand against the military's brazen overthrow of the legitimate, elected government on February 1.
Winning with an overwhelming 83% of the vote, the National League for Democracy party, spearheaded and led by Aung San Suu Kyi, who remains enormously popular in Myanmar despite a stunning fall from grace on the international stage, clearly has a lot of support in the country. So when the military staged a shocking coup in the early morning hours of February 1, the citizens of Myanmar decided they weren't going to accept another round of military rule, and took to the streets in what has been a near-daily and increasing spectacle: a show of civil disobedience on an immense scale.
And now, those protesters are getting both creative and cheeky in their effort to draw attention to their cause. Scores of people have set up colourful inflatable pools to use as their base of protest, some are showing up in costumes, and for many of the hand-carried signs, what they lack in size they make up for with cheek.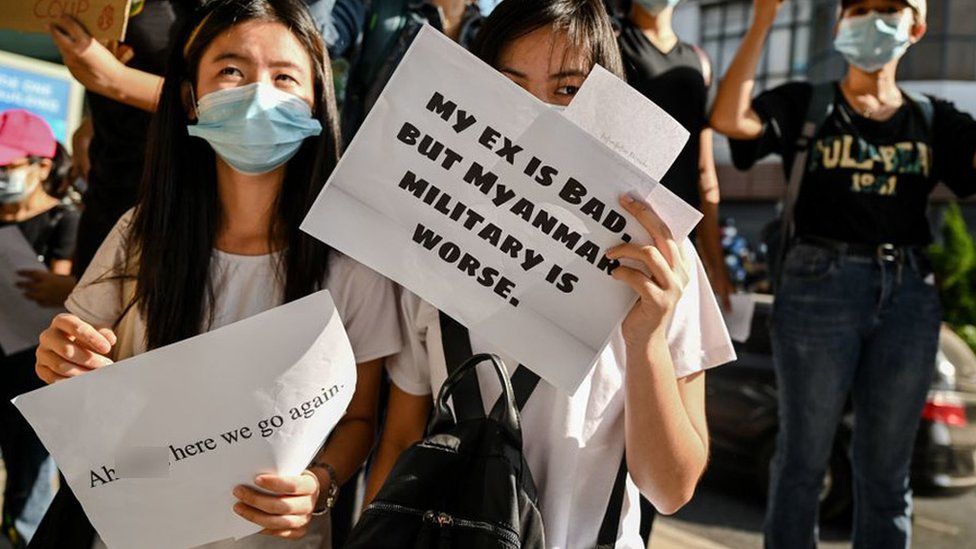 The protests are the largest in Myanmar since the "Saffron Revolution" led by Buddhist monks in 2007, and in the intervening years, a lot has changed. Fuelled by increased access to the internet and social media, Gen Z Burmese have come of age in a much freer Myanmar compared to previous generations who were largely cut off from the world.
The younger protesters are using that exposure to their advantage by displaying pop culture references, internet memes, and jokes on their handmade signs, with many written in English (and some in Japanese) rather than Burmese script, the protesters clearly knowing that to make an international impact, their message has to be understood.
Meanwhile, near the Japanese embassy in Yangon, a line-up of protesters were lounging in inflatable swimming pools holding up protest signs. Japan has deep economic and corporate ties with Myanmar, so protesters are staging their protests at the embassy quite intentionally. University student Moe Myat Theingi devised the concept as something eye-catching and different.
"We are always thinking to be more creative and how to get international attention," he told AFP reporters. "Our Generation Z is smart and we will protest cleverly."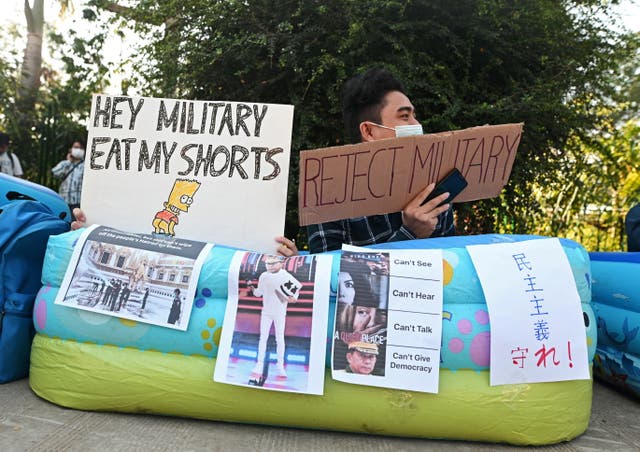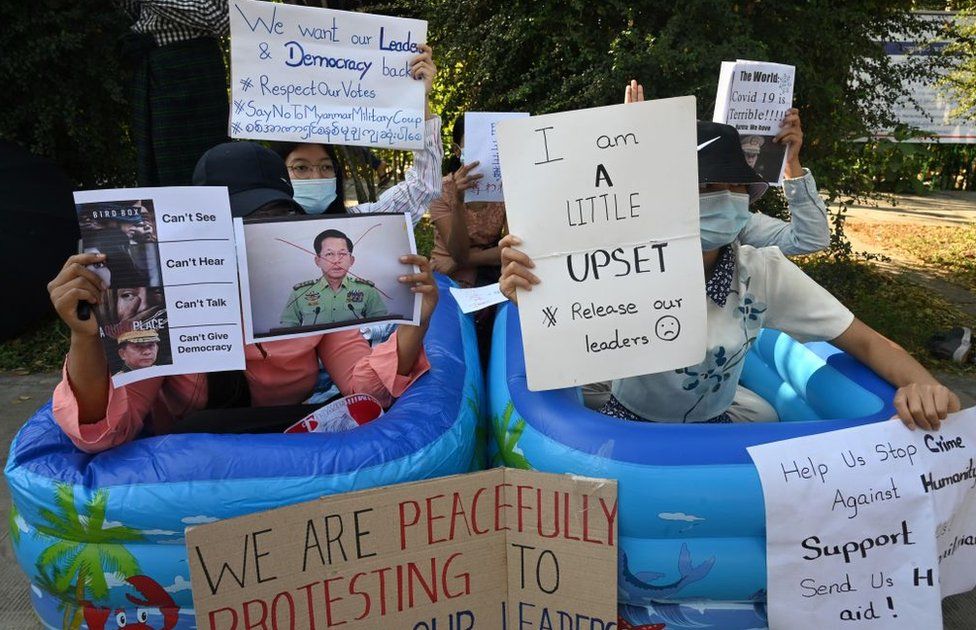 Beauty pageant queens dressed in evening gowns, sashes, and tiaras, and women dressed as both brides and princesses carried signs with more direct messages such as "Fight for Democracy" and "We Want Justice" while many protesters used the three-finger solidarity salute borrowed from the oppressed masses in The Hunger Games film series.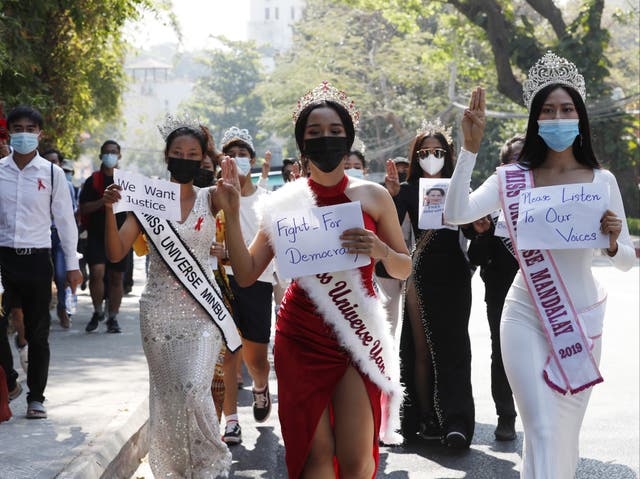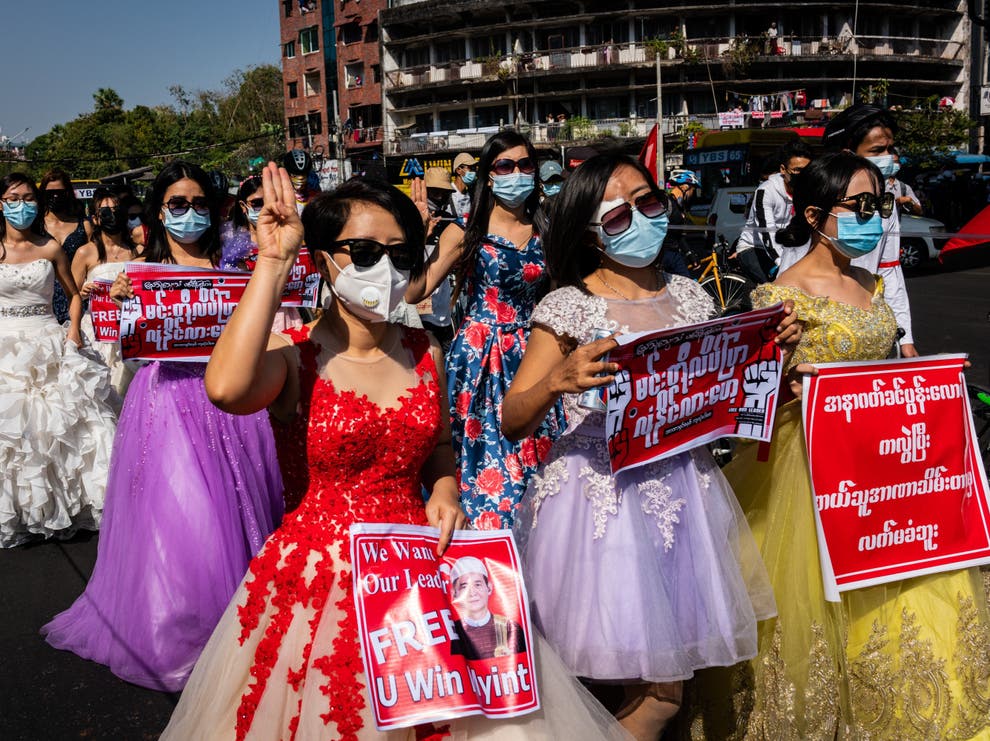 Some signage got creative with this group, too. "I don't want a dictatorship, I just want a boyfriend," one woman's placard said. Others seen included "Dictatorship? No! Thanks. I don't even want a 'relationship'", "F*** the military coup, I'm still single!" and "I still can't believe I have to protest in a wedding gown!"
Batman also made an appearance at a weekend protest, riding atop a car holding a sign that read: "Release our leaders, reject military coup, respect our votes." Spider-Man was not left out, either with a sign playing off the Far from Home title of the 2019 MCU film about the web slinger. The simple, carefully hand-lettered cardboard sign, carried by a young protester who goes by the name of "Spidey Htoo," managed to evoke a range of emotions in some social media users, who found it both empowering and heartbreaking in its plaintive plea for what so many take for granted in their own countries.
By wearing a costume, he hopes to catch the attention of onlookers and media, but also to avoid recognition and arrest, a point which helped him secure permission from his fearful parents to join the protests. Authorities cracked down violently on protests in 1988 and 2007, but the very different approach of the latest demonstrations show that Burmese citizens have learned from the past and adapted accordingly.
"Our protest is going to be completely different from the older protests," explained Spidey Htoo. "Our ideas and creativity are more advanced than their tactics. They can't defeat us. We will win."
Getting a lot of press has also been a corps of local "gym rats" who have taken time away from their weight benches to strip off their shirts and march against the military coup. Needless to say, plenty of attention has been paid, as photos of hunky protesters on the streets of Yangon and Mandalay have rocketed around the world, seemingly picked up by every major news outlet from Reuters, the BBC, and the Associated Press to South China Morning Post, the Sydney Morning Herald, and AFP.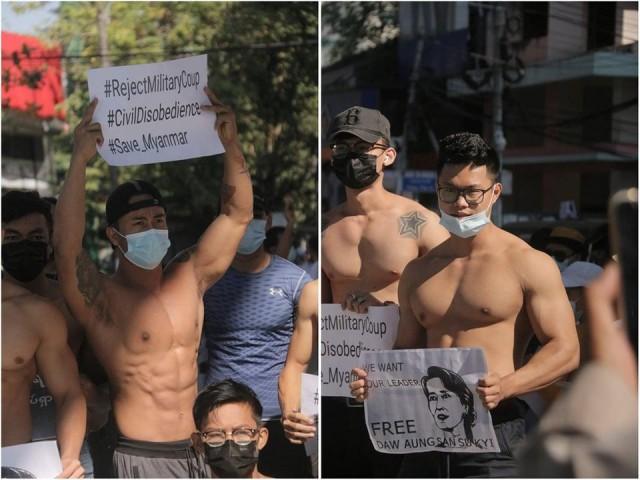 Yangon personal trainer Phyo Ko Ko said he wanted to not only participate in but add some creative "muscle" to the pro-democracy rallies.
"I do not want [a] military dictatorship at all," he said in a now-viral Facebook post with pictures of him and his gym buddies showing off their six-packs and biceps.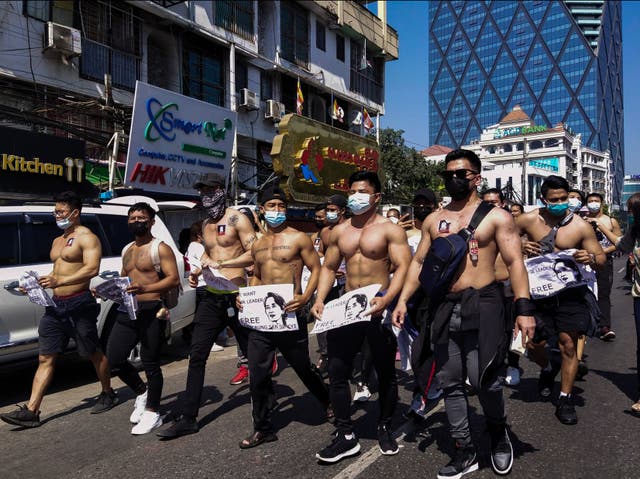 In a bid to garner outside attention, the peaceful protests' messaging may be humorous (or in some cases even a little salacious), but the reality of the situation in Myanmar is anything but funny.
With the military in Myanmar getting more serious about cutting off internet and social media in the country, and over 200 leaders from the deposed government still incommunicado, many protesters are hoping their creative protests will help communicate their country's perilous circumstances to the outside world.
US President Joe Biden recently announced that his administration will enact harsh, targeted sanctions against the military leaders of the coup in Myanmar. The US State Department last week formally determined that the February 1 military takeover constituted a coup d'état, a designation that by statute requires the United States to cut its foreign assistance to the country's government. The Biden administration will also move to freeze the military junta's access to Myanmar government funds held by the US, said to amount to one billion dollars.
The UN Human Rights Council (HRC) and UN Security Council have condemned the coup, demanding the release of Myanmar's leaders. In a recent meeting, UN Special Rapporteur Tom Andrews called for action by the Human Rights Council, reading aloud a message he had received from an activist in Myanmar, who is currently in hiding.
"He asked me to respectfully pass on these exact words to this body: 'We need more than a statement on a piece of paper; we need real action from the United Nations.'"
Mr Andrews further called on the HRC to urge the Security Council "to consider all of the options it has previously used to deal with gross human rights violations", including sanctions, arms embargoes, travel bans, and even judicial action at the International Criminal Court (ICC) or ad hoc tribunals.
"All of these options should be on the table," he said.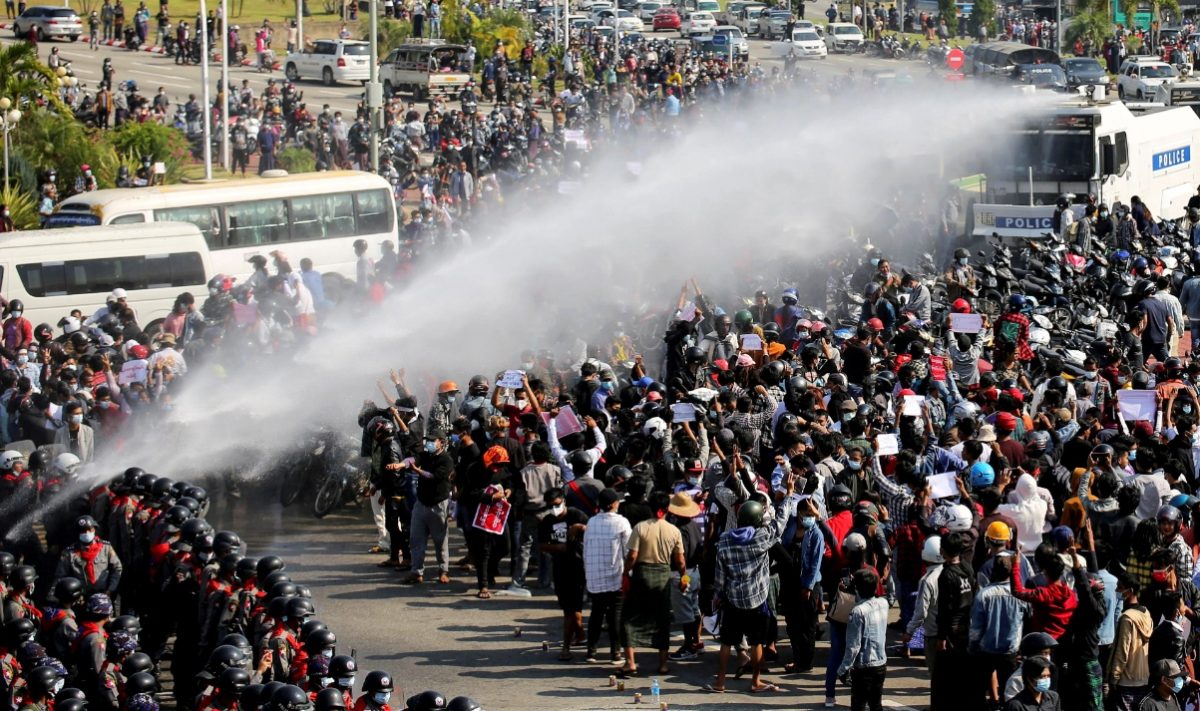 For more on the protests in Myanmar, check out the short video below, courtesy of AFP and SCMP:
---
"ExpatGo welcomes and encourages comments, input, and divergent opinions. However, we kindly request that you use suitable language in your comments, and refrain from any sort of personal attack, hate speech, or disparaging rhetoric. Comments not in line with this are subject to removal from the site. "
Comments