Sixteen months in, the world's battle with the Covid-19 pandemic is in many ways seeing fresh signs of getting worse, not better.
For almost two months, the number of Covid-19 cases worldwide has been trending steadily upward. The last four weeks have seen deaths rising, too. New variants of the coronavirus are proving to be more contagious, and in some cases, more lethal. There are myriad potential problems arising with several of the vaccines. The Chinese have openly admitted the effectiveness of their vaccines is "not good." A number of countries are seeing large surges in their caseloads. And around the world, people are getting worn down and fed up.
In response to all this, the World Health Organisation (WHO) has sounded the alarm, saying that people worldwide need a "reality check" on the pandemic. Short version: It's not over yet, folks.
"This is not the situation we want to be in 16 months into a pandemic, where we have proven control measures. It is time right now where everyone has to have a reality check about what we need to be doing," Maria van Kerkhove, the WHO's technical lead for coronavirus response, said at a news briefing early this week.
Last week alone saw 4.4 million new Covid cases logged globally. With the cumulative total of cases now approaching 140 million since the crisis began, the total number of deaths from the long-running pandemic has now exceeded the 3 million threshold. Let that sink in: Three million people dead. And with that in mind, health officials are concerned that we are letting our collective guard down too soon.
According to WHO Director General Dr. Tedros Adhanom Ghebreyesus, "Confusion, complacency, and inconsistency in public health measures" are the primary drivers behind the large surge in cases being seen now, particularly in some Asian and Middle Eastern countries.
COVID SURGES IN SEVERAL COUNTRIES
In India, all-time high tallies of infections were recorded over the last week, as the country of nearly 1.4 billion people continues to implement one of the world's fastest vaccination drives.The country reported 161,736 new coronavirus cases on Tuesday of this week, a slight decline following six consecutive days of record single-day rises, according to figures from the Indian health ministry. India's total caseload stands at more than 13.5 million – trailing only the United States and Brazil – including nearly 170,000 fatalities.
And on the subject of Brazil, coronavirus cases there are spinning out of control. Since the pandemic began, Brazil has logged nearly 14 million cases. Over 365,000 have died, and many believe the true number is even higher. And there are few signs that things are improving: 4,195 people died in just 24 hours (reported on Tuesday), the country's deadliest day of the pandemic yet.
And even though the state of Sao Paulo and the city of Rio de Janeiro rank among the worst in the country for Covid-19 deaths, both eased movement restrictions early this week. Sao Paulo authorities bizarrely justified the reopening of schools, sports and events venues, and construction sites by pointing out that occupancy rates in hospital intensive care units (ICUs) there had fallen from 90.5% to 88.6% – hardly a stunning drop.
"This measure clearly shows that the effort made in recent weeks is beginning to give results," vice-governor Rodrigo Garcia said during a news conference on April 9. But daily numbers still continue to soar. In just one day late last week, the state registered over 20,000 new cases.
Meanwhile, in Rio de Janeiro, ICU occupancy rates are higher at 92%, but Mayor Eduardo Paes nevertheless has decided to ease restrictions, saying that, "our reality does not allow lockdown," during a press conference on Friday, adding that shop owners and the general population suffer economically from such measures. Still, he said, "This is no time to relax."
Paes's comments illustrate the difficulty many elected officials are faced with, as they attempt to thread the needle between lives and livelihoods. An easy or straightforward solution has proven to be exceedingly elusive, and striking the right balance so that the spread of the virus isn't out of control, yet allowing businesses and residents to have largely free movement has been a moving target that has frequently frustrated governments worldwide.
DEVELOPMENTS IN MALAYSIA
Here in Malaysia, apart from a continued and increasingly contentious ban on interstate leisure travel and the now-familiar requirement of needing a mask, recording your entry, and scanning your temperature when entering any premises, you'd never know we were in a pandemic. Traffic jams in cities, shopping, dining… in many ways, things seem at least a little bit like they're back to normal. In actual fact, however, the data now are actually far worse than when we in the first few weeks of a hard lockdown this time last year.
Back then, we were alarmed if daily new cases surged above 200. Now, they're frequently closer to 2,000. Malaysia has rolled out a good plan for its vaccination programme, and hundreds of thousands of frontliners in Phase 1 have already received at least their first of two jabs, but the rate of registration in the broader general population has been poor, and it remains to see how effective Phase 2 will be.
The difference between the coronavirus numbers in Malaysia from one year ago to those same numbers today is sobering (data courtesy of KKM):
| | | | | |
| --- | --- | --- | --- | --- |
| | Daily New Cases | Total Cases | Active Cases | Death Toll |
| April 15, 2020 | 110 | 5,182 | 2,342 | 83 |
| April 15, 2021 | 2,148 | 367,977 | 17,575 | 1,363 |
| | | | | |
One meaningful statistic that the numbers above don't show is that the peak of active cases in Malaysia occurred in mid-February, when the country saw several days with over 50,000 active cases on hand each day. And though having over 17,500 cases now is a significant increase from what it was a year ago, it's a much larger decrease from the highest counts experienced in February.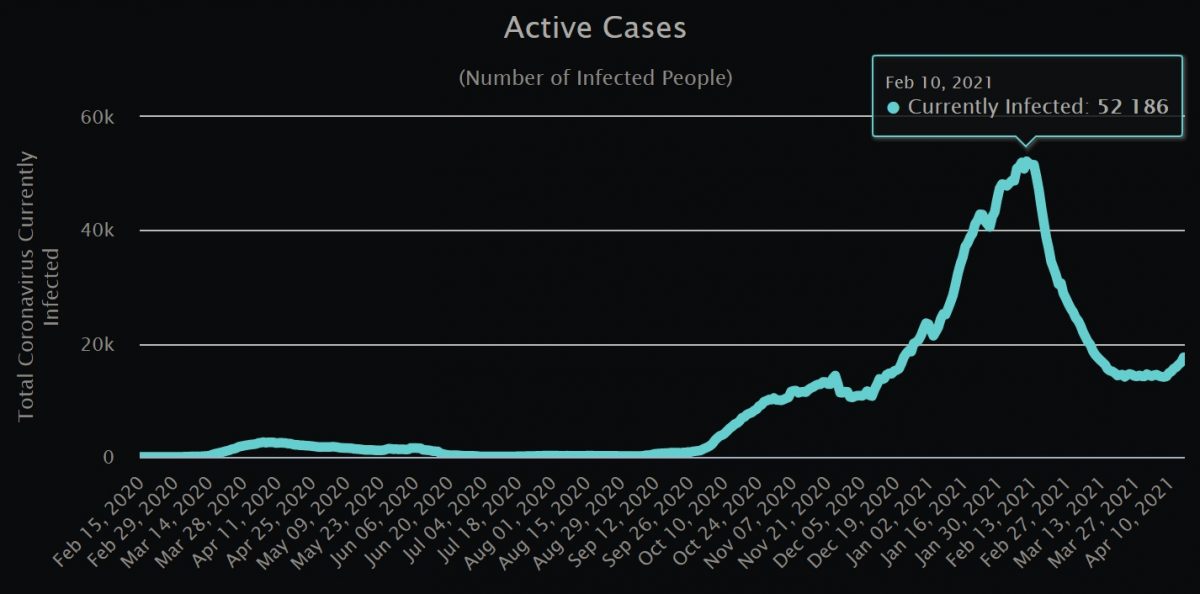 So not all the news is bad, although the curve is, since about a week ago, once again trending in an unfavourable direction.
Though no official decision has been announced beyond the latest round of CMCO and RMCO extensions, the Ministry of Health has recommended against the resumption of interstate travel, particularly with the festive season of Hari Raya approaching.
Tourism-reliant players in the country, meanwhile, continue making the plea to ease interstate travel restrictions, urging a programme of strict SOPs that would allow domestic travel to resume before more and more companies go out of business.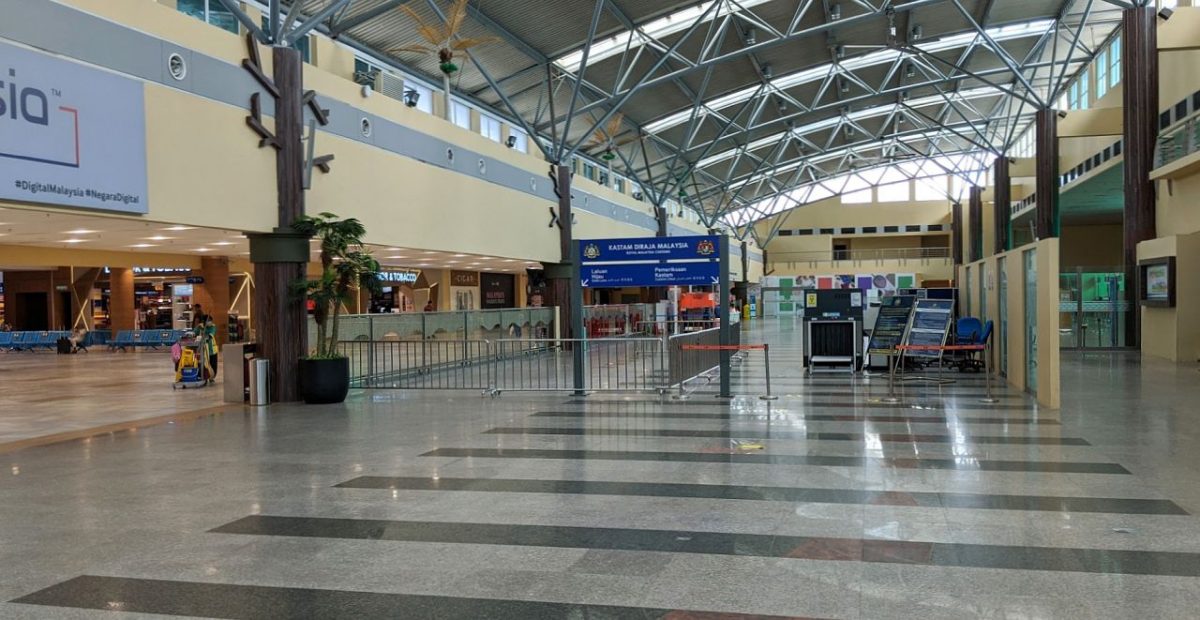 "We really can't survive. At this rate, we'll see many in the industry bleed to death over the next three months," Malaysian Association of Tour and Travel Agents president Tan Kok Liang said in a recent interview with FMT. "It has been nearly 13 months since the restrictions were imposed, and I don't think many of us can hold on much longer."
Meanwhile, Malaysian Association of Hotels president N Subramaniam agreed, describing the government's decision to restrict interstate travel as "puzzling."
"We are unclear as to the main factors contributing to the decision to keep state borders closed," he said. "The industry had proven before that tourism did not cause further spread of Covid-19, and preventive measures and added SOPs can be put in place to control its spread."
One economist warned that continued travel bans in Malaysia will dash any hopes of a quick economic rebound from the pandemic, explaining that authorities should look at Malaysia's low death rate of 0.37% rather than just the number of daily new cases, which can be influenced by the number of tests conducted.
WHAT'S GOING ON WITH THE VACCINES?
A steady stream of news about various Covid vaccines has been reported in the last couple of weeks. The AstraZeneca vaccine has now been linked in very rare instances (222 suspected cases out of over 34 million) to low blood platelet counts and blood clots. It's rare, but it's serious enough to have warranted attention, as over 30 people have died as a result of the blood clots. Denmark has now shelved the AstraZeneca vaccine for good. Other countries are pausing or delaying its rollout, or in some cases limiting the vaccine to certain age groups, but Denmark was the first to drop it altogether.
AstraZeneca is one of the vaccines in Malaysia's scheduled arsenal. The MOH has not yet made a decision regarding its use in light of emerging evidence, but as these vaccines are not even scheduled to arrive in Malaysia until some time in May, there is still some time for a decision to be made.
Malaysia has, however, announced its decision to give China's Sinovac vaccine to residents aged 60 and above in Phase 2 of the rollout, citing the vaccine's reported 83.7% effectiveness rate. However, the papers with that figure have not been reviewed, and Malaysia's decision may change in the face of emerging evidence regarding both the clinical and real-world effectiveness of this vaccine.
According to reports, the results for Beijing-based Sinovac Biotech's vaccine were "disappointing."
As reported by The Economist, phase-three trials, which were conducted on healthcare workers in Brazil, yielded an efficacy rate of just 50.7%, just barely above the 50% threshold set by the World Health Organisation for Covid-19 vaccines (see chart below). Meanwhile, the results of a real-world trial released a week earlier were even worse: The vaccine was estimated to be just 49.6% effective on average ( ranging from 11.3% to 71.4%) against symptomatic Covid-19 cases. When asymptomatic infections were included, this figure dropped to a dismal 35.1%.
According to multiple reports, the reaction of Chinese authorities did little to boost confidence. After news broke of the poor results, Gao Fu, the director of the Chinese Centre for Disease Control and Prevention, admitted at a conference on April 10 that current vaccines "don't have very high rates of protection," and even suggested that vaccines could be mixed – something called sequential immunisation – to improve efficacy.
Though the statement, taken in context, seemed very clear, Gao later backtracked from his comments, claiming that it was "a complete misunderstanding."
China is currently only using its own internally produced vaccines, and Beijing has not yet approved any foreign vaccines for use in China. Gao gave no details of a possible shift in strategy, but cited mRNA as a possibility, backing off critical comments he had made in December about the breakthrough vaccine production. Chinese state media have also questioned the effectiveness and safety of mRNA vaccines (currently Pfizer and Moderna), though it's unclear how much of this might just be domestic propaganda intended to shore up internal confidence in China's own vaccines.
"Everyone should consider the benefits mRNA vaccines can bring for humanity," Gao said at the April 10 conference, in a notable public reversal. "We must follow it carefully and not ignore it just because we already have several types of vaccines already."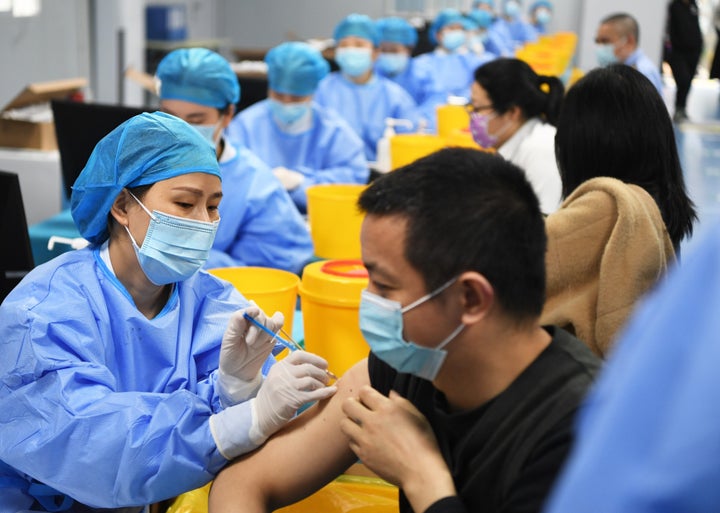 Back in Malaysia, Phase 2 of the country's National Immunisation Programme is set to kick off next week (April 19).
Phase 2, which will run through to August, will target 9.4 million people who are in the higher-risk group, comprising senior citizens above 60 years old, people with non-communicable diseases or other co-morbidities, and people with disabilities.
Finally, Phase 3, slated to run from May 2021 to February 2022, is for all remaining individuals, including adults aged 18 years and above.
In the meantime, stay vigilant and continue with all the SOPs that have been drilled into us over the last year: Stay home when you can, and wear a mask when you go out. Avoid crowds. Wash your hands often, and don't touch your face. Maintain social distancing guidelines.
And if you haven't registered for your vaccine, now is the time!
---
"ExpatGo welcomes and encourages comments, input, and divergent opinions. However, we kindly request that you use suitable language in your comments, and refrain from any sort of personal attack, hate speech, or disparaging rhetoric. Comments not in line with this are subject to removal from the site. "
Comments