With the pandemic spinning out of control in India, critics say the true numbers there are far greater than what's being reported. The stories from overwhelmed crematoriums seem to back up these assertions.
Amid heart-wrenching stories of despair and death pouring out of India, the government's Health Minister, Harsh Vardhan, bizarrely continued to insist that the country's fatality rate from Covid-19 was not just acceptable, but "the lowest in the world."
If you think that statement doesn't comport with the devastating images of non-stop funeral pyres and overwhelmed graveyards and crematoriums throughout India, photos which have been splashed across headlines worldwide… well, you're not alone.
Even the officially reported numbers are staggering: Back-to-back days with over 400,000 new cases logged on each day. Over 300,000 new cases every day since April 21. Skyrocketing active case numbers since the current wave's low mark on February 11 (137,578 active cases).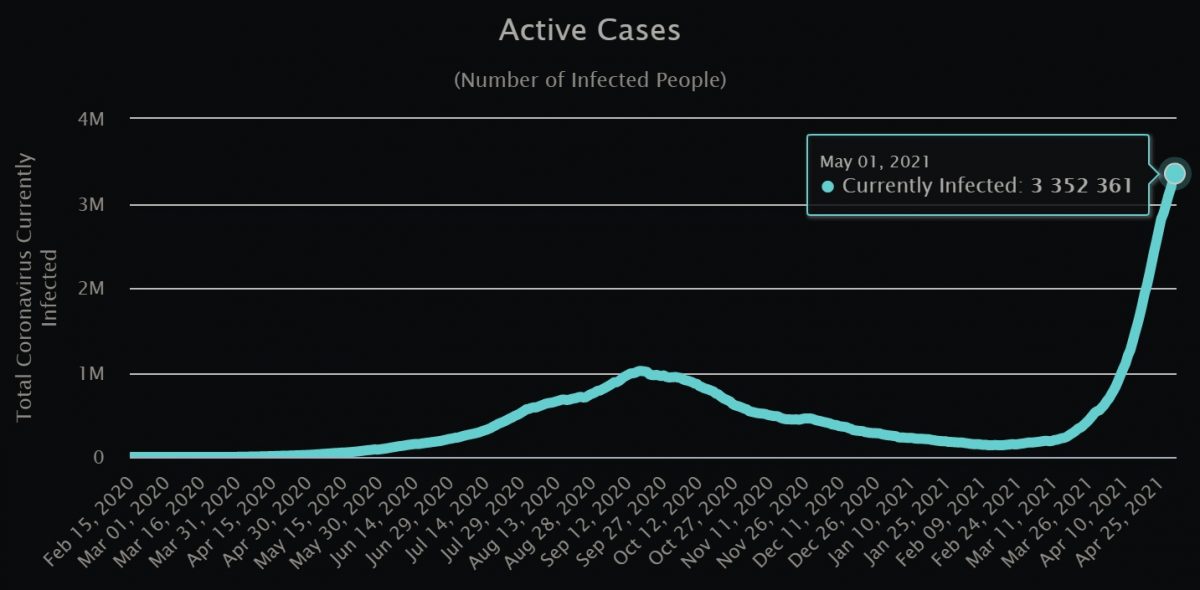 Now, the active cases number well over 3.3 million, with far more cases going unreported. Many patients are being turned away from hospitals and care centres as they are all overcapacity. Scores are dying at home every day, and with so many people sick and dying throughout India, it's an absolute certainty that the official figures being reported are lower than actual counts. In fact, health experts, both in and out of India, widely believe that the official daily figures – the latest of which was 3,523 new deaths – do not even come close to reflecting the true number of fatalities. And experts believe the real number of cases exploding across India could be 30 times higher than official figures show – potentially over half a billion cases.
This, in a nutshell, is what makes statements like Vardhan's so outrageous.
Meanwhile, allegations of a cover-up continue to grow, particularly in India's most populous state, Uttar Pradesh, where the state government is controlled by the ruling Bharatiya Janata Party (BJP). There, the hardline Chief Minister, Yogi Adityanath, has insisted that things are under control and that there is no shortage of oxygen. He has also publicly threatened to prosecute those who "spread panic."
OFFICIAL COUNTS VS REALITY
In one example of the disparity, the city of Muzaffarnagar (in Uttar Pradesh), official statistics showed just 10 Covid-related deaths in a four-day span in late April.
That figure was laughable, according to Ajay Kumar Agarwal, president of Muzaffarnagar's city crematorium, who said this was not even close to the number of bodies he was handling.
"In normal times, we were cremating three bodies a day, but in the past 10 days it has increased," Agarwal said in a media interview. "One day it was 18, another day it was 20, then 22, and one day 25. In the past 10 days, we haven't had any less than 12 bodies a day – 90% of them corona deaths."
Moreover, with just seven pyres in Muzaffarnagar's city crematorium, Agarwal said they were so overwhelmed they were having to cremate the bodies out in the open, and send some to another crematorium nearly 40 km away. "The situation here is pathetic," he said, as the World Health Organization released a statement calling the surging crisis in India "beyond heartbreaking."
In another gutting story of personal despair and loss, Mr Kamal Kumar took his 53-year-old mother to six hospitals across Delhi, all while her breathing became increasingly strained and laboured as they desperately tried to find an intensive care bed with a ventilator.
In the end, it was too late, Kumar said as he stood at the Nigambodh Ghat crematorium on the banks of the Yamuna River. He was waiting to perform Hindu rites over his mother's body before it was set to burn.
"We are being lied to; there are no hospitals, no beds, no oxygen," said his uncle, Vinay Kumar. "In the emergency room, there were three to four people lying on a bed. People on the floor. One doctor was desperately running between patients."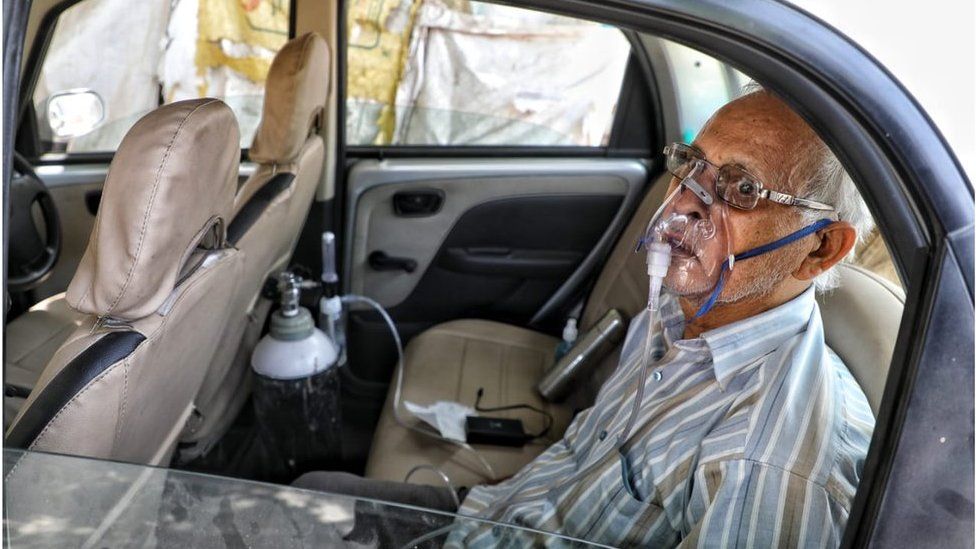 Stories like this have been reported all around India. People are dying at home, dying in their cars, dying in the streets. And apart from the sheer scale of the humanitarian crisis unfolding, testing rates are abysmally low in many areas, and deaths from Covid-caused complications are often not being recorded as Covid deaths, further obscuring the true scale of the pandemic.
A doctor from the Indian Medical Association in Uttar Pradesh, who spoke with The Guardian and asked not to be named, said many people were dying from diseases such as pneumonia and lung fibrosis, which they contracted as a direct result of Covid-19 complications. He noted, "The number of those deaths is very high, but they're not being counted as coronavirus deaths."
The doctor also said, "We accept that the number of dead from coronavirus is much higher than the district administration public data. Those bodies we see piling up at the crematoriums are mostly people who were undergoing treatment at home, then died there. The number of such deaths is also high but they are mostly not recorded in official data. The testing rate here is very low compared to the need."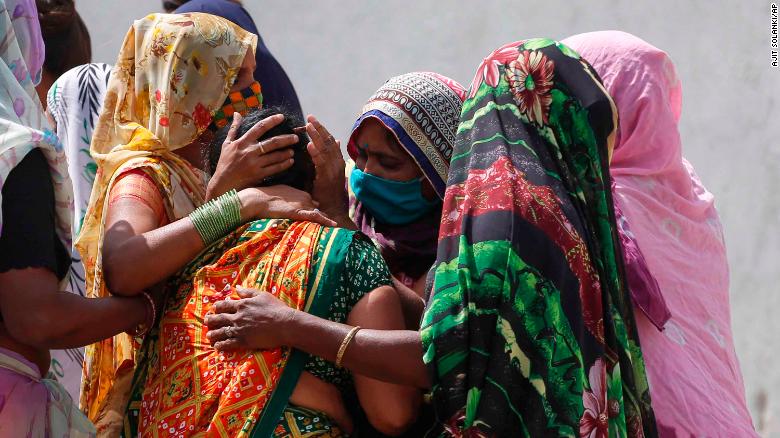 COULD THIS CATASTROPHE HAVE BEEN PREVENTED?
India's Prime Minister, Narendra Modi, was holding massive political rallies as recently as two weeks ago in the run-up to a state election. On April 17, to a crush of cheering supporters in West Bengal, a maskless Modi boasted, "I've never ever seen such huge crowds at a rally!" and went on with further bombast, claiming that "India defeated Covid last year and India can do it again."
On that same day, India recorded more than 261,000 new Covid-19 cases – more than many countries have seen during the entire course of the pandemic to date, and a number that surely represented an undercount. Unfortunately, that grim tally was but a prelude of the devastation set to come: From that point, it's only gotten worse with every passing day.
The prime minister's 'delight' at the scale of the large crowd, most of whom were neither socially distanced nor wearing masks "could have come only from a person who is completely insensitive," said Mr Yashwant Sinha, chairman of the newly created United Democratic Alliance party, who deposited the comment on Twitter following the April 17 rally, adding, "I deplore his remarks."
In hindsight, holding huge rallies with no social distancing and lacklustre mask use is stunningly foolish. But even at the time – without the benefit of hindsight – many critics panned the gatherings, and considerable anger and scorn has grown at Modi, both domestically and internationally, over his insistence on staging such massive political rallies amid a spiralling pandemic crisis in his country.
Similar scenes occurred in the United States, when former president Trump held political rallies which quickly turned into Covid superspreader events as Trump mocked mask wearers and derided experts and doctors. It seems Modi did not learn from Trump's mistakes.
But then, populist leaders aren't often known for learning lessons, and Covid-19 seems to be almost perfectly engineered to expose the shortcomings of poor political leaders, particularly strongman or populist leaders like Trump, Modi, the UK's Boris Johnson, and Brazil's Jair Bolsonaro. These crusaders too often tout their own brashness and braggadocio as better curatives for a viral pandemic than science, reason, and medicine.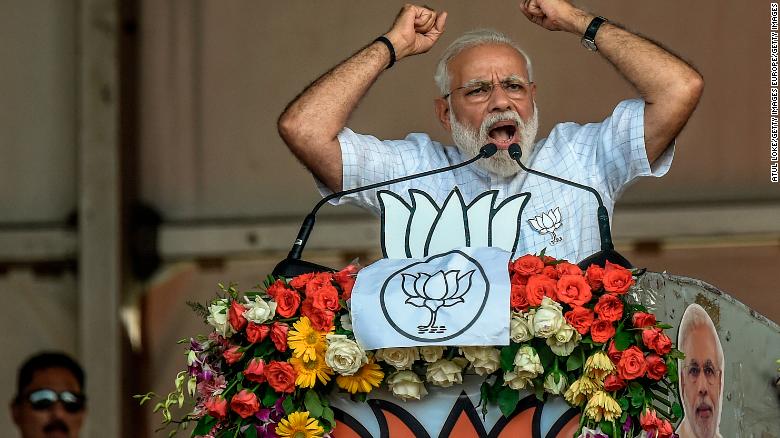 Indeed, back in January, Modi himself was heavily criticised for declaring India's triumph over Covid-19, a proclamation that now seems disastrously premature and short-sighted. His grandiloquence reached its peak with Modi boasting at the World Economic Forum on January 28, "(India) has saved the world, entire humanity, from a major tragedy by effectively controlling coronavirus."
To say that his bluster has not aged well in the three months since it was uttered is an understatement of the highest order.
The coronavirus doesn't recognise political parties. Nor does it take citizenship or religious preferences into account. A pandemic is uniquely suited to smash any house of cards not built on sound science and epidemiology, and to dismantle decisions made in the name of political expediency rather than facts and truth. A number of the world's leaders have learned this the hard way. But of course, ultimately, they are not the ones who suffer for their own arrogance and conceit.
Now we are witnessing a profound humanitarian crisis of immense scale unfold in neighbouring India, with untold millions paying the price for their government's profligate hubris, premature proclamations of victory, and now an alleged cover-up of the pandemic's true toll.
As one recent article put it, "When leaders prioritise their political image over public health, millions of people suffer."
---
"ExpatGo welcomes and encourages comments, input, and divergent opinions. However, we kindly request that you use suitable language in your comments, and refrain from any sort of personal attack, hate speech, or disparaging rhetoric. Comments not in line with this are subject to removal from the site. "
Comments