On January 1, Beijing introduced a mandatory 'cooling off' period for couples seeking to dissolve their marriages. The first quarter results saw divorces plunging by over 70%.
China's government has never been especially shy about inserting itself into the personal relationships of its citizens, with the most well-known example being the long-running 'one child policy,' which was introduced in 1980 in a bid to address a then-rising population growth rate.
In the face of declining fertility rates a generation later, it was announced in late 2015 that the policy would be discontinued in 2016, replaced with what was effectively a 'two child policy.' Another five years on, however, some unintended consequences are still being felt, as China's population growth has almost stalled. Fertility rates remain considerably lower than pre-1980s levels, a gender imbalance now exists as a significant number of family elected to abort or abandon (or even kill, in some instances) their female babies in preference for a male child, and the country's demographics and workforce were both skewed notably older.
Clearly not having fully learned the lesson that governments mustn't meddle indiscriminately with the forces of human nature, Beijing is plowing ahead with its latest incursion into the household: The government has ordered that a mandatory 'cooling off' period of 30 days be observed following any petition for divorce. During that time, either party may withdraw the petition. If, after the one-month period, the couple still wants to divorce, they must then reapply to the government to end the marriage.
Unsurprisingly, the move was met with plenty of criticism, both in and out of China, as an unwarranted overreach of government into the very personal lives of its citizens. Some critics contended that the law might have the effect of trapping people in unhappy, or in some cases unsafe, violent marriages. The state government was unmoved by this, saying the law was necessary to preserve "family stability and social order."
Beijing's alarm isn't completely unwarranted, though. Even before the pandemic, divorces in China had been steadily increasing in the past several years, due in part to reduced social stigma and also in part to the greater autonomy women are enjoying in Chinese society. Indeed, in recent years, more than 70% of divorces have been initiated by wives, according to the All-China Women's Federation.
This had sparked serious concern among some policymakers, especially as authorities were encouraging people to have more children in order to head off a potential demographic time bomb in another generation. Hearkening back to the 1950s, the Chinese government also offers incentives for wives to stay home and have children, rather than to work.
"Marriage and reproduction are closely related. The decline in the marriage rate will affect the birth rate, which in turn affects economic and social developments," explained Yang Zongtao, an official with the Ministry of Civil Affairs.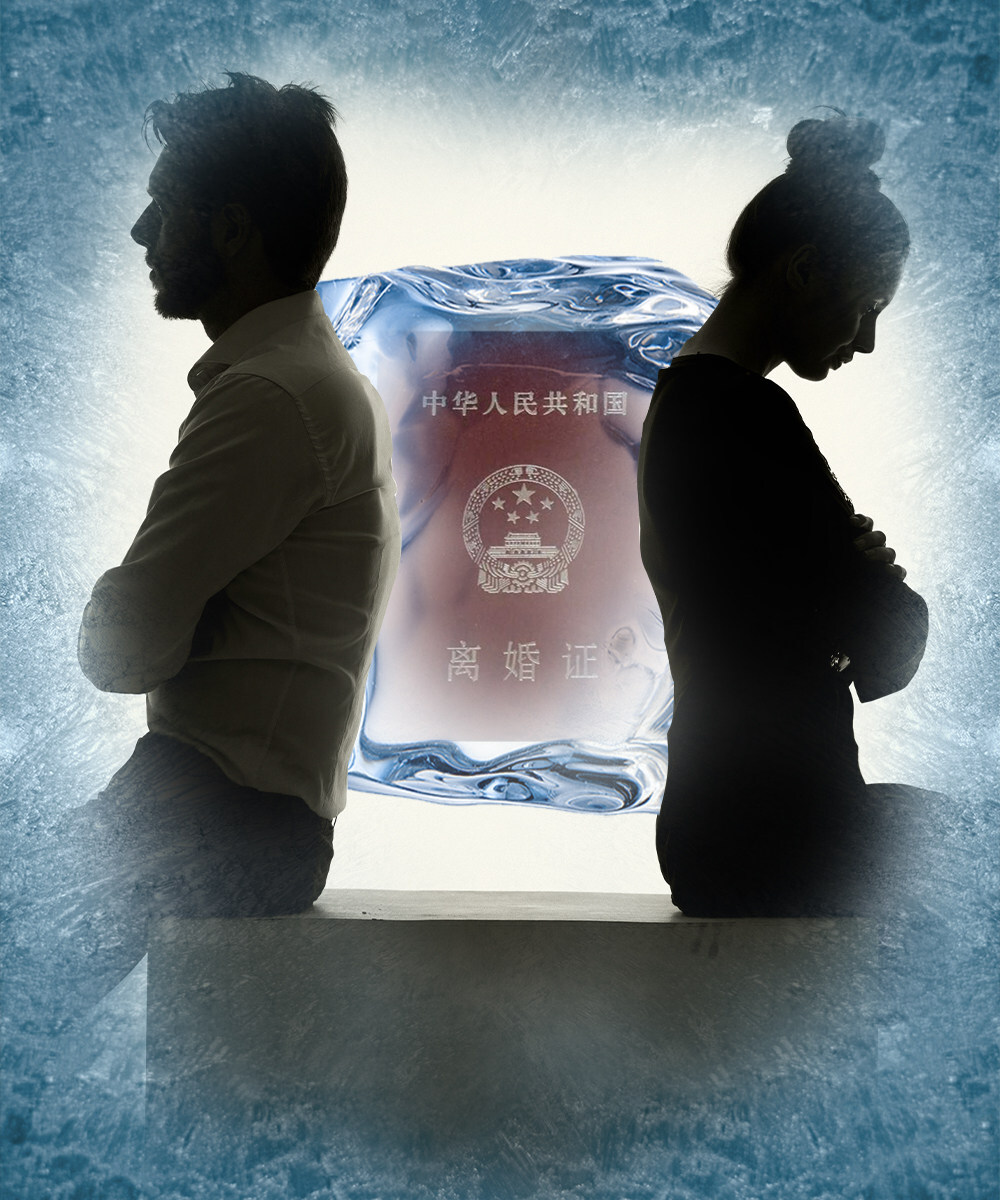 Whatever the motivation, though, the preliminary numbers are pretty astounding. According to statistics released by China's Ministry of Civil Affairs, 296,000 divorces were registered in the first quarter of 2021, compared to 1.06 million in the final quarter of last year — a drop of 72%. There was a nearly 52% drop year-on-year, from 612,000 in the first quarter of 2020.
It's possible the law itself could have contributed to the large number of divorces in Q4 of 2020, though: Late last year, there were reports of couples rushing to divorce before the cooling-off period came into effect.
A number of reports have attested to the unpopularity of the mandatory cooling-off period, seen by many critics as a meddlesome curtailing of personal freedoms which have been gained only recently in much of China.
Some officials in Hunan and Guizhou provinces, however, pushed the matter too far, going to the extreme of announcing they would not permit any new divorces on May 20, one of several days in China informally known as a sort of Valentine's Day (as the date sounds similar to "I love you" in Mandarin). There was a huge uproar over this decision, along with a surge of complaints online, and in the face of public backlash, the authorities reversed course, state media reported.
Over four months after it went into effect, the cooling-off period for divorces remains unpopular among large swathes of Chinese society, as proven by the fierce backlash a local newspaper received last month for merely trying to defend the law.
Information from CNN Hong Kong and the South China Morning Post contributed to this article.
---
"ExpatGo welcomes and encourages comments, input, and divergent opinions. However, we kindly request that you use suitable language in your comments, and refrain from any sort of personal attack, hate speech, or disparaging rhetoric. Comments not in line with this are subject to removal from the site. "
Comments