All the love, laughter, and special moments from TV's highly anticipated reunion as the cast of Friends comes back together for the first time in 17 years!
Building on a legacy that turned them into one of pop culture's most famous sitcoms, Friends ran on NBC for a good decade from 1994 to 2004. But the show's popularity somehow only seemed to grow after its bittersweet finale! New audiences got to re-discover and relive the world of Rachel, Ross, Joey, Monica, Phoebe, and Chandler through Netflix, DVD box sets, and TV reruns, contributing to the show being watched over 100 billion times across all platforms around the world.
Fans everywhere have been clamouring for a reunion since 2004, and the only cheeky gesture they received as a nod towards a possible reunion was that iconic selfie drop by Jennifer Aniston in 2019.
So, when HBO Max announced Friends: The Reunion, fans were beyond ecstatic, and ready to stroll back down memory lane with one of the most memorable casts in TV history.
With a live TV audience, and the affable James Corden leading the interview, fans were transported to happier times as Jennifer Aniston, Courteney Cox, Lisa Kudrow, Matthew Perry, Matt LeBlanc, and David Schwimmer reunited on their iconic soundstage to reminisce, reenact favourite scenes, and talk like old friends… do as if no time had passed.
With a fantastic lineup of celebrity cameos, the special was directed by Ben Winston. Together, the actors toured the soundstage, reenacted Ross's trivia game from "The One With the Embryos," watched old clips and behind-the-scenes footage, and acted out famous scenes in a table read.
Here are some fan favorite moments from Friends: The Reunion.
THE ONE WHERE THERE WERE REAL CRUSHES
Before the show ended, Corden asked a question that has been posed countless times before: Did any Friends actors have off-screen romances?
The answer is still no, but Aniston and Schwimmer did reveal one thing for the first time: they were constantly crushing on each other!
"The first season, I had a major crush on Jen," Schwimmer says. "At some point we were both crushing hard on each other, but it was like two ships passing because one of us was always in a relationship and we never crossed that boundary."
Aniston says they channeled their affection for each other into their portrayals of Ross and Rachel, sharing their first kiss on national television and — as the old footage reveals — spooning on the couch between takes!
"How did not everyone know we were crushing on each other?" Schwimmer says, thinking back on that season in particular.
"We knew," says Perry.
THE ONE WHO TAUGHT US TO LOVE A 'SMELLY CAT'
Lisa Kudrow, in all her Phoebe Buffet glory, made fans scream in glee when she picked up a guitar. But what no one expected, was the performance that would come from her live rendition of "Smelly Cat." Singing as herself and as Phoebe, Kudrow was joined by none other but Mother Monster herself — Lady Gaga, in full Phoebe cosplay! Turning her superstar moment into something more personal and heart-tugging, the mega-pop starlet thanked Kudrow for what Phoebe meant to her, and to others who were "the different one, or the one that was really herself."
"Thank you," says Kudrow. "And thanks for carrying it along."
THE ONE WITH THE INJURY
The cast also had a laugh about on-set accidents, such as while filming the episode "The One Where No One's Ready." The cast revealed that LeBlanc dislocated his shoulder while jumping into Chandler's chair, an injury that delayed filming of the episode and got Joey's sling written into the show.
The actors watch old outtakes where LeBlanc jumps into the chair, injures his shoulder, then walks nonchalantly into Monica's bedroom, where we hear a sickening pop. It also happened to be the one time, LeBlanc reveals, when the cast skipped their traditional pre-tape huddle — something they were sure to never miss again.
THE ONE WITH ALL THE CAMEOS
Who could forget the trail of celebrity guest stars who have been on the show during its 10-season run? Though not all of them made it back on the reunion, fans got to see the few special mainstays that garnered as much love for their roles.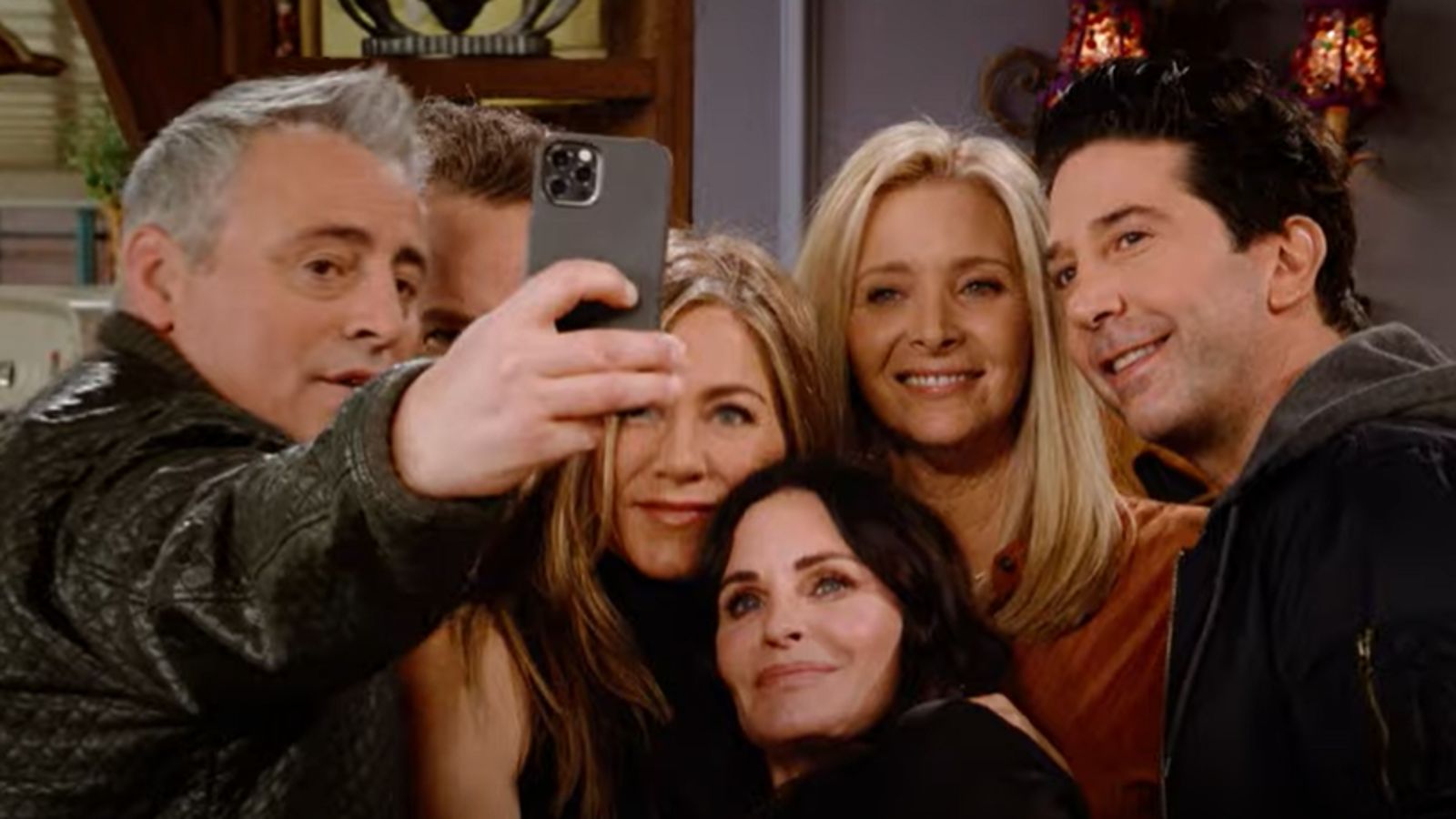 Monica and Ross's parents (Christina Pickles and Elliot Gould) crashed the Corden interview, as does Chandler's notorious ex-girlfriend Janice (Maggie Wheeler) — even Gunther (James Michael Tyler) Zoomed in, because what's a Friends reunion without him? During the trivia round, Schwimmer reveals Mr Heckles (Larry Hankin) in full costume, and Thomas Lennon as Joey's hand twin from Las Vegas — whom LeBlanc recognizes from his hands alone.
THE ONE WHERE EMOTIONS RAN HIGH
Needless to say, every part of the special reflected just how much Friends is loved the world around. From David Beckham to Kit Harington to Malala Yousafzai, everyone has a favorite episode that they know by heart and love to discuss. Halfway through the special, there's a montage of Friends fans from around the world talking about what the show means to them, and how its helped them through personal hardships, isolation, and even important milestones.
It was just absolutely spellbinding watching the cast get emotional over so many wonderful and poignant memories from the show. Footage from behind-the-scenes of the finale shows the actor/friends enjoying a private moment with creators Marta Kauffman, David Crane, and Kevin Bright, away from the cameras and audiences. As the special draws to a close, tears start flowing, with Cox saying they'll never be together for something like this again.
And when asked about a revival, the answer was the same as ever, with Kudrow sticking up for the show runners' vision and ending.
"That's all up to Marta and David," she says. "I once heard them say, and I completely agree, that they ended the show very nicely — everyone's lives are very nice, and they would have to unravel all those good things in order for there to be stories. Yeah, I don't want anyone's happy ending unraveled."
Friends: The Reunion is now streaming on HBO Max. Curiously, though the special is also airing in China, the country's central government has angered Chinese fans by editing out Lady Gaga, Justin Bieber, and Korean boyband BTS from the programme, along with censoring all references to the LGBTQ community.
---
"ExpatGo welcomes and encourages comments, input, and divergent opinions. However, we kindly request that you use suitable language in your comments, and refrain from any sort of personal attack, hate speech, or disparaging rhetoric. Comments not in line with this are subject to removal from the site. "
Comments