Critics have pounced on the Prime Minister's June 15 announcement of Malaysia's National Recovery Plan as being too vague, too little, and too slow.
So here we are. Well over a year into the global coronavirus pandemic, Malaysia's government has announced a plan to get clear of it. But will it be enough? And is it even the right approach? Let's take a look.
On June 15, 2021, 15 months and four days after the World Health Organization formally declared that the spread of the SARS-CoV-2 virus was a worldwide pandemic, Prime Minister Muhyiddin Yassin delivered a press conference in which he outlined a multi-phase 'National Recovery Plan' for Malaysia, which is currently in the throes of its worst stage of the crisis since it began.
THE NATIONAL RECOVERY PLAN IN FOUR PHASES
According to Muhyiddin, the plan comprises four phases. We are, sadly, only in Phase 1 now, the current Full Movement Control Order (FMCO), which will last until June 28.
Phase 2 will begin when new daily cases dip below the fully arbitrary number of 4,000, with 10% of the population vaccinated. Since we are already effectively a little over 10% (total 3,275,194) if you include those who have received either one dose or both doses, we should assume he meant 10% fully vaccinated. As of June 15, just 1,468,689 people have received both doses, so we're not even at half the goal to emerge from the first phase yet.
Phase 2 would see us shifting out of the FMCO, but not by a lot. Social activities would still be prohibited, and even businesses permitted to reopen would still only be allowed to operate at 80% capacity, yet another seemingly arbitrary number.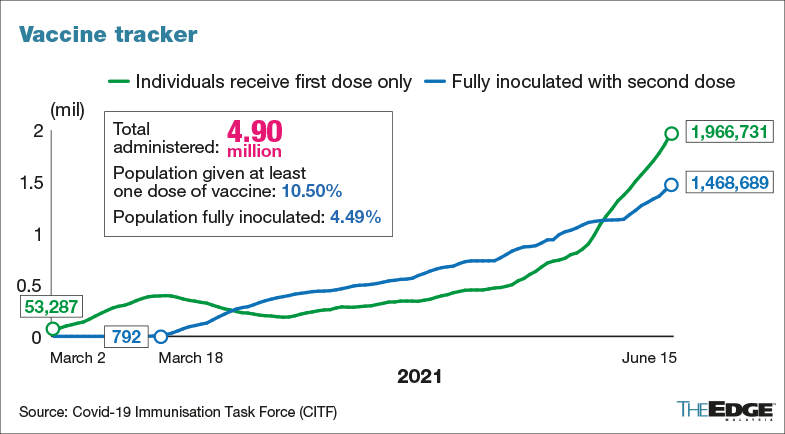 It's important to understand – and perhaps it's been lost on those who formulated this plan – that even one dose of the vaccine offers highly effective protection, both to the individual and to the community. The second jab simply raises the vaccine's effectiveness even higher. The United States saw the number of critical cases and transmission rates plunge once large numbers of people received even their first shot, so while getting both doses is clearly important in the overall scheme of things, getting that initial jab to more people is the more critical number to watch, especially since the recommended interval between doses can be up to 12 weeks.
With all that said, we question the usefulness of the '10% fully vaccinated' threshold, and argue that a level of, say, 20 to 25% with at least one dose would be far more meaningful in a real-world setting.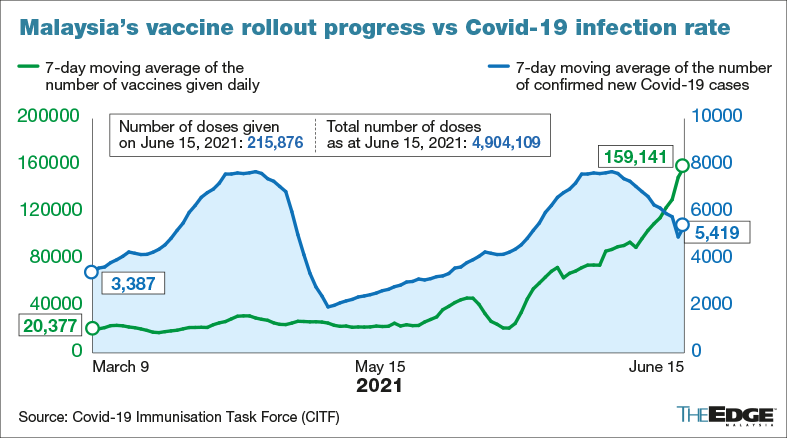 In any case, Phase 2 would see us shifting out of the FMCO, but not by a lot. Social activities would still be prohibited, and even businesses permitted to reopen – that is, those which haven't shut down permanently in the interim – would still only be allowed to operate at 80% capacity, yet another seemingly arbitrary number.
Next, Phase 3 – which Muhyiddin projected would begin "at the end of August" – would see additional businesses and sectors permitted to reopen. The thresholds for moving into this phase include daily new cases dropping below 2,000 and "around 40%" of the population being fully immunised.
Under Phase 3, which is expected to run through October, many businesses could request to reopen, provided their staff were all fully vaccinated, but a number of businesses would still be barred from operating, such as pubs, spas, and beauty salons. Sports and other similar activities would only "gradually" be allowed during Phase 3.
Strangely lumping the legislative function of the country in with nightclubs and spas, Parliament would also only be allowed to reconvene in Phase 3, under "strict SOP compliance." (We expect #parliamentisnotabeautysalon to start trending on Twitter any day now.)
Looking at data from other countries, however, once 40% of the population has been fully vaccinated, that should really allow for a wide-scale move to the new normal, not merely a less-strict version of the MCO.
Finally, the shift to Phase 4 would happen only once new daily cases fall below 500, with a 60% rate of full vaccination, and the country's healthcare system deemed to be operating at a "safe level" with "enough beds in ICUs." Metrics such as "safe" and "enough," critics contend, are vague and lack meaning.
Only in Phase 4 – again, which would not likely begin until November or even December – would social activities and interstate travel be allowed again (under "strict SOPs"), all but sealing the fate of innumerable businesses throughout Malaysia which are dependent on tourism and have been suffering catastrophic losses all year already.
"Be patient," Muhyiddin said on this point in his announcement, an admonition that is likely to come as cold comfort to those whose businesses and livelihoods are teetering on ruin. Indeed, stakeholders in the tourism industry, along with tour and travel groups such as the Malaysian Association of Hotels (MAH) and the Malaysia Association of Tour and Travel Agents (MATTA) denounced the recovery plan, saying many industry players simply couldn't hold out until the end of the year.
"Stakeholders will argue that this is not a question of being patient, but rather survival," MAH said in a statement responding to Muhyiddin's comment. "Having sustained losses for more than a year now, we will not be able to endure another six months and this will likely result in more hotels closing and more people losing their jobs."
BREAKING DOWN THE PROBLEMS WITH THE PLAN
In the wake of Muhyiddin's announcement, questions and criticism rained down, almost as if on cue.
Former Minister of International Trade and Industry Tan Sri Rafidah Aziz ridiculed the government's approach, responding to Muhyiddin's announcement with, "You have 'a plan,' but no strategy." She rebuked the Prime Minister for delivering a recovery plan with certain milestones, but no clear paths to take in order to actually reach those points. She also noted that there was no strategy for dealing with any of the repercussions of the pandemic and associated lockdowns and restrictions in sectors such as education and healthcare, along with the broader economy.
Meanwhile, UMNO President Datuk Seri Dr Ahmad Zahid Hamidi zeroed in on the Parliament issue right away, saying the plan made no sense. "I am not sure what the link is between 40% of the population getting two doses of the vaccine and only then reconvening Parliament," he said. "It is estimated that this will happen in September or October this year. Lawmakers have long since received their Covid-19 vaccinations; surely this means that Parliament can convene safely."
Zahid added, "What is more confusing it has been announced that all economic sectors will be allowed to operate, except activities listed in the negative list during the third phase." Then, underscoring the fact that Phase 3 allowed for the reopening of virtually all businesses except those on the restricted list, he asked, "Does this mean that Parliament, the country's highest symbol of democracy, is on the same negative list as pubs, spas, and beauty salons?"
Others were critical about the timeframe of the four-phase plan, expressing dismay that the government would be comfortable with dragging out closures and restrictions through September and October.
"If we wait until October to open all sectors, we might as well say goodbye to our economy," said Ahamed Kameel Mydin Meera, an adjunct professor with International Islamic University Malaysia.
The economist opined that the country's economy would very likely be "wrecked" with countless lives ruined if the government allowed the recovery plan to proceed as announced by Muhyiddin. He also mentioned the potential for "political chaos" and urged that the plan be improved and accelerated.
Meanwhile, a large coalition of 52 trade groups harshly criticised the recovery plan as being too vague and lacking definitive strategies needed to confidently guide Malaysia out of the Covid-19 pandemic. They also questioned the accuracy and transparency of the government's tracking and reporting of data.
In a 10-point response to the announcement, Industries Unite said the plan did not include a clear blueprint for how to revive the ailing economy or contain a raging pandemic, and instead seemed to rely on questionable "what if" scenarios based on what they felt was dubious data.
"There are too many ifs and variables in play for the plan to actually spur the confidence of the rakyat," the group said in their statement, adding, "Unless we have a clear and defined path forward, the idea that we will come out of this in September or October 2021 is not convincing; amongst others as the whole plan is entirely based on the accuracy of purported numbers of infected persons and the availability of vaccinations on time."
MALAYSIANS JOIN THE CHORUS OF CRITICISM
Social media channels lit up following the announcement. Many seem to agree that the plan is much too slow and think the country's economy will be devastated, while still others piled on for the vague and arbitrary nature of the thresholds announced.
"Is there something magic about [new daily] cases dropping under 4,000?" one netizen wrote on Twitter. "Does that mean if we go to 3,500 cases next week, they will end the lockdown early?"
Another echoed, "What is so special about 4,000 or 2,000 cases a day? Before this, we hardly ever even hit 1,000 and didn't have to stay in lockdown!"
Some critics seized on the Prime Minister's announcement as an opportunity to call for the end of the widely panned Emergency declaration, calling it an abject failure since its implementation on January 11.
"The Emergency has failed. And that is a fact," wrote Ashraf Abdullah in Free Malaysia Today. "Therefore, it has to be revoked immediately. To allow a failed process to continue will be senseless, immoral even. A dereliction of duty. When the Emergency was first sought, the government's excuse was that it will help expedite efforts to end the Covid-19 pandemic. Although not many, some people believed it. However, since then, have things improved? Far from it. In fact, it became so bad that it almost crippled our healthcare system.
"Malaysians could have accepted the Emergency if it had produced results. But in actual fact, it made things even worse. So how is the government, when questioned by their majesties and their royal highnesses, going to argue in favour of keeping the Emergency or even extend it?
"When a process, in this case the Emergency, fails, you need to throw it out of the window. To allow a failed process to continue will be nonsensical and utterly ridiculous.
"The Emergency should be revoked immediately to allow the Dewan Rakyat and the Dewan Negara to reconvene. Most Malaysians want their elected representatives back in Parliament. Let us not forgo our democracy simply because a few politicians want to avoid a no-confidence vote in Parliament."
Still others chimed in to bemoan the lack of emphasis on vaccinations in the announcement, including the aforementioned Industries Unite coalition, which called on the government to seriously ramp up vaccination capacity, pointing out the crucial need to work with the private sector and mobilise all available infrastructures, including using public clinics as vaccination centres.
The EU-Malaysia Chamber of Commerce rubbished the recovery plan as being "too conservative," saying it would do more harm than good, and proposed a greater emphasis be put on vaccination efforts. They also questioned the value of the '10% fully vaccinated' threshold, just as we do, and added, "We propose to shift the goalpost to vaccinate 20% of the adult population with at least one shot by the end of June and then start opening some sectors with a low-risk profile."
Shifting the focus to mass vaccinations is precisely the point on which we wholeheartedly agree.
THERE IS ONE CLEAR PATH TO VICTORY
It appears evident that the Malaysian government has realised the importance of vaccinations, but what seems far less clear is a focused, coordinated, and repeated communication of this absolute urgency to the people of the country.
The vaccines are the way out of this crisis. Not lockdowns, not travel restrictions, and not multi-phase plans of questionable tactics and targets. Those things buy time only, but don't eliminate the underlying problem. The vaccines will do that.
Over the last two weeks since the FMCO was implemented, new daily cases have risen and fallen with no predictable pattern, but the infectivity index (or R-naught) has not significantly decreased, and both daily fatalities and ICU cases remain stubbornly high; the number of critical care cases has in fact risen! This adds more credence to the notion that lockdown measures are not a solution. The vaccines have been proven to deliver overwhelming protection against death and serious illness related to Covid-19. You want to drive down those worrisome and unsustainable ICU numbers? Get more vaccine jabs to the people, and do it faster.
We must also point out here that on June 15, the country as a whole surpassed 200,000 vaccine doses administered for the first time, with a total of 215,876 jabs given. That's a whole lot of syringes, and a very good step – indeed, one that needs to continue and even be increased.
SET MEANINGFUL GOALS: GO BIG!
We believe there could be value in modelling the recovery plan on countries whose efforts have yielded successful results. For example, when US President Joe Biden took office on January 20 amid a flailing American response to the pandemic, he set an ambitious goal for the United States: 200 million vaccinations in his first 100 days. The country hit that target with a week to spare. And within weeks, the world's worst-affected country, despite a disastrous response throughout nearly all of 2020, turned everything around and its citizens are now reclaiming their normal, pre-pandemic lives.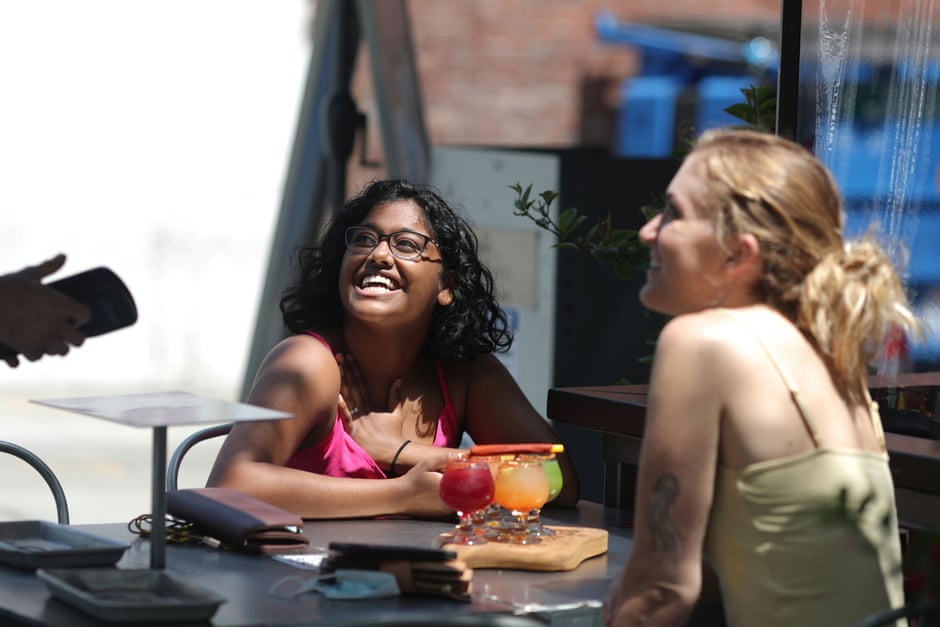 Why can't Malaysia do that on its own scale? We're told the delivery of vaccines is set to soar, so why not set an equally ambitious goal: 10 million jabs a month. If we can manage 215,000 in one day (about 6.5 million a month at that rate), and are still ramping up vaccination capacity even now, there is no real reason not to aim for this number. If we even came close to achieving the goal, we'd then have over 20 million vaccinated (with at least one dose) by Merdeka. And based on what we've seen in other countries, that level of immunisation would deliver major results. Let's aim for a return to some semblance of normalcy by August or September of this year, not plan on it for early 2022.
We feel there is too much focus on new daily cases and not enough on the vaccination rate. Saying "We'll move to the next phase of recovery once the new daily cases drop below 4,000" not only misses the point of setting goals that have meaning and yield results, there's no strategy attached to actually get to that milestone.
And while it's certainly good to have a recovery plan in place, we agree with critics who believe this is something that should have been cooked up back in January and February as the groundwork was being laid for the purchase and distribution of vaccines in the country. It's understandable that Malaysians are now wondering if four months have been needlessly wasted since that time, while the virus has run wild in the country.
We've said it before here, and we'll say it again: The vaccination push has to be the most important effort now. It's the clear, indisputable way out of this pandemic.
As The Edge Media Group's campaign correctly states, "Get vaccinated! If you are not part of the solution, you are part of the problem."
---
"ExpatGo welcomes and encourages comments, input, and divergent opinions. However, we kindly request that you use suitable language in your comments, and refrain from any sort of personal attack, hate speech, or disparaging rhetoric. Comments not in line with this are subject to removal from the site. "
Comments