Mixed messaging erupts from Malaysian government as Senior Minister (International Trade and Industry) Datuk Seri Azmin Ali cites the WHO's advice and pushes back against the government's hard lockdown for Klang Valley.
We've said this repeatedly in recent weeks: Vaccines are the answer, not more lockdowns. This isn't a position we take lightly, nor one without evidence, expert insight, and data to support it.
Even before the latest threat from the Delta variant and recurring surges of Covid-19 outbreaks began flaring up, the World Health Organisation made a point of advocating against using lockdowns as a tool to fight the coronavirus.
Now, nearly a year and a half after the pandemic became a defining presence in our lives, the government has decided to put nearly all of Kuala Lumpur and Selangor – quite literally the country's primary economic engine – under a strict Enhanced Movement Control Order (EMCO) from July 3-16, or without the fancy nickname, a hard lockdown.
Nearly all businesses will have to suspend operations if they cannot shift their operations to a 'work-from-home' or remote/virtual model. No factories apart from those involved in the production of food or other essential items will be allowed to operate.
Economists and others have raised concerns that shutting down nearly the whole of Greater KL will potentially have a devastating economic impact on the country, at least in the short term.
The World Health Organisation has also said that lockdowns are not the way to control the virus. "The only time we believe a lockdown is justified is to buy you time to reorganise, regroup, rebalance your resources," the WHO's Dr David Nabarro said in an interview late last year. "But by and large, we'd rather not do it."
He stressed that any benefit that might be gained from lockdowns, especially ones that drag on, are outweighed by the toll they take. "Lockdowns have just one consequence that you must never ever belittle," he said, "and that is making poor people an awful lot poorer."
Dr Nabarro concluded, "We really do appeal to all world leaders, stop using lockdown as your primary method of control."
It was certainly unusual to see a senior minister in the government, Datuk Seri Azmin Ali, reference the WHO's advocacy for vaccinations rather than lockdowns, as he spoke out against his own government's EMCO directive on Friday, July 2.
"WHO has warned world economies against lockdowns due to extreme economic damage, particularly affecting those in the lower income group. Pragmatic and flexible approaches to managing the pandemic is key to helping the nation cope with the challenges," Azmin wrote in a Facebook-posted statement.
As the WHO and many other experts have noted, at best, even properly run lockdowns buy you a little time only. They do not do anything towards eliminating the virus.
SENDING UP THE WHITE FLAG
The latest social touchstone in the ongoing pandemic is the "white flag initiative" or #BenderaPutih. It's a double-edged sword, though, because while the movement has been rightly met with pride – earning praise for the caring and generosity of Malaysians as they reach out to help their struggling neighbours and communities in a time of need – there's a dose of shame, too, that people have been driven to this state.
Plenty of netizens have heaped scorn on the government for allowing things to get so bad that Malaysians are going hungry, faced with isolation, loneliness, and desperate poverty – to the point where they are hanging a scrap of white cloth outside their homes in hopes of someone seeing it and caring enough to help them. Fortunately, many people and businesses are stepping in to do just that.
Here is just a small selection of comments left online:
Poppy: This is a sad picture of a nation that is rich in natural resources being brought down to its knees. The flying of a white flag indicates there are hungry families who have nothing left. It is not that they do not want to work, but the shutting down of the economy to suit the agenda of a few selfish and power-crazy politicians have forced them into the corner.
Fantastic4: It's quite sad that 64 years after independence, Malaysians can longer depend on the government to take care of its citizens. White flag means 'I surrender'. I 'surrender' to the fact that the government is not doing what it can to ensure that its citizens are having three square meals on the table. People have lost jobs. Some have lost family members to Covid-19. Many have no income. We have heard of people taking their own lives. What is the government doing? Taking care of its own three square meals or even four square meals? Durian feasts? Positions? Money in bank account? Sending kids to study overseas?
Doc: This story is just one of many that clearly indicates Prime Minister Muhyiddin Yassin and his PN government policies on Covid-19 and economic management have failed. If this white flag initiative should happen in a developed nation, the PM would have resigned in shame. But our PM and his ministers are all blessed with super thick skin that they are devoid of shame.
The Wakandan: When I read this article, it made me want to cry. How hard it is to be deprived. How painful it is to have no food… to have to beg, to raise the white flag, to show the whole world that you are left with nothing and in dire need. But they have no choice, they are doing it not for themselves but for the sake of their little ones and the aged who must eat to survive.
YOU DON'T HAVE TO BE A DOCTOR…
Understandably, in a pandemic, we turn to experts – virologists, epidemiologists, public health authorities, doctors – for both information and guidance. We rely on them to educate us and to interpret complex data and distil it into layman terms.
But after over a month of nationwide lockdown, and on the eve of an even stricter hard lockdown in virtually all of Klang Valley, you don't have to be a medical expert to see that IT'S NOT WORKING.
Even a cursory look at the data makes this abundantly clear: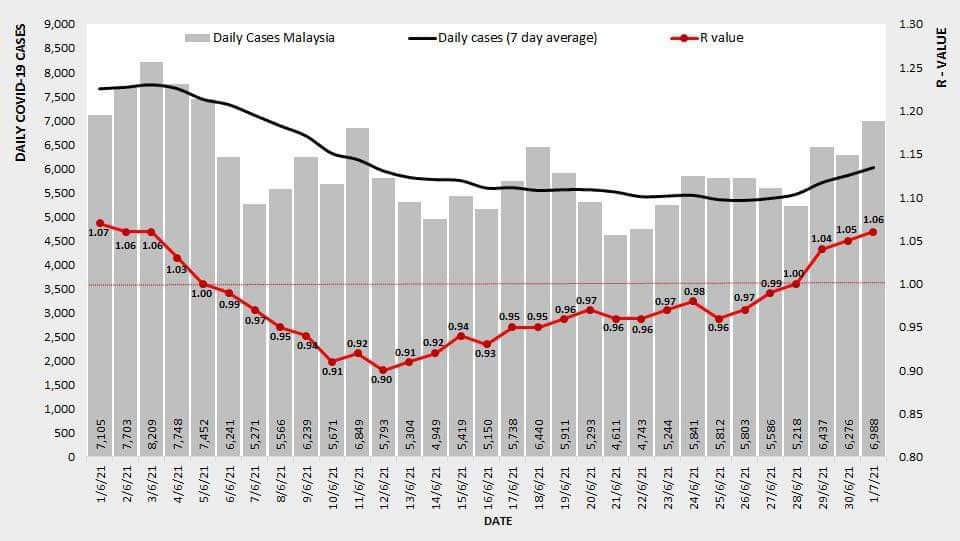 In the graph above, which covers the entire month of June, you can see that no clear trend ever developed for daily new cases (grey bars). The moving seven-day average (blue line) barely moved overall, and by the end of the month, had begun heading back up again.
As for the R-naught, the infectivity index (red line), it ended the month almost at the identical value at which it began the month. The case positivity rate, or the percentage of Covid-19 tests that come back positive, has also risen significantly in the past month.
Additionally, severe cases (those in intensive care) are higher now – 917 cases as of July 1 – than a month ago. Daily deaths have scarcely dropped below 60 a day since June 1, and on a number of occasions have surged to over 100 a day.
WHY AREN'T THE NUMBERS DROPPING?
Another disturbing data point focuses on Kuala Lumpur and Selangor, the areas about to be crushed by the EMCO: According to Malaysia's Covid Immunisation Task Force, a whopping 59.5% of KL's population have received at least one dose of the vaccine – a figure that, if accurate, is by far the highest rate of vaccination in the country.
Selangor, on the other hand, is languishing at just 15.2%, a massive disparity that simply defies any rational explanation, given the interconnectedness and interdependence of KL and Selangor state.
But it gets even harder to understand when you look at the rates of infection in these two locales. On July 1, Selangor recorded 2,885 new cases, while KL logged 988.
Considering population, KL is actually experiencing a higher rate of infection – 55.7 new cases per 100,000 residents – than Selangor, at 43.9 new cases per 100,000 residents.
If KL has vaccinated 60% of its population with at least one dose, it seems the transmission rate would be considerably lower – and the rate of severe illness and death should have been meaningfully lowered as well (though maximum vaccine effectiveness comes from getting both doses). But that's not the case at all.
Bear in mind, these high rates of infection are occurring after a solid month of a nationwide lockdown and ever-increasing rates of vaccination.
Something just doesn't add up.
A SOBERING LOOK AT THE DATA
There's no question that the country has stepped up and largely observed the latest lockdown effort. Indeed, Malaysia ranked dead last in the community mobility index – basically gauging freedom of movement – in Bloomberg's latest Covid Resilience Ranking. No other country in the list has suffered as much disruption to daily life because of limited mobility as Malaysia.
So if lockdowns are the solution, then we should be doing pretty good on the Covid front, right? After all, we've been under some form of MCO – varying in scope and scale at different times – for over 470 days now.
However, despite all the restrictions and lockdowns, throughout the entire ASEAN region, Malaysia is faring the worst by a considerable margin. Again, the data speaks for itself: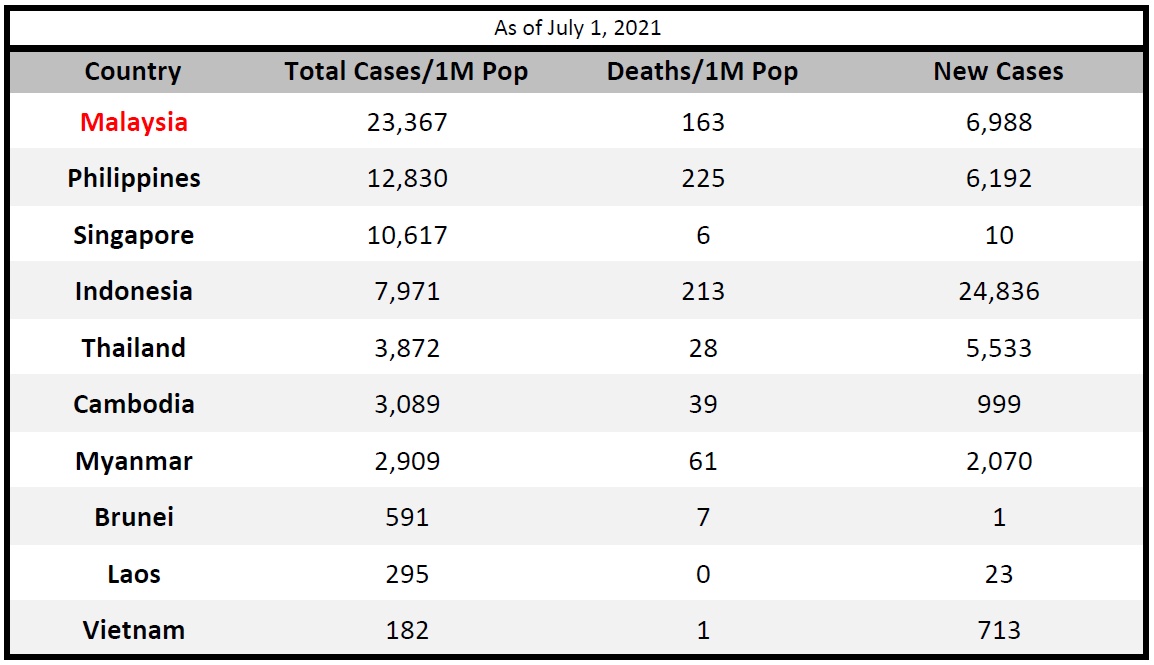 Of course, this chart is only as accurate as the data it uses. It's unlikely, for example, that Laos has really only had three total deaths from Covid-19 (hence its 0.4 deaths per million rate), and some other countries' data might also be questionable, but Malaysia surely can't take much satisfaction in a case rate per million that's double that of the next-closest ASEAN country. Our Covid death rate – in a country that routinely touts its outstanding, robust healthcare system – is not too far removed from rates seen in Indonesia and the Philippines.
Even Malaysia's new daily case rate (on July 1), at 213 cases per million population, was nearly triple that of the next-nearest country, Thailand, at 79 cases per million population. So even after a month of lockdown, our daily new case rate is still three times worse than a neighbouring country which just opened up its most popular island to vaccinated tourists from around the world? How can that be?
It's exceedingly difficult to consider all of this – especially when seen through the prism of continuing economic declines, tens of thousands of business closures and job losses, exhausted frontliners, doctors planning to go on strike, a questionable vaccine rollout, political infighting, increasing depression and suicide rates, and a citizen-orchestrated movement to feed the country's hungry – and view Malaysia's response in a positive light.
The coronavirus pandemic is an exceptionally tenacious foe, one which has challenged governments around the world. There is no question about that. But Malaysia's authorities keep returning to the same strategies which have so far proven to be of limited effectiveness. Some critics have noted that there seems to be an approach of hurling everything in the old arsenal at the crisis, hoping that something – anything – will work. Yet every meaningful Covid measurement is trending in the wrong direction.
The data makes it evident that Malaysia needs a new approach, and we are adding our voices to the growing chorus urging government leaders to throw out the old playbook – one which has yielded very few positive results as the data clearly illustrates – and devise a new strategy.
Like the WHO has advocated, we support an approach that doesn't rely on lockdowns, but rather centres on scaling up vaccination rates dramatically and quickly (we would love to see 400,000 jabs a day soon), and shifts the focus to a new goal: not one of "beating" the coronavirus, but of learning to coexist with it while mitigating serious illness and death because of it.
---
"ExpatGo welcomes and encourages comments, input, and divergent opinions. However, we kindly request that you use suitable language in your comments, and refrain from any sort of personal attack, hate speech, or disparaging rhetoric. Comments not in line with this are subject to removal from the site. "
Comments