From Malaysia's rate of immunisation and mixing and matching vaccines to growing questions about the Chinese vaccines and how to talk to people who are hesitant to get the jab, here are the latest updates.
After laying out what certainly appeared to be a very solid plan for getting the country immunised and free of the cycle of movement control orders and economy-crushing closures and restrictions, Malaysia quite frankly dropped the ball. There are varying reasons that have been floated, but a lack of transparency and accountability makes it challenging to ferret out what's true and what's not. The bottom line is, though, for whatever reason, from the time the first shipment of Covid-19 vaccines arrived in Malaysia on February 26 – to great fanfare – to a little over a month ago, not nearly enough people were getting their shots. Even in mid-May, only about 20,000 jabs a day were being administered nationwide.
Following nearly three months of largely wasted time, Malaysia's vaccination efforts finally started really gathering steam in late May and on in to June, where we finally saw daily doses jumping to seven-day averages of over 220,000. This is good, but it's still not good enough. At its peak in mid-April, the United States was administering well over 3.3 million shots a day. Of course, the US has 10 times the population and far more resources than Malaysia, but using that rate as a benchmark, we think Malaysia could keep pace, meaning we'd need to see an average of about 330,000 jabs a day nationwide.
Reports from vaccination centres have been nearly uniformly positive, with people commenting on the speed and efficiency of the operation. In the experience of this writer, the organisation of the entire process was absolutely top-notch, and a huge thanks is certainly due to the scores of people working to make it happen, right down to the many volunteers who are staffing these centres and providing invaluable help to so many people.
The government appears to agree with the continued need to increase the vaccination rate, as in his latest update, Science and Technology Minister Khairy Jamaluddin, who is spearheading the vaccination rollout, said their goal is to exceed 300,000 doses on a daily average by the end of July. He also noted that a huge tranche of the country's overall vaccine stockpile is scheduled to arrive in July – some 12 million doses.
The latest data show a moving seven-day average of 224,822 doses a day. Currently, just over 8.8 million total doses have been administered, and about 19% of Malaysia's population have been vaccinated with at least one dose.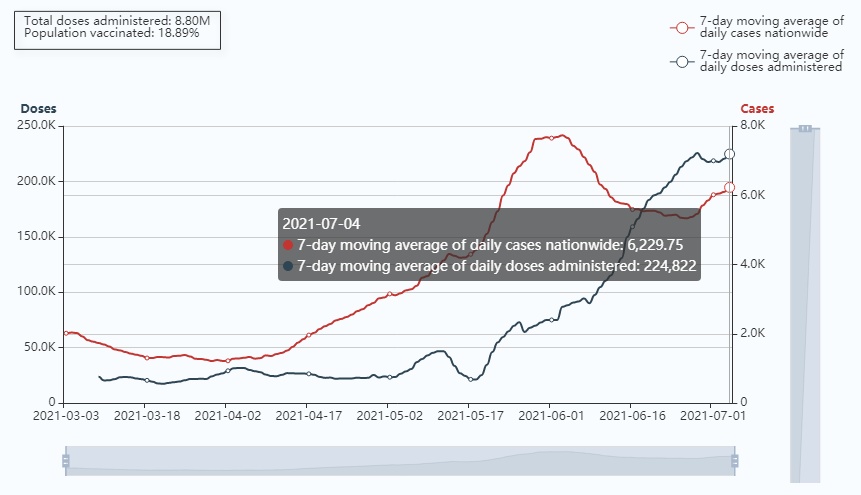 MIXING VACCINES?
Early after the various Covid-19 vaccines began receiving regulatory approval for use (often on an emergency basis), a question soon arose about how effective it might be to get different vaccines at both doses, e.g., perhaps getting Pfizer for your first jab, then AstraZeneca for your second. Would it make a meaningful difference?
Studies on this have yielded very encouraging results. This isn't to say that mixing the vaccines is more effective, but is nearly so, and that gives governments and healthcare organisations more flexibility in rolling out their vaccination programmes in the event of supply shortages or imbalance in the availability of different brands of vaccines.
In the UK study, Oxford scientists looked specifically at the effectiveness of a mix-and-match approach to vaccinations, in which people were given either the standard two shots of AstraZeneca or Pfizer vaccines, or a combination of the two.
The study showed considerable differences in antibody levels against the virus, depending on the shots given – and in the order of the shots. While two doses of Pfizer produced the highest levels of antibodies, one shot of the AstraZeneca vaccine followed by a Pfizer booster was nearly as potent.
Other combinations, however, were not as effective. Those who had a Pfizer shot followed by an AstraZeneca booster had antibody levels nearly seven times lower than those who had two shots of Pfizer, though this was still five times higher than the antibody levels recorded in people who had two shots of AstraZeneca. So from highest to lowest, based on antibody levels:
Two doses of Pfizer
AstraZeneca followed by Pfizer
Pfizer followed by AstraZeneca
Two does of AstraZeneca
"You've certainly got an extra kick to your immune system if you boost with the mRNA vaccine from Pfizer rather than a booster dose of the AstraZeneca vaccine," said Matthew Snape, the chief investigator on the Com-COV trial and associate professor in paediatrics and vaccinology at Oxford.
The jabs in the study were given four weeks apart. However, in the UK's real-world vaccination programme, most shots are administered further apart, from eight to 12 weeks. In a continuation of the mixed-vaccine study, scientists are also looking at results from jabs given 12 weeks apart; those results are not yet available.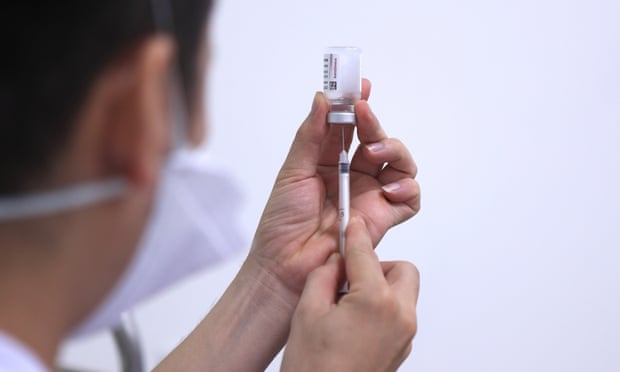 Worldwide, two doses of Pfizer's mRNA vaccine still appears to be the gold standard. (Moderna also uses mRNA technology, but this vaccine is not available in Malaysia.) AstraZeneca's vaccine, which is a "vector vaccine" type, appears to also be very good. And that brings us to the next update.
ARE THE CHINESE VACCINES A FAILURE?
In a word, no. However, in their bid to use "vaccine diplomacy," Beijing may have hurt their own cause by collectively referring to vaccines developed in China as "the Chinese vaccines." After all, we don't really call Pfizer's product "the American vaccine." It's just typically called Pfizer (or, more accurately, Pfizer/BioNTech, reflecting the American and German companies responsible for developing and producing the vaccine). By tethering its national identity and reputation to the vaccines developed within its borders, Beijing was taking a calculated risk, and it's one that has not paid off in quite the way China's central government had clearly hoped it would.
Even China itself admitted in April that their vaccines had a low rate of effectiveness and said the government was keen to improve on that.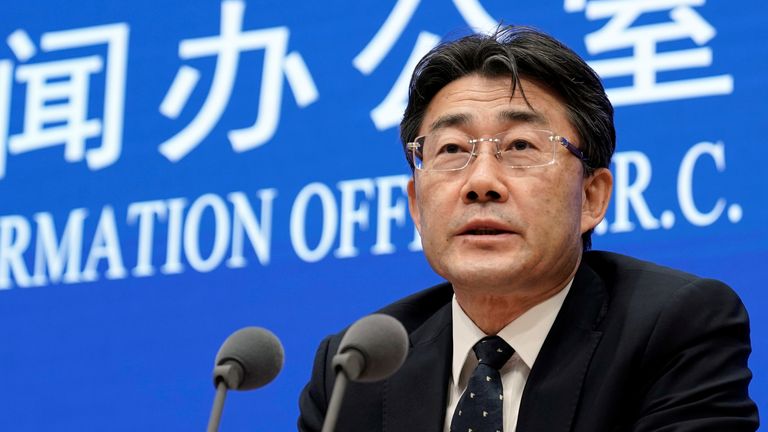 Now, three countries in particular, and possibly a fourth, are driving the questions about how potent China's vaccines are – or aren't. In Mongolia, hospitals are overwhelmed with Covid patients. In Chile, the country is reporting thousands of new cases every day. In the island nation of Seychelles, over 100 new cases are being logged each day (a lot for this tiny country), and six fully vaccinated people have died there. What these three countries have in common is that all of them have fully vaccinated over 50% of their populations, largely with the Chinese vaccines.
We could add Indonesia to the watch list, as they are heavily reliant on the China-made vaccines, too, but they haven't nearly reached the same immunisation rates as these other countries.
Bluntly put, if these vaccines aren't working, that's a big problem, both from a healthcare perspective (first and foremost), but also from an image standpoint, as Beijing has wagered heavily on its own nationalistic brand of vaccine diplomacy.
Experts say, however, that even though China's vaccines – Sinovac and Sinopharm – are legitimately not as effective as some others, they shouldn't be considered a failure. None of the vaccines available are 100% effective, and breakthrough cases have occurred with all vaccines. (A breakthrough case is an infection occurring in a fully vaccinated individual.)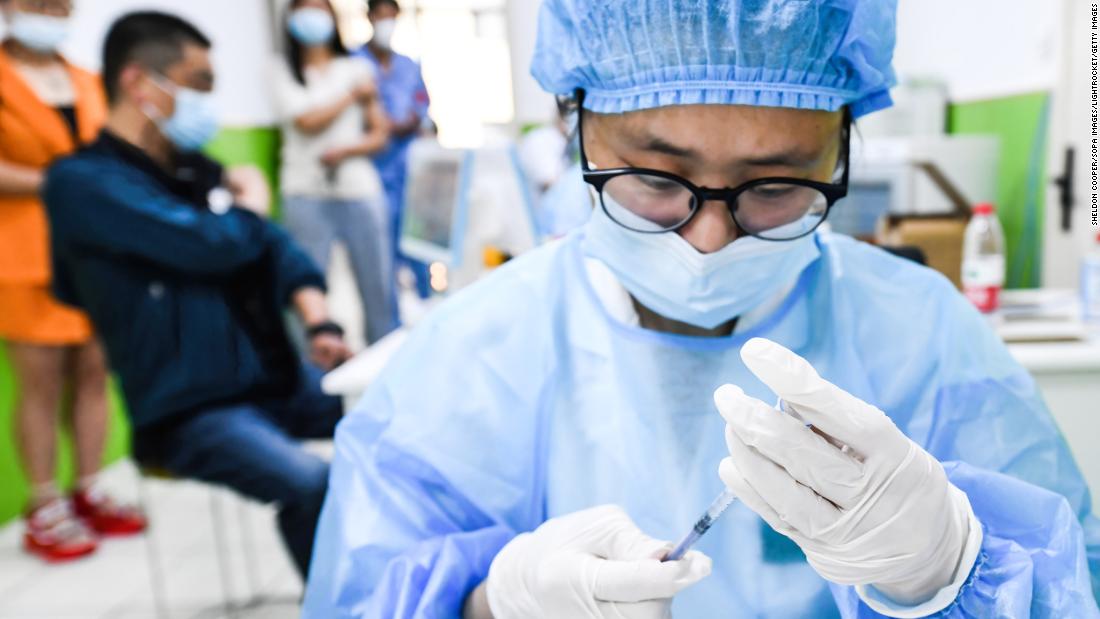 WHAT ARE THE DIFFERENCES IN THE VACCINES?
Both of China's vaccines use inactivated ("killed") viruses to trigger the body's natural immune response. This is a time-tested approach to vaccines, but it's just one of three broadly different methods used among the several Covid-19 vaccines which have been authorised for use. The other approaches include mRNA and viral vector.
The former, used by Pfizer and Moderna, uses a strand of messenger RNA to teach the body's cells how to actually make a piece of the coronavirus's spike protein, which in turn triggers a massive immune response. This is the newest technology, and its incredibly high rate of effectiveness potentially holds promise for future vaccines to be developed against other pathogens using this method.
The viral vector approach, used by other vaccines including AstraZeneca, uses an inactivated, or modified, version of a different, but similar virus (the "vector") to deliver that set of instructions to our cells, again prompting an immune response. The benefit here is that you gain the immunity to the SARS-CoV-2 virus without ever actually being exposed to it.
Now, down to the hard data: So far, according to a CNN report, trials show Sinopharm and Sinovac have a lower efficacy against Covid-19 than their mRNA counterparts. In Brazilian trials, Sinovac had about 50% efficacy against symptomatic Covid-19, and 100% effectiveness against severe disease, according to trial data submitted to the WHO. Sinopharm's efficacy for both symptomatic and hospitalised disease was estimated at 79%, according to the WHO.
Both Pfizer and Moderna vaccines, meanwhile, are more than 90% effective against symptomatic Covid-19, and nearly 100% effective against severe illness and death.
That latter metric is what's most important, experts say, and any vaccine that can mitigate serious illness (requiring hospitalisation) and death from Covid-19 is a useful vaccine. That includes the Chinese vaccines, particularly in areas where that may be the only option.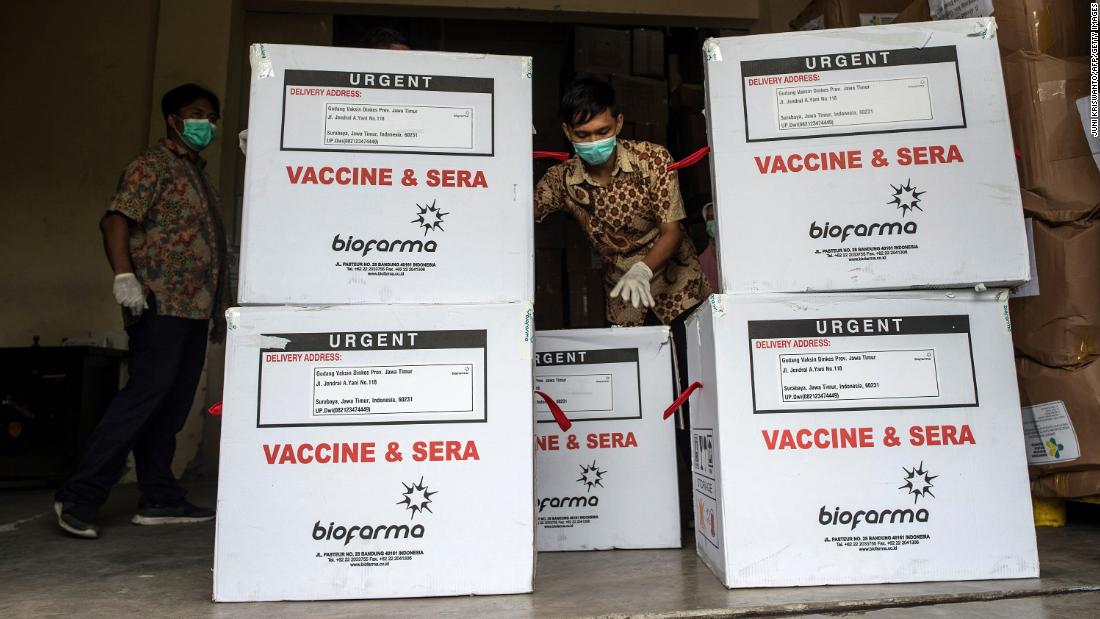 "If we want to bring down the severe cases (and) the number of deaths, the Sinopharm, Sinovac can help," said Jin Dong-yan, a professor in molecular virology at Hong Kong University.
Ben Cowling, a professor of infectious disease epidemiology at the same university, noted that the Chinese vaccines at least seemed to be limiting the number of serious infections and deaths."I think the vaccines are certainly working, and they're certainly saving a lot of lives," he said.
It's unwise at this stage to try and neatly put the vaccines into certain categories. "We cannot differentiate between Covid-19 vaccines, saying this one is bad or that one is good," explained Enkhsaihan Lkhagvasuren from the Mongolian Ministry of Health. "All of the available vaccines reduce the risk of severe illness."
REGIONAL NOTES
Indonesia, however, is being closely observed. The Red Cross warned last week that the sprawling ASEAN island nation is "on the edge of catastrophe." At least 88 doctors in Indonesia died of Covid-19 between February and June, a sobering statistic for any medical frontliner to see. At least 20 of those were fully vaccinated with Sinovac, according to Dr Adib Khumaidi, the chief of Indonesian Medical Association's risk mitigation team. Another 35 had not been vaccinated, and the remaining 33 deaths are still under investigation.
An estimated 1,600 doctors in Indonesia were infected with Covid-19 in May and June alone, although it's unclear how many of those had been vaccinated, or to what extent.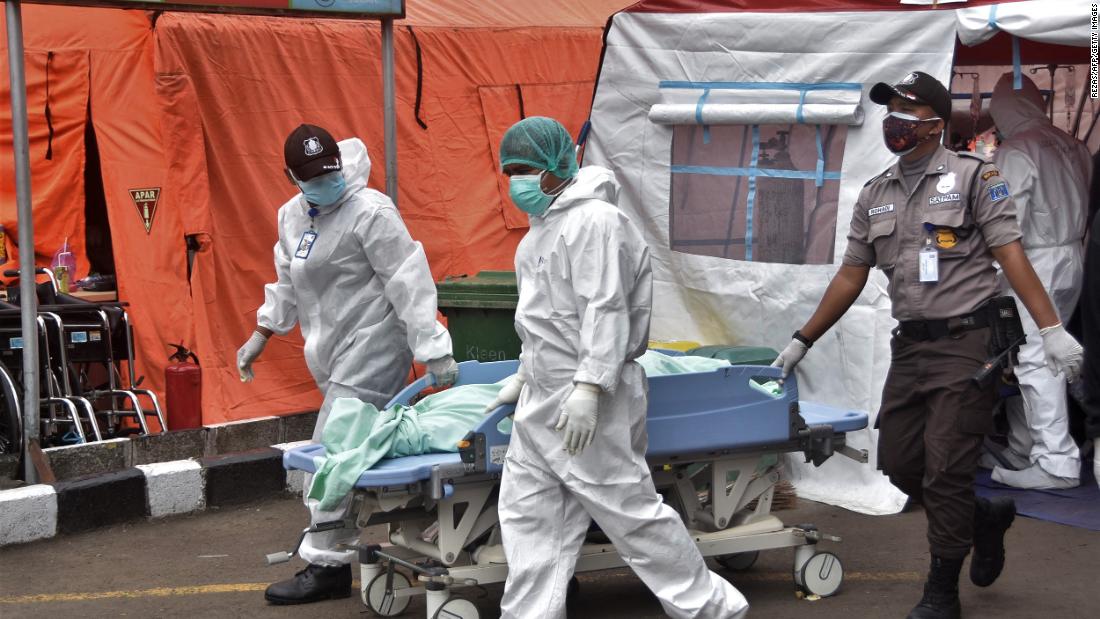 Across the causeway in Singapore, the government there has made a strong acknowledgment of the lower effectiveness of the Chinese vaccines, with the Ministry of Health recently informing its citizens that those opting for the Sinovac vaccine would not receive the same benefits with regards to ease of restrictions as those who had chosen the Pfizer or Moderna jabs.
According to Jin Dong-yan, Pfizer and Moderna vaccines do appear to be more effective than Sinovac and Sinopharm at limiting transmission, but said that whether the Chinese vaccines have failed depends on the what is being used to gauge success.
Jin did note that the Chinese vaccines' efficacy might not be high enough to stop the virus from spreading in a community, thereby putting herd immunity out of reach. That, he said, runs the risk of vaccine-resistant variants emerging.
"The Sinovac, Sinopharm vaccines are good, but they're just not good enough," he said, "We want the vaccine to help put an end to the pandemic, and if that is the case, Pfizer and Moderna are doing a much better job." Jin explained that the manufacturers of the Sinopharm and Sinovac vaccines have a responsibility to improve their products, which he said could just be a matter of increasing the dose or adding a third dose.
The director of the Eurasia Group's health programme, Scott Rosenstein, offered up what can only be seen as a rather tepid endorsement, saying that getting the Chinese vaccine is "better than nothing," adding, "In places where that's the only option, it still remains the best decision to take it."
VACCINE HESITANCY MAY BE DROPPING
In a bit of encouraging news, anecdotal evidence from both Malaysia and other countries appears to suggest that vaccine hesitancy may be on the decline. Though people who are steadfast in their absolute refusal to get the Covid-19 vaccine (or usually, any vaccine at all) has not significantly declined, among those who merely expressed reluctance earlier or took a "wait and see" approach to getting immunised, months of overwhelmingly safe and successful results, coupled with talking with friends and family who have gotten their shots, appear to be convincing them to step up and get the jab themselves.
Fears about emerging variants have also apparently swayed a few fence-sitters to get vaccinated. Here in Malaysia, registrations for the National Covid Immunisation Programme have risen notably in recent weeks, which is certainly encouraging.
According to an NBC News report in the US, vaccine hesitancy can arise from suspicions over how quickly the vaccine was developed to questions over whether it will cause long-term health problems.
There are also misconceptions about the cost of the vaccine (it's free), whether doctors profit from it (they don't), and a ridiculous fringe conspiracy theory that claims the shot will somehow implant a microchip in arms that enables the government to track people (it definitely doesn't). On the last point, not only does this technology not exist, but that little smartphone you religiously carry around with you everywhere is all the tracking technology any agency really needs to see where you go and when!
According to experts, if you're confronted by the task of trying to convince a vaccine-hesitant friend or relative, the best way to start that conversation is by respectfully listening to their reasons for objecting. Validate their concerns, acknowledge their fears, and address things pragmatically and non-judgmentally. And don't necessarily expect instant results. Most people didn't arrive at their reluctance to get vaccinated overnight; moving away from that hesitancy will likely be just as incremental.
To learn more about the vaccines, we recommend visiting trusted, expert medical websites, such as those under the WHO, CDC, and Malaysia's own MOH. (The latter is in English, but carries a date of November 2020, so more recent updates may be more easily found elsewhere.) Check the latest vaccination statistics HERE or HERE.
For a comprehensive round-up of all Covid-19 statistics in Malaysia, updated daily, we have found THIS SITE to be extraordinarily resourceful and well worth bookmarking. We have checked the sources behind the data to ensure its accuracy.
---
"ExpatGo welcomes and encourages comments, input, and divergent opinions. However, we kindly request that you use suitable language in your comments, and refrain from any sort of personal attack, hate speech, or disparaging rhetoric. Comments not in line with this are subject to removal from the site. "
Comments