As our lives shift into a new phase of reassessing our situations, many have realised that acting on the bucket list is needed more than ever. Travel is still largely out the window, but what about the other long-term goals? For some, the lockdowns have presented a new sensation: being home enough to experience pets!
As much as a 67% increase has been recorded by Google for interest in pet ownership trends since the pandemic began, and a few have offered to tally just how much a furry friend is going to cost in this economy.
For those still yet deliberating on adding to the family, here's a little breakdown on the average cost of a new fury friend!
It is important to note beforehand that a pet is not just an investment, but also a responsibility. Do not get one simply because it's 'cute', as temperament, needs, and living conditions may differ according to the animal itself!
PREPARATION FOR A PUP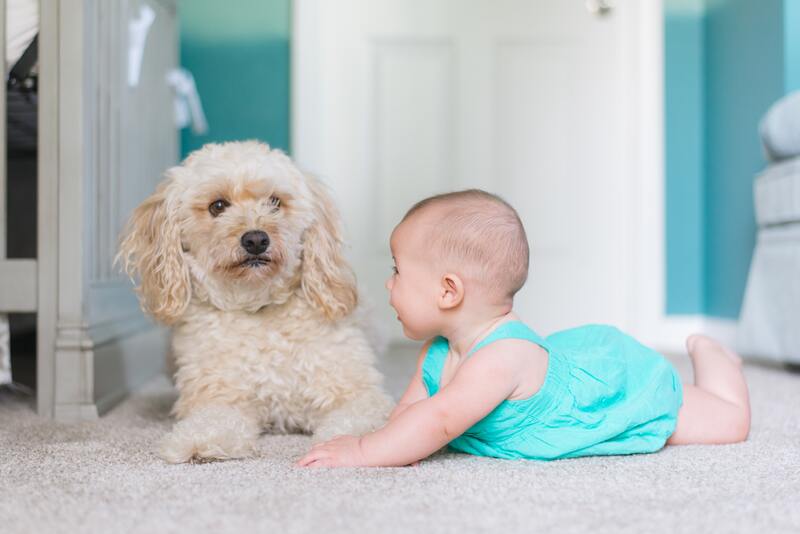 For first-time pet owners, your financial journey begins with a few one-off costs.
Adopting a dog is more encouraged than getting popular puppy breeds (as pedigree breeds often have a higher cost of care, and the breeding industry may not follow ethical standards). Should an owner be able to afford it, however, a purchasing cost of up to RM2,500 is to be expected.
After adopting/purchasing, come the essentials of dog ownership. A starter kit involves a collar, harness, leash, ID tags, basic grooming and feeding tools, and a doggy bed — all in all an average of RM260. Getting the completed package of neutering, micro-chipping, and obedience training — all which will aid in long-term positive impact on the health and safety of the dog, can cost an additional RM610 average.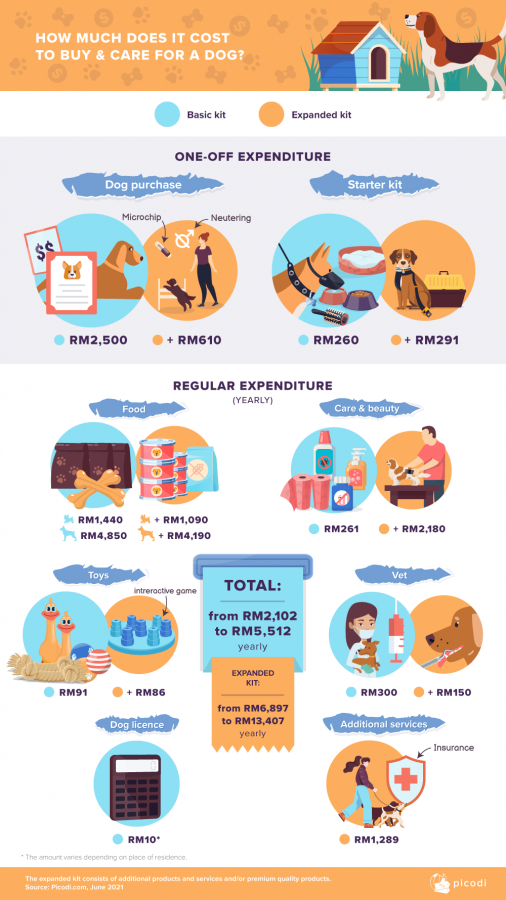 Concurrent with these costs, recurring expenses such as food, veterinary bills, grooming, licensing, toys, and other specialised services a dog needs will need your attention, as well. These six categories are a mix between the bulk of the investments going into owning a dog – ongoing and occasional.
All in all, a basic starter kit for pet dog ownership can rack up a RM2,102 bill for a small pup, and possibly up to RM5,512 for larger ones. An expanded kit including other dog services and more detailed care needs can triple this total!
PREPARATION FOR A KITTY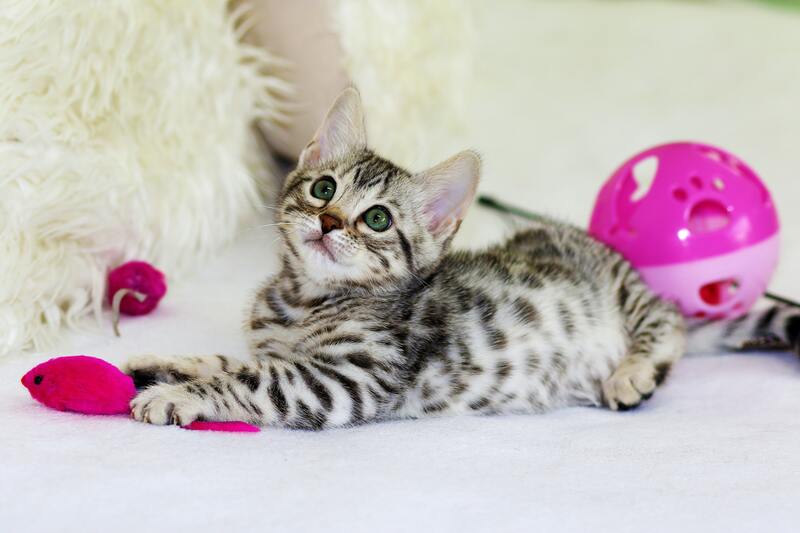 Similarly, prepping for a cat needs equal financial consideration. While Malaysia is more open and acclimatised to pet cats, some investment is also needed for the best care possible.
Pedigreed breeds can cost up to RM2,000, but adopting rescues can sometimes even be free as many fosterers often find themselves with entire litters from rescued strays to rehome. Like dogs, neutering and micro-chipping are recommended for pet care, bringing this starter kit up by another RM230.
A basic kit of a litter box, carrier, grooming tools, bed, bowls, etc. could cost up to RM377 on average. An expanded kit, which can include a leash set, clothes (because who doesn't love dressing up sometimes!), a bigger scratching post complete with hideouts, and an automatic feeder for those owners who need help with timing and quantity could cost an additional RM215.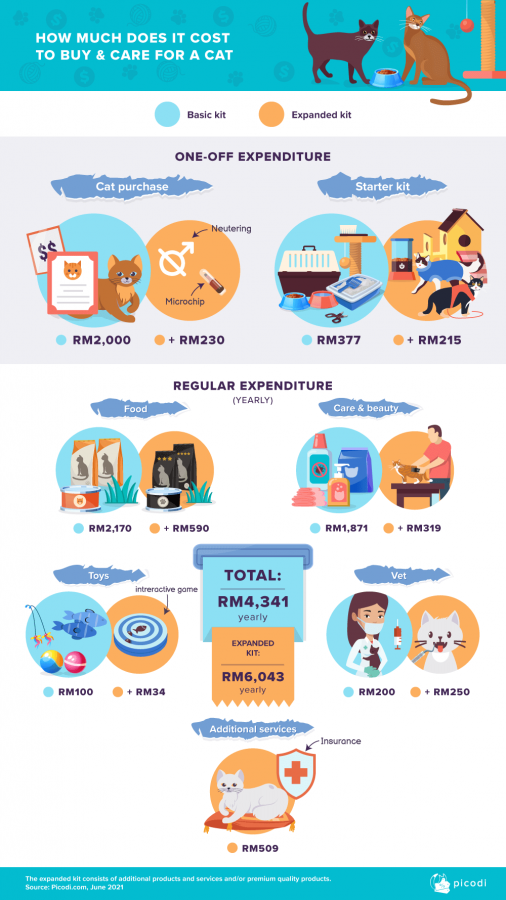 As with pet dogs, concurrent expenses of food, toys, veterinary care, and specialised services even the seemingly more independent cat could require have to be accounted for.
Food alone can cost up to an average of RM2,170; and to really get that fluffy shine for their coats, premium grainless food can go up to RM2,760.
Annual care for a kitty including regular litter changes, pee pads, sanitary products, and other necessities can rack up a RM1,871 bill in total. To get professional care for the kitty which includes grooming and washing, could add RM319 to the year.
Should you be one of those owners who lets their pet cat roam, vet check-ups may have to be more frequent for preventive care and more. Aside from a RM200 vet bill, updating vaccinations, deworming, and dental care will add RM250 to that tab. Health insurance (in case of a medical emergency!) and pet hotels can add another RM509.
Owning a cat thus can come around to RM4,341 annually, with that figure going up by RM6,043 should owners desire a more complete, expanded kit.
While data on less common or even exotic pets (hamsters, guinea pigs, lizards, birds, rabbits, fish, etc.) can be a little harder to collect due to sparse availability, very specialised care needs, and lack of veterinary information, these animals, too, are a huge responsibility to take on despite their smaller sizes!
METHODOLOGY
*Infographics and tabulation of these costs were done by Picodi.com, based on Google Ads data search queries connected to the buying of pet cats and dogs for the years 2019 and 2020. The cost of buying a dog and a cat was based on prices from online marketplaces. Prices of products and services come from online stores, veterinarians, and groomers. The whole list of products and services can be found in the following link.
---
"ExpatGo welcomes and encourages comments, input, and divergent opinions. However, we kindly request that you use suitable language in your comments, and refrain from any sort of personal attack, hate speech, or disparaging rhetoric. Comments not in line with this are subject to removal from the site. "
Comments