Media industry veteran Andreas M. Vogiatzakis makes his authorship debut with his new autobiography, Courage at the Crossroads
Andreas Vogiatzakis is no stranger in Malaysian media and business circles. This influential leader and motivator has made an indelible mark in organisations, communities, and individual lives around the world. And now, he has detailed his captivating life's story, which has seen him traverse the far reaches of the globe, in his book, Courage at the Crossroads.
The book begins with Andreas' humble beginnings in a modest village in Crete, Greece. The pages thereafter go on to share a remarkable account of an astounding life's story. Quitting the prestigious Mathematics University of Athens at the age of 21 to pursue his passion for advertising at the University of Florida, Andreas graduated with a 4.0 GPA before making his career debut in DMB&M in New York City, essentially taking him from "Math Man" to lead the glitzy "Mad Men" lifestyle, alluding to the hit TV drama series.
After returning to Athens to carry out his requisite military service, he resumed his advertising career, which would take him on to various stints in Japan and Taiwan, before settling in Malaysia to helm several notable media organisations here – including the Omnicon, Havas, and Star Media Groups.
Courage at the Crossroads details Andreas' stirring life's journey from hymns to math, from long hair to corporate suits, from failures to awards, from building brands to establishing his own company. From adapting to cultures to creating culture, leadership and essential lessons abound in Andreas' book, laying out the foundations of the true catalyst for positive change he was destined to be, both in his own life and of others. In every page, Andreas captivates the reader with little nuggets of wisdom infused in the first-hand account of his extraordinary life, from being born with nothing in a small village to trailblazing the world.
"Looking back at my life, I realised that that there are certain principles to be learned on leadership, on courage, on decisions you have to take when you come to a crossroads, which we all do in life," says Andreas on his inspiration behind the book. "It takes a certain level of courage to navigate these crossroads. And these lessons weren't from textbooks or manuals, What I learned, I learned from my own screw-ups, my failures, and my successes – it's a whole package. And that is essentially what got me starting to think about writing on the book. I thought that if I can positively affect even one person's life with this book, then to me, it's a job well done – it would be definitely worth every effort to sit down and write it."
However, in spite of the spellbinding account of his own life in his book, Andreas humbly believes that everybody has their own great story to tell.
"Sometimes, though, we're afraid. Sometimes, our self-limiting beliefs tell us that we're not good enough, or that our story's not good enough to share. We wrongly believe that unless we do anything short of climbing Kilimanjaro without arms or legs, our story isn't worth telling. The truth is everybody has a great story, whether they realise it or not. Everybody has to at some point look back to understand and make sense of the future, to get more clarity into who we are. These are some of the things I hope people will think about when they read this book. I want to inspire them to look back and get inspired by their own stories. I want them to ask themselves, 'Why am I here? What are the values that drive me? What doesn't? How can I be better?' It all boils down to self-awareness, and that's what I want people to ultimately take away from this book," Andreas said.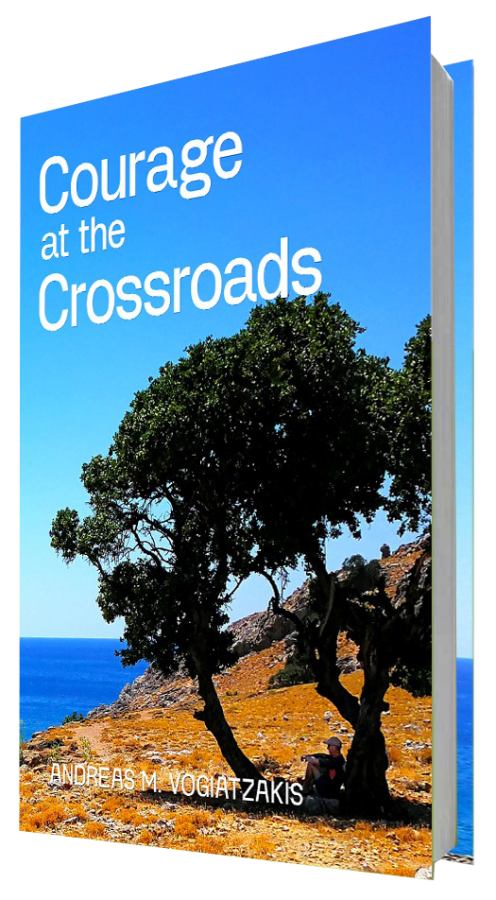 Both literally and figuratively, Courage at the Crossroads validates the adage that the pen that writes one's life story must be held in one's own hand. In addition to his new "author" title, Andreas is currently a highly sought-after TEDx speaker, mentor, as well as a certified Executive Coach, NLP practitioner and trainer. He recently set up AMV+, his own consultancy with a mission to be a catalyst for positive change by building better leaders, driving transformation and creating purpose.
Among his many accolades, Andreas was listed as one the 100 Most Influential Digital Leaders in the Asia Pacific region in 2017. And just last year, he was listed among the 100 most inspirational LinkedIn icons in Malaysia. And if the contents of his book are anything to go by, it's certainly not difficult to see why.
Courage at the Crossroads is available at Amazon, IngramSpark, and IHUB on a global scale, as well as all major bookstores in Malaysia as soon as the lockdown is over. You can also find the book at www.amvplus.com and for a limited time only, to celebrate AV's 55 years of unplanned life, you can pre-order/buy the book at IHUB for RM55 only (shipping not included). Simply visit AMVPLUS.COM and you can do all that there!
---
"ExpatGo welcomes and encourages comments, input, and divergent opinions. However, we kindly request that you use suitable language in your comments, and refrain from any sort of personal attack, hate speech, or disparaging rhetoric. Comments not in line with this are subject to removal from the site. "
Comments