Known as the person who taught America to love French cuisine, Julia Child was so much more than a chef!
Although Julia Child was an American household name in the baby boomer generation, her legacy made it possible for many more people to know about her formidable contribution to the American culinary scene through the 2009 film, Julie & Julia.
Covering her life in France where she immersed herself into learning everything about French cooking, the film pays tribute to her unwavering dedication to her mastery; an achievement that eventually turned her into one of America's earliest celebrity TV chefs with her own show (The French Chef). We also learned of her unapologetic love for butter, and that her husband Paul worked for the United States Government, as did she.
While the motion picture included precious information about Child's marriage, and the challenges she faced in the male-dominated world of gourmet French cooking, here are 11 unknown facts about the icon which didn't make it into the film.
1. SHE HAD MILITARY ASPIRATIONS
In the movie, we learned that Child met her husband Paul when they were both stationed in Sri Lanka while working for a wartime (WW2) intelligence agency of the United States at the time, but that's because she was previously turned away from the military! Child's dream of enlisting for the Women's Army Corps (WACs) or the U.S. Navy was dashed when her application was rejected because of her height. Standing at a towering 6'2″, she was considered too tall for the job.
2. SHE WAS A WW2 GOVERNMENT SPY
Although she started as a typist in the Office of Strategic Services (OSS) at its headquarters in Washington, Child worked her way up the ladder due to her privileged educational background, and became a top-secret researcher working directly for the head of OSS, General William J. Donovan. The OSS was previously what the CIA is now.
3. SHE HAD A ROSE NAMED AFTER HER
Tom Carruth is an American award-winning rose hybridizer, who has created more than 100 rose varieties, including eleven All-America Rose Selections (AARS). He pursued Child for years because he really wanted to name a rose after her. Child, however, had a reputation for declining to have her name attached to commercial ventures – that is, until she saw a golden-coloured rose (one of Tom's hybrid roses) in the gardens of a family friend.
"We'd been after Julia for quite a few years to name a rose after her, but she always said I'm not worthy of that, in typical Julia style," Tom said.
But after setting her sights on his "butter" coloured roses, Child finally relented saying if she were to ever have a rose named after her, that would be a nice one.
4. SHE WAS A CALI GIRL
Although her ticket to fame included her unmistakable French flair with a touch of New York sensibility, Child was actually born in Pasadena, California to a wealthy family. While in boarding school during her high school years, Child was very active in sports playing tennis, golf, and basketball.
5. SHE MASTERED THE PERFECT OMELETTE
While on the road promoting her first national cookbook, Mastering the Art of French Cooking, Child was invited on a local Boston television station cooking show. Child arrived with a copper bowl, a whisk, and some eggs to make an omelette. It was later reported that the producer at the time, Russell Marsh, had thought to himself: "Who is this madwoman cooking an omelette on a book-review program?" But obviously, after demonstrating her magic, Child proved her techniques impeccable with a perfect omelette.
6. SHE WAS A TALENTED BASKETBALL PLAYER
Naturally, because of her height, Child played college basketball while she was enrolled at Smith College in Massachusetts.
7. SHE WAS A CANCER SURVIVOR
Child found a lump in her breast in 1968 at the age of 55. In true Julia Child fashion, she told People, "I did not want to be whiny," when describing her experience with cancer. After a potentially life-saving surgery, Child had a relatively private recovery and refrained from mentioning her cancer in public conversations.
8. HER ACCOMPLISHMENTS INCLUDED MANY FIRSTS
Making history as the only woman in her first class at France's Le Cordon Bleu culinary school in 1949, Child also went on to be the first woman in the culinary world to do many things, including being the first woman inducted into the Culinary Institute of America's Hall of Fame in 1993.
9. JULIA DID NOT APPROVE OF JULIE POWELL'S RECOGNITION
Although never having met blogger Julie Powell, Child did not take kindly to someone else gaining fame solely through repurposing all of her hard work and recipes, and refused to meet with Powell when the invitation arised. This does get shown in the movie, but what they did leave out was Child's comment about Powell saying, "I don't think she's a serious cook."
10. HER KITCHEN IS IN A MUSEUM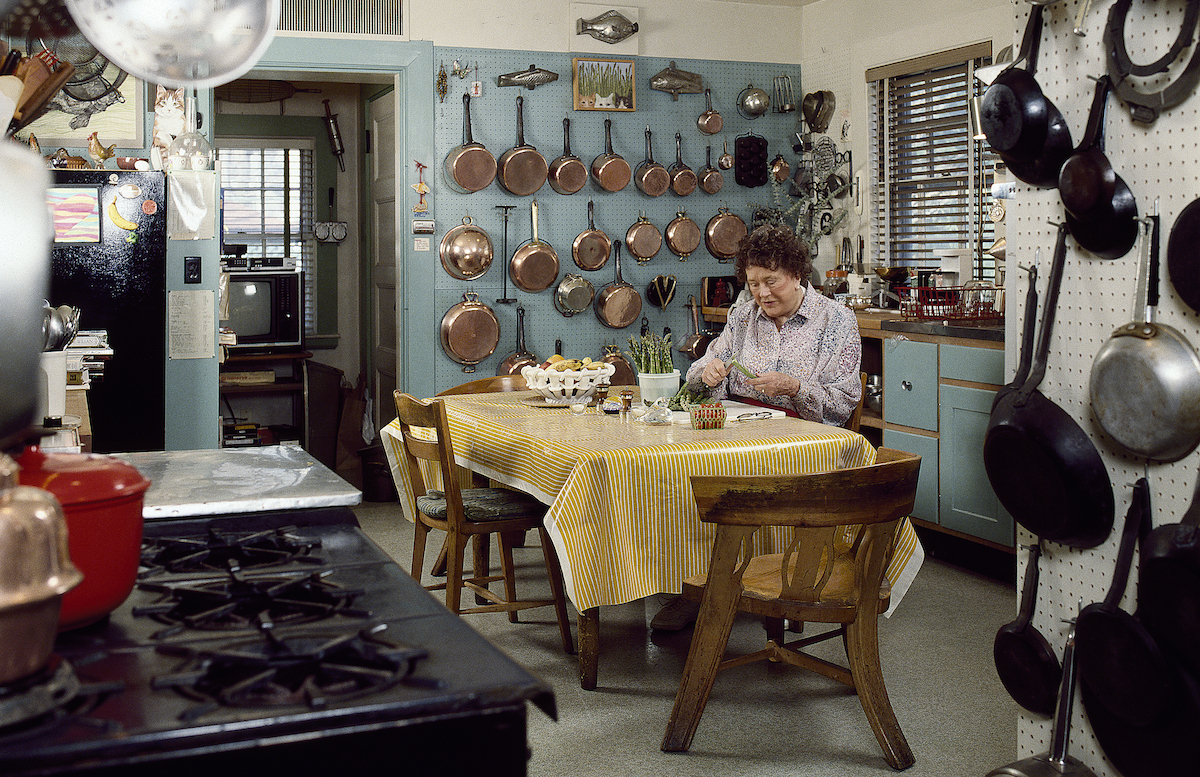 When Child moved back to her home state of California in 2001, she donated the kitchen from her Cambridge, Massachusetts, home to the Smithsonian, at the National Museum of American History. The exhibition featured the actual kitchen, including the cabinets, appliances, cookbooks, kitchen table, and hundreds of utensils and gadgets. The exhibition gave visitors a peek into the working kitchen of one of the world's best-known cooks, and explored how her influence as an author and host of several television series changed the way America cooks.
11. SHE LOVED FRENCH ONION SOUP UNTIL THE END
Proving to the world that anyone can live a full and healthy life without cutting out essentials like butter, Child taught us to revel in the simple things with elaborate flair. She loved homemade French onion soup so much, it was her last meal at a ripe old age of 91.
If this has made you feel nostalgic at all, here are some favourite French recipes inspired by Julia Child herself.
---
"ExpatGo welcomes and encourages comments, input, and divergent opinions. However, we kindly request that you use suitable language in your comments, and refrain from any sort of personal attack, hate speech, or disparaging rhetoric. Comments not in line with this are subject to removal from the site. "
Comments