The survey drew an exceptionally high number of responses from existing and prospective MM2Hers representing 58 nationalities.
Shortly after the Malaysian government announced the upcoming changes to the Malaysia My Second Home (MM2H) programme, TEG Media asked existing and prospective MM2H visa holders for their input and opinions on the announced changes, particularly as the changes were initially said to also apply to existing MM2Hers.
We received over 1,400 responses from nationals of 58 countries, over 900 who are currently holding MM2H visas and just under 500 who were planning to join the programme.
Their responses confirmed what many suspected would be the case: The vast majority of MM2Hers living in Malaysia now will be immediately disqualified by the new monthly income requirement alone, which is set to jump from RM10,000 to RM40,000 under the revised programme.
Additionally, even those who do qualify by the income requirement are not necessarily able or willing to place the required RM1.5 million into a Malaysian bank's fixed deposit.
The survey also made it clear that the new requirements would not attract many new applicants at all.
We would expect the exodus of MM2Hers from the country, over one-third of whom own residential property valued in excess of RM2 million, to cause potentially significant problems for the housing market, which is already faced with an excess of unsold properties. A sudden new influx of billions of ringgit in additional properties will only make things worse. Additionally, these MM2Hers will be withdrawing many millions of ringgit from Malaysian banks as they exit the country, and Malaysia will also cease to benefit from their day-to-day spending, which is estimated at an average of RM10,000 per month for each MM2Her.
The survey results report is quite comprehensive. TEG Media CEO Andy Davison compiled the results and has spent countless hours communicating with affected MM2H visa holders, all of which contributed to the findings outlined in the report.
A brief summary follows, and a link to the complete report, including a number of comments directly from respondents, can be found at the end of this page.
MM2H PROGRAMME: CURRENT BENEFITS TO MALAYSIA
Having so many people choose to live in Malaysia assists foreign direct investment, as liveability is an important consideration for many multinationals – the highly respected Economist Intelligence Unit even set up a Liveability Services section to cover this for corporations.
Most of the costs incurred by participants are funded through inward remittances, so this group brings in foreign exchange.
MM2H contributes to property sales in Malaysia, as our latest research shows that nearly 60% of visa holders have bought property in Malaysia, and roughly a quarter of their homes were valued in excess of RM3 million.
The programme's participants contribute to consumer spending, as our last research showed average spending of RM120,000 a year.
It contributes to tourism as many visa holders promote Malaysia to friends and relatives and also have many visitors.
It helps medical tourism because good medical facilities are important to older people, so they effectively endorse it and have been used to promote it.
MM2H can also help promote Malaysia's educational institutions, as some visa holders educate their children here.
MM2Hers tend to be good 'citizens' of their adopted home, and we know of many who are very involved with their communities and neighbours, along with charitable endeavours and NGOs.
COMPARISON OF EXISTING AND NEW MM2H PROGRAMME REQUIREMENTS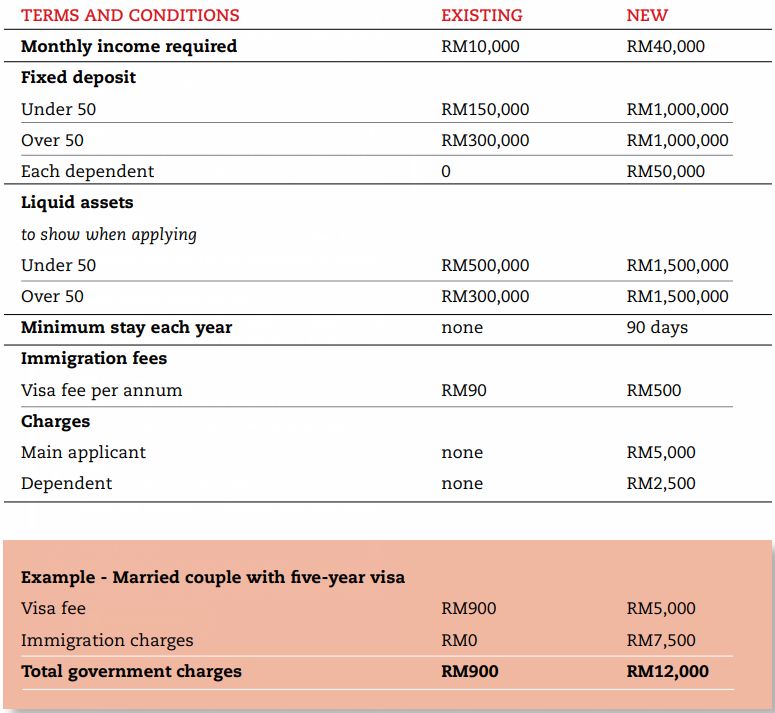 RESPONSES OF

EXISTING

MM2H PARTICIPANTS
79% do not meet the new RM40,000/month income requirement.
Of those who DO meet the income requirement, 89% either cannot meet the fixed deposit requirement, or can but are unwilling to do so.
Overall, only about 2% of existing MM2H visa holders responding are able and willing to meet all the new criteria.
57% own property here with an average value of RM1.4 million.
37% own property valued over RM2 million.
90% say their views of Malaysia are now either much worse or somewhat worse.
RESPONSES OF

PROSPECTIVE

MM2H PARTICIPANTS
76% do not meet the new RM40,000/month income requirement.
Of those who DO meet the income requirement, 91% either cannot meet the fixed deposit requirement, or can but are unwilling to do so.
Overall, similar to existing pass holders, just 2.1% of all prospective MM2Hers who responded are able and willing to meet all the new criteria.
CONCLUSIONS DRAWN FROM THIS SURVEY
The survey reveals that nearly all the current visa holders who have relocated here will have to leave the country.
It is hard to see what benefit Malaysia receives from this move. It will mean significant property sales at a time when the industry is currently facing a property overhang. A large number of fixed deposits totalling millions of ringgit would also be withdrawn.
In addition, the country will lose the benefit of all the spending that MM2Hers do for day-to-day expenditures.
The fact that it will mean the government is going back on a previous promise not to apply new rules to existing participants will surely deter future applicants.
Various business chambers have expressed their concerns that this will also deter future business investors who worry about sudden reversals of promises made and will consider Malaysia a risky investment. The Sultan of Johor has echoed this concern.
In terms of new applicants, we fully understand and respect the government's right to make any policies they deem appropriate. However, our research shows that there will be very few people applying. If this is correct, then the revised MM2H programme will not assist in the national recovery effort, one of the stated aims in making the changes, but will in fact result in a net loss for Malaysia.
---
"ExpatGo welcomes and encourages comments, input, and divergent opinions. However, we kindly request that you use suitable language in your comments, and refrain from any sort of personal attack, hate speech, or disparaging rhetoric. Comments not in line with this are subject to removal from the site. "
Comments