As of Tuesday, October 12, Covid testing is advisable, but no longer mandatory for travel to Langkawi, according to Ministry of Health.
UPDATE: Langkawi's travel bubble, when launched, added a last-minute provision that a negative Covid test would be required to travel. Now that interstate travel has been allowed to resume (with effect from October 11), the testing mandate for travel to Langkawi has been eased.
However, Health Minister Khairy Jamaluddin said visitors to the island – or indeed those embarking on any interstate travel – are still very much encouraged to self-test prior to travel, both for their own peace of mind and to help protect others at the destination. Moreover, being fully vaccinated is still required.
Our original story about the testing protocol follows, though it is no longer relevant as of October 12.
For many travellers, however, introducing testing protocols to the normal check-in process can cause a little anxiety, simply because of the 'great unknown'. How long will it take? What test do I need? Will it be crowded? Where do I go for the test?
Well, here's a step-by-step guide of what you can expect and what you need to know.
First, if you have a test done at a clinic, ensure that it's done just before your flight — less than 48 hours, although we'd advise not even cutting it that close. You'll just take the test result documents along with you to the airport.
A more convenient and far cheaper option is to just use a Covid-19 self-test kit. The government has capped the retail price of these RTK antigen test kits at RM19.90 and talks are ongoing to push that price down even lower to increase affordability among all citizens. For now, though, about RM20 can get you tested in just 15 minutes.
While you can buy the kit ahead of time at many pharmacies or clinics, it's just as easy to buy at the airport. If you take your own, ensure it's unused and unopened; the Ministry of Health staff on hand will check to ensure it's an acceptable type of test, too. Buying the kit on-site at the airport avoids this step, and the price is the same. They will always have stock.
If you're getting tested on-site, which will be the choice for most passengers, add about 30-35 extra minutes to your usual timeframe if you're flying from Subang Airport, a bit longer from KLIA, and up to 50-60 extra minutes if you're flying from KLIA2 or during a busy travel time. (Better safe than sorry, that's a good rule of thumb when calculating your time cushion!)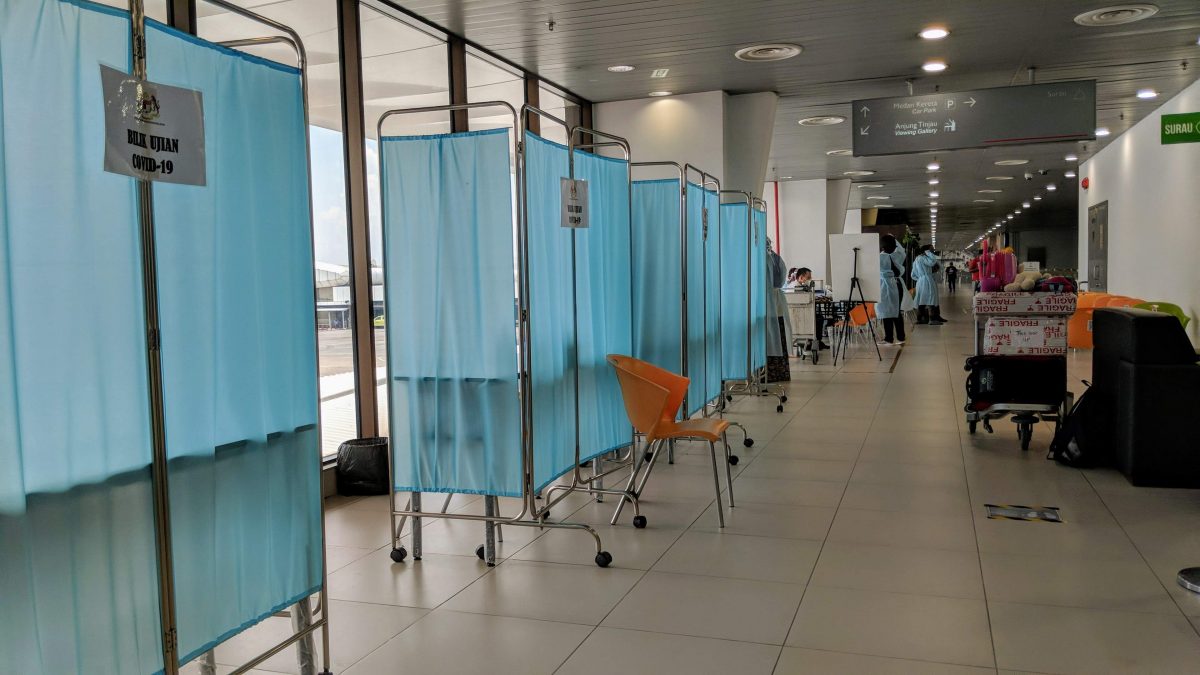 The test process takes place before check-in, and it does vary from airport to airport. Generally, however, a separate area is set aside for this, and it's staffed by health workers, all appropriately clad in personal protective gear. One counter accepts test documents (with negative results) done ahead of time, another handles verification, another is there to sell you test kits and masks. It's all fairly well-marked and easy to manage. Unless you're travelling at a seriously peak time, there is unlikely to be anything resembling a crowd. However, at KLIA for instance, the space is so large, you'll need to allow extra time just to get from one place to another; here, too, test kits are sold at pharmacies in the airport terminal rather than directly at the test site.
Once you have your test kit, you go to a private little area (shielded by a curtain hanging on a stand) to administer the test. A health worker is on hand to guide you, but you do the test yourself, and you must do the test there and then — do not take the self test at home and then bring it to the airport, expecting them to accept it. (However, some people may want to take the test at home before going to the airport just for their own peace of mind, then take another once at the airport.)
The self test may involve a saliva swab and a nasal swab, while some are saliva-only and involve spitting repeatedly into a little vial. However, for the swab tests, it's very important to point out that the nasal swab is nothing like the deep swab given by health workers for the PCR test!
For the combo nasal/saliva test, open the pouch with the vial first, which contains the reagent, so don't spill it. There will be a small punch-out hole in the box to hold the vial while you do the swabbing.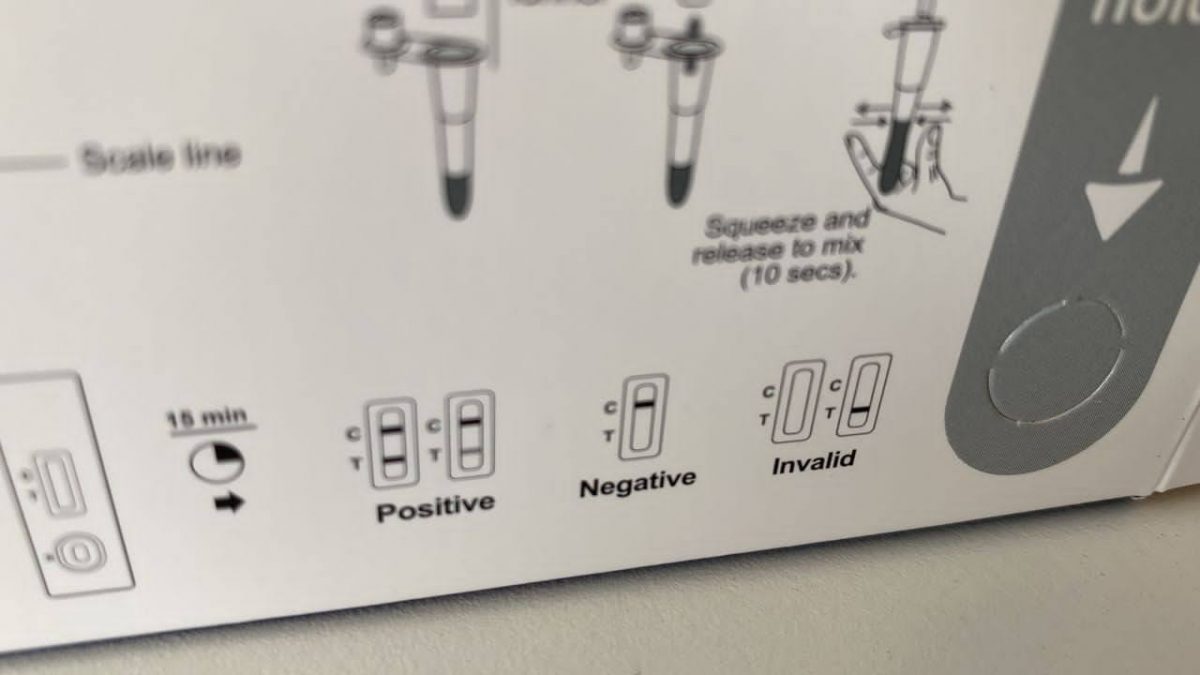 First, the saliva swab. You'll open the pouch, take the long-stemmed swab and collect the saliva from both cheeks and the roof of your mouth. Then the swab is dropped into the vial.
Next, you'll repeat this with the second swab inside each nostril — not deep, just around the inside. It will tickle, but it's not at all uncomfortable. Then that swab is also dropped into the vial.
Stir the two swabs around in the reagent liquid, then discard them. Squeeze the vial gently to mix the contents, then cap the vial with the dropper cap that's provided). Next, open the test strip pouch, and you'll add two drops from the vial onto the test spot (usually marked 'S').
Then put the strip into the provided plastic pouch and seal it. The health worker will write the time on the pouch (the current time plus 15 minutes). At that time — actually slightly before — you'll know your fate.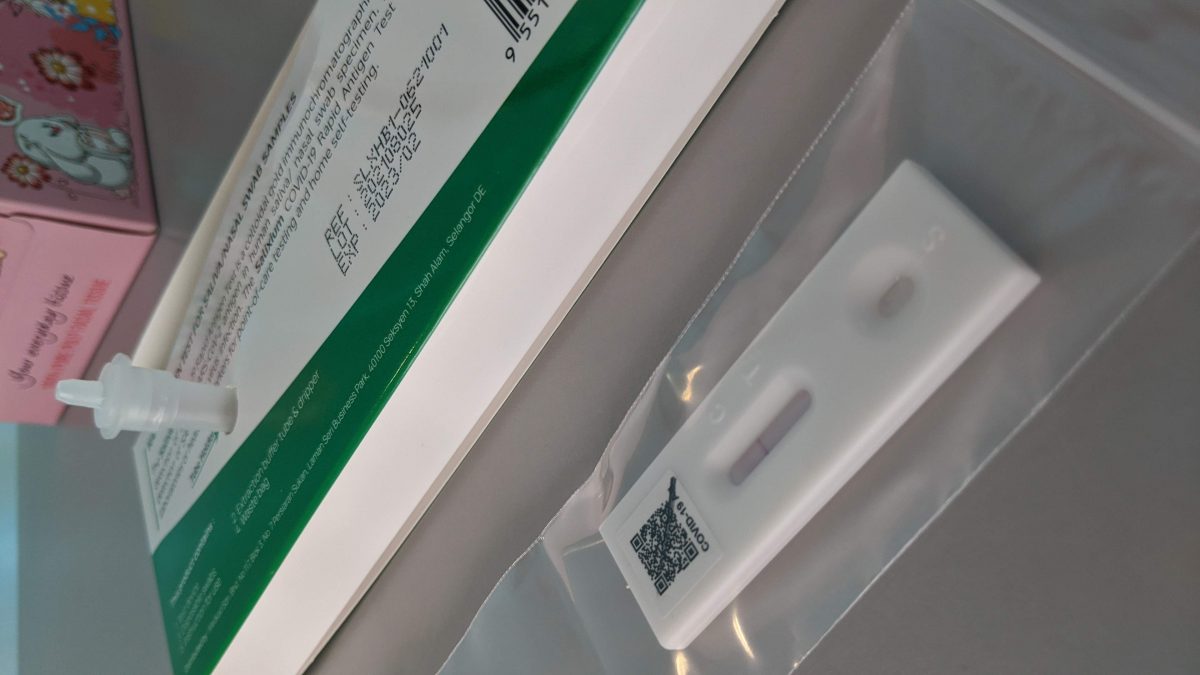 A single line ('C' for control) indicates the test is working and you are negative for Covid-19.
Two lines (both 'C' and 'T' for test) indicate you are positive for Covid-19; you will be sent home for a 10-day self-quarantine and will not be flying to Langkawi.
If it's negative, you'll have the results confirmed at the appropriate counter and will be allowed to scan the appropriate QR code with your MySejahtera app. You may then proceed to check in as usual, and you'll need to show the scanned results to the airline staff.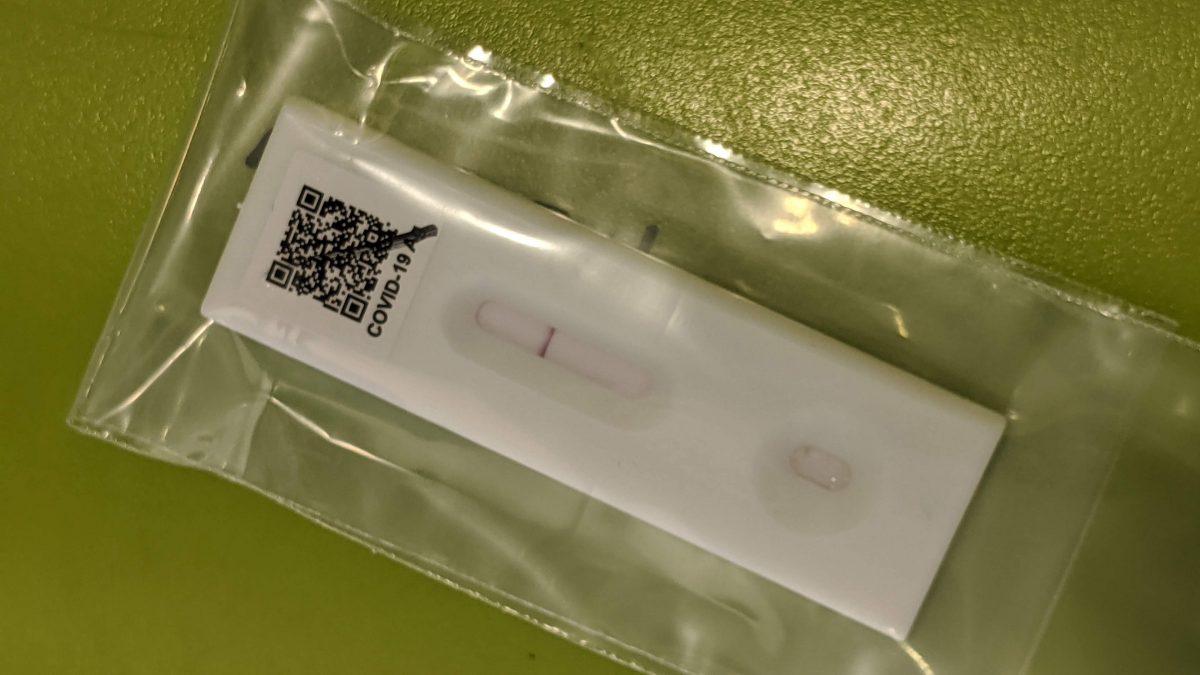 At two other times, you'll need to fill out some electronic forms. You'll need to know your flight number and date, along with the hotel name at which you'll be staying (or address if it's a private residence). Later, after check-in, the form will also request your seat assignment. This form will generate a QR code which you should screenshot; you'll need to show it in Langkawi.
Upon arrival, you'll be carefully watched to ensure you scan the MySejahtera arrival code, and if you didn't complete the tracking info in Kuala Lumpur (you'll need to show the resultant code), you can do it in Langkawi.
Once that's done, you're officially free to move about the island! Normal protocols are all in place — masks on, scan to enter, mind your distance, etc. — but apart from that, it's business as usual in Langkawi.
Reports of crowds of visitors descending on the island are greatly exaggerated. Though there's been enough of a surge in bookings to consider the travel bubble a success from that perspective, numbers are still not at normal levels, and Langkawi is big enough that you won't even notice.
So relax and enjoy a safe and laid-back holiday in Langkawi, and let's hope for more domestic destinations to open up soon!
---
"ExpatGo welcomes and encourages comments, input, and divergent opinions. However, we kindly request that you use suitable language in your comments, and refrain from any sort of personal attack, hate speech, or disparaging rhetoric. Comments not in line with this are subject to removal from the site. "
Comments