Nearly two years after the coronavirus made its debut in Malaysia – and 19 months after the first lockdown was imposed – the outlook in the country is finally looking rosy again.
Owing largely to a sterling vaccination effort and a relatively obedient population making numerous sacrifices for nearly two years, Malaysia is finally trending quite positively on the Covid battle front.
The past few weeks have seen all the metrics for gauging the pandemic's impact in Malaysia – daily cases, deaths, ICU utilisation, case positivity rate, infectivity index, and more – all trending significantly downward. Meanwhile, vaccination coverage in the country has largely peaked, with increases now small and incremental, as stragglers get fully vaxxed and adolescents get their jabs, too. Currently, about 75.2% of the entire population is fully immunised.
Of course, children under 12 are not yet eligible for vaccines in Malaysia, so once that cohort is removed, you get a truer sense of how amazing the vaccination drive has been here.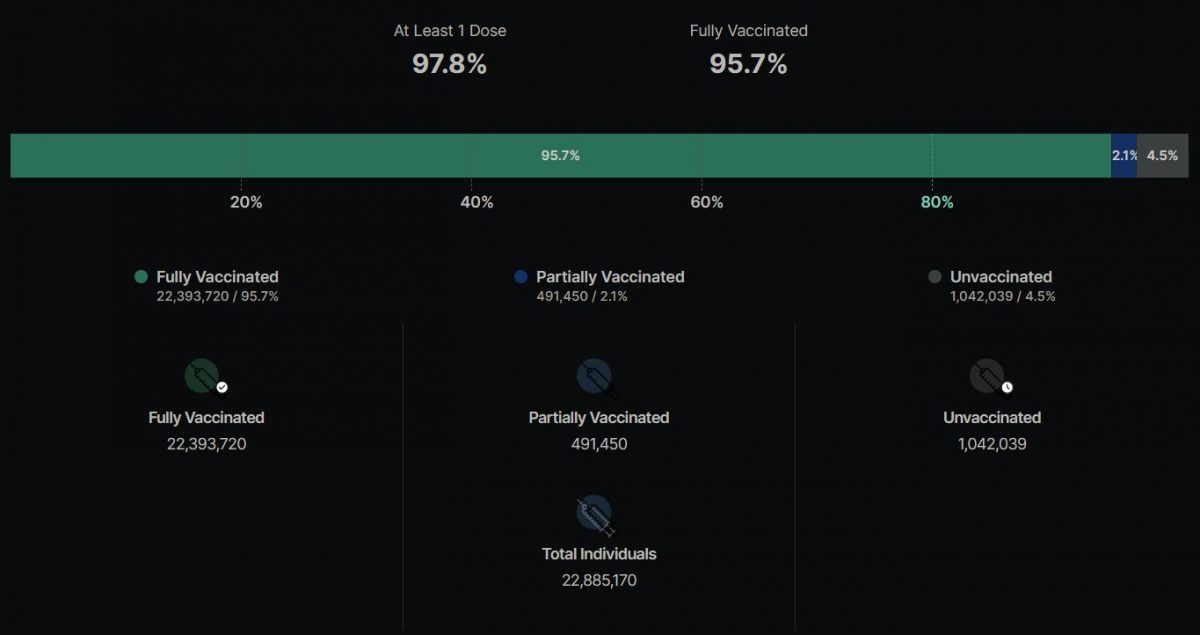 Even among over-18s, an incredible 97.8% have received at least one dose. The overwhelming majority are fully vaxxed, a whopping 95.7% of the adult population. Once the outliers get their second dose, Malaysia will have immunised almost 98% of its adult population. That is a remarkable accomplishment.
That effort, coupled with the near-miraculous effectiveness of the Covid vaccines, which have been impressive in their ability to mitigate severe illness and death, have allowed Malaysia to make a rather speedy transition to the new normal, shifting rapidly from months of movement restrictions, bans on many public activities, and near-zero travel to a fresh, new lease on life.
Masks are still very much a thing, and we'll be contact tracing and checking in everywhere we go for quite a while, but outside of that, life sure looks like it's returned to almost a pre-pandemic state. Once again, restaurants are busy, malls are buzzing with activity, traffic is annoying, and parking is a chore. Classes have resumed, workers are shifting back to either full-time or hybrid office modes, and events and gatherings are taking place once more.
It's a stunning turnaround in a short time, and could scarcely be more welcome.
AT LONG LAST, STATISTICS WITH A SMILE
November 2, if the numbers hold, may end up as the first day of the year with zero Covid deaths in Malaysia. Even if that doesn't ultimately happen (it usually takes some time for fatalities to be logged accurately), the daily death toll that reached a grim peak in August has plummeted.
Still, over 29,000 Malaysians have lost their lives to the pandemic, a number that's but a small percentage of the worldwide toll, but a number that cannot be shrugged off, either. To see the trendline dropping so sharply as the vaccine coverage in the country yielded results has been nothing short of awesome.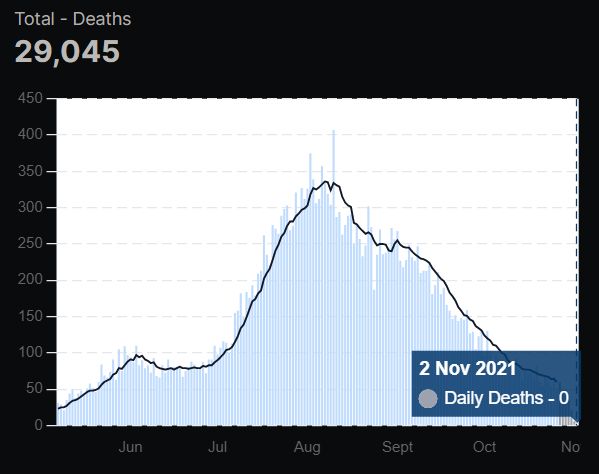 Daily cases, always a number fraught with inexact implications and a number given outsize coverage in the news, have plunged from a sustained run over over 15,000 to 22,000 new cases a day in August and September, to a few days now of under 5,000 new daily cases.
Hospital admissions throughout the country have dropped by two-thirds from their peak. So, too, have ICU cases and the number of patients on ventilation.
Klang Valley, which has enjoyed a superb coverage of vaccination for a number of weeks now, has seen its case positivity rate drop to just 3.1%, bested slightly by Penang's 2.8%. (Rates under 5% are encouraging, according to epidemiologists.)
Moreover, as the nation's burgeoning population centre – and its economic engine – Klang Valley has had a seven-day average of just 1,476 new cases a day. That's only 12 cases per 10,000 population.
Experts caution that we're not truly out of the woods yet, but it's nevertheless a time for cautious optimism. So for now, pop the mask on, wash your hands regularly, and if you're fully vaccinated, venture forth and reclaim a bit of the life you left behind two years ago. It's guaranteed to feel good!
---
"ExpatGo welcomes and encourages comments, input, and divergent opinions. However, we kindly request that you use suitable language in your comments, and refrain from any sort of personal attack, hate speech, or disparaging rhetoric. Comments not in line with this are subject to removal from the site. "
Comments