International attention can be a fickle mistress. While Malaysia – and indeed most anyone – loves getting noticed in high rankings, any negative ranking tends to bristle. Such was the case when Johor's $100B Forest City development made a social media splash recently.
Remember the huge Al-Jazeera kerfuffle last year amid the burgeoning pandemic? The respected media titan aired a documentary on the treatment of migrant workers at the hands of the Malaysian government that, while balanced and fair to any objective viewer, did not go over well at all with authorities here. Suffice it to say that while Malaysia's government at times seems to repeat and revel in any hint of positive global recognition it receives, the reaction is altogether different when anything remotely critical is said of Malaysia by outsiders.
FOREST CITY: THE BACKGROUND
Recently, the massive Forest City development in Johor landed on a fairly ignominious list. The video, titled "Most Useless Megaprojects in the World" was published on the Top Luxury YouTube channel, which specialises in content focused on construction, technology, and large-scale projects.
Before you rush to dismiss it as "only a YouTube channel," note that the video in question has already been viewed well nearly 19 million times in just the first week of publication. (As one cheeky commenter posted, "Although these are the most useless megaprojects, they were very useful to YOU: you got 18 million views in a week because of these useless projects!") The channel itself, meanwhile, has some 400,000 subscribers, a count most traditional media publishers would love to boast.
The topic of the video was a rundown of what the people behind the Top Luxury channel perceive to be the world's most useless megaprojects. Enter Forest City, the mammoth offshore development in Johor under mainland China's Country Garden Holdings, along with a state-owned Johor conglomerate tied to the Johor Sultan. To say the development has been fraught with trouble since the start would be a fairly accurate statement.
With mainland Chinese pinned as its primary target for buyers, Forest City was envisioned as a futuristic, wholly integrated, master-planned green city of 700,000 residents. Controversial in nearly every aspect of its existence – environmental, political, sociological, diplomatic, economic, you name it – Forest City was announced in 2006 as a 20-year project. You might note with a glance at a calendar that we are getting quite close to that presumptive maturation year, and yet, Forest City hasn't delivered a fraction of its vaunted promises.
ENVIRONMENTAL DEBACLE?
Despite being touted as an "an energy-efficient, ecologically sensitive, land-conserving, low-polluting offshore city," Forest City's development resulted in significant and irreversible environmental impact as man-made islands were reclaimed from ecologically sensitive wetlands and mangrove swamps. Local villagers who depended on fishing for their subsistence livelihoods saw their catches reduced dramatically as reclamation works decimated the fishing grounds. Despite complaints to Johor state authorities, nothing was done, and development continued, all without the legally required Detailed Environmental Impact Assessment (DEIA) ever having been carried out.
That assessment was finally undertaken, and the 2015 DEIA confirmed that many regulations had been side-stepped or ignored. The assessment also outlined a whopping 81 directives, including the big one: The project size would have to be reduced in size, from 1,600 hectares to less than 405 hectares. In response, Country Garden announced it would be scaling back the project, downsizing it by a third. However, in the subsequent months and years, evidence arose that a number of announced measures were never actually implemented.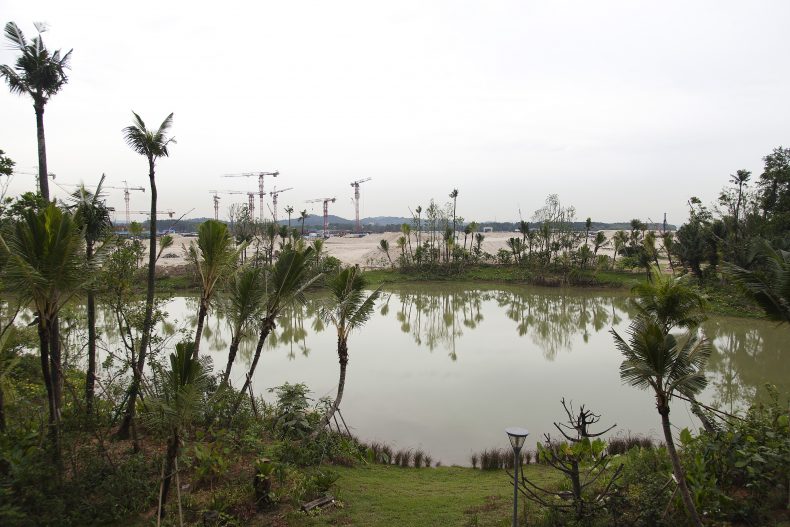 Experts have lamented the permanent impact the development has had on the seagrass, water hydrology, mangroves, and loss of fishing grounds. In addition to the environmental impact wrought by the development's reclamation efforts, safety concerns also arose when cracks began appearing in a number of buildings and roads soon after construction, including the development's main Show Gallery and the Forest City Hotel. Experts claimed these cracks were the result of the speed of the reclamation, which did not allow the new soil time to settle and stabilise. One consultant expressed concern that the reclaimed land was sinking, and would likely continue to do so.
POLITICAL AND SOCIOLOGICAL FALLOUT
While perhaps no direct line can be drawn with 100% certainty between Forest City and the still-ongoing fall of the Malaysia My Second Home (MM2H) programme, to the casual observer, the connection is irrefutable. The enormous investment in the Forest City project by China, coupled with the clear targeting of mainland Chinese as property buyers in the massive development caused no small amount of alarm in certain quarters. When Najib Razak and UMNO were ousted in the 2018 election, and veteran politician Mahathir Mohamad reclaimed the prime ministership, having campaigned on a platform which included criticism of over-reliance on Chinese investment, he quickly threw a wrench in the works by announcing a ban on foreigners buying property – specifically referencing the Forest City development – and getting a residence visa thrown in with their purchase, as had apparently been the case with Forest City.
This statement quickly sent shockwaves through the development, and investor confidence plunged. Mahathir's ban ultimately resulted in concerns being raised over the MM2H programme itself, which had been ostensibly tethered to purchases in Forest City. One thing led to another, and with the pandemic making easy targets of foreigners, coupled with a lack of stability in Malaysia's government, the MM2H programme was suspended, with a raft of harsh new requirements finally announced following a lengthy shutdown of the programme.
Though it may not be a provable fact that Forest City's excess led to the near-panicked reaction to the notably benign MM2H programme, it seems clear that the development and its rather brazen tie-up with MM2H visa issuance – perhaps sparking fears of a China takeover of southern Malaysia – was very likely the catalyst.
The huge development not only jangled nerves in the occasionally fraught relationship between China and Malaysia, it managed to irritate southern neighbour Singapore, as well. Malaysia didn't bother to advise Singapore of the reclamation works as required by a 2005 international agreement between the two countries. Subsequently, Singapore sent a diplomatic letter to Malaysia's federal government in May 2014, and it was this communication that triggered the demand for the previously disregarded DEIA to be carried out; Malaysia also issued a stop-work order to Forest City shortly after the DEIA was ordered.
It also wasn't just Mahathir whose policies led to a near-collapse of the entire Forest City project. Chinese leader Xi Jinping also implemented currency control measures which included a $50,000 annual cap on how much buyers could spend outside the country. With the development almost wholly targeting Chinese buyers, the pool of potential customers quickly dried up.
And then came the pandemic.
A 'MASSIVE BOONDOGGLE'
In 2020, the coronavirus pandemic led to considerable economic uncertainty and near-global travel restrictions, severely affecting the already-faltering sales at Forest City, which plummeted by more than 90% after March 2020. Following the implementation of the Movement Control Order, some of the development's residents returned to their home countries. Restrictions on travel between Malaysia and Singapore presented difficulties for the remaining residents, especially those working in or with children attending school in Singapore. Some tenants also suspended operations or pulled out altogether, citing restrictions due to the MCO or commercial non-viability of the development.
A comprehensive November 2019 article in Foreign Policy levelled fairly intense criticism at the Forest City project, calling it a "massive boondoggle" and pillorying corrupt Malaysian authorities and inept Chinese management alike.
"Simply put," the article states, "corrupt local elites have taken a Chinese Fortune 500 company for a ride. The Johor government can pocket tax after tax for land and property sales without putting its own money into the project. As it stands, corrupt domestic elites and Chinese firms, even when at odds, can build megaprojects without cost-benefit or environmental analyses. [Forest City] is a case study in how easily Chinese investment projects that are entirely private can become boondoggles due to the interference of Chinese politics and poor Chinese management."
The planned offshore city of 700,000 only ever sold about 15,000 units, most of which were subsequently sold off at steep losses as Chinese investors raced to exit following the political fallout from the development. Even estimates of only 500 people living in Forest City at the beginning of 2020 were termed "optimistic" by one journalist who visited in late 2019.
A USELESS MEGAPROJECT
In mid-November, Top Luxury's video landed on YouTube, detailing their opinion of the world's five most useless megaprojects. Forest City came in at #2. After laying out the lofty stated goals of the development, and how it had utterly failed to achieved virtually any of them, the video concludes: "Forest City was probably too ambitious to begin with, too futuristic to truly achieve, and is too politically challenged to succeed anytime soon." The narration adds, "It is safe to assume that despite the billions (of dollars) invested, Forest City is currently a useless megaproject."
The video also referenced a South China Morning Post article in September this year that reported Country Garden Holdings, a direct stakeholder of Forest City, had laid off some 1,200 of its Malaysian workers in a year. This, the video said, signalled the "epic downturn of the project's fortunes." The SCMP article also said that Forest City had sold "less than 10 homes" in the 18 months dating back to the beginning of the pandemic.
The listing places Forest City in the same league as other controversial, super-costly projects around the world cited in the video, including Ciudad Real Central Airport in Spain; Interstate H-3 in Hawaii; Naypyidaw, the new capital of Myanmar; and the Yucca Mountain Nuclear Waste Repository in the US state of Nevada.
The reaction to the video was swift, with Johor's crown prince Tunku Ismail Sultan Ibrahim (who, remember, is a financial beneficiary of the project) disputing the uselessness of the development while simultaneously blaming its struggles on Putrajaya and the federal government's inconsistent policies.
The local arm of Forest City's developers, Country Garden Pacificview Sdn Bhd, also attacked the video, rather confusingly claiming that the channel's creator had chosen to point out a "racist, biased, and personal point of view." Unless the channel is "racist and biased" against Spaniards, Hawaiians, Burmese, and Americans in Nevada, too, this is a bizarre counterclaim to make. The developer also said, "The video has made outrageous, biased points which were irrelevant or misleading." Again, it's hard to find bias or irrelevance in the points laid out by the video.
The legitimacy of the producers of the video were also questioned, with the statement released that "The so-called global city ranking is not recognised by any international authoritative organisation. The content was merely created to get hits." Though it wasn't a "global city ranking" to begin with, the video was never presented as anything more than the creators' and publishers' views on the topic.
Regardless of the cries of bias and questionable motives, however, it's difficult to see Forest City as anything more than a debacle that has failed, at least in part, by nearly every applicable metric. Even its parent company has stopped promoting it. According to a SCMP report, "Country Garden doesn't talk about Forest City much these days. The company's 2020 annual report made no mention of what was once dubbed its 'prime example for future cities,' compared with one highlight in 2019 and 29 references in 2015."
And now, as a dismal footnote to its legacy, it may well be seen as the project that took down the MM2H programme, too.
---
"ExpatGo welcomes and encourages comments, input, and divergent opinions. However, we kindly request that you use suitable language in your comments, and refrain from any sort of personal attack, hate speech, or disparaging rhetoric. Comments not in line with this are subject to removal from the site. "
Comments