The East Malaysian state has always offered a great deal to expats, and now their unique Sarawak MM2H programme has taken on a whole new appeal given its attractive and accessible requirements.
Some expats never make the trip to East Malaysia (Sarawak and Sabah) during their time in Malaysia. That is a mistake. Kuching, the capital of Sarawak, is less than two hours from Kuala Lumpur by air, not to mention there are also direct flight routes from Johor Bahru, Kota Bahru, Langkawi, and Penang. From Kuching, more adventurous travellers can take direct flights to Sarawak's central and northern gateways, Sibu and Miri, and enjoy more of what Sarawak has to offer.
What's more, in light of recent changes to the Malaysia My Second Home (MM2H) programme, Sarawak's own version of the retirement programme, Sarawak-Malaysia My Second Home (S-MM2H), has now become a much more attractive and viable option.
We show the rules for their programme at the end of this article, but in a nutshell, with the option of either showing income OR making a fixed deposit, S-MM2H has broadened its potential interest considerably.
SARAWAK: LAND OF THE HORNBILLS
Maintaining their own much more friendly version of the MM2H programme makes it very clear that the state welcomes foreigners and would like to see them make Sarawak their home. Currently, there are a smaller number of expats in Kuching (and elsewhere in the state) than in some of the more built-up West Malaysian cities, but Sarawak offers many of the same facilities, just on a smaller scale.
Although most expats choose to live in Kuching, a beautiful city filled with rich architectural and gastronomic heritage, Sarawak's other notable cities like Miri and Sibu will similarly offer residents and travellers a laid-back lifestyle with a choice of shopping, eating, and educational visits to any of the local museums or relaxing walks down Luak Bay Esplanade (Miri) or the Rejang Esplanade (Sibu).
The fact is, Sarawak has a lot to offer, both for prospective residents and for holidaymakers. The state spans the northern part of the island of Borneo and is the largest of all the states in Malaysia, although it is not the most populated. Much of it is jungle, and this offers some amazing wildlife, from the famous proboscis monkeys to its iconic hornbills, along with many other species of flora and fauna. Sarawak is a fantastic haven for birders with a great portion of Borneo's 650 bird species being recorded in the state. Sarawak also boasts some amazing beaches, whether it is for water sports like wreck-diving (Miri-Sibuti Coral Reef National Park), experiencing turtle conservation first-hand at the Talang-Satang National Park.
UNESCO World Heritage Site Gunung Mulu National Park, meanwhile, has some of Asia's most stunning caves, including the world's largest underground chamber, appropriately named the Sarawak Chamber.
LIVING IN SARAWAK
Sarawak offers a most enjoyable lifestyle for those expats considering residence here, and of course, West Malaysia and Singapore are only a short flight away if you occasionally miss the bigger city life. Though some specific items may cost a bit more in East Malaysia, in general, the overall cost of living is lower in Sarawak than in Peninsular Malaysia. For expats looking for a quiet life in a truly unique but comfortable location, Sarawak might just be the perfect answer. The cost of property is significantly lower than comparable housing over on the Peninsula, and there is a good selection of reasonably priced homes available for rent or purchase.
Sarawak Hospitals are generally smaller than those in large West Malaysian cities, but they are well-equipped and offer excellent healthcare.
In continuing to hold to their existing terms and conditions, Sarawak's leaders are showing that they understand how to attract people who can benefit their state. Sarawak is keen to attract foreign investment, and seeing expats choosing to settle and subsequently enjoying their lives there is an excellent endorsement of the state's liveability factor. It also shows how they make foreigners feel welcome.
EYES ON KUCHING
The state administrative capital is Kuching, an appealing city which is made all the more attractive by the Sarawak River which runs down its middle. An evening or daytime stroll along its banks offers plenty of sights and sounds, and Kuching has made the most of the river by building up its riverfront into a welcoming and appealing attraction. Though tales abound as to the real origin of the city's name, 'Kuching' means cat in Malay, so the city has played that up, and accordingly, there is a large cat statue in the city as well as a cat museum!
Grander than its cat museum, however, is its Borneo Cultures Museum. Set to be open in 2022, it is touted to be the second-largest museum of its kind in Southeast Asia!
Kuching is also close to the sea, so a trip to the coast is easy, and there are plenty of excellent hotels from which to choose, with rates that are very reasonable. Apart from its various historic buildings, Kuching offers plenty to see and do. The city continues to recount the amazing story of James Brooke, the Englishman who became known as the White Rajah and ruled the state together with his relatives for over 100 years.
Kuching is the heart of a state built on diversity and tolerance, and indeed, East Malaysians take a special pride in their unique melting pot of indigenous and adopted cultures which can be best seen in its plethora of food here, not to mention that it is home to Sarawak Laksa, which was ranked as the best Asian food by TasteAtlas recently.
The attitudes found here tend to differ quite notably from those over on the Peninsula, something Sarawakians are happy to point out when talking about their state.
The waterfront in Kuching is a very popular area of the city, for residents and visitors alike, with many people choosing to walk along the esplanade next to the river. During the day, you can see the stunning State Legislative Assembly (DUN) Building on the other side of the river, as well as the distinctive Fort Margherita.
Kuching also just became the first city in Malaysia to be accepted as UNESCO Creative Cities Network (UCCN) in the field of gastronomy, which means that it's a haven for foodies or true culinary enthusiasts. For arts and craft enthusiasts, Kuching is also recognised as a World Craft City status by the World Crafts Council.
If living in a modern city in the heart of "wild Borneo" appeals and stimulates your imagination, you should seriously consider the S-MM2H programme, especially with the attractive terms offered. Sarawak is especially suited for outdoor enthusiasts, so whether you're seeking beautiful beaches, hikes into the highlands, drifting lazily down a rainforest river, or trekking in the jungles, it's all there waiting for you. If shopping, dining out, and museums are more your things, then the lifestyle on offer in Kuching assures you will not be disappointed, either. Sarawak really does offer the best of both worlds!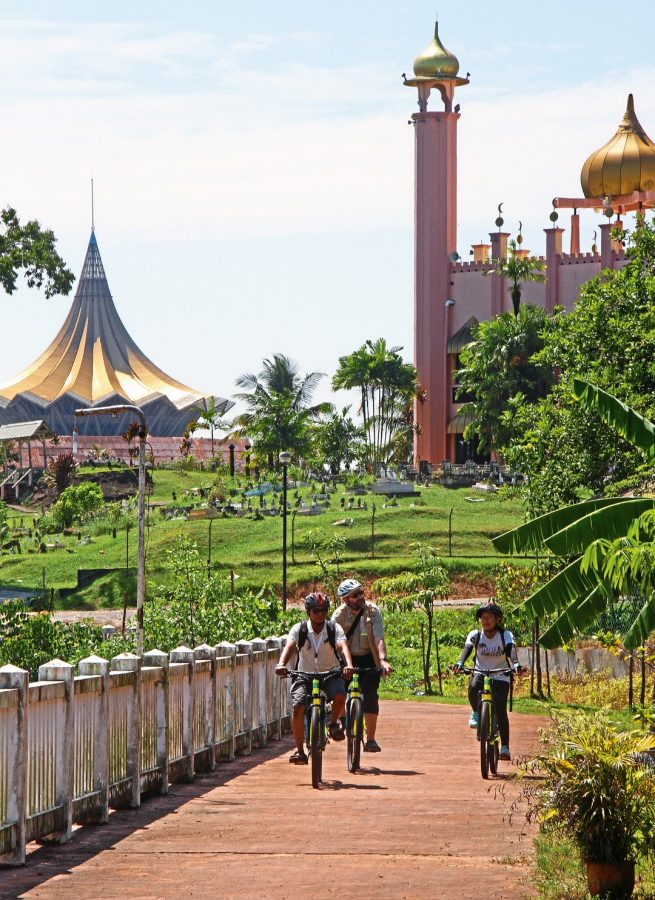 SARAWAK MM2H REQUIREMENTS
Generally, you must be in Kuching to apply, although they are currently letting people start the application from overseas if they are applying under the income criteria.
To qualify, the principal applicants must show an income (pension or salary) of RM7,000 (RM10,000 for married) a month or place a Fixed Deposit of RM150,000 (RM300,000) for a couple. There are three eligible age groups:
If you are aged 50 or above, then you must meet the above terms.
If you are aged 30 to 49, you are permitted to apply providing you can meet the above terms and have purchased a home in Sarawak or are having your children educated in the state. The minimum purchase price for a home is RM600,000.
If you are aged 30 to 39 and are having your children educated in the state, you may also apply for the visa.
All applicants are required to take a medical and buy medical insurance although people over 60 can obtain exemption from the last requirement. Visas are for ten years (renewable), and you are required to spend a minimum of 15 days each year in Sarawak.
The application will be passed to the Sarawak Immigration Department for processing who will request an interview before their committee makes a final decision. They endeavour to process applications within 90 working days.
After approval, applicants are given six months to collect the visa.
---
"ExpatGo welcomes and encourages comments, input, and divergent opinions. However, we kindly request that you use suitable language in your comments, and refrain from any sort of personal attack, hate speech, or disparaging rhetoric. Comments not in line with this are subject to removal from the site. "
Comments