Corruption continues to bedevil Malaysia as the country falls five spots in Transparency International's latest rankings.
Changing the government (twice) in the last three years hasn't helped Malaysia when it comes to corruption in the public arena. Malaysia dropped another five spots in Transparency International's Corruption Perception Index (CPI) 2021, slipping to 62nd place out of 180 countries in terms of public sector corruption.
During a press briefing, Transparency International (TI) Malaysia president Dr Muhammad Mohan said Malaysia fell below the midway point, scoring 48 out of 100 points in the index, compared to its 2020 score of 51. In TI's scoring system, 100 means very clean (free of corruption), while zero means incredibly corrupt.
Dr Mohan further noted that, along with the falling score, Malaysia's ranking has also dropped.
In 2019, Malaysia ranked 51st, then fell to 57th place in 2020, followed by the latest ranking of 62nd place.
Dr Mohan gave a laundry list of reasons Malaysia was continuing to struggle with corruption.
"The last four governments lacked the political will to table the Political Financing Bill," he said. "As such, money politics is still rampant, even during elections.
"There also has been no progress on reforms to the Malaysian Anti-Corruption Commission's recommendations in 2015."
Further issues, Dr Mohan explained, were related to acquittals — or 'discharges not amounting to acquittal' — for high-profile persons in corruption cases with no explanation given, and a continued lack of political will from a succession of government administrations when it comes to fighting corruption.
"Appointments of politicians without experience to head government-linked companies as well as the government procurement bill which is yet to be tabled in Parliament [remains outstanding].
"There is also a dearth in progress for amendments to the Whistleblowers Protection Act 2010," he continued, "besides adverse findings and government failures observed in the Auditor General's annual report."
Reflecting the opinion of many Malaysians, Dr Mohan also said it was crucial that the anti-hopping law is tabled in Parliament soon. "The law is badly needed, we can't simply have lawmakers jumping [from one party to another] every few years."
He added, "There is also a need for parliamentary reforms and to cut back on the [unlimited] tenure of the prime minister to 10 years."
And voicing a concern that set off strident protests just last weekend, Dr Mohan concluded, "Additionally, there is also a lack of action against public officials who abuse their positions."
SINGAPORE SETS THE STANDARD IN ASIA
In Transparency International's latest corruption index, released earlier this week, Denmark, Finland, and New Zealand tied at the top spot with the score of 88, followed by Norway with 85 points.
Malaysia's southern neighbour Singapore also scored 85 points, making it the only Asian country in the top 10 of the CPI table, and giving the city-state a tie with Norway for fourth place worldwide.
Columnists and pundits in recent months have written in Malaysia's local press that one of the issues with corruption here is that there seems to be no shame whatsoever attached to it, allowing the practice to proliferate with no fear of social disgrace — or in many instances of legal consequences, either.
Plenty of ink has also been spilled over the fact that former prime minister Najib Razak, despite being tried and convicted for corruption and criminal breach of trust on a truly mind-boggling scale, and despite that conviction being examined and upheld by higher courts, remains a free man. Indeed, just recently, only a massive swell of public outrage prevented the government from gifting Najib, one of the biggest convicted criminals in financial history, a RM100 million house for his "service" to the country.
Until glaring problems such as these are addressed, and a zero-tolerance policy towards corruption enacted, Malaysia will continue its struggle, it seems.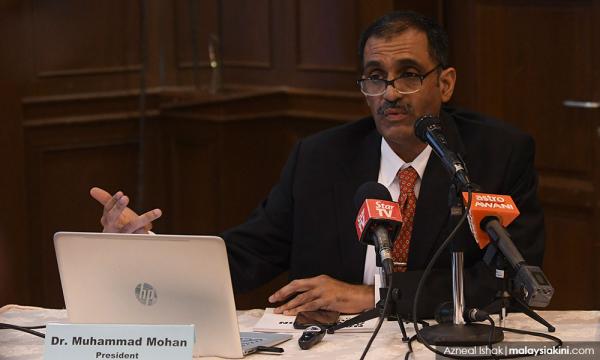 TI-M's Dr Mohan agreed, and noted a number of things that would need to happen to see Malaysia move forward, rather than backward, on the Corruption Perception Index.
One necessity, he said, was narrowing the scope of the Official Secrets Act, so that matters of public interest such as directly negotiated contracts can be released, while only matters related specifically to national security would be protected.
Another relates to the Malaysian Anti-Corruption Commission (MACC). TI-M urged that the body be reformed into one which is truly independent, reporting directly to Parliament. They also recommended that public officials found guilty of corruption should be compelled to vacate their positions, even while they are going through the appeals process.
Moreover, Dr Mohan asked the public to continue in its role of calling out corrupt practices, protesting, and using social media to communicate. He also said the government must make a safe space for the people to speak up and speak out.
Malaysia's continued slide, according to Dr Mohan, indicates that the country is heading in the wrong direction as far as corruption, human rights, and democracy are concerned.
"The issue is accountability and transparency. These two qualities are important for a nation to do well," he said.
---
"ExpatGo welcomes and encourages comments, input, and divergent opinions. However, we kindly request that you use suitable language in your comments, and refrain from any sort of personal attack, hate speech, or disparaging rhetoric. Comments not in line with this are subject to removal from the site. "
Comments