Kuching, the capital city of Sarawak, is fast becoming a new hot spot for Borneo, offering a wide range of great eating, drinking, and nightlife options!
Before we get into the storytelling here, let us have a brief geography lesson. Sarawak is one of the states which forms the Federation of Malaysia. It is located on Borneo, the third-largest island in the world, which is divided into three political regions: Kalimantan, which belongs to Indonesia; the Sultanate of Brunei; and, of course, the Malaysian states of Sabah and Sarawak.
To know and fall in love with a place and its culture, one needs to savour the flavours of its cuisine and enjoy some of the pursuits of the locals. (Of course learning the language is another rewarding effort!) As the biggest state in Malaysia with a population of 2.9 million (2020 census) and more than 40 ethnic and sub-ethnic groups, Sarawak is diverse in many ways, especially when it comes to its cuisine.
FOOD, GLORIOUS FOOD
Kuching is not just Sarawak's centre of population, but also its gastronomic centre – for both local and international cuisines. In fact, the city recently became the first in Malaysia to be accepted into the UNESCO Creative Cities Network in the field of gastronomy. Besides authentic and diverse ethnic cuisine the state capital boasts an eclectic array of chic and upmarket  eateries, coffee joints, cafés, bakeries, and bars, all taking advantage of post-pandemic tourism restructuring efforts by the state government in a bid to attract eager visitors from around the region.
Although luxury tourism – which provides strong branding and can help bring in foreign investment – remains an untapped opportunity in Sarawak, the state's appeal as a 'slow tourism' getaway has never looked better, especially in the face of 'revenge tourism' and vacationers looking to escape confined and congested spaces. This is, in part, why Sarawak has pivoted into capitalising on its unique and authentic culture to promote more upscale tourism in the state.
Sarawak was catapulted to international culinary fame by the late Anthony Bourdain, who discovered Sarawak Laksa and fell in love with the humble noodle dish, which he named the "breakfast of the gods." For those who have never heard of Sarawak Laksa, the beloved dish comprises rice vermicelli noodles served in an aromatic, spicy broth thickened with coconut milk and garnished with fresh blanched prawns, shredded poached chicken meat, julienned omelette, and a serving of hot prawn paste condiment or sambal.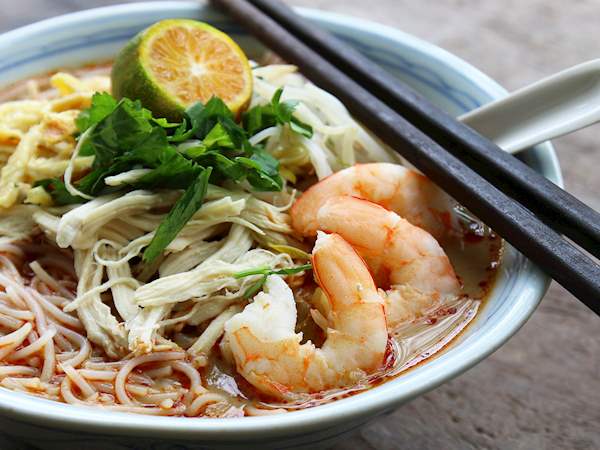 DINING LIKE A LOCAL
Unsurprisingly, there are many places to go for delicious Sarawak Laksa in Kuching. One place that comes highly recommended is Mom's Laksa Kopitiam, which runs a few outlets in Kuching, with a no-frills, all-day style of dining. Other than the famous Sarawak Laksa, Kuching is also known for its mouthwatering array of other noodle dishes like Kolo Mee, Mee Jawa, and Kampua Mee. Hungry, motivated foodies regularly hunt for the best noodle dishes at the many local cafés and hawker stalls in the city.
For a taste of authentic ethnic Sarawakian cuisine, a visit to Lepau in Ban Hock Road is a must. Lepau, the winner of the Best Innovative Ethnic Restaurant at the 20th Malaysia Tourism Award 2018, is home to the best Orang Ulu and Dayak food in town. They promote clean eating and serve healthy food with Sarawak's famed brown Bario rice wrapped in Itun Sip leaf. Outstanding tapioca leaf dishes are served up at Lepau, routinely inspiring patrons to wax poetic about how delicious the food is! It must be the heavily guarded recipe and the well-practised cooking style.
Another of their star dishes is the sweet, sour, and spicy prawns which are cooked to flavoursome perfection. Spicy with a faint tanginess, they're a perfect tease to the palate.Their succulent and tender bamboo chicken, meanwhile, is an all-time must-try. And if you're curious about authentic, non-touristy places to enjoy local Malay dishes and fancy buffet spread, just head to Lesong Eatery in Matang Jaya Metro City. It is an unassuming café with a casual ambiance, but this place serves great food!
A food-centric trip to Kuching is not complete without a visit to TopSpot Food Court for a seafood dinner. This is the best no-frills seafood place in Kuching, complete with inexpensive beer, and it's nearly always crowded with long waiting time for the lifts. Make sure to get there before 7pm as most tables will be taken up by 7:30pm and a lot of the seafood will be out of stock by not much later, due to the high foot traffic. Rock Road Seafood Restaurant offers an alternative to guests who would prefer a more refined seafood dining experience in the city with fresh food and top-notch service.
DINING, DRINKING, DANCING
Kuching is not short of trendy eateries serving international cuisines, either. The most popular one is The Junk, an eclectic collection of five establishments carefully cultivated within the confines of the heritage buildings of Wayang Street, namely The Junk Restaurant, Red Room, Junk Bar, Living Room, and Backstage. The award-winning The Junk Restaurant specializes in the fusion of Italian and Asian cuisines. They offer an impressive list of handmade pizzas, even adding their own twists to conventional toppings. Red Room started as an after-dinner lounge area, and now serves as a karaoke lounge and is also available for private bookings for bigger groups. Junk Bar is an unassuming, semi-hidden bar accessible through a hole in the wall from Red Room. Backstage is one of the most popular night spots in Kuching with DJs spinning music on the weekends. For something milder, Living Room offers a fine escape with a perfect blend of a lounge and al fresco seating.
The other great restaurants serving international and fusion cuisines regularly frequented by locals, expats and tourists alike include Commons, Zinc Restaurant & Bar, Nirawan 9 Royal Thai Cuisine, Carvery, Peridot, Portico Restaurant, and Feast & Furious Café. Commons at Old Courthouse is a weekend brunch place for those with discerning palates. Well known for its wide selection of fusion cuisines, it gets very busy on the weekends. Business travelers love it, as the restaurant is conveniently located in the city centre, walking distance from popular tourist attractions along the riverfront, and next to Waterfront Hotel and Plaza Merdeka.
Vegan and superfood outlets can also be found in Kuching… great news for health-conscious eaters. Top-rated vegan-friendly restaurants are Indah Café, Lepau, Zinc Restaurant and Bar, Bla Bla Bla, Peridot, Life Café, James Brooke Bistro & Café, and Feast & Furious Café. Indah Café, an artsy vegan place on Carpenter Street, is very popular among expats and tourists, and even offer vegan cuisine cooking lessons. If you are a lover of Red Velvet cake, Indah Café has a vegan version for you to enjoy. The Raw Kitchen at Vivacity Megamall serves the best vegan juices, smoothies, bowls, ice cream and health shots.
COFFEE AND DESSERT
In need of a caffeine fix over great conversation with a nice ambiance? Kuching has a seemingly endless selection of coffee joints serving great quality coffee, pastries, and breads. The coffee business is booming in Kuching and there are so many great cafés scattered around the city. Some of the best ones are Bing! Coffee, Le Parlour, The Coffee Factory, Earthlings Coffee Workshop, Black Bean Coffee, Kosa Coffee, Coffee Clinic, Coffee Garden, Coffee Code, and Coffee Obsession. The list goes on and on, as Kuchingites know how to indulge themselves and are very coffee-savvy.
For those with a taste for pastries and breads, there's great news: Madeleine, a chic French-themed bakery serves possibly the best classic French pastries and desserts in Kuching. The owner, a master pastry chef, was classically trained in France and Singapore. Madeleine is the only café in Kuching that serves chocolate eclairs, one of France's most popular pastries. A crispy and puffy chocolate eclair filled with Valrhona chocolate, topped with crispy chocolate pearls and sprinkled with sable. Amazing!
The other café and bakery to keep in mind for freshly baked pastries and breads is Keeper's Ground at The Spring Mall. Finally, if you happen to be in the mood for Colombian coffee and a warm buttery croissant, The Coffee Factory is definitely the place to go.
THE SPIRIT OF SARAWAK
Every day is a happy hour day in Kuching! If bar hopping is your favourite evening activity, Kuching is an ideal holiday destination (or even a place to live) as it's long been known for its happening bar and bistro culture. There are literally a few trendy bars and bistros found in every kilometer of the city. From high end classy Skybar at Riverside Majestic and De Ja Vu Lounge at Pullman Hotel, The Royale Chamber on Carpenter Street to   Culture Club, Borneo Red Necks Bar and Bistro, James Brooke Café & Bistro, and The Junk. You will never be out of beer, whisky, gin, wine, and of course the local rice wine spirit known as tuak.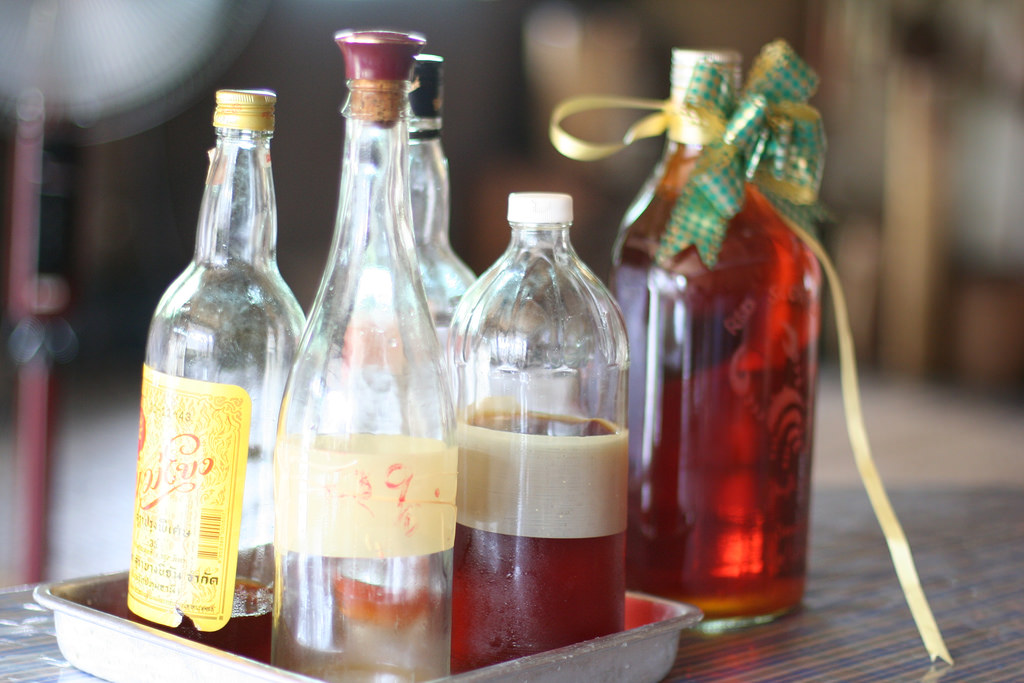 The locals are very passionate and creative in making Sarawak's famed tuak and it can be found in many different flavours and varieties. The most popular variations are Black Pepper and Roselle Tuak, which are available at many bars in Kuching. The favoured nightlife spots with DJ music and live bands frequently patronized by tourists are mainly around Jalan Tabuan where The Junk's five establishments are located alongside Chabo, The Wayang, and Bear Garden. There are also a few chic bars on Jalan Song opposite CityONE Megamall which cater to mostly youthful crowds.
All in all, for eating, drinking, and enjoying a healthy dose of live music, Kuching is definitely the place to be and is fast cementing its place as Borneo's newest hot spot!
---
"ExpatGo welcomes and encourages comments, input, and divergent opinions. However, we kindly request that you use suitable language in your comments, and refrain from any sort of personal attack, hate speech, or disparaging rhetoric. Comments not in line with this are subject to removal from the site. "
Comments