In Langkawi, Pantai Cenang gets a lot of attention from visitors as the island's most popular beach, but just down the coast is a more refined extension of Cenang's bustling, sandy shore that has a very different vibe. And if you need a real change of scenery, there are a few dozen other islands just nearby.
Langkawi boasts a number of accessible beaches – no surprise for a good-sized island – but much like Bali in Indonesia, the most popular beach isn't necessarily its best. In Bali, Kuta has long been the favoured beachside gathering spot, with innumerable tourists and locals congregating there daily for decades. But there are better beaches.
So, too, is the case with Langkawi, with Pantai Cenang undoubtedly taking the island's top spot for sheer popularity. It's not clear how this happened, but over time, Cenang simply became the number one beach, though no one would make the case that it's Langkawi's finest. (That title would likely go to Tanjung Rhu or the lovely crescent of beachfront at Datai Bay.)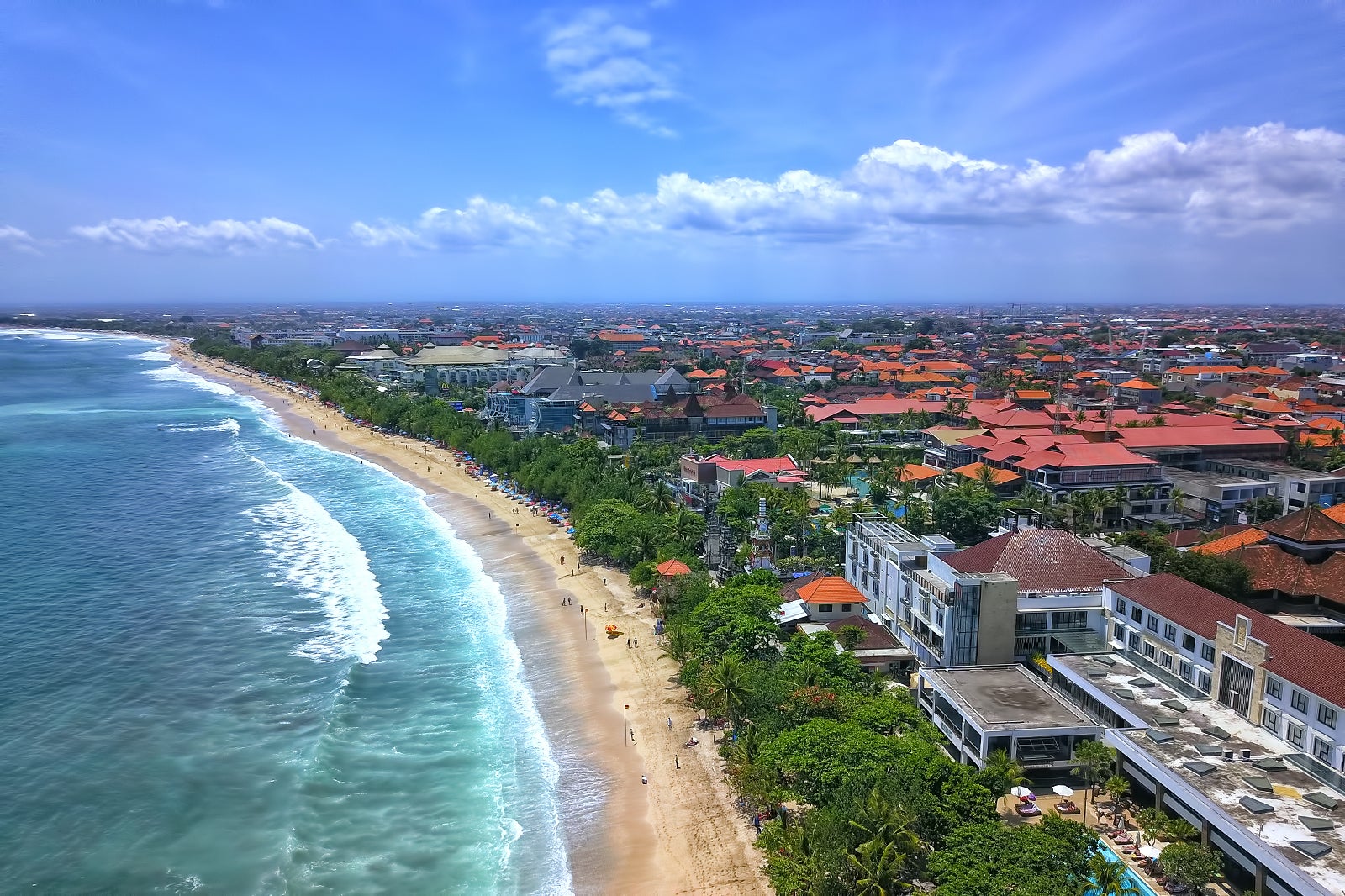 However, Cenang has enough positive attributes to push it over the top, and there are a number of similarities to Kuta in Bali. Both beaches are close to the airport, they have a wide, long swath of sand, and are fronted by a long road.
But as time went on in Bali, development – and the hip crowd – moved northward from Kuta to establish additional beachfront hot spots, first in Legian, then on to Seminyak. Kuta remains the anchor of Bali's beach scene, but it's safe to say Seminyak (and now points even further north) are just a bit nicer, more upmarket, and more happening than Kuta, now largely considered the elder statesman of the scene.
In Langkawi, a similar phenomenon exists with Pantai Tengah. The big difference is that in Bali, you can walk along the beach seamlessly from Kuta to Legian to Seminyak. Apart from the hotels and clubs fronting the sea, you'd never know where one ends and the next begins.
Langkawi's beaches, however, are physically separated by a small headland jutting out into the sea. To the north is the wide expanse of Cenang, while to the south, a slightly narrower – but just as long – stretch of beachfront forms Pantai Tengah. And just as Seminyak is notably more upscale than Kuta in Bali, so too is Tengah when comparing to Cenang.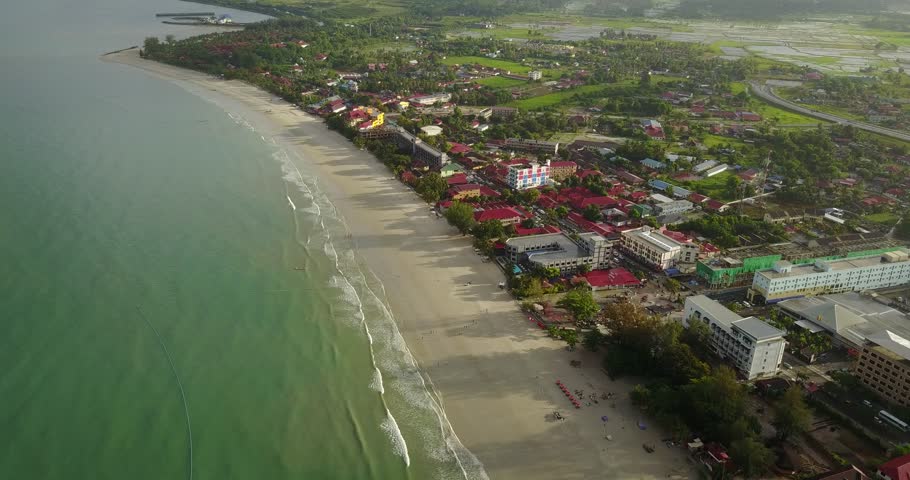 Along the stretch of Pantai Cenang, only the two northernmost properties – Pelangi Resort and Casa del Mar – are really considered upscale. Apart from that, Cenang is littered with a smattering of cheap hotels rated from one to three stars, with the latter rating being rather questionable at some properties.
Pantai Tengah, on the other hand, is home to some newer and nicer accommodation, many rated at four stars, and the properties range from boutique villas to local resorts to international-standard big brand hotels like Aloft and Parkroyal. Only a handful of properties here are actually right on the beach, with most being set back a bit, usually offering short footpaths to reach the golden-white sands of Tengah's lovely beach. The overall 'feel' of Tengah is also a bit quieter and less chaotic than that of Cenang.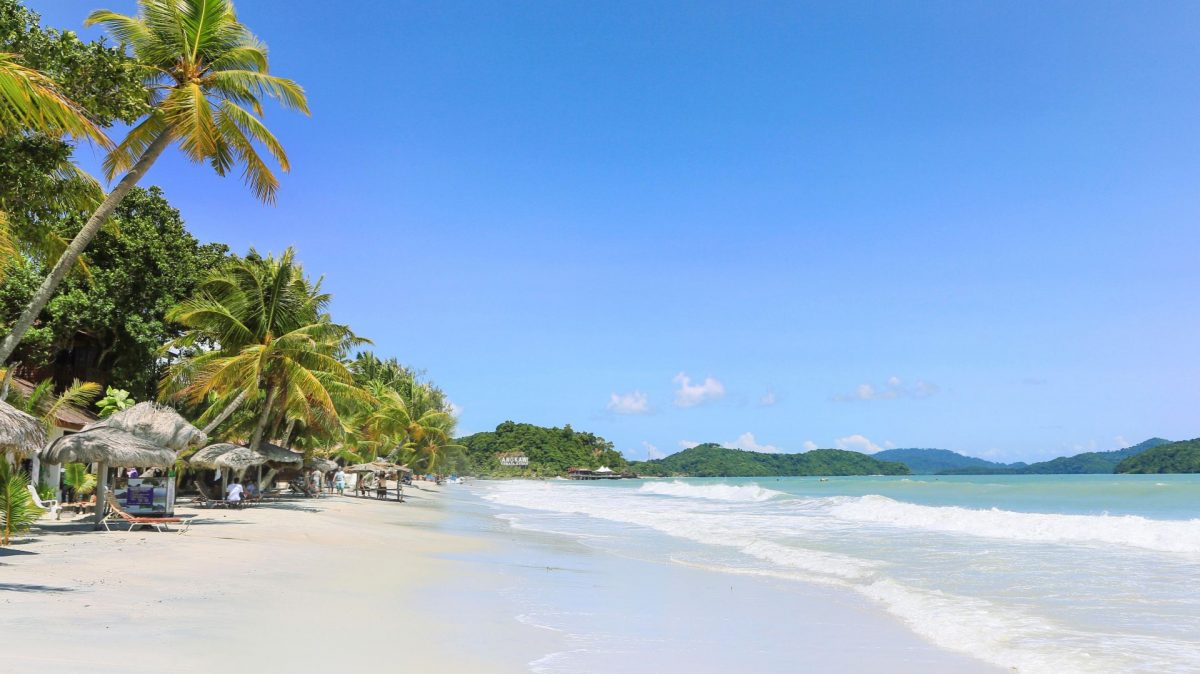 STAY, PLAY, EAT
One of the newer properties in Pantai Tengah is Aloft, a solid four-star hotel which opened at the end of 2018 and offers everything you'd expect from this popular international brand. The sprawling eight-storey building is sited just across the street from the beach, and is backed by a lush tract of rainforest. Aloft has over 200 rooms and suites, and though the Dash Resort directly across the street gets a lot of acclaim for its Instagrammable design elements, Aloft is no slouch in this department either, with bold colour palettes and inspired design choices in not just the public spaces, but in the modern rooms, as well. The spacious balconies offer lovely views, and the gorgeous infinity pool, which is on the third floor overlooking the sea beyond, is particularly photogenic, with a standout feature being the two large whirlpools, each semi-surrounded by a striking metal 'birdcage'.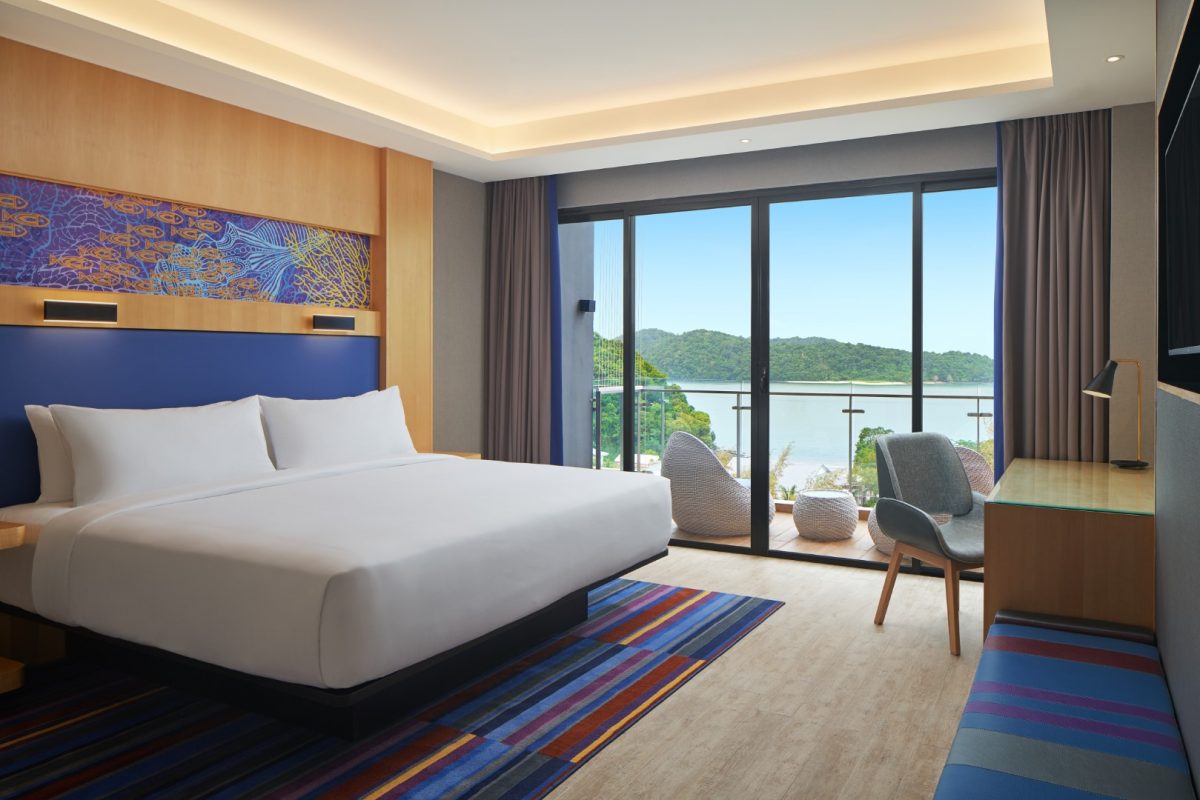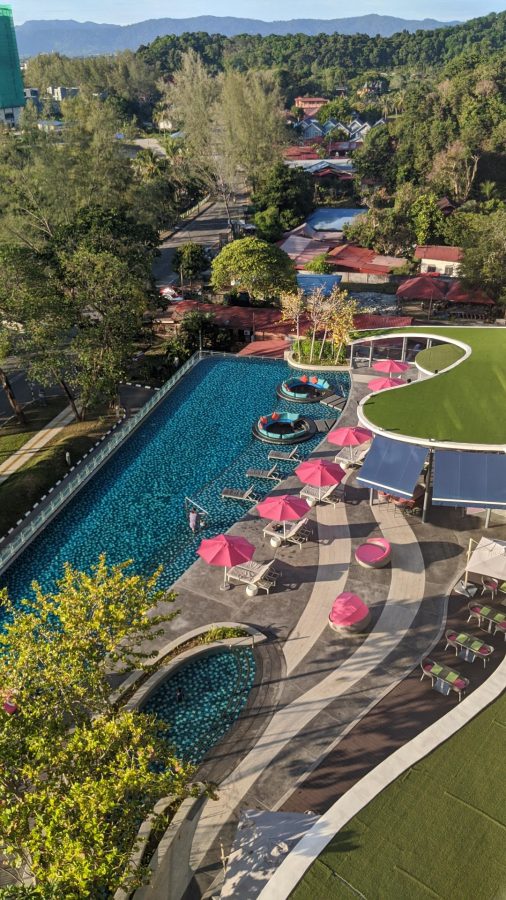 The hotel's primary dining venue, NOOK, serves up one of Pantai Tengah's best breakfasts each morning, including a fantastic buffet spread of local and Western favourites, plus some dishes which can be cooked to order, as well. Fresh ground and brewed coffees and assorted juices also feature, and there's a lively, chic ambiance in the spacious restaurant, too, whether you choose to dine inside or al fresco by the sparkling pool. After breakfast, NOOK offers an à la carte menu for the balance of the day with prices that may pleasantly surprise you.
However, dining outside is also an option, and Pantai Tengah shines here. Although it's hard to get a real handle on what's open and what's not at times, owing to the on-and-off nature of the travel restrictions Langkawi has been enduring for the past two years, many places still open despite the near-absence of international visitors.
From little local spots like Bobi's Beach Café and similar-style eateries (including a doner kebab joint that we found extra appealing) to a small handful of smarter restaurants, Tengah doesn't serve up the sheer avalanche of outlets you'll find in Seminyak, but then, Langkawi isn't exactly Bali, and what's on offer in Tengah is enough for the exponentially smaller crowds found here.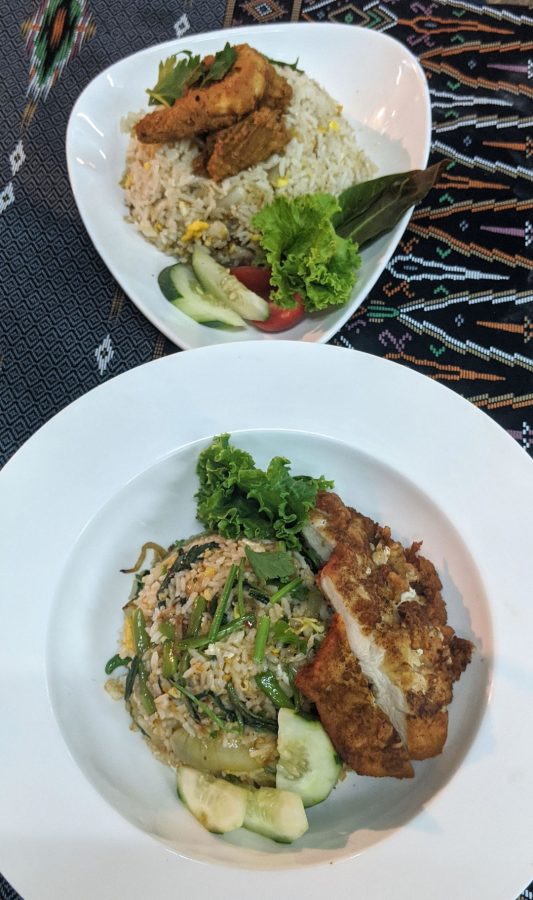 From top-notch Korean fare at Haroo and seafood at the upscale Rimba (at Ambong Pool Villas) to Tengah mainstay fatCUPID, great BBQ at Arang, and the delightful Japanese Unkaizan, there's plenty of good food to be found. Cafés and bakeries are dotted here and there, too, and the popular beach bar Hidden Langkawi is a happening spot for a sundowner before dinner.
If you fancy a drive out from Tengah, Gallo Nero offers terrific Italian food (15-20 minutes away), Fat Frog serves up tasty vegetarian dishes (20 minutes), and closer to Kuah, delectable, inexpensive seafood is a mainstay at popular local spots Wonderland and Teo's (30 minutes). A check on Google or a quick phone call is often a good idea to ensure your chosen outlet is open for business on any given night, as some venues are keeping rather unpredictable hours with the island's tourist numbers still low.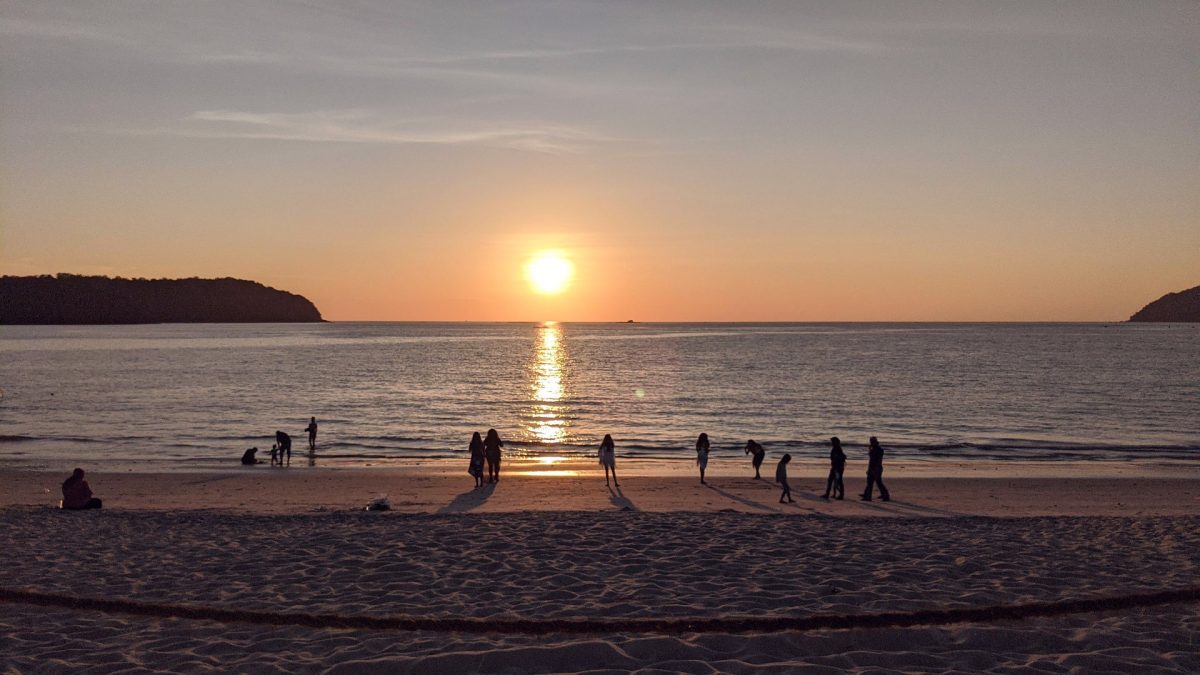 Water sports are popular at Pantai Tengah and neighbouring Cenang, with parasailing, jet skiing, and banana boat riding usually topping the list. Jet skis are an ideal way to go island-hopping, and though there are a handful of operators in Langkawi, one that's consistently given top marks by guests is Mega Water Sports. Fully licensed and insured, these guys actually offer a whole range of activities, but they specialise in jet ski tours, and whatever package you choose, you'll have a memorable (and very fun) experience.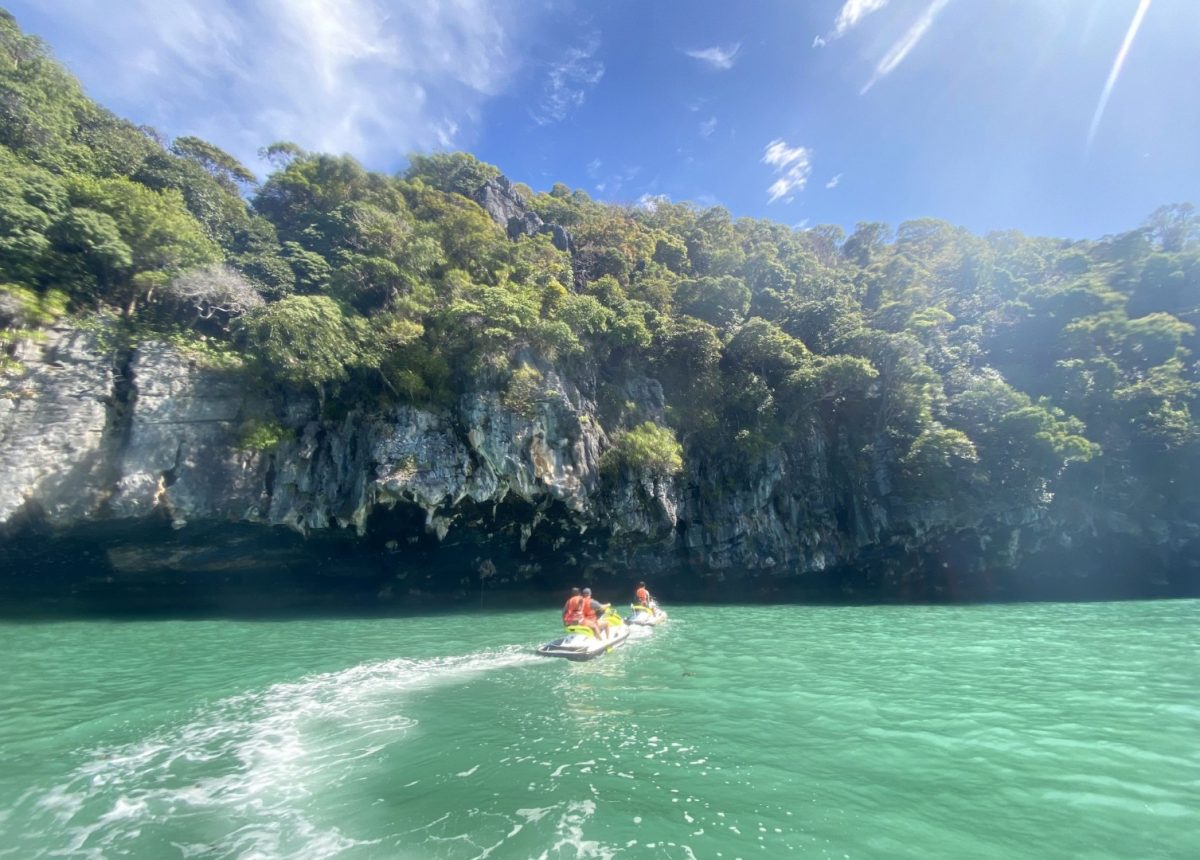 The 99 islands of Langkawi are truly beautiful, and perhaps apart from the main island, they're best seen from the sea. Mega's guided jet ski tours, which are easy to recommend, let you get up close and personal, and there's nothing quite like it. You'll wonder at the forested limestone formations rising from the sea, you'll marvel at the abundance of wildlife – if you're lucky, you'll spot some of Langkawi's dolphins – and on selected tours, you'll even spend time on some of the beautiful islands, such as Dayang Bunting, part of Langkawi's UNESCO Geopark (and the archipelago's second-largest island), and postcard-perfect Beras Basah.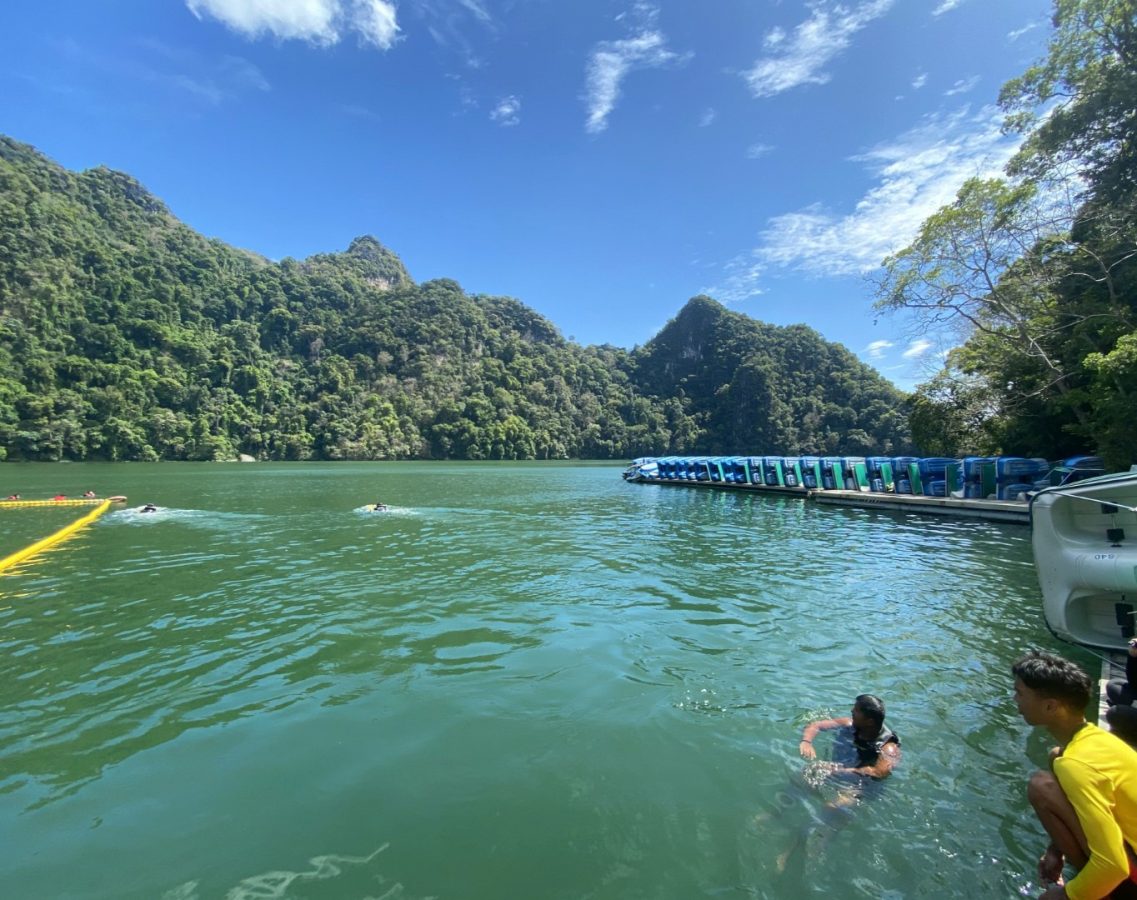 While at Dayang Bunting, be sure to take a swim in the super-clean freshwater lake, Malaysia's largest. Happily, Mega Water Sports is a responsible, eco-minded outfit from start to finish – no feeding or harassing the wildlife with these guys – and the team are professional, knowledgeable, and do an all-around great job showing off Langkawi's natural assets, keeping you safe, and ensuring you have a fantastic time.
If you've any doubt, just look at the hundreds and hundreds of five-star reviews they've amassed on TripAdvisor!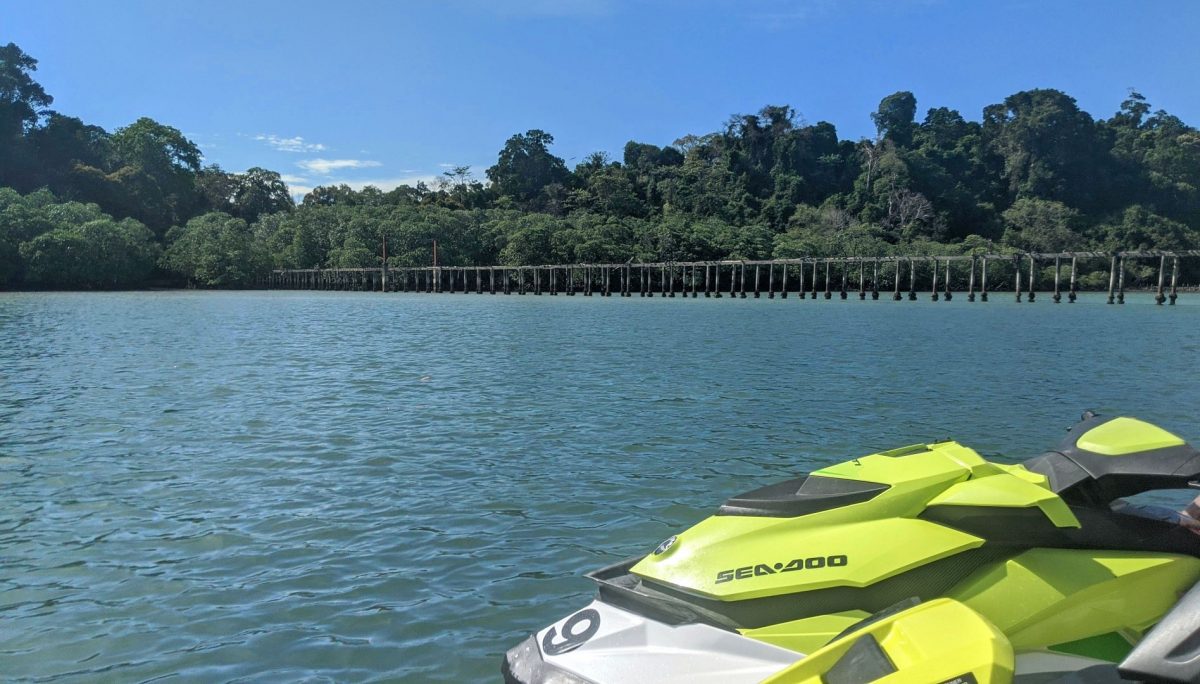 Some of the islands visited, like the aforementioned Dayang Bunting, are "ports of call" where guests actually disembark from their jet skis and spend time there, while others, like Eagle Island, are viewed from the sea.
The postcard-perfect Beras Basah Island is a particular favourite, and guests always enjoy the idyllic tropical vibe while hanging out on this tiny, scenic island. Along with the sunblock, bring along a little cash to enjoy blended fruit smoothies (Dayang Bunting) or fresh coconuts (Beras Basah)!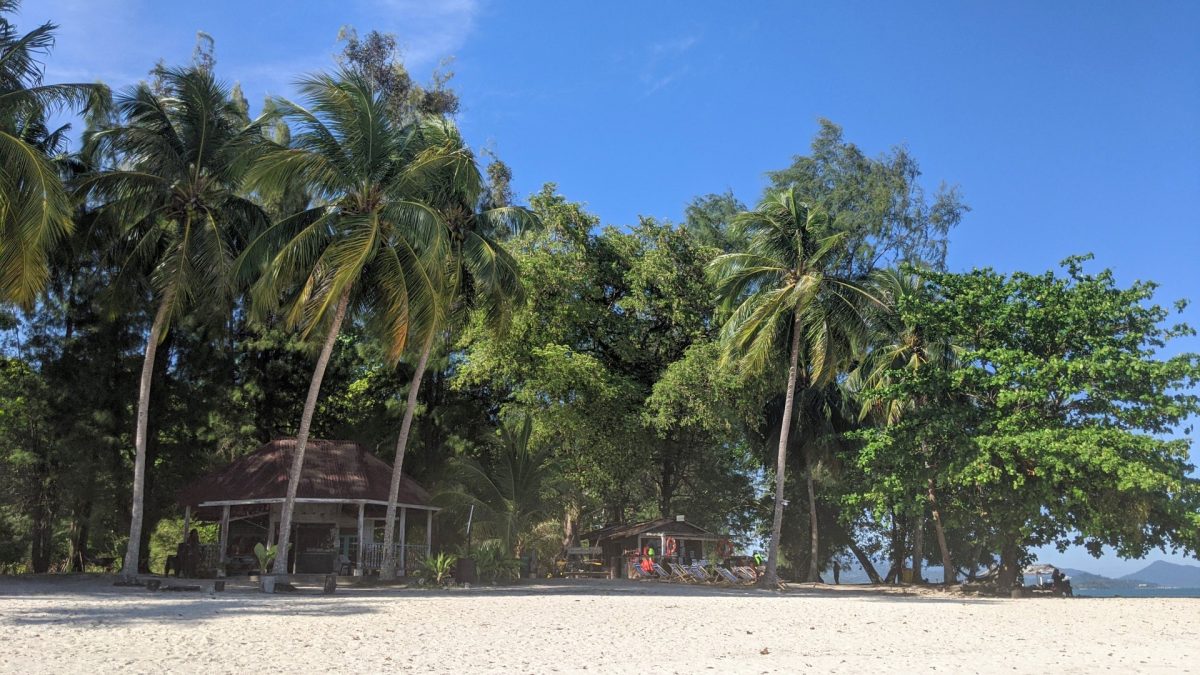 For a more sedate experience, consider a sunset dinner cruise, with operators departing from the nearby jetty by Resorts World, just a bit south of Pantai Tengah. Two outfits sailing from this jetty are Tropical Charters and Crystal Yacht Holidays, with a couple of others setting off from the much larger main jetty in Kuah, about 30 minutes away – Manta Blu Cruises is a fine choice here. The staff at any of the Tengah area's hotels can assist with making bookings for water sports or sunset cruises.
Pantai Tengah is by no means a secret, but it does perhaps get overlooked by holidaymakers in favour of the better-known Pantai Cenang. That's a shame, because with its range of inviting accommodation, good restaurants, tree-lined streets that aren't flooded with souvenir stalls, and just enough to see and do by both day and night, Tengah offers visitors a rather more refined experience, with an appealing, laid-back feel to it that's a key part to having a relaxing Langkawi getaway.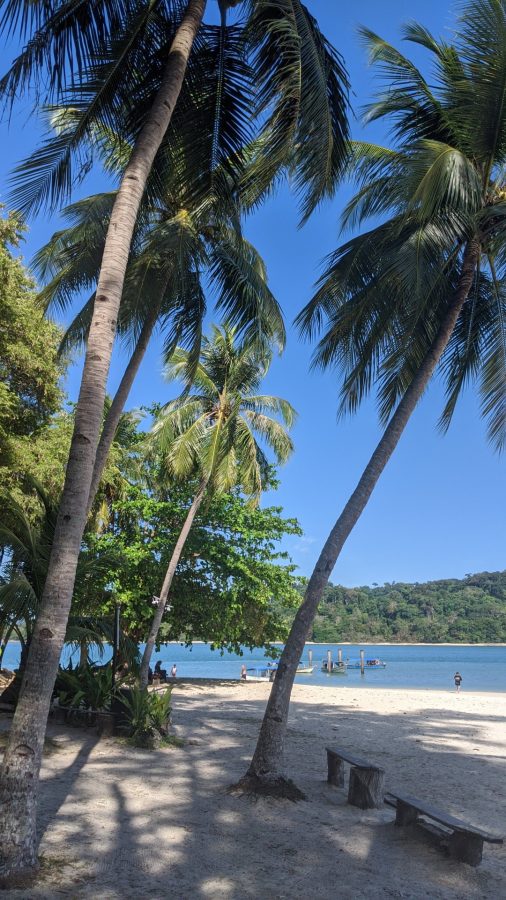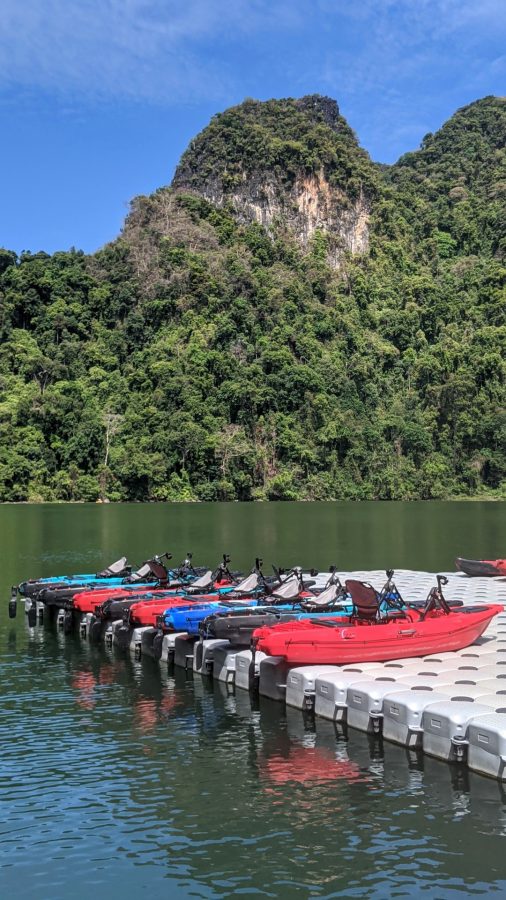 TRAVEL FILE
Most airlines in Malaysia offer numerous daily flights to Langkawi from KLIA, KLIA 2, and Subang Airport. Pantai Tengah is 15 minutes by car from Langkawi International Airport.
For information, visit www.langkawi-info.com/pantai-tengah.
---
"ExpatGo welcomes and encourages comments, input, and divergent opinions. However, we kindly request that you use suitable language in your comments, and refrain from any sort of personal attack, hate speech, or disparaging rhetoric. Comments not in line with this are subject to removal from the site. "
Comments