It certainly wasn't Beirut, but a series of blasts and subsequent fire at a Sentul evidence disposal depot nevertheless resulted in several injuries and a great deal of damage.
News in Malaysia can be a curious thing sometimes. In most places, a large explosion in the middle of the country's largest city would be headline news, especially if it was caused by poor oversight (at best) or outright ineptitude (at worst). Journalists would be feverishly angling to get the story, learn the cause of the blast, and determine culpability, if any.
Here, though, despite the scale of the explosion yesterday in Sentul, news stories are still rather thin on the ground today, despite media having actually been invited to witness the event which, though it was apparently meant to just involve the orderly disposal of some seized fireworks, clearly got well out of hand.
The stories you'll find are a bit vague on the details, too, although that could be simply because the investigation is still ongoing.
Even yesterday, reports were largely quite anodyne, such as this line from a local media outlet: "A fire occurred at a police evidence storage yard believed to be housing seized contrabands [sic] including fireworks in Sentul."
If you didn't know there was a huge explosion in Malaysia's capital city – big enough to flatten the immediate area and damage or destroy over four dozen vehicles – you'd be forgiven, because despite the scale of the destruction at the site of the explosion, it barely made a ripple in most Malaysian media reports. Social media, however, was a slightly different story, and plenty of fodder – both serious and humorous – could be found on Facebook and Twitter in the aftermath of the blast.
According to reports, some RM4.17 million worth of fireworks, which had been seized last month, were set to be disposed of in accordance with a court order. Apparently, Sentul police invited the media to come and observe the disposal. This, however, makes little sense when you take into account the official statement following the explosion.
Sentul police chief Assistant Commissioner Beh Eng Lai confirmed the incident, and said that the standard operating procedures involving the disposal of seized contraband were in accordance with the court order issued. (One might expect those SOPs to be revisited if the destructive inferno was indeed the result of those procedures being followed.)
"To inform, the seized items were disposed of by flattening them with a steamroller and soaking them in water before they are buried," Beh said.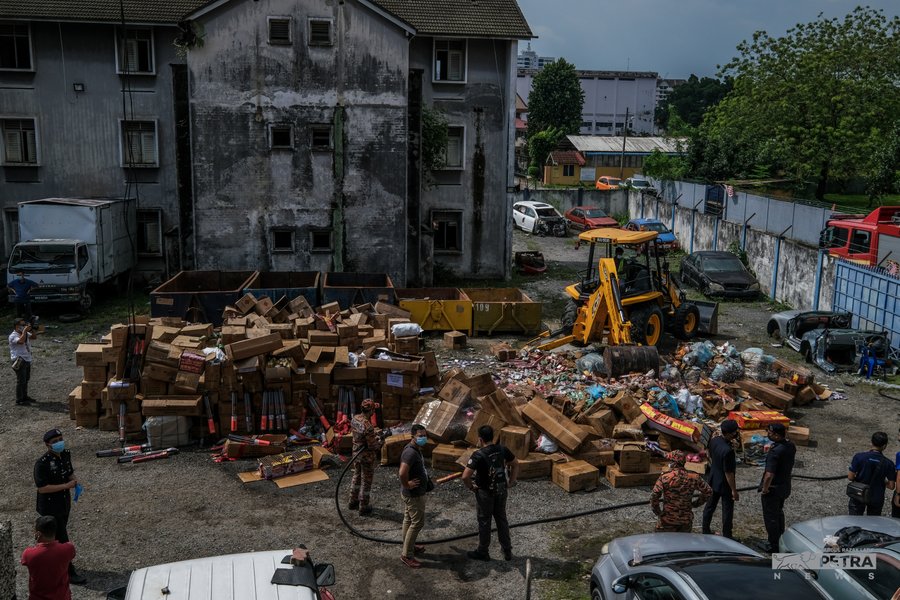 So a media circus was organised so that reporters could observe some evidence being run over with a steamroller and then soaked in water (or vice versa, which frankly would be less risky)? That doesn't really seem like something that would be all that interesting to watch, does it?
Also, if you look at the photo above, that's clearly not a steamroller; it's a backhoe. Social media comments saw netizens cheekily betting that the guy driving the backhoe was smoking while driving it over the pile of fireworks. Another opined that the police should have carried the disposal out on Monday evening instead, when the torrential rains experienced in Kuala Lumpur would have ensured a proper soaking.
News portal Free Malaysia Today indicated that the disposal had obviously gone awry, but also noted that details on the incident were "scant." They also posted a video of the fire and multiple smaller explosions:
Outside of Malaysia, reports were at least slightly more critical of the police's handling of this disposal (words like "bungled" and "panicked residents" were thrown around). We're still not sure what happened, but fortunately, there were no fatalities, only injuries to three men – and obviously quite a fair bit of property damage, too. Looking at the scale of the destruction, it really is a wonder more people weren't injured.
While reports that the fire department arrived during the buka puasa rush hour at 6:32pm, just 10 minutes after being called in the wake of the explosion, are rather impressive, perhaps next time firefighters will actually be on hand already at the scene of any fireworks disposal events. After all, if there's any sort of evidence whose disposal would suggest the wisdom of having firefighting personnel present as a precautionary measure, you'd think it would be a RM4 million pile of highly flammable, explosive fireworks.
Just to recap, let's enjoy some before and after photos.
---
"ExpatGo welcomes and encourages comments, input, and divergent opinions. However, we kindly request that you use suitable language in your comments, and refrain from any sort of personal attack, hate speech, or disparaging rhetoric. Comments not in line with this are subject to removal from the site. "
Comments