For all its modern wonders and impressive achievements, Singapore can't seem to move beyond its draconian views on capital punishment.
When it comes to Singapore, there is much to respect, both in its history and its impressive achievements. The island nation has accomplished a lot despite its tiny size and lack of natural resources. Following its 1965 expulsion from Malaysia, the newly independent Singapore took advantage of its strategic location to create one of the world's busiest ports, and that, combined with a focus on educating its citizens and modernising its infrastructure, has encouraged thousands of multinationals to set up operations there. In recent years, Singapore has increasingly allowed its residents to enjoy more freedoms – to an extent – and has moved away from its rather restrictive and sometimes counterproductive polices which led to Singapore being globally known as 'the nanny state.'
I can recall in the 1970s being forced to go to a separate, special counter before going through immigration to have the length of my hair checked. The fact I was working for a major multinational, was wearing a business suit, and had flown in first class made absolutely no difference to their decision to have me inspected. The decision to ban people with long hair from entering the country was based on the idea that long hair was to be equated with drugs and disorderly conduct. Their views on this would later evolve, but it was an indication of their inflexibility and rigid implementation of the rules that despite me clearly not fitting the profile of someone who would be threat to the local community, I still had to be checked out. They finally decided the rule did not make sense and dropped it, but only after it created a lot of negative publicity for the country. As for me, I passed the inspection – just – and was allowed to enter.
Singapore has, from time to time, shown a willingness to change or even repeal its policies, but it often seems to take them a long time. The baby boom after World War II caused no small measure of worry about overpopulation, and so authorities implemented policies aimed at persuading (and even pressuring) their citizens to have smaller families, with two children bring the preferred maximum. A couple of generations passed before they finally realised that the country had a flat (or even negative) population growth that would cause problems later, and that Singapore would in fact benefit from a larger population. In recognition of this, the government started creating policies and even ad campaigns to encourage bigger families, but their previous efforts had been so successful that the about-face proved somewhat ineffective. They now rely heavily on foreign labour, so almost 40% of their resident population consists of foreign nationals, from construction workers to billionaire financiers.
LIFE IN MALAYSIA, DEATH IN SINGAPORE
One area in which Singapore seems mired in the dark ages is in its steadfast commitment to the death penalty. Despite all the evidence that the death penalty is not an effective deterrent for many crimes, Singapore remains resolute in executing its own citizens, as well as foreigners, when they break laws which carry the death penalty.
Perhaps one of the most debated uses of the death penalty is its application to low-level drug traffickers. Singapore takes a zero-tolerance approach to narcotics, and has some of the most draconian anti-trafficking penalties in the world, meting out capital punishment for the merest of drug-related offences.
Many of those arrested do not initially realise the severity of the crime in the eyes of Singaporean authorities, and those who do are usually young and naïve, perhaps believing they will get away with it. There are very few, if any, cases of major drug kingpins being executed, just the 'disposable' low-income people at the bottom of the chain who can, in the views of their illicit employers, be replaced fairly easily.
On April 27, Singapore hanged Nagaenthran 'Nagen' Dharmalingam, a 34-year-old Malaysian citizen who had been on death row for over a decade after his 2009 arrest for bringing 42.7 grams of heroin into Singapore. The execution drew widespread criticism and condemnation from across the world. Many believed the time served was arguably penalty enough, but compounding the case was the man's intellectual capacity. His IQ had been assessed at 69, which is regarded as mentally disabled, meaning his execution was prohibited under international law.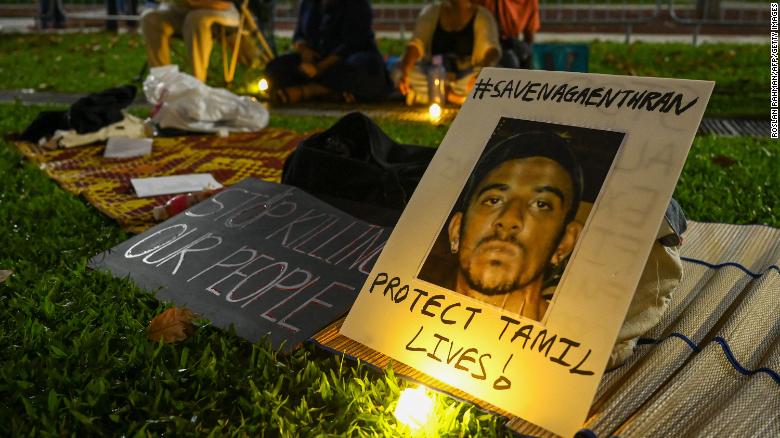 Singapore's courts were not at all swayed by this, however, and despite pleas for clemency from people and human rights groups around the world including Amnesty International, the United Nations, prominent names like Stephen Fry and Richard Branson, and even a direct appeal from Malaysia's prime minister, they were unmoved. I'm not sure how Singapore can feel proud of 'upholding the law' by executing this poor man, rather than showing compassion for him, as well a degree of forgiveness for an act he must seriously regret on some level, although by all accounts, he appeared to have been in a rather confused state about his plight.
SINGAPORE'S SHAME
In my view, this is a serious black mark on a country which, in many other respects, has been an inspiration to other nations. Whereas most of the world's countries have made the decision that killing their residents is a step too far, not least because any miscarriage of justice cannot be rectified, Singapore continues to think capital punishment is appropriate and useful. The Minister of Home Affairs claims their own studies show it is an effective deterrent. This is in contrast to other studies around the world which suggest it is not that effective. One thing is sure: a number of Malaysians have been executed in Singapore for drug trafficking, and yet they keep on doing it.
When considering Singapore's enduring zeal for hanging low-level drug smugglers, I always wonder if these people would feel the same way if their own children somehow became involved and faced the death penalty when found with what amounted to a very small quantity of drugs (42.7 grams, or just 1.5 ounces in Nagen's case). A prison term is understandable, but the state-sanctioned killing of a person for such an offence is highly debatable. Most countries in the world have decide it is no longer appropriate, and even Malaysia, which has long believed capital punishment to be the answer, appears to have reached the decision that execution for drug crimes no longer fits with the values of the 21st century.
It also begs the question of whether the death penalty is really that useful when most drug syndicates regard the arrest of a courier and seized drugs as little more than a cost of doing business, taking the position that both are relatively easy to replace.
How long will it take for Singapore to see the light and show some compassion for the families who have to live on knowing that their own flesh and blood has been killed by the state? How long until they put an end to this barbaric and disgraceful practice? Does Singapore really feel it has accomplished something worthwhile when headlines around the world announce they have executed an intellectually disabled man for a minor drug offence?
The views expressed herein are the opinion of the author.
---
"ExpatGo welcomes and encourages comments, input, and divergent opinions. However, we kindly request that you use suitable language in your comments, and refrain from any sort of personal attack, hate speech, or disparaging rhetoric. Comments not in line with this are subject to removal from the site. "
Comments