A good-natured sense of panic swept through the country's social media channels on Sunday as the announcement was made that Hari Raya Aidilfitri would fall a day earlier than the expected May 3 date.
After two years of Covid restrictions keeping Raya celebrations either muted or almost nonexistent, this was the year Muslims (and many other Malaysians, truth be told) planned to enjoy the holiday properly. Making matters even better, Labour Day (May 1) fell on a Sunday, pushing the public holiday to Monday, which was expected to be followed by two days of Raya holidays. Malaysians would enjoy a terrific five-day holiday weekend to get back into the festive Raya celebratory spirit in the country's first major holiday free from almost all Covid restrictions.
However, Hari Raya Aidilfitri is, like a few other holidays celebrated in Malaysia, not a fixed-date occurrence. Tied to the lunar calendar, the exact date changes from year to year. Usually, however, once the date is set in the weeks ahead of time, it's unusual for it to change. A last-minute change like this one is vanishingly rare, so the announcement just two days before the anticipated date that the first day of Raya would in fact be a day early set off a mild panic as many were caught completely off-guard, with their holiday preparations incomplete and the festivities planned for Tuesday, not Monday.
Of course, in the end, it is a joyful holiday, after all, so if the comments on social media are any indication, most people were taking it all in stride.
Indeed, after two years of Covid restrictions, the first year of normal celebrations and balik kampung journeys since 2019 have infused a fresh sense of delight in this year's holiday, and that wasn't to be dampened by the date change.
A JOYFUL SENSE OF MILD PANIC
One man, 61-year-old Bahar Onan, said this year's renewed celebrations made him feel like a boy again. In an interview with Malay Mail, he excitedly relayed his plans to visit the homes of his relatives in various towns, making up for the travel bans that dampened the festive season in each of the last two years.
On Twitter, a netizen with the handle @notsoaidil said he is "absolutely panicking" following Sunday's Hari Raya announcement, saying he has to rush to help his family with preparing rendang and other dishes, finishing up the household chores,and making all the kuih in a rush the night before Raya.
Muhammad Syahmi Noh, 21, was still at work when he got the message about Hari Raya coming a day early. "My family and I initially planned to travel home to Pahang in the wee hours of Monday after sahur," he was reported as saying, referring to the pre-dawn meal taken during the fasting month, "but due to the announcement, we travelled home immediately after I reached home."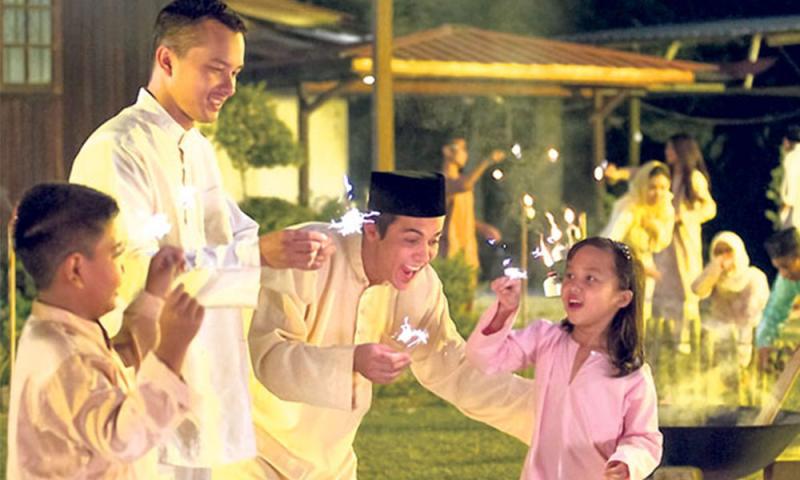 Engineer Faisal Adam got a similar message. He said he found out about the celebration after receiving a text from a friend. "I initially thought it was a joke," he explained, "but when I read the news, it definitely was a surprise! I even bought food for sahur thinking there would be another day of fasting."
He wasn't the only one to think the news was a joke at first. Policy analyst Sabreena Zahri said she was cooking rendang and lemang when she got the early Raya news. "My dad broke the news to us but I thought it was fake news," she said. "I checked on social media and found out it was indeed true."
On Facebook, a man named Muhammad Faiz Hashim jokingly posted: "Rendang tak buat lagi, besok raya makan nasi goreng" (Rendang hasn't yet been prepared, so we're eating fried rice tomorrow).
Even politicians got in on the country's sense of ill-prepared panic, with Defence Minister Hishammuddin Hussein noting the change in his Raya greeting on Twitter: "Confirmed! Tomorrow we celebrate Aidilfitri. But maybe some are still on their way back to the village. Probably many have not started baking lemang, cooking ketupat and rendang. Let's all be 'busy' in the kitchen tonight!" He end the tweet with a smiley face emoji.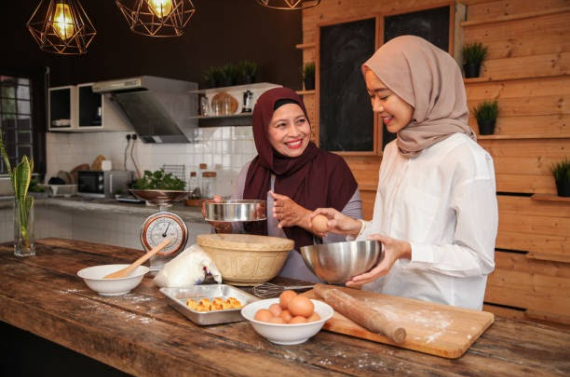 DECIDING THE DATE
The specific date of Aidilfitri is determined by lunar observance. Traditionally, it begins at sunset on the evening of the first sighting of the crescent moon, which is why this symbol is so prevalent in Islam. According to Wikipedia, "If the moon is not observed immediately after the 29th day of the previous lunar month (either because clouds block its view or because the western sky is still too bright when the moon sets), then the holiday is celebrated the following day."
Apparently, the date of Aidilfitri can be shifted in the other direction, too.
On Sunday, the Keeper of the Rulers' Seal, Tan Sri Syed Danial Syed Ahmad, announced that Muslims in Malaysia will celebrate Hari Raya Aidilfitri on May 2, rather than on the anticipated date of May 3.
"In keeping with the command of the Yang di-Pertuan Agong, following the consent of the Rulers, I hereby declare that the date for Hari Raya for the states in Malaysia has been set for Monday, May 2, 2022," he said.
Despite the late notice and the last-minute panic set off by the announcement, there was still a pervasive sense of joy on Sunday in the country, and as the clock approached midnight, fireworks could be heard almost everywhere. Another month of Ramadan has come to an end, and for the first time since 2019, Malaysians are able to celebrate it properly.
And as for that wonderful string of public holidays, fear not: Prime Minister Ismail Sabri Yaakob confirmed that the May 1 Labour Day holiday, which had initially carried a replacement day on Monday, May 2 (since May 1 fell on a Sunday), would now be shifted over to Wednesday, May 4 now that Hari Raya's holidays fall on May 2 and May 3.
The Labour Day holiday replacement day is applicable in all states, except for Kedah, Kelantan, Terengganu, and Johor, since Sunday is a normal working day in those states, and the holiday was thus observed on May 1.
ExpatGO wishes all its Muslim readers a joyful Hari Raya Aidilfitri.
---
"ExpatGo welcomes and encourages comments, input, and divergent opinions. However, we kindly request that you use suitable language in your comments, and refrain from any sort of personal attack, hate speech, or disparaging rhetoric. Comments not in line with this are subject to removal from the site. "
Comments