Endemic to the Bornean rainforest for thousands of years, Southeast Asia's great apes come in the form of gentle long-armed primates that have seen much of their natural habitat destroyed due to capitalist greed.
Located about 25 kilometers west of Sandakan, Sabah stands the Sepilok Orangutan Rehabilitation Centre for rescued orphaned baby orangutans saved from logging sites, plantations, illegal hunting or being sold as exotic pets.
Built within the Kabili-Sepilok Forest Reserve, the centre was opened in 1964 by an Englishwoman called Barbara Harrison and became the first successful orangutan rescue and rehabilitation project in the world. The reserve covers an area of 4,294 hectares, much of it being virgin rainforests where the orphaned orangutans are trained to once again survive in the wild. Today, there are almost 80 orangutans living free on the reserve.
The amazing initiatives of the reserve have been featured on Animal Planet's Meet the Orangutans, and Paul O'Grady's Animal Orphans, as well as a documentary with Datuk Michelle Yeoh who has taken a personal interest in the reserve by adopting one of the rescued baby orangutans. Called Among the Great Apes with Michelle Yeoh, the documentary (available on YouTube) shows her volunteer work at the reserve among the young orangutans including her own, a three-year-old she named Sen.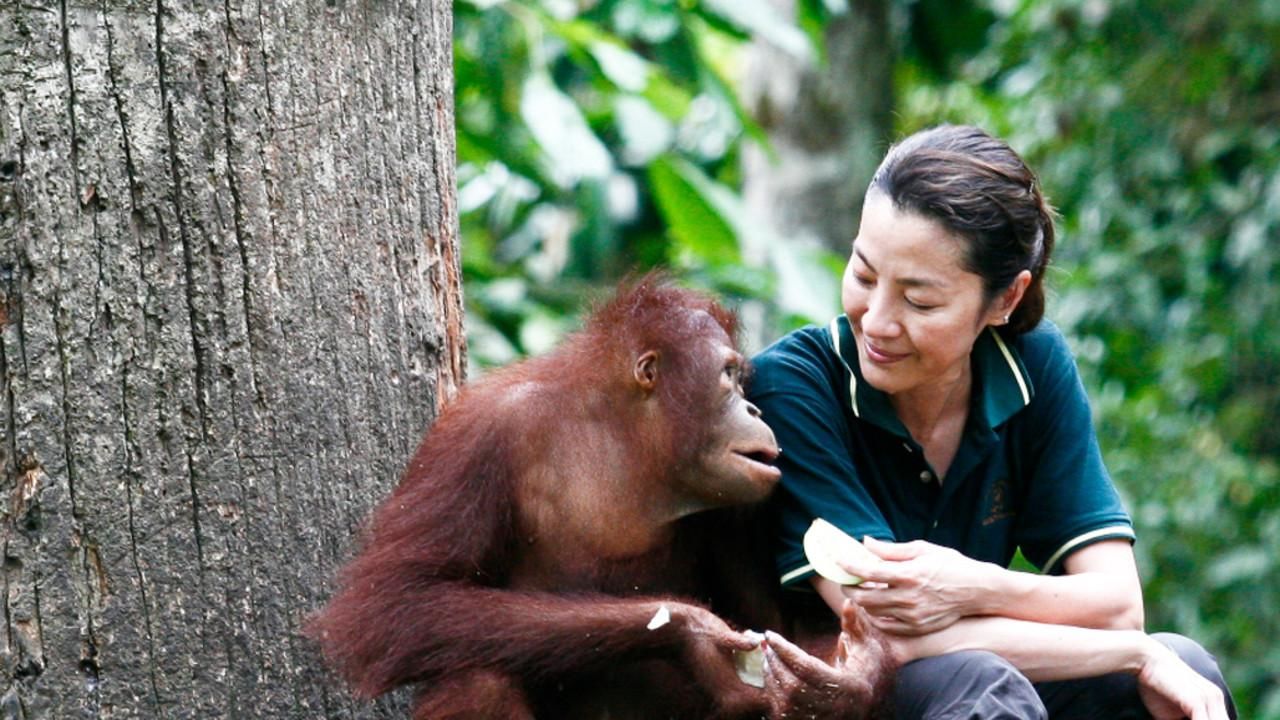 In October 2014, the centre opened a section for visitors to view the nursery area where young orangutans learn social play in an outside space with lots of climbing frames. Visitors get to choose between two large indoor seating areas either with or without air conditioning with large viewing windows overlooking the play area.
What's wonderful about the reserve is that they not only provide rehabilitation and medical care for orphaned and confiscated orangutans, they also treat dozens of other wildlife like sun bears, gibbons, and Bornean pygmy elephants.
WHERE REHAB MEETS EDUCATION
The centre is owned and run by the Sabah Wildlife Department and partly funded by the Orangutan Appeal UK who helps by replace outdated or dilapidated equipment, renovating enclosures, purchasing rescue vehicles, as well as employing on site team members and a veterinary nurse. The existence of the Sepilok reserve stands as a very important education centre about these primates and the habitats they belong in.
So, as they take a stand against wildlife endangerment, Sepilok operates to rehabilitate rescued orangutans while simultaneously educating visitors.
As important as it that people from all over the world can witness these young orangutans go through rehabilitation in a safe and secure environment, it is also crucial to their development that contact with outsiders are completely restricted.
Hands-on contact with the orangutans is not permitted in the best interest of them because they're highly vulnerable to human disease and viruses. Apart from reducing the possibility of potential infections, outside contact is kept to a minimum for the safety of all parties both human and primate. Orangutans are very strong and can potentially be unpredictable — they are wild animals after all. And in order to ensure their best possible chance of survival once they're ready to go back into the wild, dependence or familiarity with humans is strongly discouraged once they are past needing maternal care.
In the wild, orangutan babies stay with their mothers for up to six years while they are taught the skills they need to survive in the forest, the most important of which is climbing. At Sepilok, a buddy system is used to replace a mother's teaching. A younger ape will be paired up with an older one to help them to develop the skills they need, like an orangutan mentor.
The creation of reserve areas minimises the impact of deforestation on orangutans, and in addition to that, far fewer young apes become the victim of the illegal pet trade as a result of these 'sanctuaries'. Babies are often caught during logging or forest clearance or captured by poachers who slaughter the adult apes to reach them. The Malaysian Government has clamped down on illegal trading, outlawing all such practice and imposing prison sentences on anyone caught keeping them as pets.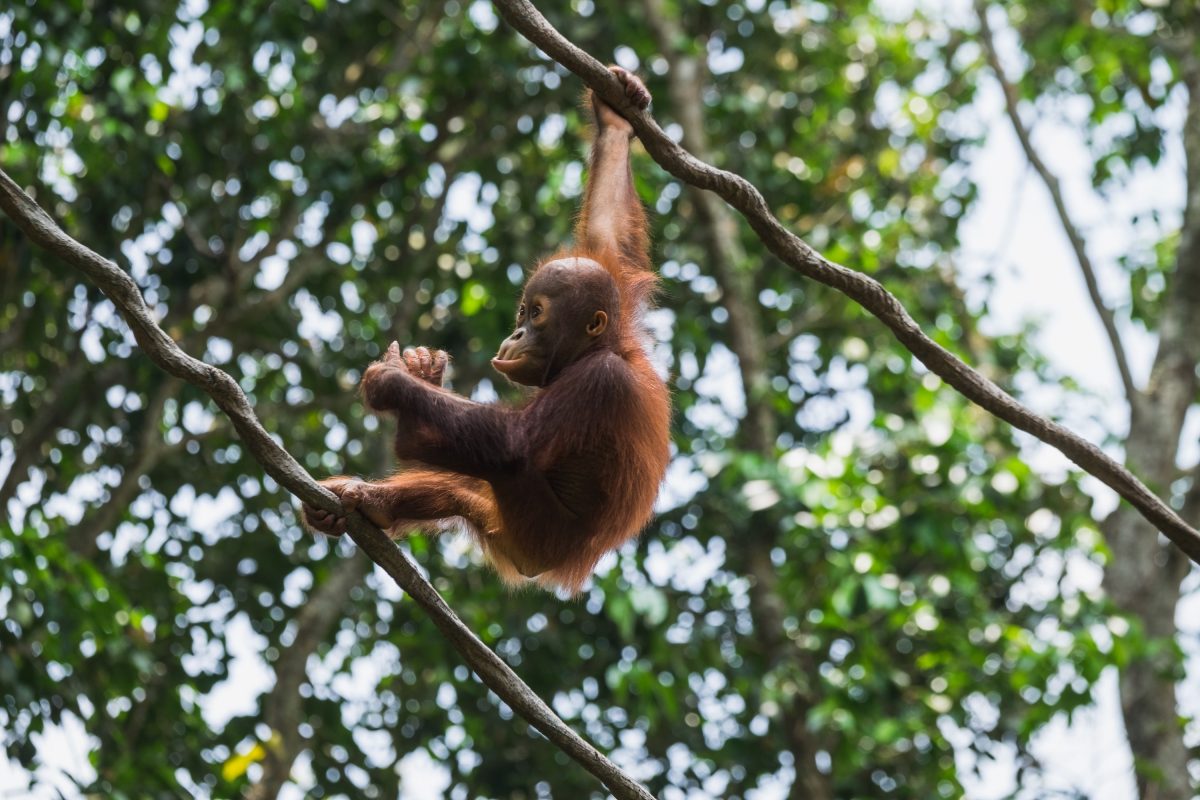 Youngsters kept in captivity often become sick or suffer neglect which in some cases extends to cruelty. Whilst some of the orangutans raised as pets can never be returned to the wild, others can be rehabidlitated; it is a long and expensive process, taking up to seven years, but one centres such as Sepilok take on without question.
PROTECTING FUTURE ORANGUTAN GENERATIONS
Rehabilitating baby orangutans takes dedication and pertinent attention, which is a reason why visitors to the centre have no access to the indoor nursery where they live. Because many of the babies are orphaned, previously injured, or rescued ex-captives, their indoor nursery is of limits to visitors to prevent any contraction of human illnesses especially at such a crucial stage in their rehabilitation process.
However, the outdoor nursery is available for public viewing through specialised facilities which prevent the risk of contact between visitors and the orangutans. Once the babies have matured and are ready to transition to the outdoor nursery for the final stage of their rehabilitation, that's where the public can view them and observe their daily playtimes and training sessions, one of the highlights for visitors to the centre.
People interested in 'adopting' a rescued baby orangutan or donating can get in touch with the centre's Liaison Officer who will be happy to help you. For any reason, a Liaison Officer isn't present at the time, adoption forms are available in the reception area where visitors can apply and drop in the provided slots along with donations.
Watch Animal Planet's Among the Great Apes with Michelle Yeoh here:
---
"ExpatGo welcomes and encourages comments, input, and divergent opinions. However, we kindly request that you use suitable language in your comments, and refrain from any sort of personal attack, hate speech, or disparaging rhetoric. Comments not in line with this are subject to removal from the site. "
Comments