After simmering in the works for months, Prime Minister Ismail Sabri made the official announcement in July as the government rolled out its 'Malaysia Digital' initiative, which includes a Digital Nomad program.
In July, the government announced its new national digital initiative, which is aimed at enhancing the nation's digital capabilities and boosting the existing digital economy.
This broad new initiative, called Malaysia Digital (MD), will succeed MSC Malaysia, which has driven the country's migration towards a knowledge-based economy since its creation in 1996.
Prime Minister Ismail Sabri Yaakob said MD will ramp up the nation's digital economy as Covid recovery continues, and subsequently benefit the people of Malaysia.
"The nation needs to produce more talent and competitive digital workforce, a well-equipped infrastructure to ensure that our nation's capabilities and capacities remain world-class," he said in his announcement.
"Therefore, the MSC initiative needs to be reinvented to further drive the country's digital economy and achieve such an aspiration. [Accordingly,] the government has planned MD based on three main principles, namely Flexibility, Agility, and Relevance."
Under MD, the PM explained that the government, through the Malaysia Digital Economic Corporation (MDEC), will introduce two Malaysia Digital Catalytic Programs (PEMANGKIN) that will function to boost the nation's digital economy ecosystem through three strategic priorities.
Apart from driving digital adoption among young entrepreneurs, companies, and the public, Sabri said that the other two strategic priorities would be to support local technology companies and transform them into successful domestic and international players, and to attract high-value digital investments.
The announcement was light on details, but the PM said the two initial projects under PEMANGKIN are DE Rantau and Digital Trade. It's the first one that will be of potential interest to expats.
"DE Rantau will transform Malaysia into a preferred Digital Nomad Hub by accelerating digital adoption and promote professional mobility as well as drive tourism across the country," he explained.
"Digital Trade, meanwhile, will seek greater harmonisation of standards and regulatory approaches as well as to facilitate trade within and across borders in line with the National E-commerce Strategic Roadmap (NESR)," he said.
The Cabinet, Sabri said, has agreed upon the establishment of the Malaysia Digital Coordination Committee (MD-CC), which will guide the effective implementation of MD.
DIGITAL NOMADS IN MALAYSIA?
Much publicity has been made in recent months about countries issuing short- or long-term visas for so-called 'digital nomads,' which describes a person who works – either for an established company or on a freelance basis – without being tethered to a specific location.
This sort of flexibility offers potential benefits to both parties, of course. The remote worker can uncouple from the office and work from anywhere that has a good internet connection, while the host country reaps both direct and indirect benefits from the remote worker, such as long-term daily spending in the country (direct) and spillover perks like building on the country's overall knowledge base (indirect) or even facilitating the creation of new jobs or industries.
The MDEC website for the programs, including the DE Rantau initiative, have been launched (click here), but like Sabri's speech, are a bit short on specifics, like what is required to qualify for the digital nomad visa, how long it might be valid, or what is necessary for people who are interested in being a 'Digital Nomad Hub' partner, which will see the creation of digital nomad communities and working spaces.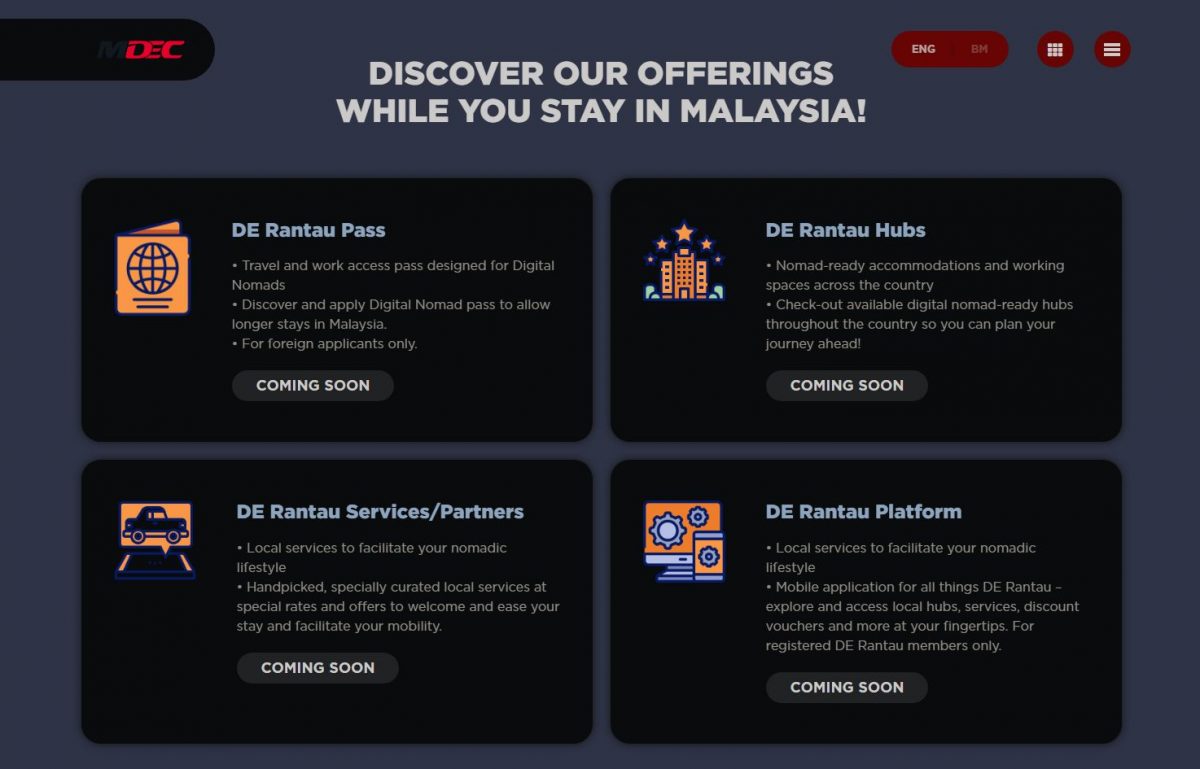 We couldn't even find exactly what the 'DE' in DE Rantau stands for, but are guessing it may be 'Digital Economy'. Rantau loosely translates to 'nomad' (it means foreigner, with berantau meaning 'wanderer' or 'wandering'). On that point, it does seem that a program that's aimed at attracting foreign digital nomads might benefit from having a name which is more easily understood outside of Malaysia.
On the website, MDEC touts Malaysia as a good choice for remote working with this information:
---
Travel, Work & Leisure while staying in Malaysia
Register now to get access to DE Rantau program and enjoy the available benefits for digital nomads coming to Malaysia!
Malaysia offers a quality lifestyle for a fraction of what you would pay in the US and Europe.
Wherever you decide to live in Malaysia, you can enjoy strong café culture, leaving you plenty of places to work outside of the home and co-working spaces.
Malaysia is such a multicultural country and majority of people speak English
Malaysia is also considered a safe country for visitors. Violent crimes are very low in Malaysia and the main risk is of petty crime, so keep your belongings secure and safe.
---
Though the site invites you to 'Register now,' there doesn't appear to be any way to do that yet.
There have been some unconfirmed reports that, much like Indonesia's digital nomad scheme, remote workers in Malaysia would not be subjected to income tax here. This has not yet been announced, but it stands to reason that this would make any such program in Malaysia not only more attractive, but also competitive with similar programs in other ASEAN countries.
We hope to see more concrete details about these new initiatives soon.
To read more about Malaysia Digital, CLICK HERE.
To read more about the DE Rantau program, CLICK HERE.
---
"ExpatGo welcomes and encourages comments, input, and divergent opinions. However, we kindly request that you use suitable language in your comments, and refrain from any sort of personal attack, hate speech, or disparaging rhetoric. Comments not in line with this are subject to removal from the site. "
Comments