Beijing is trying to censor any coverage of the furious protests sweeping the country as citizens fed up with Xi Jinping's zero-Covid obsession take to the streets in unprecedented numbers.
Protesters angered by unending strict anti-Covid measures are potesting in a remarkable show of dissent not seen for decades in China. Many are openly calling for China's powerful leader Xi Jinping to resign, an unprecedented rebuke as authorities in over a dozen cities across the sprawling country struggled to suppress demonstrations on Sunday, November 27 that reflect not only seething public anger, but a rare direct challenge to the ruling Communist Party.
In a video of a large protest in Shanghai, which has been verified by the Associated Press, chants against Xi, the most powerful leader since at least the 1980s, and the Chinese Communist Party sounded loud and clear: "Xi Jinping! Step down! CCP! Step down!"
Three years after Covid-19 emerged, China is the only major country still trying to stop its transmission and eradicated the virus. Its "zero-Covid" strategy has triggered targeted lockdowns and the suspension of virtually all access to neighbourhoods for weeks at a time. Some cities carry out daily virus tests on millions of residents.
Such draconian measures have kept China's infection numbers lower than those the United States and other major countries, but public acceptance has worn thin. People who are quarantined at home in some areas say they lack food and medicine. The ruling party faced public anger following the deaths of two children whose parents said anti-virus controls hampered their efforts to get medical help.
The great irony here, of course, is that China is widely believed to be the very country in which the world's most catastrophic pandemic in a century began. There is still a lack of consensus on precisely where and how, but many scientists and virologists believe the evidence points to the Huanan Seafood Wholesale Market in Wuhan, with the animal-to-human jump that was made by the virus plausibly occurring there or in the market's supply chain.
Three years on, the rest of the world has largely moved on from the coronavirus pandemic (albeit to some varying degrees), but China's leadership remains steadfast in its ill-advised goal to eradicate the virus.
Police using pepper spray drove away demonstrators in Shanghai who called for Xi Jinping to step down and for an end to one-party rule, but hours later people rallied again in the same spot, shouting the same demands. Police again broke up the demonstration, and a reporter saw protesters under arrest being driven away in a bus.
BBC JOURNALIST BEATEN, DETAINED
Edward Lawrence, a journalist at the BBC, was arrested by Shanghai police at the scene of protests on Sunday night, according to the BBC and as captured on what appears to be mobile phone footage of the arrest.
While he has since been released, a BBC spokesperson has expressed extreme concern about his treatment, saying he was "beaten and kicked by the police."
The BBC statement reads in full: "The BBC is extremely concerned about the treatment of our journalist Ed Lawrence, who was arrested and handcuffed while covering the protests in Shanghai. He was held for several hours before being released. During his arrest, he was beaten and kicked by the police. This happened while he was working as an accredited journalist."
The statement continues, "It is very worrying that one of our journalists was attacked in this way whilst carrying out his duties. We have had no official explanation or apology from the Chinese authorities, beyond a claim by the officials who later released him that they had arrested him for his own good in case he caught Covid from the crowd. We do not consider this a credible explanation."
WHAT TRIGGERED THE OUTRAGE?
To be certain, Chinese citizens have grown increasingly discontented and impatient with the seemingly interminable lockdowns and various anti-virus restrictions. This simmering anger has been building over many months, according to reports, but still, for people in China to actually take to the street in droves in open defiance of the central government isn't merely out of character, it's exceedingly rare.
So what's different this time? According to CNN, the wave of protests was triggered by a deadly fire last Thursday (November 24) in Urumqi, the capital of the far western region of Xinjiang. The blaze killed at least 10 people and seriously injured nine in an apartment building – leading to public fury after videos of the incident appeared to show that the city's lockdown measures caused firefighters to be delayed in reaching the victims.
The city had been under lockdown for more than 100 days, with residents unable to leave the region and many forced to stay home.
Videos showed Urumqi residents marching to a government building and chanting for the end of lockdown on Friday. The following morning, the local government said it would lift the lockdown in stages – but did not provide a clear time frame or address the protests.
That understandably failed to quell public anger, and the protests rapidly spread beyond Xinjiang, with residents in cities and universities across China also taking to the streets.
The protests quickly spread nationwide, with international media confirming demonstrations taking place in at least 16 different locations, including two of China's largest, most important, and most globally well-known cities, Beijing and Shanghai.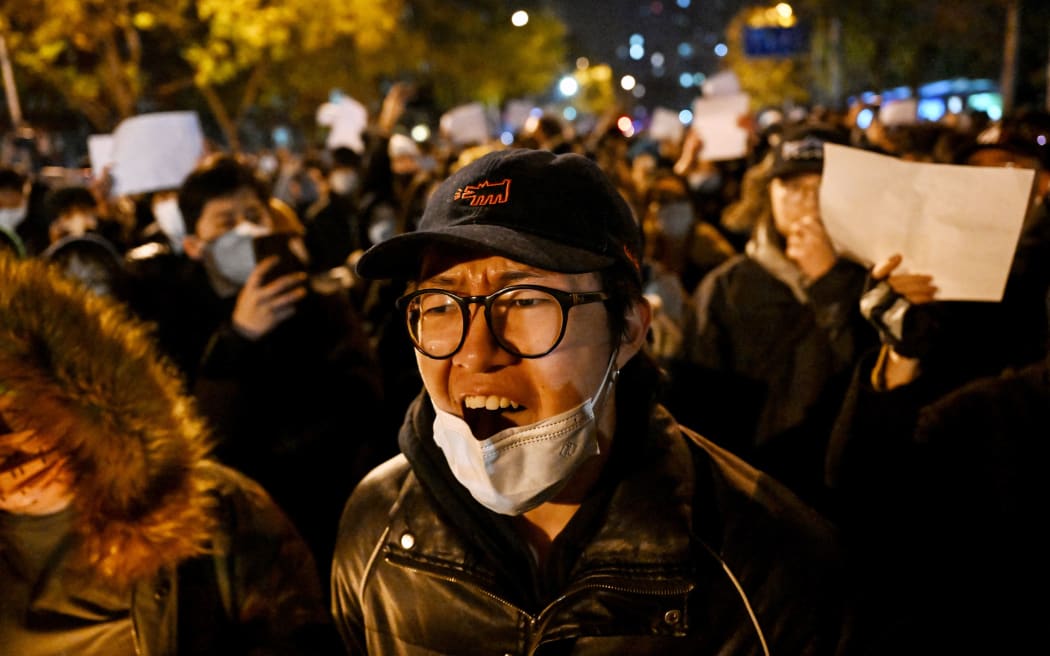 Protests in the latter can hardly have come as a shock. China's zero-Covid policies have been felt particularly acutely in Shanghai, where a two-month long lockdown earlier this year left many of the huge city's 25 million residents without reliable access to food, medical care, or other basic supplies – sowing deep public resentment.
A CLASH MONTHS IN THE MAKING
There have been growing signs in recent months that the public has run out of patience with zero-Covid, following nearly three years of economic hardship and disruption to daily life.
Isolated small-scale protests broke out October, with anti-zero-Covid slogans appearing on the walls of public bathrooms and in various Chinese cities, inspired by a banner hung by a lone protester on an overpass in Beijing just days before Xi cemented a third term in power.
This time, it seems to be a far bigger movement. According to reports, by Sunday evening (November 27), mass demonstrations had spread to Beijing, Chengdu, Guangzhou, and Wuhan, where thousands of residents assembled, calling for not only an end to Covid restrictions, but more remarkably, political freedoms. How serious are these protests? Residents in some locked-down neighbourhoods tore down barriers and took to the streets to join in.
Mass protests also took place on dozens of college campuses, including the prestigious institutions of Peking University and Tsinghua University in Beijing, and Communication University of China, Nanjing.
In recent days, vigils and demonstrations in solidarity with those on the mainland have also been held elsewhere around the world, including London and Sydney.
In Hong Kong, where a national security law imposed by Beijing in 2020 has been used to stifle dissent, dozens of people gathered on Monday evening in the city's Central district for a vigil. Some held blank pieces of paper, while others left flowers and held signs commemorating those killed in the Urumqi fire.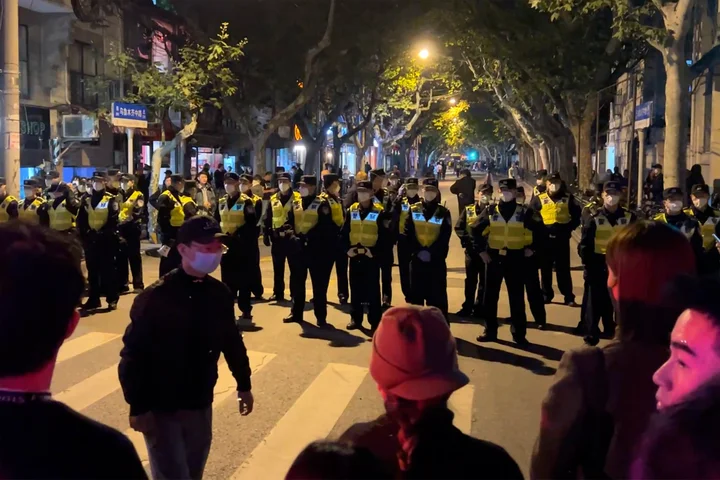 Some of the protests turned violent, as in the Shanghai demonstration, hundreds of police broke up the more active protest group before they came for the second as they tried to move people off the main street. One protester said that he saw people being taken away, forced by police into vans, but could not identify them.
Another said that one of his friends was beaten by police and two were pepper-sprayed. He lost his shoes and left barefoot. He added that protesters yelled slogans, including one that has become a rallying cry: "(We) do not want PCR (tests), but want freedom."
People stood and filmed as police shoved people. Officers in face masks and yellow safety vests told the crowd to disperse, but apart from some sporadic pushing and shoving, appeared to be trying to avoid a confrontation. There was no sign of shields or other riot gear.
In Beijing, a group of about 200 people gathered in a park on the capital's east side and held up blank sheets of paper, a symbol of defiance against the ruling party's pervasive censorship.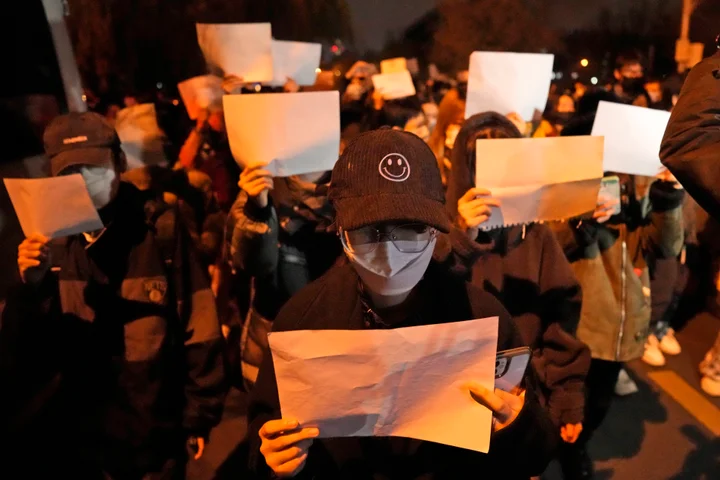 HOW IS CHINA'S COMMUNIST PARTY RESPONDING?
According to China's state media, in Xinjiang, top officials from the ruling party convened a meeting on Saturday – a day after protests broke out in Urumqi – where they called on authorities to "strictly crack down" on protest-related incidents and violent resistance to epidemic control measures.
While avoiding any actual mention of the protests, Beijing's municipal government on Sunday banned blocking entrances to residential compounds under lockdown, saying they must remain clear for emergency services.
By Monday, Shanghai authorities were seen setting up tall barriers along the road where protests had taken place.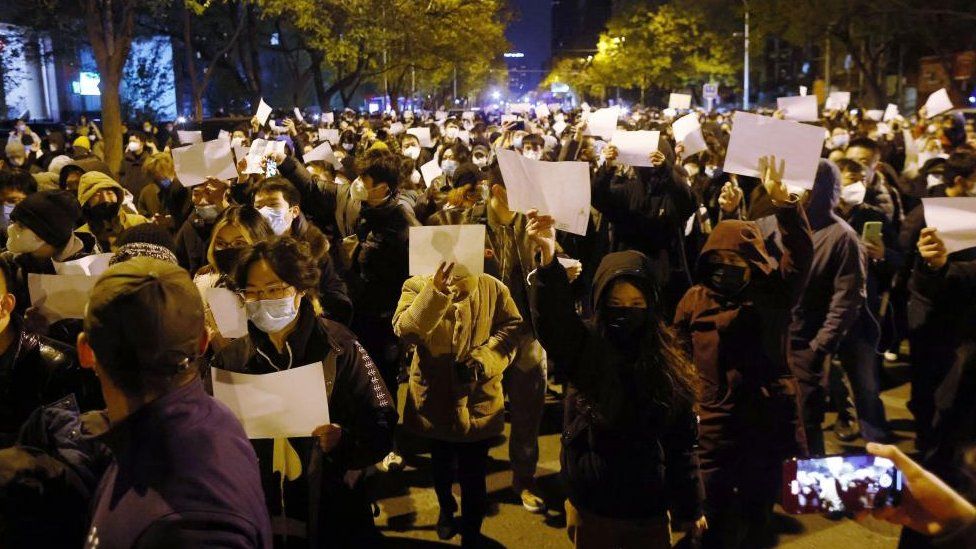 According to international reporting, state-run media has not directly covered the demonstrations – but have parroted the government line and doubled down on zero-Covid, with one newspaper on Sunday calling it "the most scientifically effective" approach.
Following reports of the nationwide eruptions of protests, human rights group Amnesty International appealed to Beijing to allow peaceful protest.
"The tragedy of the Urumqi fire has inspired remarkable bravery across China," the group's regional director, Hanna Young, said in a statement. "These unprecedented protests show that people are at the end of their tolerance for excessive Covid-19 restrictions."
---
Reporting from the Associated Press, CNN, Huffpost, and Al Jazeera contributed to this article.
---
"ExpatGo welcomes and encourages comments, input, and divergent opinions. However, we kindly request that you use suitable language in your comments, and refrain from any sort of personal attack, hate speech, or disparaging rhetoric. Comments not in line with this are subject to removal from the site. "
Comments