The wildlife famously mentioned in The Wizard of Oz has nothing on Malaysia's largest state. From the world's largest flower to the world's strangest monkey – and everything in between – Sarawak has it all!
Sarawak, the gateway to Borneo's spiritualism, is a paradise to those who are seeking an authentic adventure and soul-enriching experience. Enthralled is an understatement to describe one's experience while traversing this land of many hidden gems, rich with flora and fauna, boasting unparalleled raw beauty around every corner. Sarawak is just another level, a class of its own…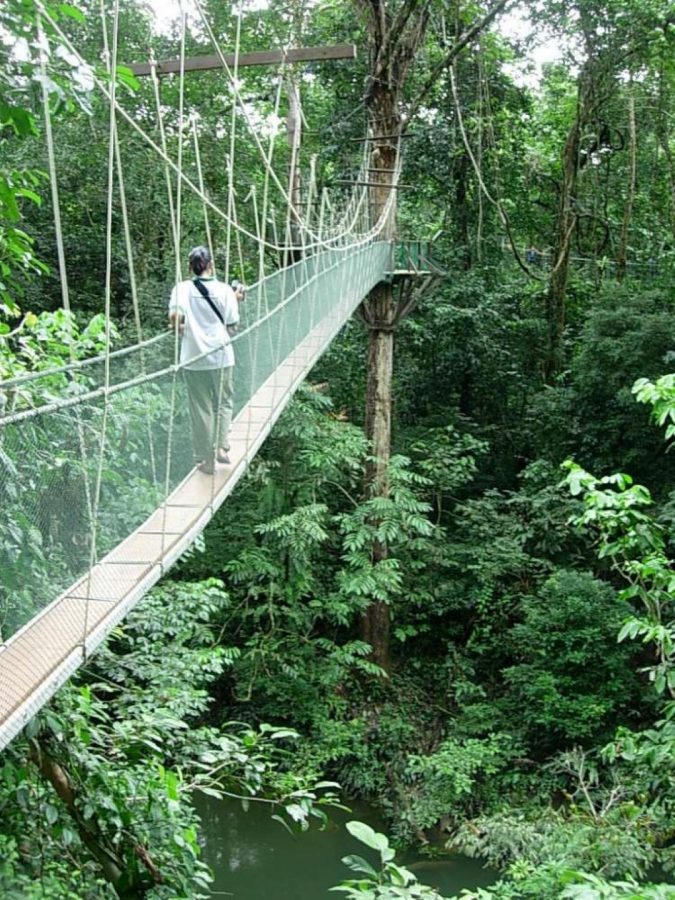 LAND OF THE HORNBILLS
Known as the Land of the Hornbills, Sarawak is home to eight out of 54 species of hornbills in the world. The oriental pied hornbill, black hornbill, bushy-crested hornbill, white-crowned hornbill, rhinoceros hornbill, helmeted hornbill, wrinkled hornbill, and wreathed hornbill are all species of this remarkable bird which can be found in Sarawak. Black, oriental pied, rhinoceros, and wreathed hornbills are the four most prominent hornbill species in the state. Most hornbills are found in Totally Protected Areas (TPAs) in Sarawak. These hornbill habitats are protected by the establishment of national parks, nature reserves, and wildlife sanctuaries. Piasau Nature Reserve, Gunong Mulu National Park, Tanjung Datu National Park, and Batang Ai National Park are among some of the places where hornbills are frequently spotted in Sarawak.
The hornbill is both an important bird and a revered cultural symbol for the people of Sarawak, especially the Dayak communities. The rhinoceros hornbill, the best-known of all the species, is represented on the state's emblem. For the Dayaks, hornbills signify the spirit of God and, accordingly, must be treated with respect. If a hornbill is seen flying over or visiting their residences, it is said that good luck and fortune will bestow the community. Hornbill elements are also incorporated into the arts, dances, carvings, and ceremonial dresses of the Dayaks.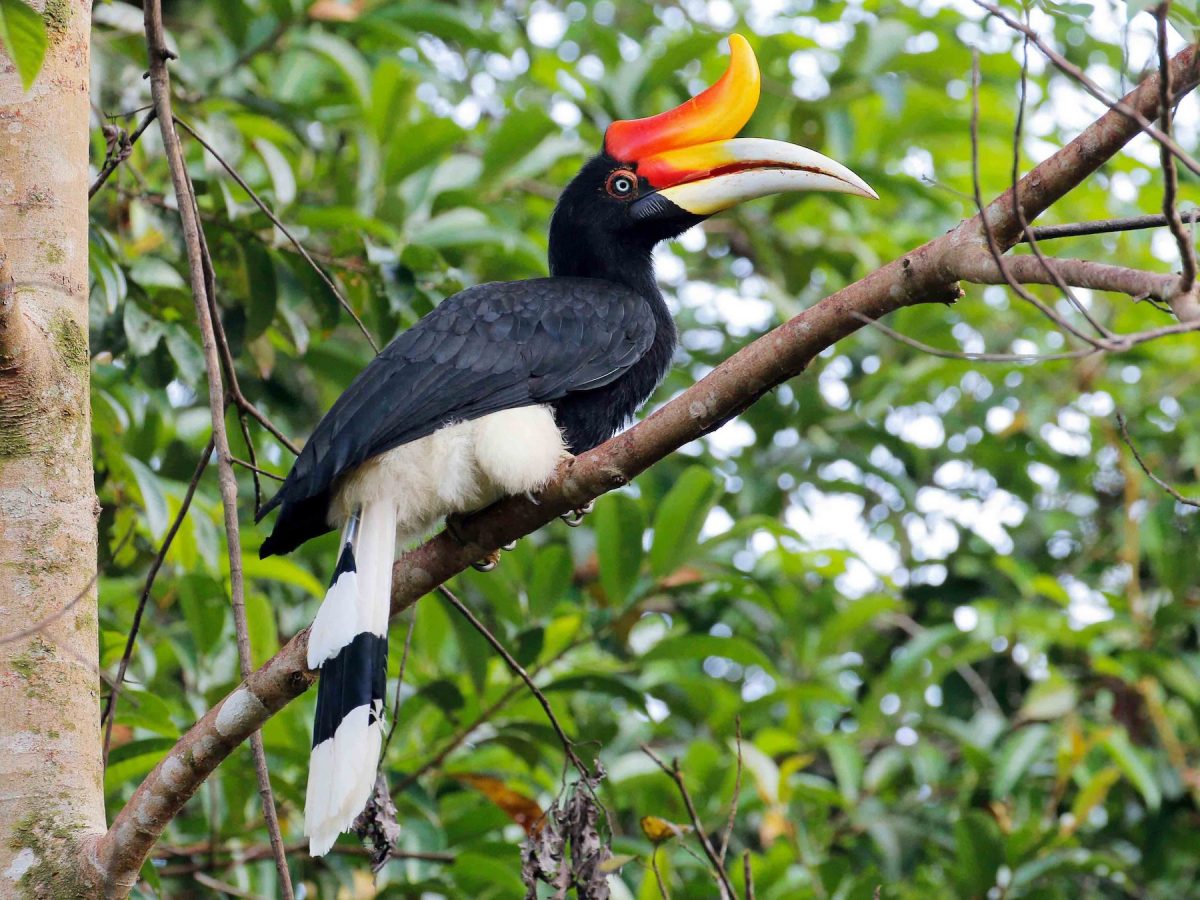 THE WEIRD, WONDERFUL RAFFLESIA
Rafflesia (or bunga pakma in Malay) is the largest – and among the most magnificent – flowers in the world. Three species of the Rafflesia genus are found in Sarawak. These are R. arnoldii, R. pricei, and R. tuan-mudae, the latter being endemic to Sarawak, while R. arnoldii is the largest species, its massive flower reaching an astonishing 97 cm in diameter, tipping the scale at over 10 kg!
A rather unusual plant in virtually every respect, Rafflesia is a parasitic plant, effectively a gigantic liana. The only known host of Rafflesia is the vines of the genus Tetrastigma (which is in the Vitaceae family, the same as grapes). The plant is so specialised (and again, unusual) that the only visible part is the flower. The bud resembles a black or orange cabbage; upon maturity, it opens with a bursting sound, displaying its colourful, thick petals. Many have noted that the Rafflesia flower emits a penetrating and unpleasant smell. However, some say that the species in Sarawak generally produce a faint smell, and even then, only particularly noticeable when one takes a deep sniff of the flower.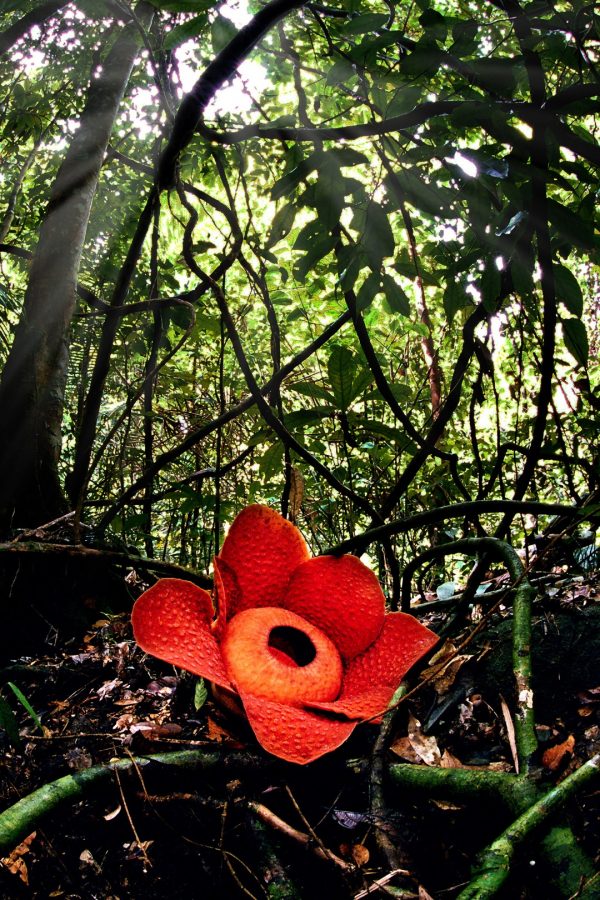 Despite its relative fame, Rafflesia is actually quite rare and highly localised in mixed dipterocarp forest or secondary forest; they can be found in Gunung Gading National Park, Lanjak-Entimau Wildlife Sanctuary, Padawan, and Kelabit Highlands. Rafflesia is endangered and threatened because it is very host-specific and has a high mortality rate. The buds are believed to have medicinal value.
ORANGUTANS
Just 20 km south of Kuching, there is a natural habitat which serves as a home to orangutans. The Semenggoh Wildlife Centre of Semenggoh Nature Reserve is by far the biggest orangutan rehabilitation centre in Sarawak. Back in 1975, it was established as a sanctuary for orangutans which were injured, orphaned, or being kept captive as illegal pets. Today, the centre serves as a habitat for the orangutans and also a place for visitors to learn about the endangered species.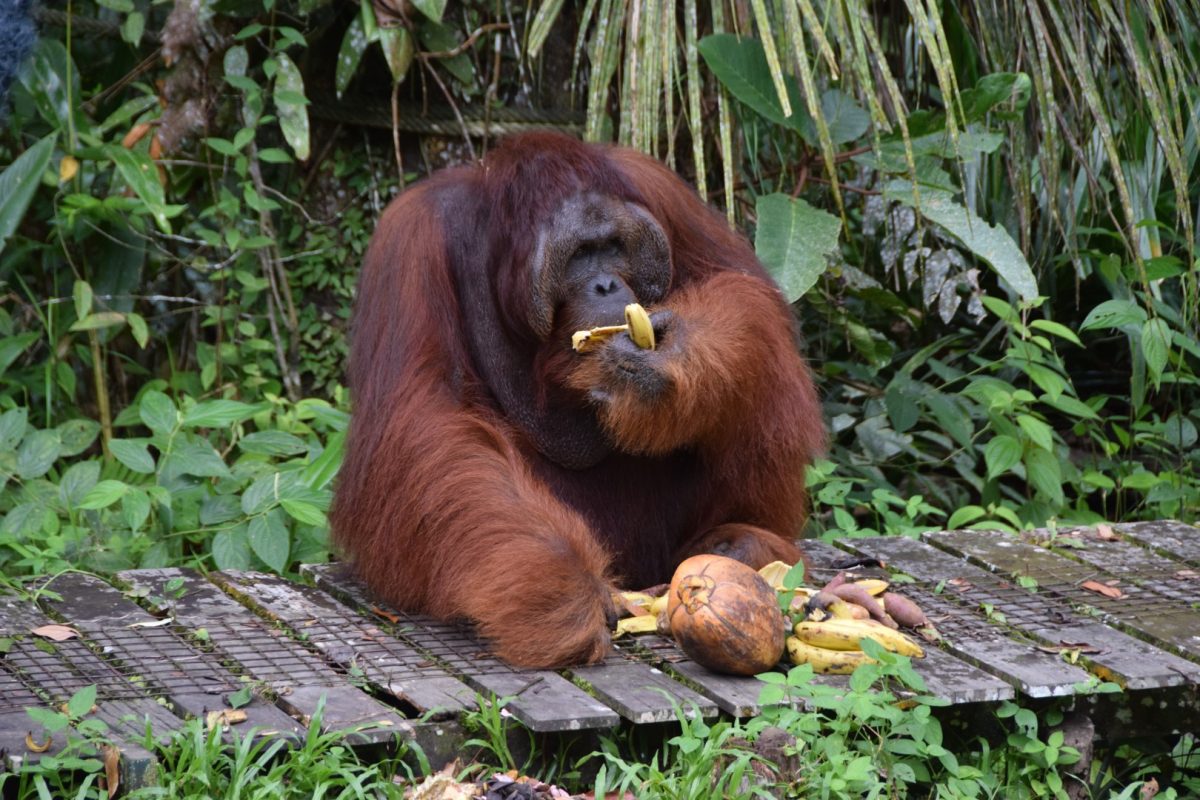 This wildlife centre has a thriving population of healthy adolescent and young adult semi-wild orangutans. They spend most of their time freely roaming the forest, but are trained to get back to the centre during feeding times, where they will be able to get a tasty meal from the caretakers. Though they have been conditioned to get back to the centre during feeding time, they may not appear to get that 'free' meal during the forest fruiting season.
PROBOSCIS MONKEYS
The bizarre-looking proboscis monkey (Nasalis lavartus) – also popularly known as orang Belanda, monyet Belanda, or Rasong to the local people – is a totally protected animal in Sarawak, a species endemic to Borneo. At present, there are only five recorded sites in Sarawak where proboscis monkeys can be found, namely Bako National Park, Samunsam Wildlife Sanctuary, Maludam National Park, Kuching Wetland National Park, and the Kuala Lawas Forest Reserve. Proboscis monkeys at Bako have now become an icon of the park and visitors are now well-managed to ensure the animals' viability and the protection of a healthy habitat.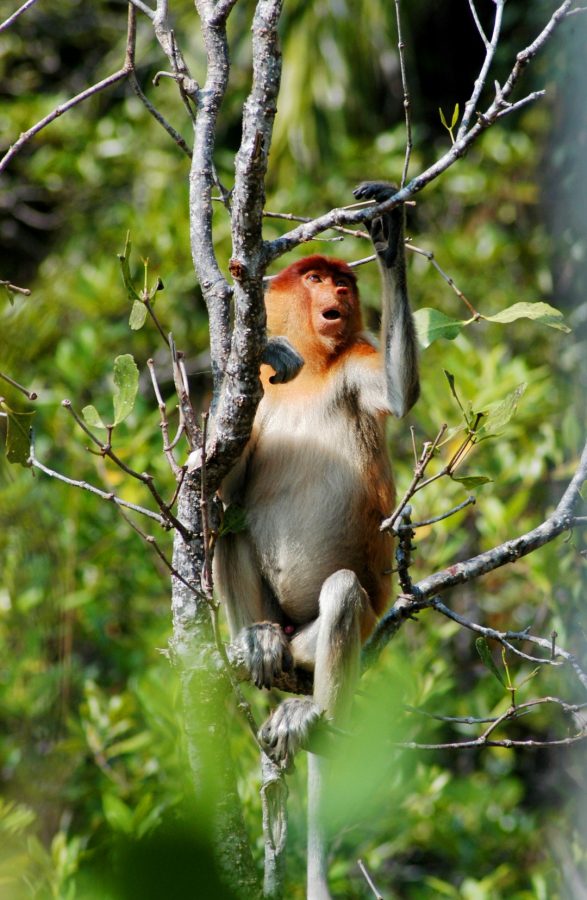 As an aside, the local nicknames for the proboscis monkey – orang Belanda, monyet Belanda – translate into 'Dutchman' and 'Dutch monkey,' respectively, monikers which arose during the time of Dutch colonisation, as locals seemingly found that the foreign arrivals – with their bulbous noses and large bellies – bore a passing resemblance to the native monkeys.
THE LEGENDARY GIANT CROCODILES
Bujang Senang, a name which could strike terror in the heart of many by the mere mention of it, belonged to a notorious white-back, 20-foot-long crocodile which inhabited Batang Lupar River in Sarawak. The reptile terrorised the locals for the longest time in Sarawak, and was killed in a massive crocodile hunt after it devoured a young Iban woman named Dayang Bayang at Pelaban River, a tributary of the Batang Lupar River, in May 1992.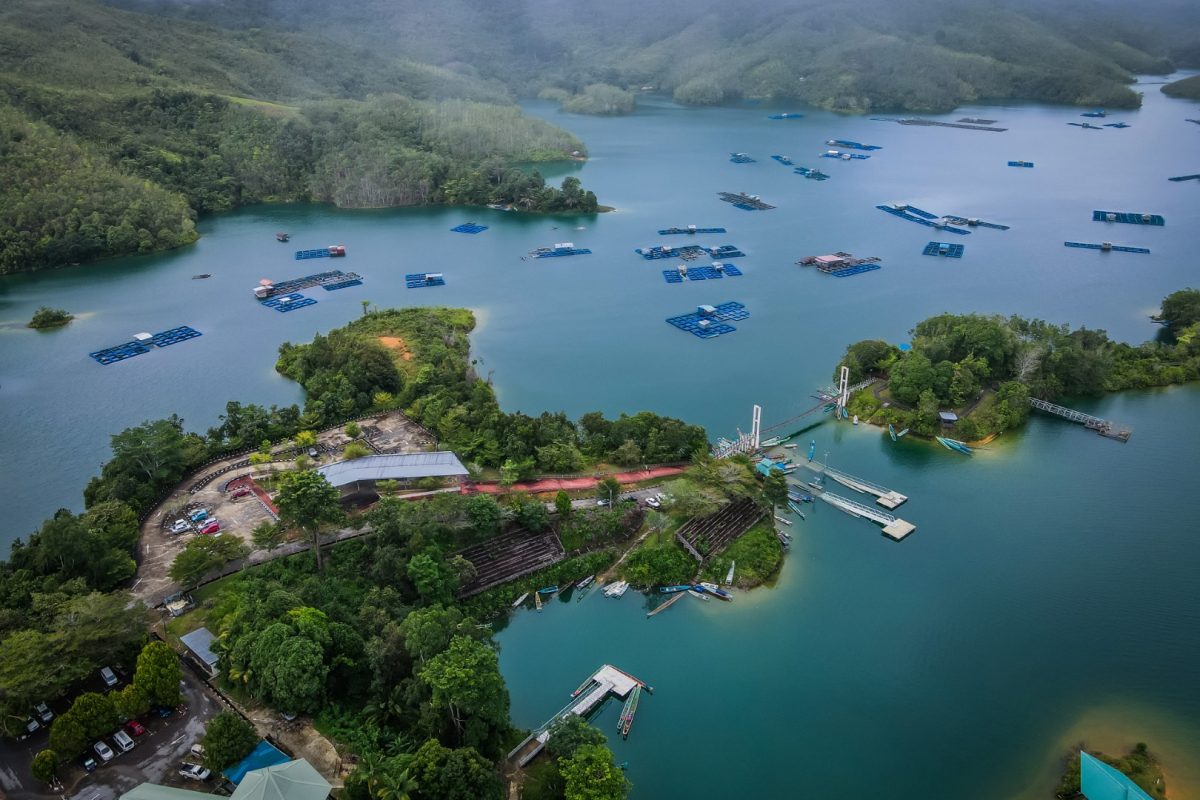 According to Iban legends and mythologies, Bujang Senang was originally a warrior and headhunter called Simalungun who transformed into a killing beast to avenge the death of his wife. (Bujang Senang's skull is currently exhibited at Jong's Crocodile Farm in Siburan, Kuching.) Bujang Senang, which received a somewhat legendary status in Malaysia, is not the only well-known deadly beast in Sarawak's history. There are other notorious crocodiles, all with bujang at the front of their names: Bujang Samarahan, Bujang Tisak, Bujang Belawai, Bujang Subis, and Bujang Seblak.
The colloquial name bujang means someone who is a champion, a great person, and it is a sign of respect to call a man bujang. So, the wild reptiles are called bujang as a sign of respect… or perhaps a bit of fear, too!
This article contributed by Jamie Bush
Unless otherwise noted, images are provided courtesy of Sarawak Tourism.
---
"ExpatGo welcomes and encourages comments, input, and divergent opinions. However, we kindly request that you use suitable language in your comments, and refrain from any sort of personal attack, hate speech, or disparaging rhetoric. Comments not in line with this are subject to removal from the site. "
Comments