Despite some eroding credibility in recent years, the Michelin Guide still carries a lot of clout in the global dining scene – and 97 Malaysian restaurants finally get their well-earned recognition!
With 97 entries, the Michelin Guide Kuala Lumpur and Penang 2023 represents the very first Michelin selection of restaurants in Malaysia – and some would say well overdue! Four restaurants have been recognised with one Michelin star for their high-quality cooking, and 32 establishments received a Bib Gourmand for offering good food at moderate prices. The balance are listed as a Michelin-selected dining guide.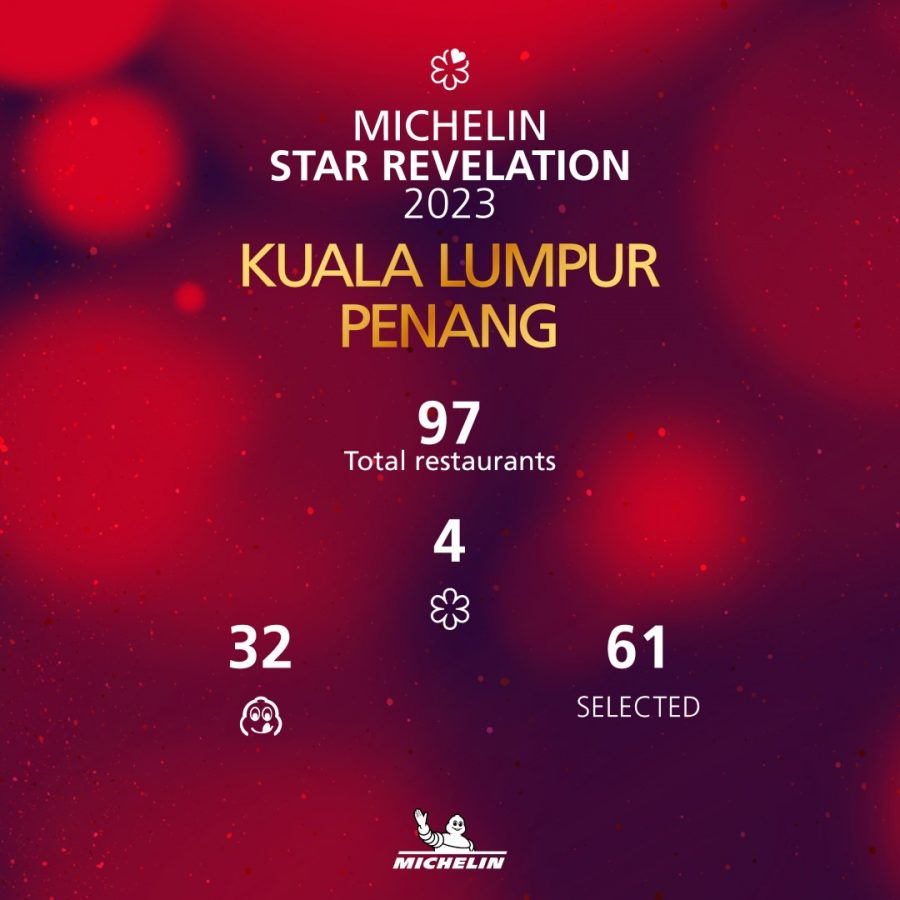 Among the 97 restaurants listed, one Michelin star is awarded to two restaurants in Kuala Lumpur: Dewakan, a restaurant presenting modern Malaysian dishes honouring provenance by using local and indigenous produce, and DC. by Darren Chin for French classics with emphasis on regional live seafood and local produce.
The two restaurants awarded one Michelin star in Penang are: Auntie Gaik Lean's Old School Eatery, serving Peranakan cuisine made from Chef Auntie Gaik's secret recipes and quality produce; and Au Jardin, for sophisticated European fare with subtle local twists.
"Our first selection in Malaysia highlights the diversity of cuisine on offer in Kuala Lumpur and Penang, reflecting the uniqueness of the country's multi-ethnic culture in gastronomy." said Gwendal Poullennec, International Director of the Michelin Guide.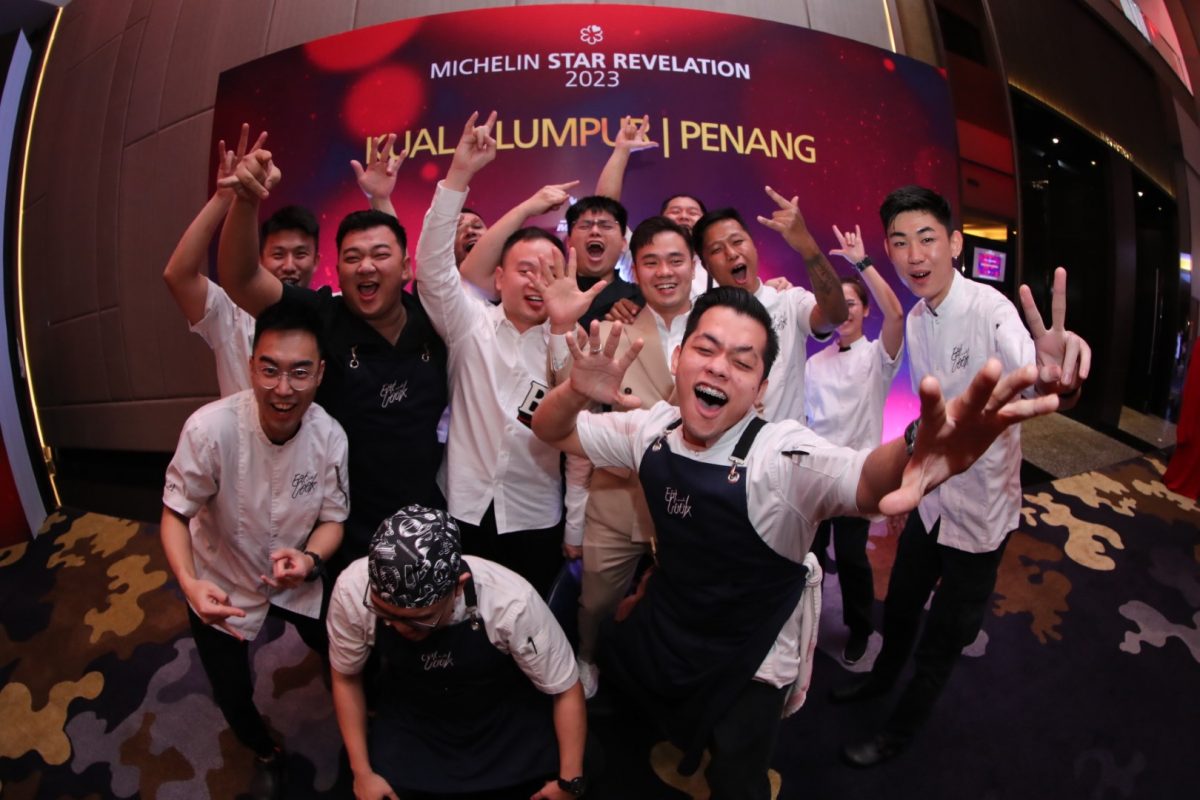 WHAT DO THESE RECOGNITIONS MEAN?
Though the Michelin Guide has at times been the subject of criticism, with accusations of bias, questionable credibility, and elitism among the more frequent charges levelled, many chefs still strive for that coveted star. While the four restaurants selected in Malaysia were doing just fine before being awarded a star, for some restaurants, the Michelin star can be a real game-changer.
Here in Malaysia, we'd wager that most diners will find plenty of value in perusing the Bib Gourmand selections, with their focus more on good food delivered at a good price. That said, we've eaten previously at three of the four newly anointed Michelin-starred restaurants and can attest to their high standards and fabulous cuisine. The recognition they got from the Michelin Guide was well-earned.
But what are these stars all about, and what is a 'Bib Gourmand' anyway?
Michelin awards stars based on the quality of a restaurant's food, which is in turn based on five criteria: quality of the ingredients used, mastery of flavour and cooking techniques, the personality of the chef in his cuisine, value for money, and consistency between visits. Zero to three stars are awarded. The stars are used to evaluate only the cooking, not the service, décor, or ambiance. (A separate symbol, a crossed fork and spoon icon, is used to gauge a restaurant's Comfort and Quality, and these are awarded on a one to five range.)
Stars are awarded to restaurants, not chefs, although colloquially, we often see chef bios touting them as "Michelin-starred chefs."
Here's how the awards break down:
One star, according to Michelin, means "High-quality cooking, worth a stop."
Two stars, meanwhile, mean "Excellent cooking, worth a detour."
The highly coveted three stars, finally, mean "Exceptional cuisine, worth a special journey."
As far as the Bib Gourmand goes, this designation is not quite a star, but most definitely not a consolation prize, as savvy diners will already know. Named after Bibendum, the friendly Michelin Man and the official company mascot for the Michelin Group, this is a well-esteemed rating that recognises establishments that serve good food at moderate prices.
As Michelin Guide inspectors travel and taste their way through fine dining establishments around the globe, they are also constantly on the lookout for restaurants that offer high-quality food at wallet-friendly prices. These accumulated observations resulted in the creation of a separate rating category to recognise such restaurants.
Malaysia definitely has a lot of value-for-money places to eat, and the top tier of these has been singled out for Bib Gourmand recognition in the new Michelin Guide for Kuala Lumpur and Penang.
A FULL OVERVIEW OF MALAYSIA'S MICHELIN-AWARDED RESTAURANTS
ONE MICHELIN STAR: KUALA LUMPUR & PENANG
DC. by Darren Chin (Kuala Lumpur) receives one Michelin star for their four- to seven-course menus, as well as one for vegetarians. Their dishes range from classic French to novel creations with Japanese influences cooked with exquisite skill.
Dewakan (Kuala Lumpur) is awarded one Michelin star for its prix fixe tasting menu that is truly Malaysian in every sense. Fermented or dry-aged items made in-house are widely used, alongside with seasonal fruits and herbs.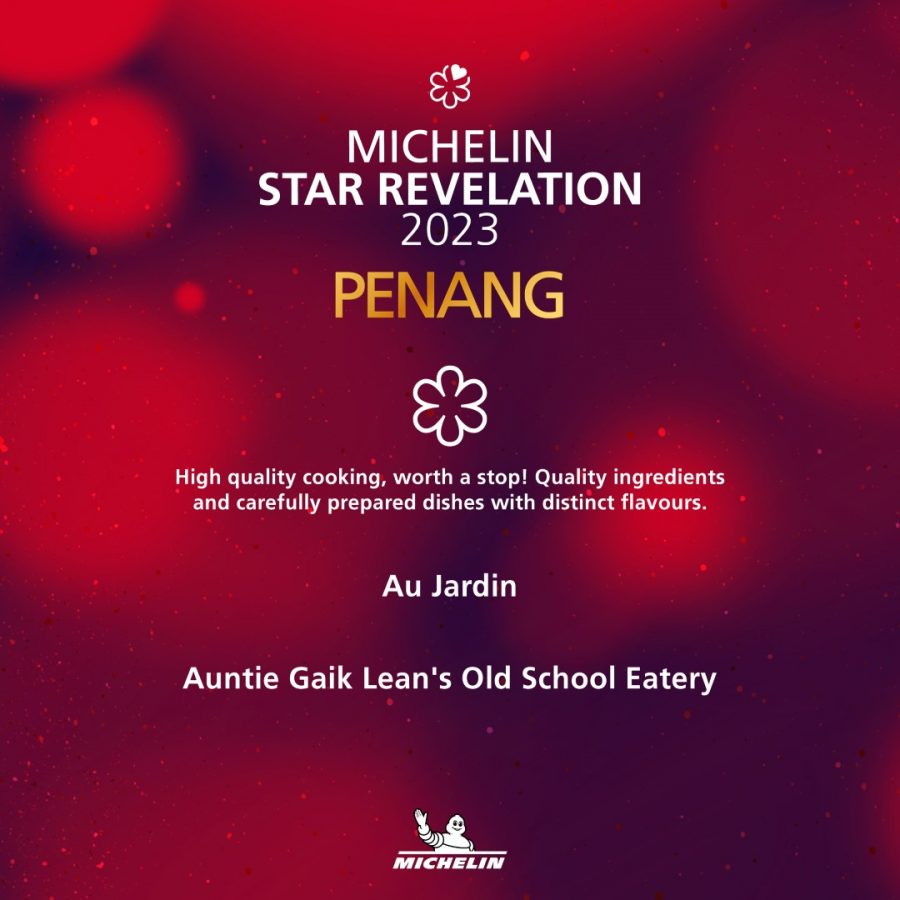 Au Jardin (Penang) is awarded for their monthly-changing menu showcasing sophisticated European fare with subtle local twists. Every item served has been well thought out, from homemade sourdough with tomato butter to the palate cleanser that surprises in a pleasant way.
Auntie Gaik Lean's Old School Eatery (Penang) receives one Michelin star for its Peranakan cuisine crafted from secret recipes using quality produce. Many items here are made from scratch, including the heavenly pie tee and gulai tumis that uses over eight ingredients in the curry paste.
BIB GOURMAND: KUALA LUMPUR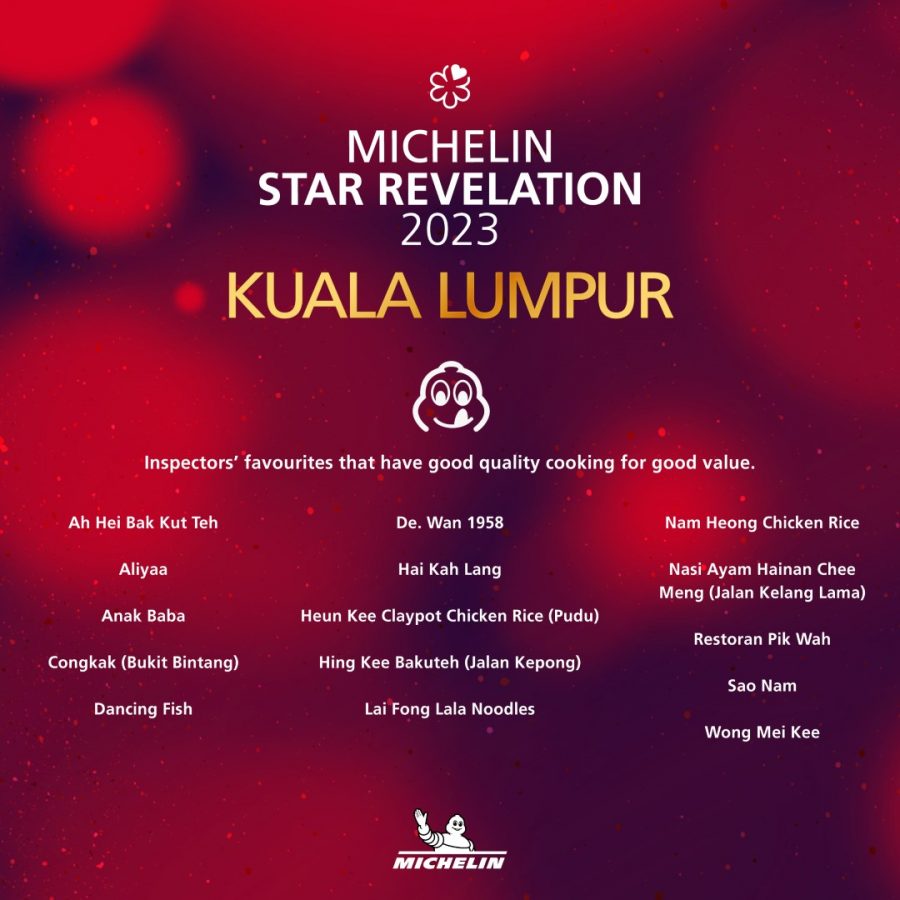 Ah Hei Bak Kut Teh is a 30-year-old shop that makes bak kut teh daily with a blend of 16 Chinese herbs. Diners can choose from spareribs, tripe, intestine, or belly.
Aliyaa is the perfect place to experience Sri Lankan cuisine. Beef, mutton, chicken, seafood, or veggies mingle with distinctive spices to great effect.
Anak Baba gets a nod from the Michelin Guide inspectors for authentic Peranakan cuisine that melds Indo-Malay flavours with Chinese influences. The nasi lemak with ayam goreng earns unanimous praise.
Congkak (Bukit Bintang) nestled in a residential area not far from the city centre, is worth visiting for its classic local flavours. The nasi ambeng platter, popular among locals, offers a multitude of texture and combinations that go nicely with sambal.
Dancing Fish presents classic Malay-Indo flavours that keep gourmets coming back. Needless to say, "Dancing Fish" is the unmissable signature here in which the fish is nicely fried with a tender meat in crunchy batter. The enticing sambal and savoury sauces are also favourites of many for good reasons.
De. Wan 1958 is held dear by its local flavours made by the venerable Chef Wan. Be it pomelo salad with crispy prawn cheeks in kerabu lime dressing, or bakar bakar that comes with a choice of appetising sauces.
Hai Kah Lang ensures only the freshest catch can make it to the table here. A variety of seafood noodles are offered. First-timers should order mixed noodles that includes crab, clams, squid, and shrimp in a briny-sweet fish bone broth.
Heun Kee Claypot Chicken Rice (Pudu) is a no-frills shop serving claypot rice prepared over a charcoal stove. The menu here also offers a variety of soups, vegetables, and sides to enrich meals.
Hing Kee Bakuteh (Jalan Kepong) serves a well-balanced soup with subtle use of herbs and light-sweet flavours. Their dry version with a richer and thicker consistency is equally good.
Lai Fong Lala Noodles was once a humble street stall that now occupies two floors. The shop prides itself of its Lala Bihun (clam noodles). The broth is aromatic with Shaoxing Huadiao (Chinese yellow wine) and ginger while the noodles is best served with prawns.
Nam Heong Chicken Rice has been famous locally for its Hainanese chicken rice for over 80 years. They offer two kinds of chicken: the veggie farm chicken with leaner and firmer flesh, and the free-range with fattier and softer meat.
Nasi Ayam Hainan Chee Meng (Jalan Kelang Lama) has been a staple to the local dining scene since 1965. This family business is now run by the second and third generations. They use local bird to make their signature Hainanese chicken dish.
Restoran Pik Wah is a hidden gem serving authentic Chinese food that includes not only the familiar Cantonese staples, but also rarer items not easily found elsewhere, such as frog and venison. The sizzling claypot dishes are also well known for their quality.
Sao Nam serves their iconic phở bò – rice noodle soup with sliced beef. The broth takes more than 10 hours to make, and it's packed with tons of flavour.
Wong Mei Kee attracts foodies here for their char siew, roast chicken, and siew yok. The latter boasts crackling skin and succulent meat, best enjoyed with the homemade chilli sauce.
BIB GOURMAND: PENANG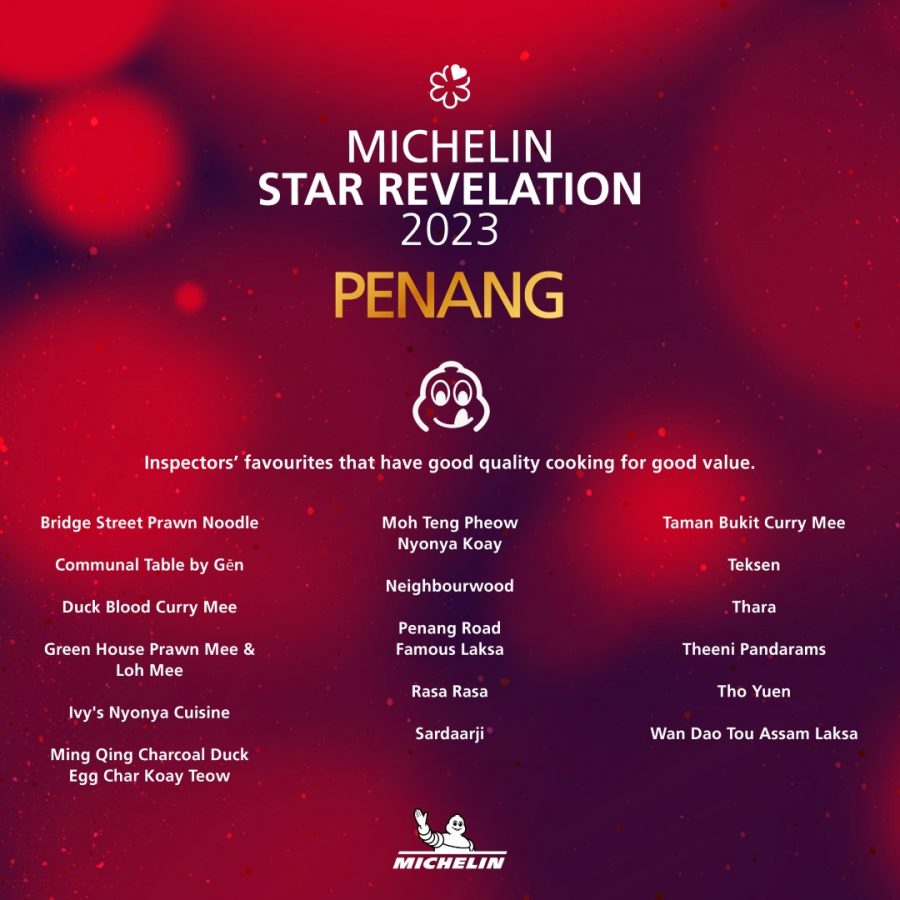 Bridge Street Prawn Noodle is a family run business that started in the '60s and has become a favourite spot for locals to enjoy hearty Hokkien prawn mee. The spicy prawn broth, loaded with exceptional flavours, is now prepared by the third generation.
Communal Table by Gēn presents modern dishes that melds Peranakan and Malaysian flavours made with local ingredients. Aged duck breast in a steamed bun, the signature here, is appraised with crispy skin and a tangy sauce.
Duck Blood Curry Mee's discreet location in a Malaysian-style café hasn't stopped customers from visiting. Their mee in a savoury-sweet white curry base made with coconut milk is phenomenal. It is best enjoyed with roasted pork and their homemade chilli sauce.
Green House Prawn Mee & Loh Mee gets a MICHELIN Bib Gourmand for more than three decades of loyal fandom. The Hokkien prawn mee and loh mee here attracts a crowd thanks to the deep umami in their soups.
Ivy's Nyonya Cuisine is a simple Peranakan restaurant serving set menus of great value. The restaurant is famous for its Kapitan chicken curry that exhibits balanced taste and tender flesh and Joo Hoo Char (stir-fried mixed veggies in chili paste) that packs serious heat.
Ming Qing Charcoal Duck Egg Char Koay Teow celebrates its 20th anniversary in 2022. Regulars queue up here before it opens for the famed noodle dish that is stir fried with duck egg over charcoal fire. The noodles demonstrate exceptional wok hei and are best enjoyed with an extra over-easy egg.
Moh Teng Pheow Nyonya Koay founded in 1933, is no stranger to locals for its authentic kuih. In 2016, the family's second generation opened this spot with al fresco seating behind the factory. Kuih Lapis, Kuih Talam, Ang Ku Kueh, and Nyonya Chang are on offer – all freshly handmade.
Neighbourwood serves European dishes with Asian influences and chargrilled choices. The menu changes regularly but the three dishes meant for sharing always stay: Half roast chicken, Berkshire pork loin, and Fish en papillote.
Penang Road Famous Laksa earned its fame with the sardine broth that exudes exceptional depth and flavours. The char kuey teow with duck egg is unmissable, too.
Rasa Rasa's Nyonya combo sets guarantee a fulfilling dining experience. The pandan nasi lemak is plated nicely on banana leaf served with a choice of toppings and homemade sambal.
Sardaarji presents Northern Indian dishes at its store in Little India. Must try dishes are: Amritsari made with red snapper, black lentil soup, and desserts gulab jamun just to name a few. Live performances of Indian instruments add to the experience.
Taman Bukit Curry Mee gets a Michelin Bib Gourmand for its curry mee. For more than 40 years, this stall has prided itself for the curry mee soup that is made from coconut milk and spicy curry paste. Gourmets can never get enough of their half-cooked cockles loaded with briny sweet taste and juice.
Teksen is a no-frills joint that has won the hearts of many with its traditional Cantonese fare and fusion creations with a local twist. A long queue at peak hours waits to sample the deep-fried homemade tofu, as well as dishes seasoned with assam tumis or sambal.
Thara is helmed by a native Thai kitchen team, and the food here is authentic and prepared with the freshest ingredients. The tom yum seafood soup and appetiser Miang Kam are especially good.
Theeni Pandarams offers generous portions with their biryani on banana leaf that gives good flavour and texture. Fish dishes served in claypot is not to be missed, with choices including stingray, shark, and king mackerel.
Tho Yuen gets a Bib Gourmand nod for its Cantonese cuisine. Standing firm for eight decades, this teahouse still makes their dim sum the traditional way – every morning at 3:30am. Apart from dim sum, fried noodles, bee hoon, and fish balls are also good to try.
Wan Dao Tou Assam Laksa's secret family recipe of over 50 years is passed down to the third-generation owner. The famous laksa soup strikes a fine balance between sweetness, sourness, and spiciness.
Additionally, these restaurants were selected for mention by the Michelin Guide, as well: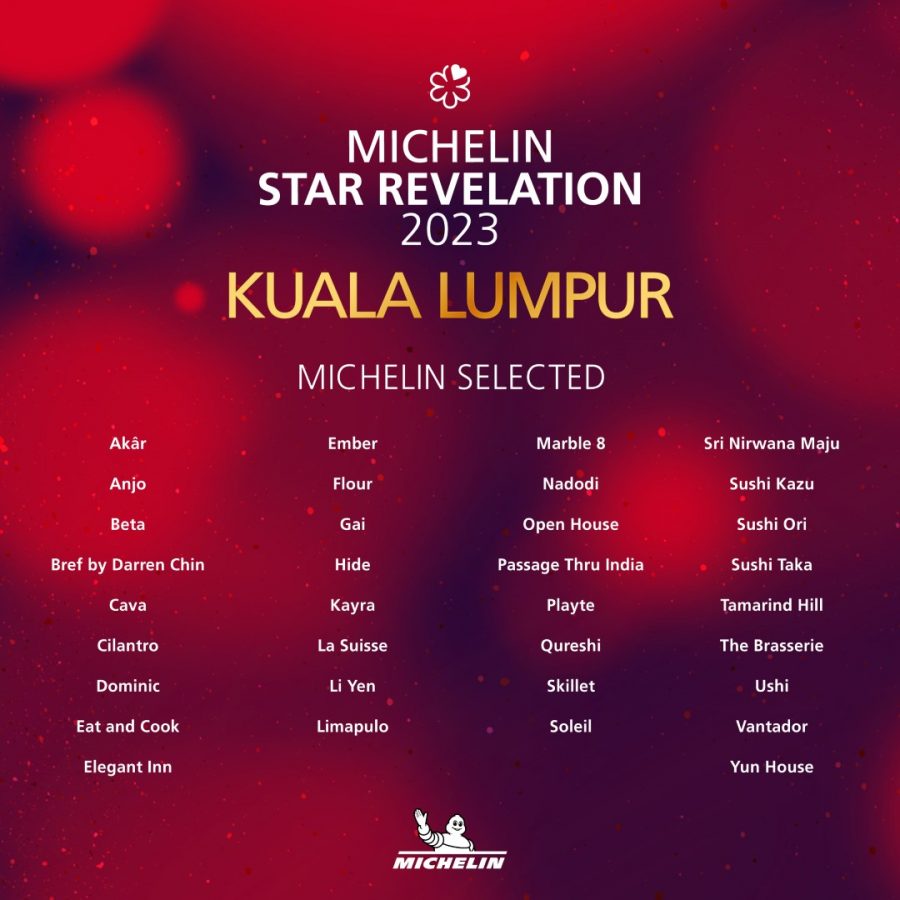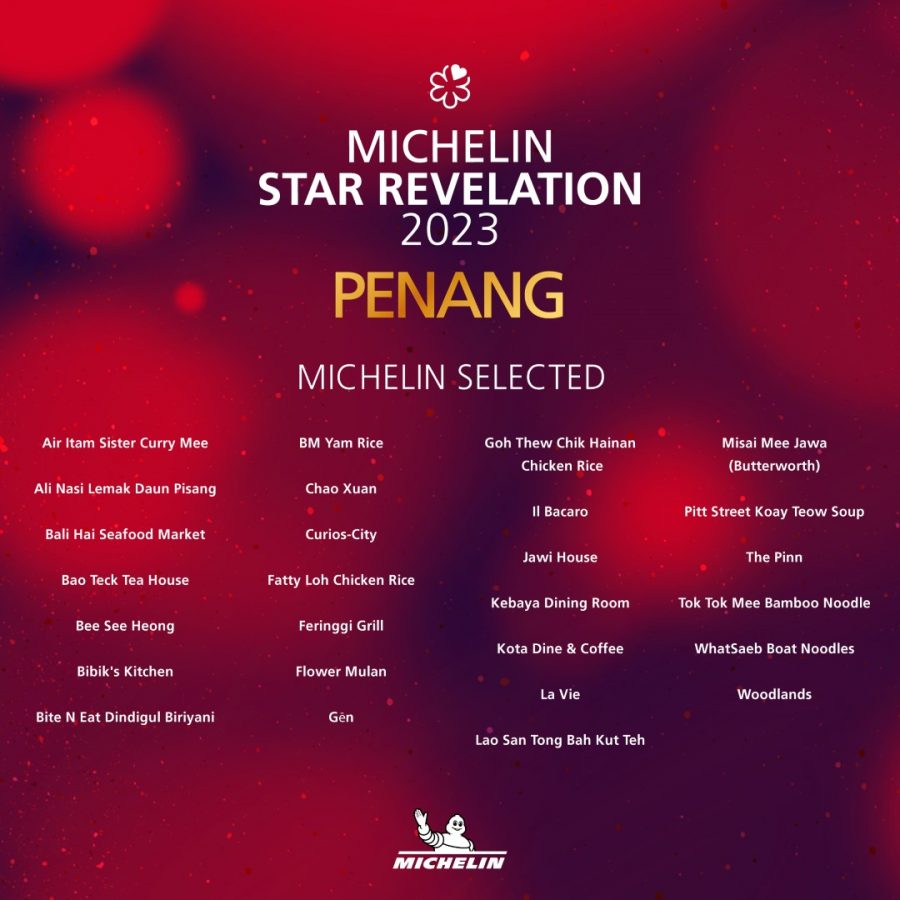 The full selection of the Michelin Guide Kuala Lumpur and Penang 2023 will be available free of charge on the Michelin Guide website and app. The restaurants will join the Guide's selection of hotels, which features the most unique and exciting places to stay in Malaysia and throughout the world. The app is available for both iOS and Android.
Scan the QR code to download the app.
---
All images and infographics courtesy of Michelin Guide Asia.
---
"ExpatGo welcomes and encourages comments, input, and divergent opinions. However, we kindly request that you use suitable language in your comments, and refrain from any sort of personal attack, hate speech, or disparaging rhetoric. Comments not in line with this are subject to removal from the site. "
Comments