A landslide in Batang Kali turned an overnight camping trip into a deadly tragedy impacting dozens of families.
A massive landslide in Batang Kali in northern Selangor occurred in the early hours of Friday, December 16 (2:42am), crashing down a hillside into an organic farm with camping facilities, the state fire and rescue department said.
Teh Lynn Xuan, 22, told reporters that she was camping with around 40 others when the landslide hit their campsite. She said one of her brothers died, and another is in the hospital.
"I heard a loud sound like thunder, but it was the rocks falling," she said in an interview with Berita Haria. "We felt the tents becoming unstable and soil was falling around us. Luckily, I was able to leave the tent and go to someplace safer. My mother and I managed to crawl out and save ourselves."
Other campers told reporters that they heard loud noises at around 2:45am that sounded like an explosion, with sounds of trees being snapped, and many scrambled to escape from their tents in the dark of night.
A total of 94 people were caught in the immense landslide, according to the fire and rescue department, with about a third of those children according to some reports. In all, 61 people were rescued from the aftermath of the slide.
As of December 19 (afternoon), 24 fatalities have been confirmed, and nine are still missing. As three days have passed since the landslide occurred, authorities are expecting the grim death toll to rise.
District police chief Suffian Abdullah said the dead were all Malaysians, and reports have noted that at least seven of the victims were children.
A DIFFICULT SEARCH
On December 18, ground-penetrating radar (GPR) was deployed at the site of the disaster, but no victims were located.
Selangor Fire and Rescue Department director Datuk Norazam Khamis said the two high-tech devices had helped to narrow down the search areas, but did not yield results on Sunday.
"GPR detected 14 interest points today and we started the digging after the machines mark the sites. It really helps to narrow down the search area," he explained to reporters.
Norazam said that 11 bodies were found using excavators on the first day after the landslide and another three were found using the machines the next day.
"The [victims] were buried 0.9 to 1.5 metres below the soil, we managed to dig out 11 on the first day and three on the second day." He noted that other victims were located visually.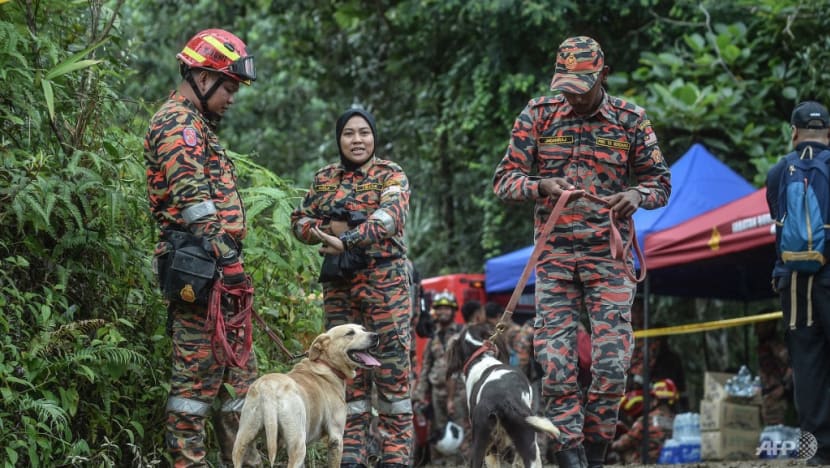 Though landslides occur with some regularity in Malaysia, particularly in the rainy season, this is one of the more disastrous such incidents in memory, perhaps the deadliest since a Penang landslide in 2017 claimed 11 lives.
Of course, the worst landslide in modern Malaysia's history resulted in the collapse of the 14-storey Highland Tower condominium in December 1993, killing 48 people.
THE BLAME GAME?
Shortly after the landslide, certain parties were apparently trying to fix blame, with Local Government Development Minister Nga Kor Ming suggesting the campsite was operating illegally, saying that Father's Organic Farm, where the slide occurred, only had a license for its farming operations, and was not licensed for camping activities. He added that "stern action" would be taken against the operator and any other operator hosting such activities without a valid licence, he said. If found guilty, Nga said, they could face a jail term of up to three years or fined RM50,000.
Nga's statement was derided by some on social media as being both irresponsible and in poor taste, as it was made mere hours after the tragedy, while active search and rescue efforts were ongoing. In any case, his comment didn't stand for even a day before it was pointed out by Selangor authorities that there are no regulations to license or control campsites in the state.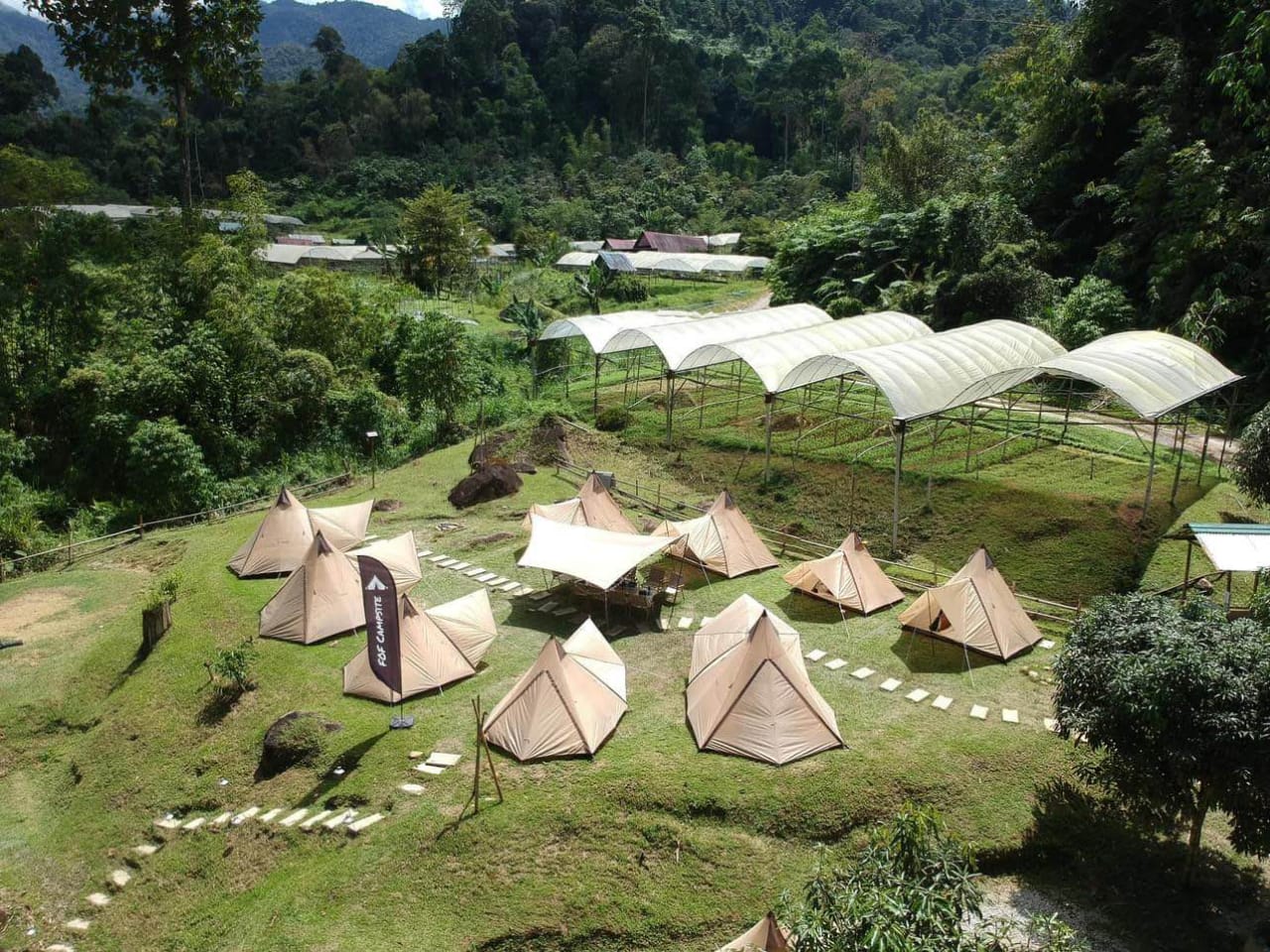 Unfortunately, numerous media outlets were happy to run with Nga's vilifying narrative, repeating the 'unlicensed campsite' phrase and saying the campsite was 'operating without a license' over and over again in articles about the landslide.
However, Selangor's Tourism, Environment, Green Technology and Indigenous Affairs Committee chairman Hee Loy Sian explained that since this is not a permanent structure, there is actually no need to apply for additional licenses to set up campsites.
He pointed out that the location where the tragedy occurred is private land and that the operator had properly obtained a development permit from the local council.
Netizens weighed in, as well, with some saying the campsite operator cannot rightly be blamed as there are no licensing requirements, nor any guidelines. Others said that even if the campsite had one of these non-existent licenses from the state, the landslide still would have occurred.
Some, of course, insist that somebody surely has to be punished, with a few saying that Hee Loy Sian himself should resign, since apparently as the chairman of the committee overseeing tourism in the state, he is somehow personally to blame.
RESCUE DOGS
Stories have also emerged about the K9 tracker teams, with dogs being successfully utilised in search and rescue operations, owing to their exponentially keener sense of smell over their human handlers. Some articles pointed out that dogs – which are far too often maligned, ostracised, and even abused in Malaysia – are proving their value once again in the Batang Kali landslide disaster.
One such dog, an English springer spaniel named Blake, worked so diligently for two days that he finally collapsed from fatigue and exhaustion. He was removed from duty to rest and recuperate, and officials say they will rotate the other dogs on the team to prevent further incidents.
Two pet dogs were also among the missing victims. Toni Wong, from Petaling Jaya, is frantic about her two dogs who were lost while she and her friends were fleeing the landslide on Friday.
"I know that everyone is thinking that saving lives and looking for bodies is more important, but my dogs are my family, too," she said. "We miss them a lot. We want to bring them home. They are equally important to us. They are family, and I have the responsibility to bring them home. I have the responsibility to care for them."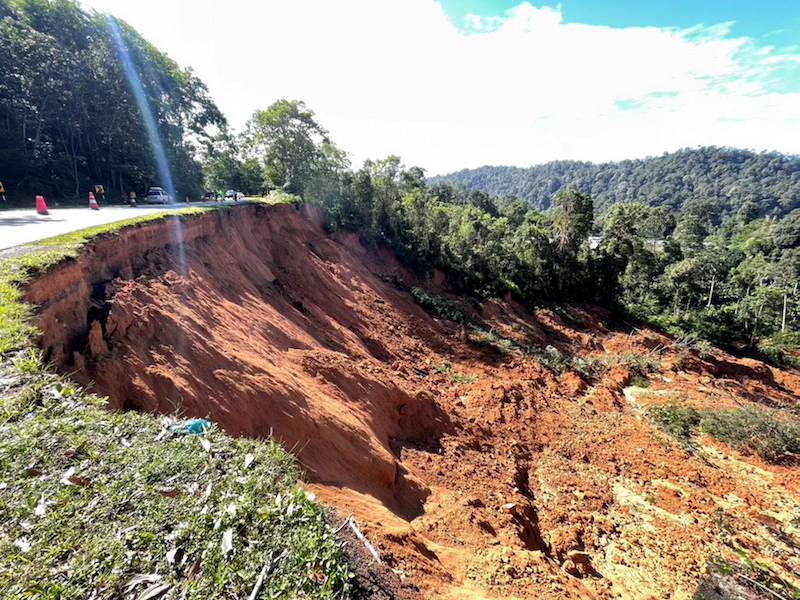 Minister of Natural Resources, Environment and Climate Change Nik Nazmi Nik Ahmad said authorities' initial investigations showed that the landslide at the farm was due to a slope failure involving 450,000 cubic meters of soil.
"This involves an area which is 500 meters in length, 200 meters wide, and 8 meters deep," he told reporters at the landslide site. The crush of soil slid down the slope from a height over over 30 meters.
For some perspective on the scale of this disaster, consider that just one cubic meter of relatively wet soil weighs about 1.5 to 1.6 tonnes. The estimate of 450,000 cubic meters of soil displaced, then, would put the weight of the Batang Kali landslide at close to 700,000 tonnes.
Prime Minister Anwar Ibrahim, after visiting the rescue operations centre near the disaster site, said families of those who perished in the landslide will receive RM10,000.
The families of survivors, meanwhile, will receive RM1,000 each. "We will expedite the assistance," Anwar said.
---
"ExpatGo welcomes and encourages comments, input, and divergent opinions. However, we kindly request that you use suitable language in your comments, and refrain from any sort of personal attack, hate speech, or disparaging rhetoric. Comments not in line with this are subject to removal from the site. "
Comments