Lying silent and foreboding beneath the immense landmass of Borneo island are some of the largest, most extensive, and fascinating cave systems to be found anywhere in Asia.
"This is a very exciting place. Where else on Earth can you find so much unexplored territory? So far as cave exploration is concerned, Borneo is singular. There's no place like it under the earth." – Andy Eavis, Royal Medal Recipient of Royal Geographical Society, UK, who discovered the Sarawak Chamber in 1981
Sarawak in Malaysian Borneo is renowned for its rugged and dense rainforests, but it's also a haven for adventure-seeking explorers. Below the lush green carpet of the oldest rainforests in the world lie some of the planet's most extensive, colossal, and wild cave systems, which have attracted cavers, speleologists, archaeologists, geologists, scientists, and curious visitors alike.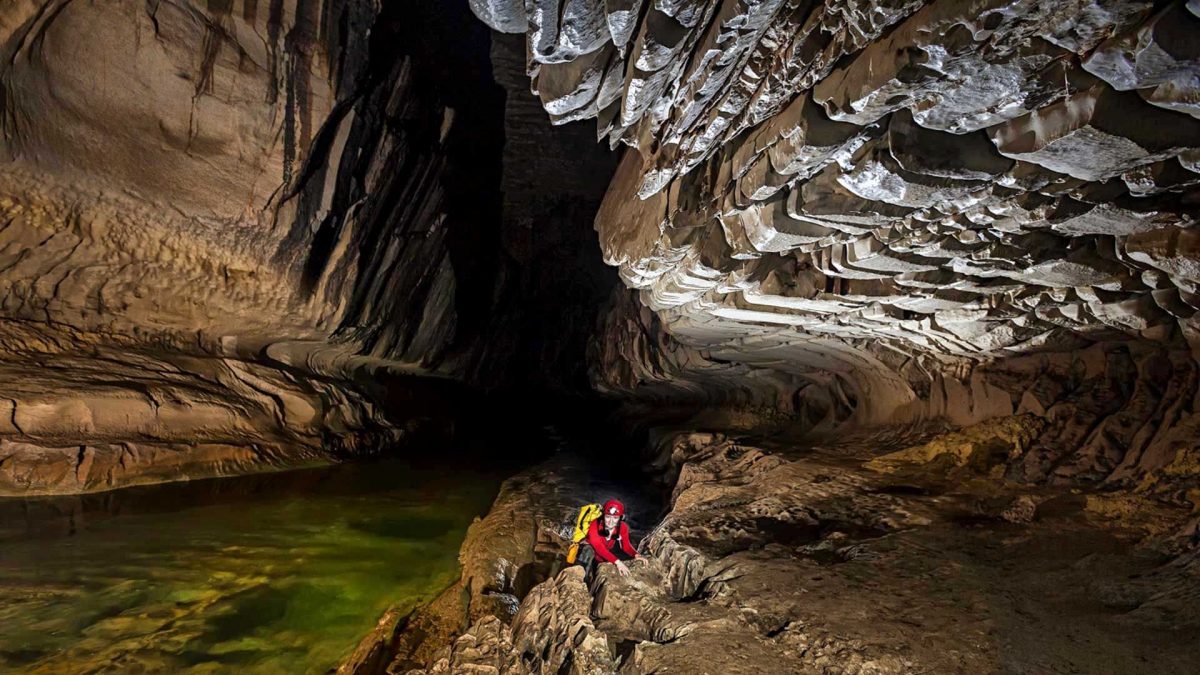 MULU CAVES
Mulu Caves is a series of cave systems situated in Gunung Mulu National Park, located in Northeast Sarawak near Brunei's border. The park, which has been inscribed as a UNESCO World Heritage Site, is home to the largest cave passage on earth, Deer Cave, and a massive cave labyrinth lying under Borneo. The limestone foundation of this region, beneath Malaysia's Gunung Mulu National Park, is riddled with some of the biggest holes, widest tunnels, and most mind-blowing voids anywhere on Earth.
The cave systems are made up of Clearwater Cave System, Benarat Caverns System, Terikan System, Cobra-Bridge-Cloud System, Racer-Easter-Lagangs Cave System, and Nasib Bagus (Good Luck Cave), which houses Sarawak Chamber. Other smaller caves and chambers within the cave systems are Lang Cave, Paku Crossing Cave, Sago Palm Cave, Eureka Chamber, and Mushroom Chamber. The park is also home to spectacular karst features such as The Pinnacles and Garden of Eden.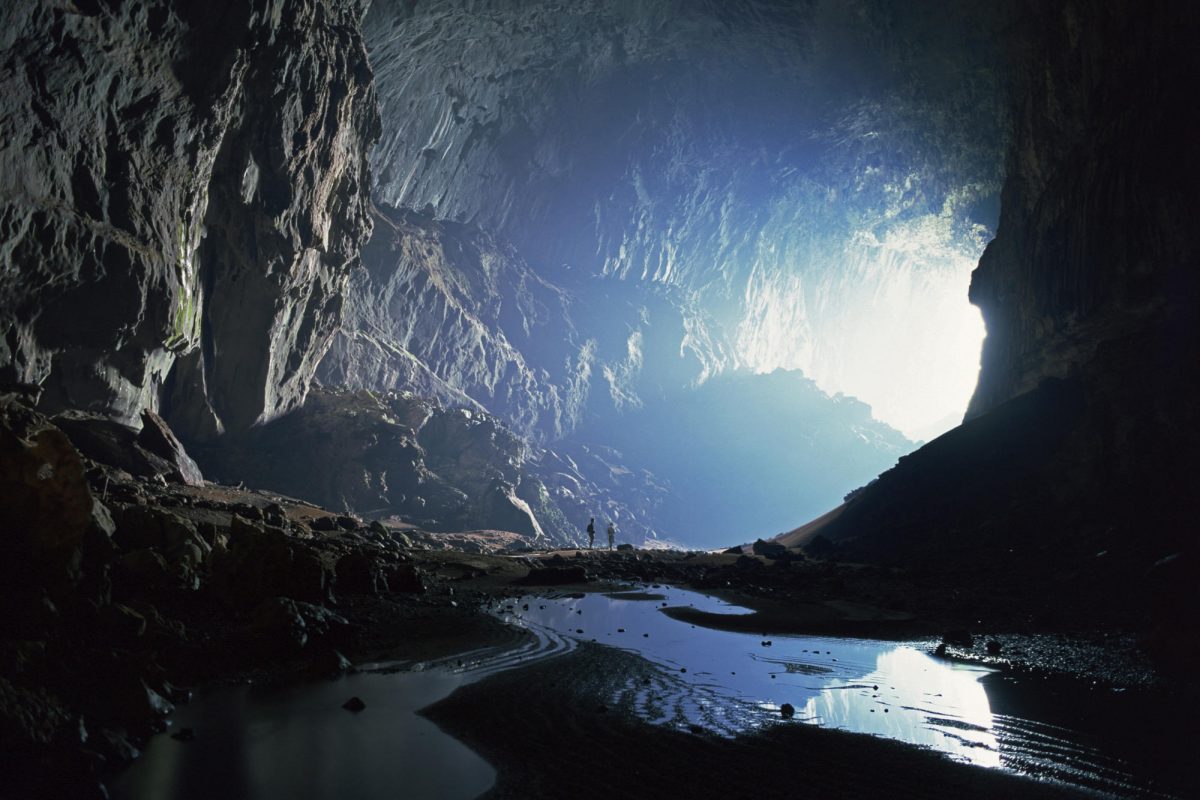 The Clearwater Cave System (Total Length: 236,796 m; Vertical Range: 553.41 m) is believed to be the largest interconnected cave system in the world by volume with eight component caves. They are Clearwater Cave, Lady's Cave, Cleartop Cave, Wind Cave, Drunken Forest, Blackrock Cave, Leopard Cave, and Whiterock Cave. The main cave system of Mulu and the eighth-longest cave in the world, the system lies mainly under the western margins of Gunung Api between the Melinau Gorge and Cave of The Winds.
The Benarat Caverns System (Total Length: 51,039 m; Vertical Range: 450.30 m) lies under the southern and western flanks of Gunung Benarat, north of the Melinau Gorge. Its component caves are Benarat Caverns, Hurricane Hole, Moon Cave, and Cobweb Cave. At 51 km, it is the second-longest cave system in the Gunung Mulu National Park, and is only a short distance from connection with the nearby 32-km Terikan System.
The Terikan Cave System (Total Length: 32,572 m; Vertical Range: 185.25 m) is located at the northern end of Gunung Benarat. The focal point of the system is the resurgence of the Terikan River which drains the whole of the mountain. Its component caves are Terikan Rising, Deception Cave, Menagerie Cave, Terikan West, Terikan East, and Blue Moonlight Bay.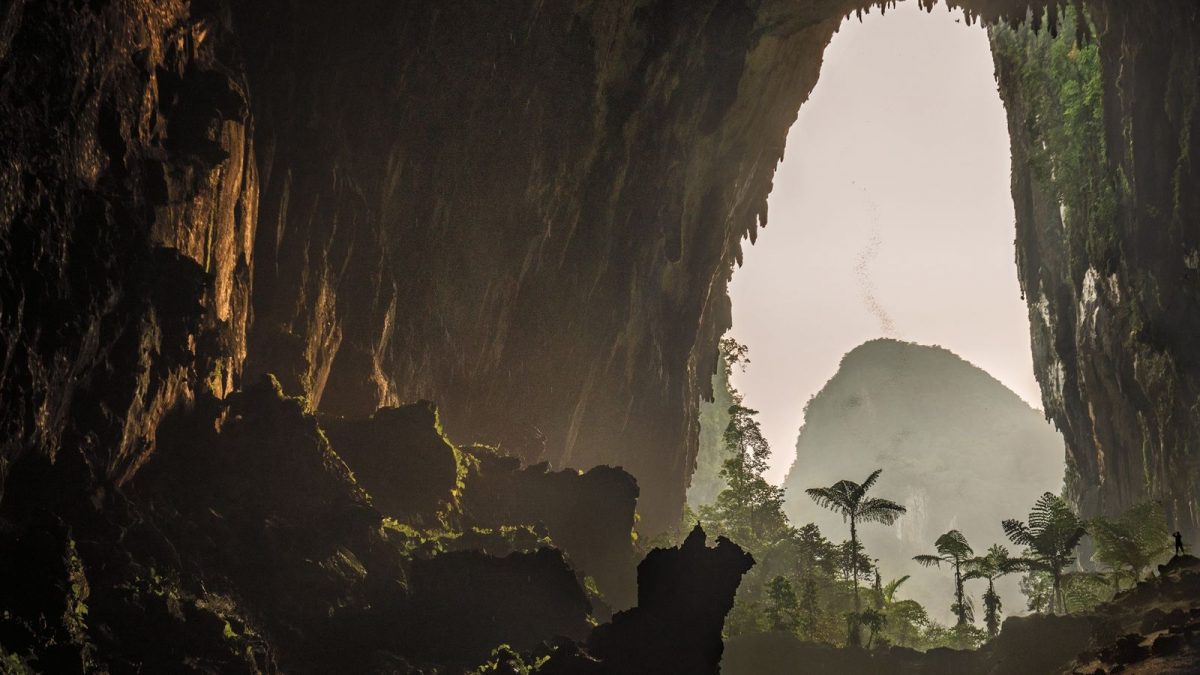 Deer Cave, a show cave which is the largest passage on Earth, was discovered in 1978 during the Royal Geographical Society Expedition to Gunung Mulu National Park. The first cavers to explore the passage, they stated Deer Cave was undoubtedly one of the world's speleological wonders, as their survey showed that the monstrous passage was 174 m wide and 122 m high in one section. It is nowhere less than 90 m wide and high and it passes right through the mountain for a distance of one kilometre.
The Cobra-Bridge-Cloud System (Total Length: 20,632.27 m; Vertical Range: 489.40 m) is the lower end of Mulu's deepest cave system. The expedition is underway and it will be another 14 years until it becomes a completed reality. The component caves are Cobra Cave, Cloud Cave, Bridge Cave, and Train Cave.
Racer-Easter-Lagangs Cave System has been discovered to contain chambers so enormous that a jetliner could fit easily within its walls with plenty of room to spare. The component cave is Racer Cave, named after a snake.
Sarawak Chamber, the largest known cave chamber in the world by area and the second-largest by volume (346.4 million cubic feet) was discovered by Andy Eavis in 1981. Sarawak Chamber is located on the northern side of the Melinau Paku Valley about a 3.5-hour walk from Park HQ. The chamber itself is a part of Nasib Bagus (Good Luck Cave). Nasib Bagus is a resurgence cave for water sinking in the Hidden Valley, and 1.5 km of active stream passage must be traversed before the great chamber is reached. It is possible to visit the chamber as an experienced tourist caver, but these trips are difficult to arrange and are prone to cancellation due to flooding in the entrance passage.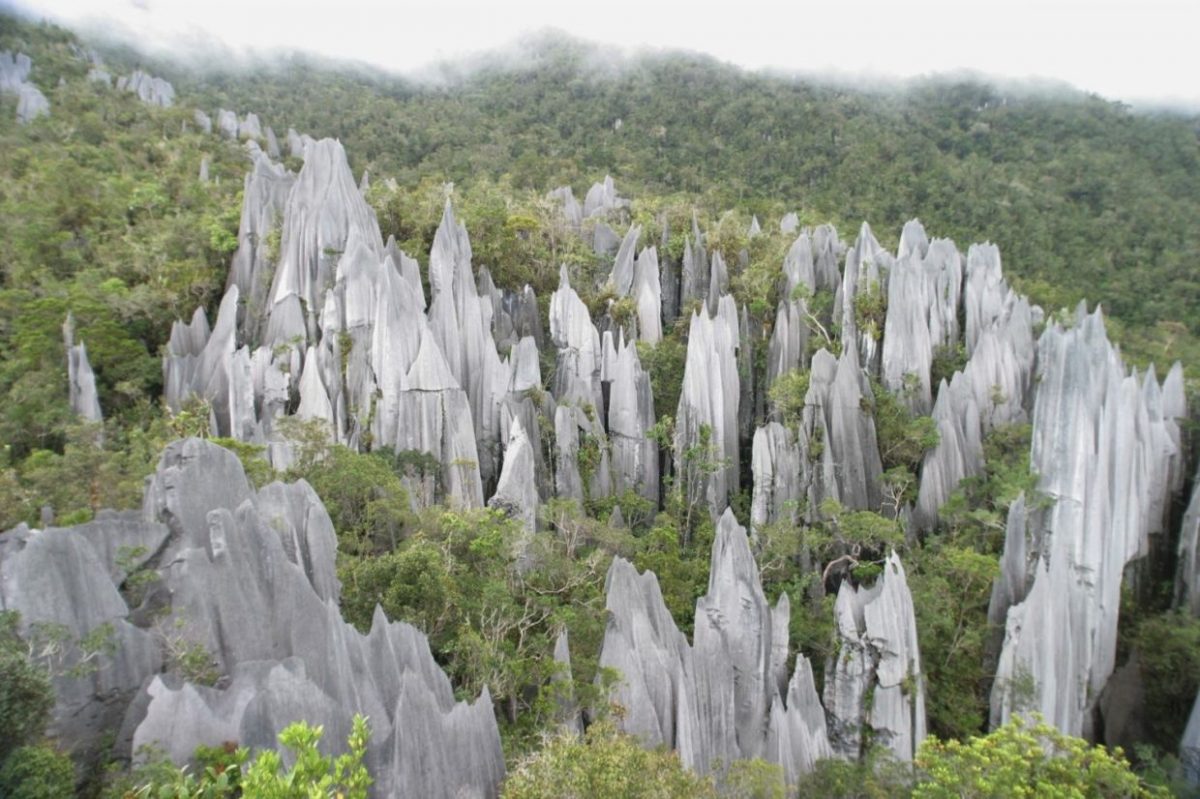 The Pinnacles, located at Gunung Api, are tall, jagged, spectacular limestone formations, some of which tower up to 50 m high with steep trails, rare orchids and pitcher plants. The climb is well worthwhile, though regarded as extreme and not recommended for those who suffer from vertigo or fear of heights.
Lying in the Southern Hills beyond the huge passage of Deer Cave is Garden of Eden, one of the most significant karst features in Gunung Mulu National Park. It is believed to be formed either by an enlarging blind valley intersected with Deer Cave or a 'Mega Doline' which was formed by a collapse into a huge chamber or passage or a bit of both.
NIAH CAVES
Niah Caves, situated in Niah National Park, comprise a series of colossal interconnected caverns and numerous smaller caves, locatedon the northern edge of a limestone mountain named Gunung Subis. It is famed for Sarawak's genesis – the Niah Cave men, which provides evidence of human presence as far back as 60,000 years ago – discovered in the of Paleolithic and Neolithic burial sites.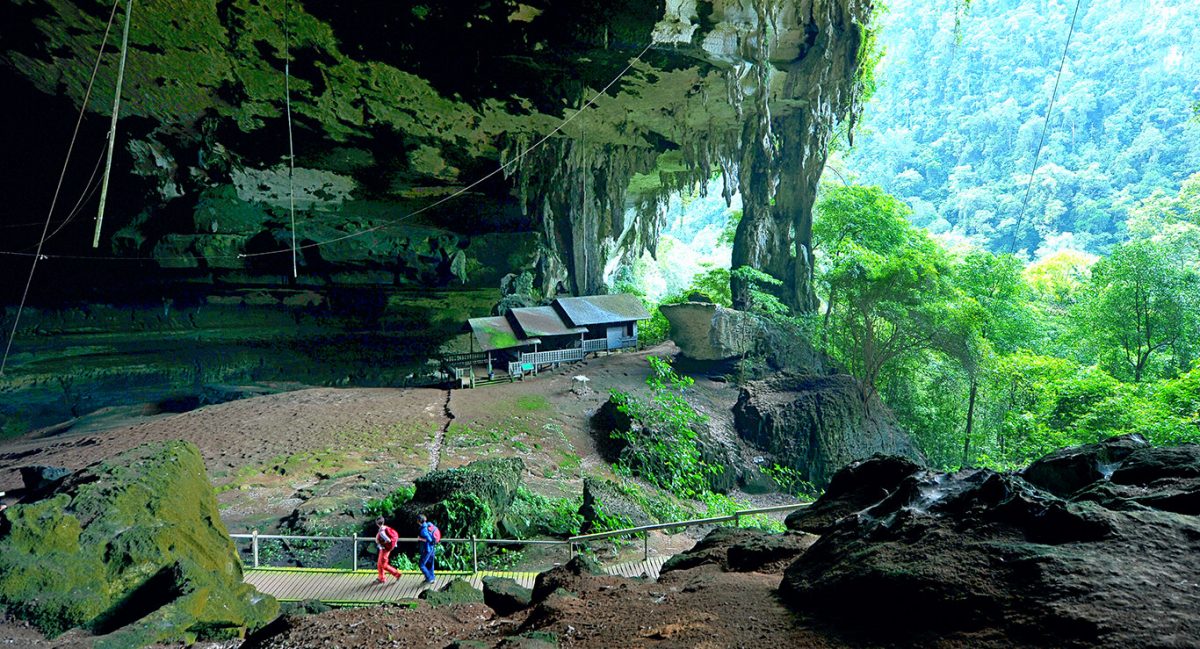 The caves were first described to Westerners in 1864 by Alfred Russel Wallace, the originator, along with Charles Darwin, of the theory of natural selection. Nowadays, it is thriving with the bird's nest industry, where every section of the ceiling in the caves has swiftlets roosting on it. As is privately owned, only the owner has the right to collect the nests. Collection is done half-yearly (usually in January and in June). The collector climbs up hundreds of feet on a single pole to the cave ceiling and scrapes off the nest in flickering candlelight.

FAIRY CAVE
Fairy Cave (also known as Gua Pari) is an impressive show cave near the former gold mining settlement of Bau and about 40 km from Kuching, Sarawak. It is just a few minutes' drive from another show cave, Wind Cave, and most tourists combine both on a half-day trip from Kuching. Access to the cave is via a four-storey concrete staircase which brings visitors to the cave entrance.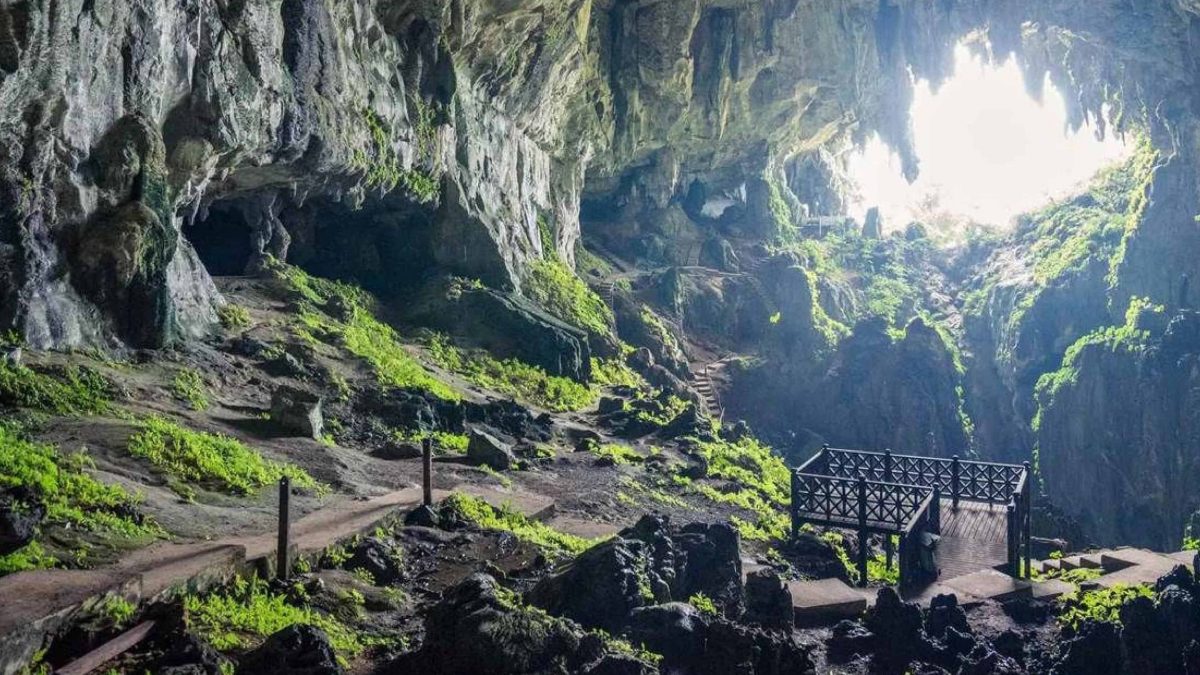 WIND CAVE
The Wind Cave in Bau, Sarawak is believed to have gotten its name from the cooling breeze blowing continuously through the cave. It's a smooth, tubular limestone cave formed during the Jurrassic-Cretaceous period, roughly 60 million years ago. Excavations by early explorers such as Beccari in 1865 have shown that the Wind Cave was inhabited until recent times. Earthenware vessels, charcoal, and pieces of marine and freshwater shells were found. The deep pits within the cave may have been made by gold prospectors in the 1930s.
SILABUR-SITURIB CAVE
Silabur-Siturib Cave is another hidden gem located in Serian, two hours south of Kuching city, the cave has three large interconnected caverns. It has a huge gallery with unique ancient formations that resemble layers of cascading curtains on the walls with openings on the ceiling which allow light rays to enter and disperse its colours on one side of the walls, a spectacular view to behold. The hiking trails outside of the cave will take visitors to the summit. The end of the hike leads to Siturib Cave, a small resurgence cave of one hundred meter long with cool water of knee to waist level, ideal for a refreshing dip after the vigorous hike.
SIREH CAVE
Located in Serian, Sireh Cave is an important archaeological site in southwestern Sarawak. Excavation works which recovered pottery shreds, food debris, animal bones and shellfish indicated the existence of human dwellings as early as 20,000 years ago. The cave was designated as an ancient burial site where human skulls and iron objects believed to have been kept inside the cave about 2,000 years ago. Cremation for dead warriors in the old days was done at the entrance which has left its ceiling blackened with soot. Ancient charcoal drawing which was mostly found at the cave entrance, depicting human and animal motifs were drawn on 36 linear meters of the interior walls. Recently, the cave served as a resting area for bird's nest collectors.
This post contributed by Jamie Bush
---
"ExpatGo welcomes and encourages comments, input, and divergent opinions. However, we kindly request that you use suitable language in your comments, and refrain from any sort of personal attack, hate speech, or disparaging rhetoric. Comments not in line with this are subject to removal from the site. "
Comments