Critics have not failed to notice that despite the whinging about some countries requiring testing for arrivals from China, foreign tourists still aren't freely welcomed by Beijing, either.
China is having itself a right tantrum over the global reaction to its significant Covid surge, a crisis largely of its own making – and one that it's being accused of under-representing.
Beijing on Tuesday, January 3, slammed the decision by an increasing number of countries to require Covid-19 testing from visitors arriving from China, vowing to take 'countermeasures' in response.
Nations such as the US, Japan, the UK, France, Italy, and others announced last week that arrivals from China would have to present a negative test to gain entry. More countries, including South Korea and India, have since implemented similar measures.
"Some countries have taken entry restrictions targeting only Chinese travellers," China's Foreign Ministry spokesperson Mao Ning told reporters.
"This lacks scientific basis and some practices are unacceptable," she added, warning that China could "take countermeasures based on the principle of reciprocity."
IS IT HYPOCRISY?
Last week, Beijing decried the new testing rules as "discriminatory."
This particular statement, as well as the one by Mao Ning, lacks merit, as the measures implemented by all countries making such moves currently apply to anyone travelling from China, regardless of nationality. There is no country that we could find which is specifically targeting Chinese nationals for testing or denial of entry.
Beijing's complaints seem odd given that, throughout the pandemic – and certainly at its height – countries all over the world imposed quarantine, testing, and vaccine requirements on international arrivals based on the situation where the traveller was coming from. Many shut their borders outright.
It's also worth pointing out that a big part of many countries' decision to err on the side of caution comes down to the fact that China is not being honest or forthcoming about the scale of its alarming Covid outbreak, which began in early December. Beijing has been heavily criticised for understating the severity of its ongoing surge and for changing the guidelines under which it counts Covid deaths.
According to The BMJ, a professional UK medical journal, in an article published on January 3, "China has effectively stopped counting covid cases and deaths, abandoning mass testing and adopting new criteria for counting deaths that will exclude most fatalities from being reported."
The report went on to note, "The last briefing reported zero Covid deaths across China on December 23 and on each of the previous three days, even as foreign media visited overbooked funeral homes and videos shared online in China showed hospital corridors packed with patients."
Critics have lambasted these figures, with one calling them "absurd in the extreme."
The BMJ article went on to paint a far more sobering picture, reporting, "China's official death toll has risen by just six deaths since 'zero-Covid' policies were dropped on December 7, standing at 5,241 for the whole pandemic. Modelling by the UK health analytics firm Airfinity [in late December] estimated that there had been 110,000 deaths from Covid-19 in China since the beginning of December and that 11,000 people a day were dying from the virus."
The disparity between the modelled numbers and the officially reported numbers could hardly be more stark. Even if the daily death toll the modelling suggests was off by an order of magnitude (thus, 1,100 deaths a day rather than 11,000), that still makes the reported figure of of six total fatalities in nearly a month exceptionally hard to accept. It's this lack of honest, transparent data that is fuelling serious concern.
CHINA ACCUSED OF DOWNPLAYING ITS COVID REALITY
Clearly, the World Health Organization (WHO) feels similarly, as they recently took Beijing to task quite publicly, accusing China's central government of 'under-representing' the severity of its Covid outbreak and criticized its 'narrow' definition of what constitutes a Covid death, as top global health officials urge Beijing to share more data about the explosive spread in the world's most populous country.
"We continue to ask China for more rapid, regular, reliable data on hospitalisations and deaths, as well as more comprehensive, real-time viral sequencing," WHO Director General Tedros Adhanom Ghebreyesus said at a media briefing in Geneva Wednesday.
"WHO is concerned about the risk to life in China and has reiterated the importance of vaccination, including booster doses, to protect against hospitalization, severe disease, and death," he said.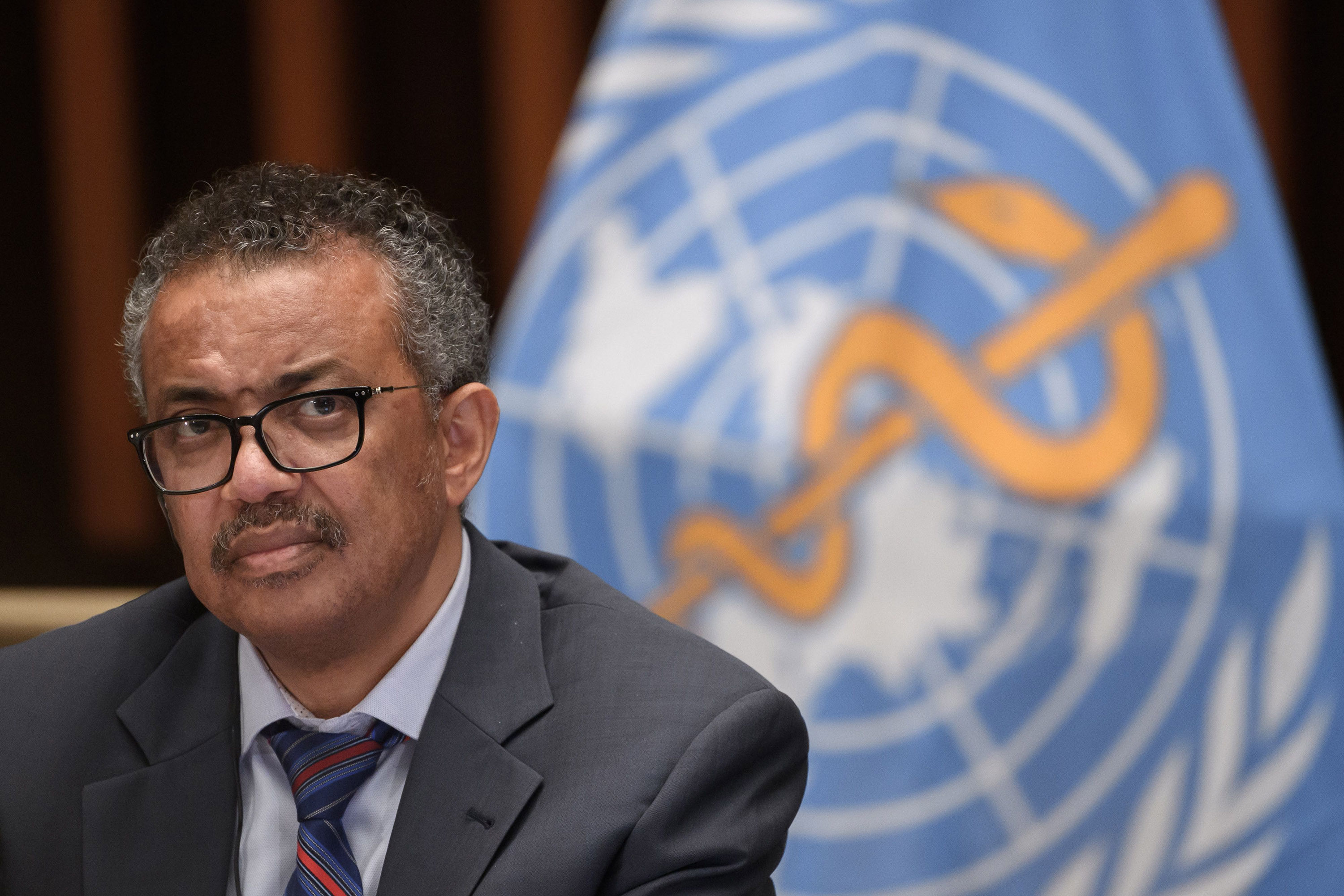 Speaking in more detail, WHO Executive Director for Health Emergencies Mike Ryan said the current numbers released by China "under-represent the true impact of the disease" in terms of hospital and ICU admissions, as well as deaths.
WHO officials have grappled with China's tight control of data access throughout the pandemic. Now, they have become increasingly vocal in their calls for reliable information as a major outbreak rips across China's urban centres in the wake of an abrupt relaxation of disease controls last month as Beijing suddenly abandoned its zero-Covid strategy.
The situation on the ground is, by all accounts, far worse than anything being officially reported by China's government.
In Shanghai, for example, Dr Chen Erzhen, vice president at Ruijin Hospital and a member of Shanghai's Covid-19 expert advisory panel said that 70% of the megacity's population is believed to be infected.
In an interview with Channel News Asia, Dr Chen stated that his Shanghai hospital alone was seeing 1,600 emergency admissions every day – double the number prior to restrictions being lifted – with 80% of them Covid-19 patients.
"More than 100 ambulances arrive at the hospital every day," he was quoted as saying, adding that around half of emergency admissions were vulnerable people aged over 65.
At Tongren Hospital in downtown Shanghai, meanwhile, AFP reporters saw patients receiving emergency medical attention outside the entrance of the overcrowded facility on Tuesday.
Inside, the hospital's corridors overflowed with dozens of patients lying on beds crammed together, hooked up to IV drips. Some patients wore oxygen masks attached to bedside canisters.
Beijing, meanwhile, says six people have died nationwide from Covid-19 in the three-plus weeks since restrictions were lifted.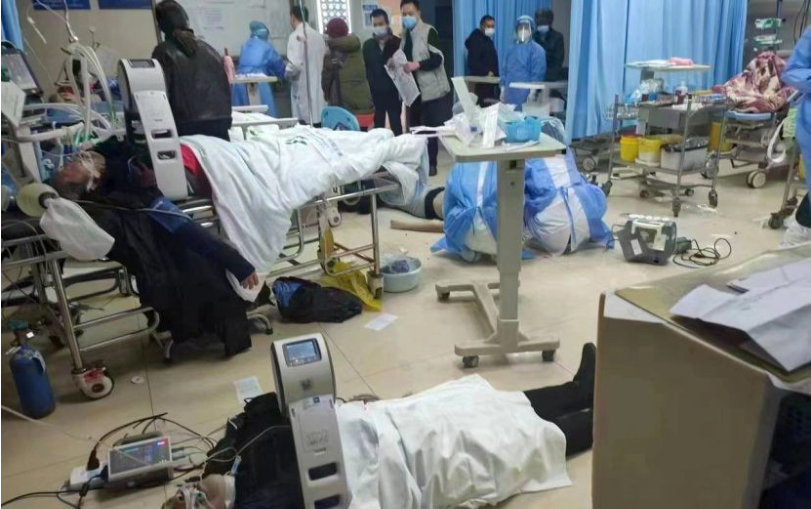 2023 OFF TO A GRIM START FOR CHINA
Across China's major cities, the outbreak has overwhelmed hospitals and crematoriums, triggered shortages of basic medicines, and sparked fears of an even more difficult period ahead as public health experts warn of a spread to rural areas – which are less equipped to deal with the challenge – during the upcoming Lunar New Year.
According to reporting from CNN, the massive surge in cases in a country of 1.4 billion has also raised global concerns about the potential emergence of new variants – and of China's frustratingly opaque levels of monitoring and sharing data. A number of economies have implemented Covid testing requirements for travellers from China, citing a dearth of data on strains circulating there.
On January 4, the European Union said that it 'strongly encouraged' its member states to introduce a requirement for a negative Covid test for passengers travelling from China to the EU, according to a statement released by the Swedish presidency of the bloc.
The WHO's Tedros said Wednesday it was understandable that some countries were taking these steps, "with circulation in China so high and comprehensive data not forthcoming," he said.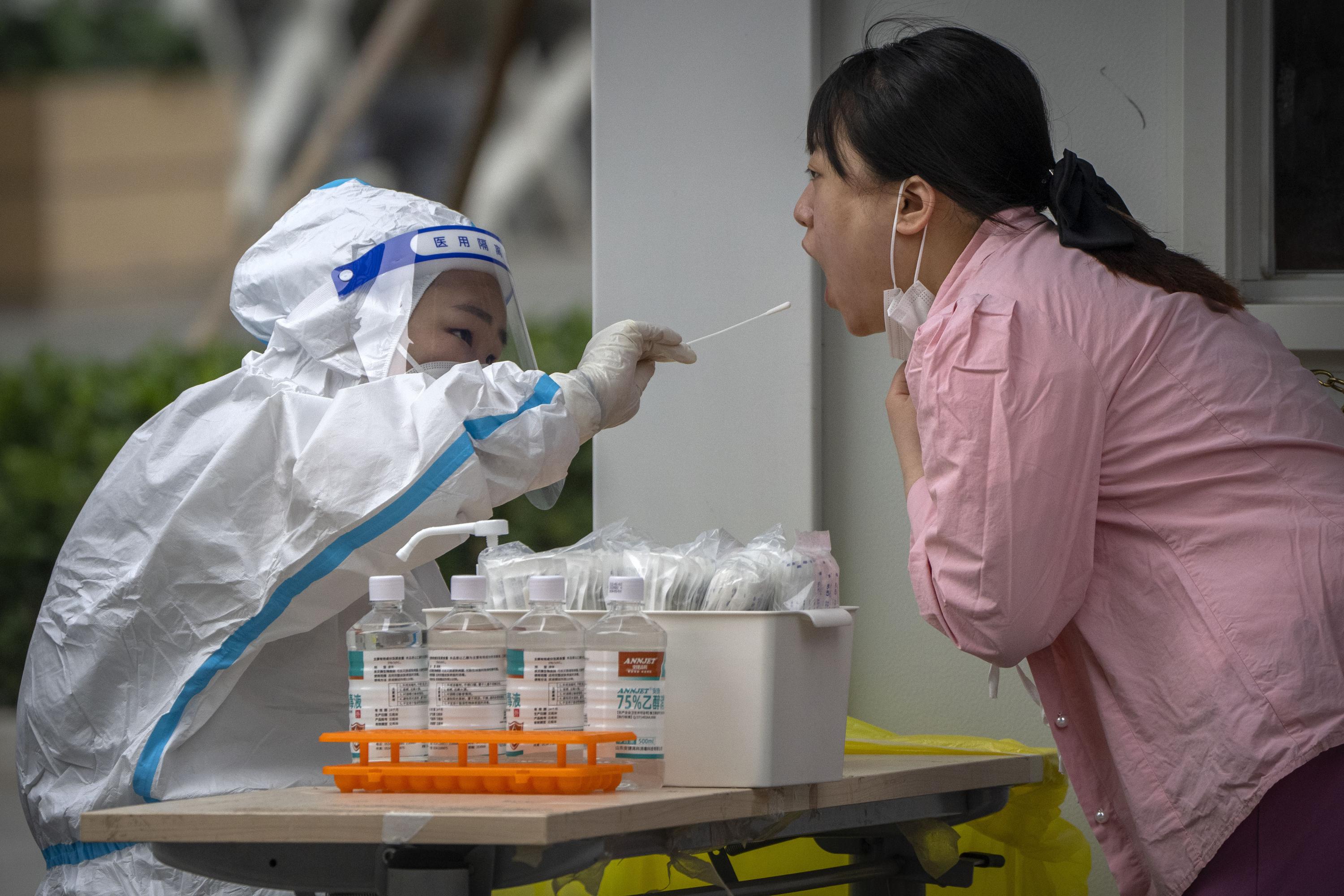 FROM ONE INDUSTRY, A CONTRASTING VIEWPOINT
Meanwhile, the International Air Travel Association (IATA) – which, it must be noted, is not staffed by public health experts, virologists, or epidemiologists – took a perhaps unsurprisingly different view of things, highlighted in a statement released on January 4.
"Several countries are introducing Covid-19 testing and other measures for travellers from China, even though the virus is already circulating widely within their borders. It is extremely disappointing to see this knee-jerk reinstatement of measures that have proven ineffective over the last three years," said IATA Director General Willie Walsh in a statement.
"Research undertaken around the arrival of the Omicron variant concluded that putting barriers in the way of travel made no difference to the peak spread of infections. At most, restrictions delayed that peak by a few days. If a new variant emerges in any part of the world, the same situation would be expected.

"That's why governments should listen to the advice of experts, including the WHO, that advise against travel restrictions. We have the tools to manage Covid-19 without resorting to ineffective measures that cut off international connectivity, damage economies, and destroy jobs. Governments must base their decisions on 'science facts' rather than 'science politics'."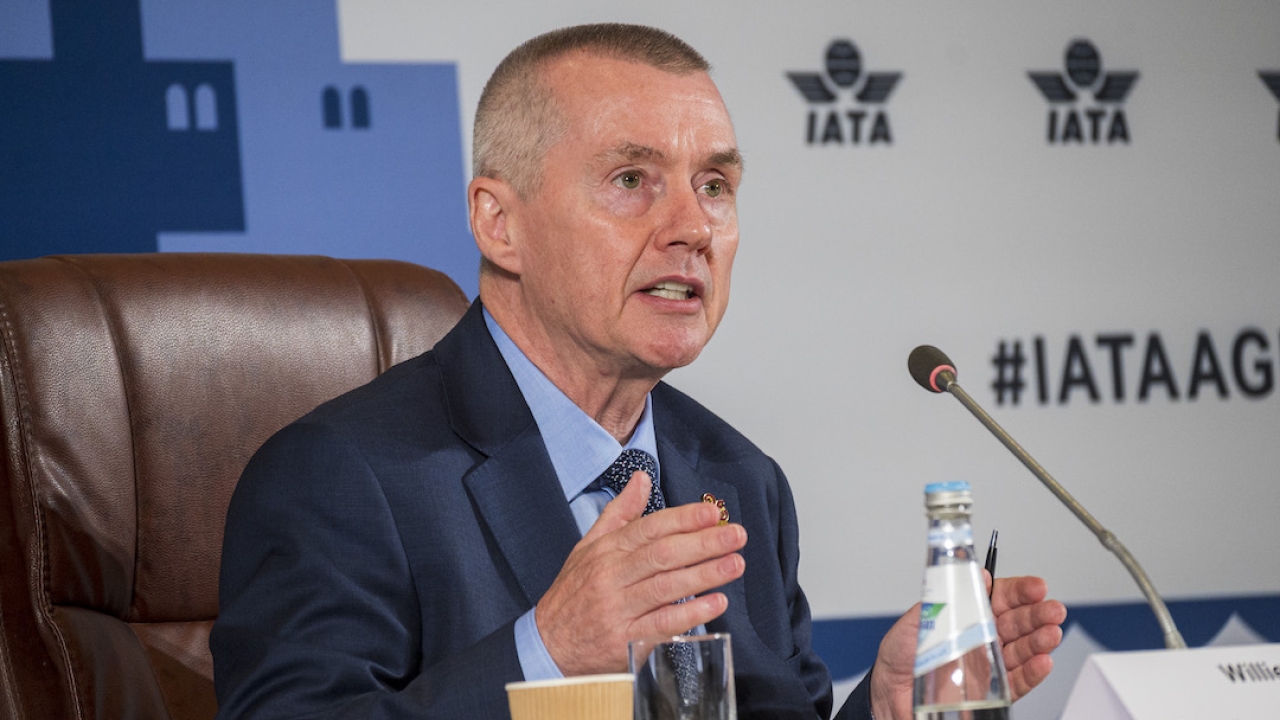 This statement seems odd, given that requiring a negative Covid test hardly amounts to a 'travel restriction' – certainly no more so than requiring a visa.
It's also a bit misleading, as the WHO's advice against travel restrictions primarily focused on the ineffectiveness of movement restrictions and 'blanket travel bans,' which is not at all the case here. This advice was published in late February 2020, two weeks prior to the novel coronavirus outbreak even being declared as a global pandemic. Later, that advice was superseded by the WHO's risk-based approach to international travel in the context of Covid-19, which was published in 2021.
IATA might be well-advised to first, cite the research and studies that Mr Walsh referenced in his statement, and second, direct their 'free travel' comments towards Beijing authorities, who so far have declined to reopen China's borders to foreign tourists and students.
Travel and tourism players naturally have a very different approach than public health experts when it comes to viral outbreaks, and that's understandable.
However, when either party traffics in misleading statements, it becomes problematic. Take, for instance, Malaysia's Tourism Minister Tiong King Sing, who on January 5 delivered a statement with a number of misleading or downright inaccurate comments.
In his initial assertion, he said that Malaysia would 'lose out on at least RM30 billion' if it were to 'discriminate against Chinese tourists.' That statement is problematic for two reasons.
First, that figure is wildly optimistic if it pertains to just 2023, but Tiong didn't specify a timeframe for those RM30 billion in Chinese receipts to come in – so nobody really knows.
Second, and this bears repeating, no country is targeting 'Chinese tourists,' but rather travellers of ANY nationality who are coming from China. This is not racism, this is not xenophobia, this is not discrimination. Of the dozen or so countries addressing this at present, all but one are merely requiring some sort of Covid testing – nothing more onerous than that.
(It also bears mentioning that Malaysia didn't seem to mind 'losing out' on all the billions of ringgit when it locked MM2Hers out of the country and then subsequently proceeded to overhaul the programme so that virtually no one would qualify.)
He then went on to say that China had a "vaccination rate of over 90 percent" – a statement which appears to be questionable. While the rate of standard vaccination in China does approach 90 percent by most accounts – not the same as exceeding it – that doesn't account for the type of vaccine (which makes a difference), nor does it reflect needed booster shots, a rate which is actually lower than 60%. China's vaccination rates among the elderly, the most vulnerable to the virus, are much lower, though it must be noted that these figures have improved considerably in the last eight months.
Taken at a glance, none of these figures are necessarily problematic, but Tiong seems to be speaking in highly specific and somewhat misleading terms in a bid to bolster his general talking points.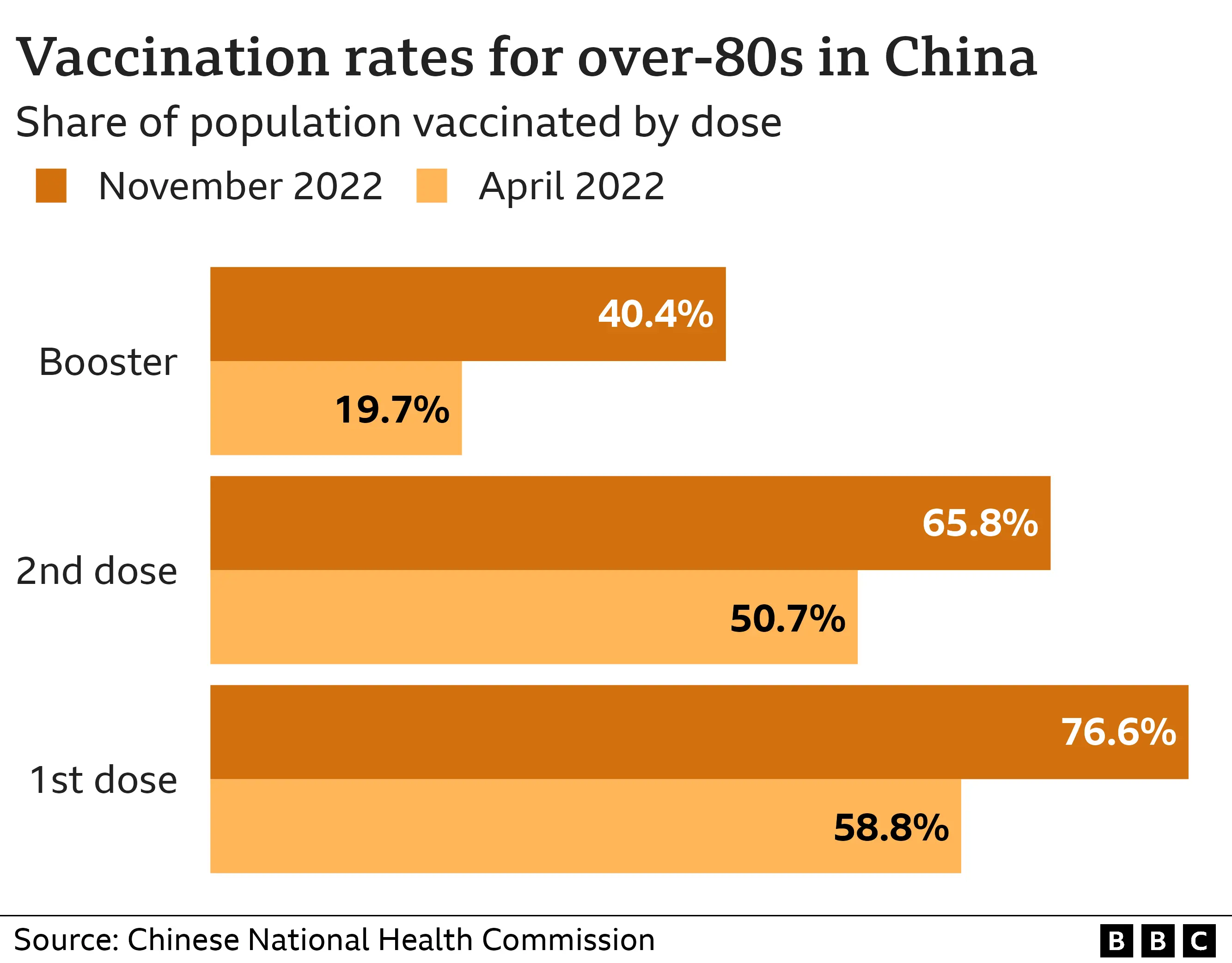 Rather bizarrely, he also said it was 'worth noting' that there had been no pressure for stricter conditions to be imposed on tourists from the United States when the country recorded 99 million infections with 1.08 million deaths.
He said China, on the other hand, registered 31,000 deaths with 10.16 million cases recorded.
Beyond containing some rather inscrutable numbers, this is also frankly a bit of a red herring. When the US was in the throes of its worst Covid outbreak, Malaysia's borders were fully closed to virtually all foreign arrivals, rendering this statement irrelevant. Moreover, he's giving the aggregate historical case and death numbers for the US, not snapshot numbers. Conversely, experts fear tens of millions are infected in China RIGHT NOW, with thousands dying every day. This is a complete apples-to-oranges comparison.
Tiong also stated numbers for China which do not align with either China's ostensibly false official data (5,249 deaths and 1.91 million cases) or with public health experts' estimated actual figures, which are many times higher. It's unclear where Tiong obtained the '31,000 deaths' figure.
Tiong further told the New Straits Times that last year, 300,000 Chinese visitors came over when the country was already seeing a spike in cases, but that there was no corresponding hike in cases recorded in Malaysia.
Again, this is misleading – at best. China was not remotely seeing the huge surge in cases then that it is now, as it didn't spike dramatically until the final three weeks of December. Also, if Chinese nationals were not permitted to travel internationally, how did 300,000 visitors come to Malaysia from China during 2022? It's understandable that some travellers from China would have been allowed to travel, but tens of thousands specifically to Malaysia every month?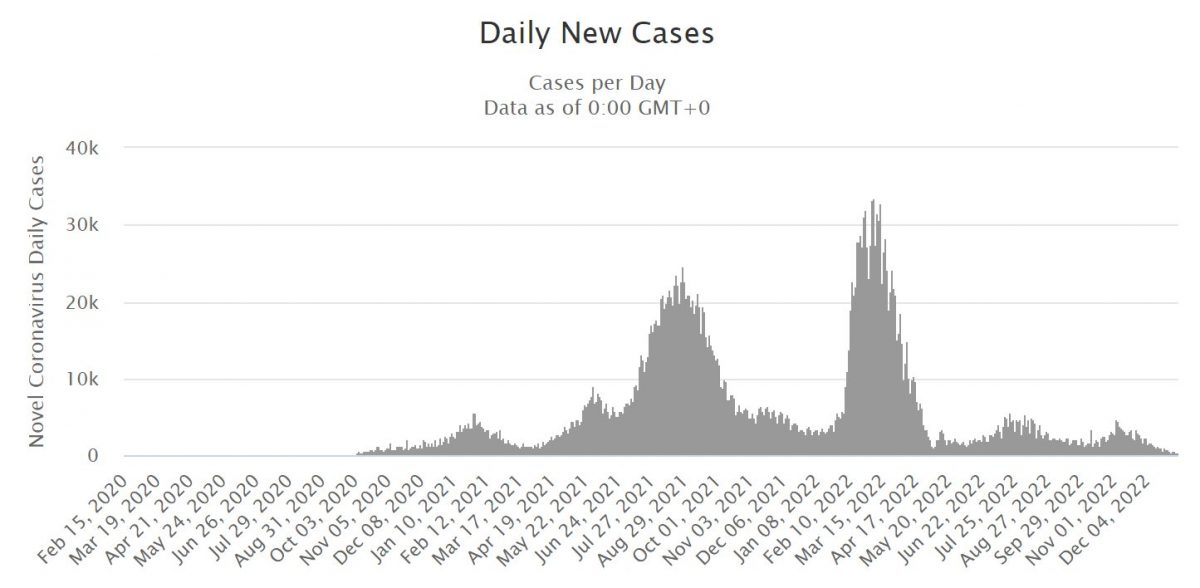 Moreover, there in fact was a massive spike in Covid cases in Malaysia in 2022 (see above), running from February to April. This period actual saw the highest number of daily cases for the entirety of the pandemic, so perhaps Tiong has selective amnesia. There were also two other spikes, though less dramatic.
The unfortunate truth is, when it comes to issues surrounding Covid-19 facts and policies, influence and even pressure comes from all sides – economic, political, medical, sociological, and more – and at times, it seems everyone has their own agenda. It makes it challenging to separate truth from fiction, a harsh reality that impacts leaders, diplomats, and policymakers as surely as it does those of us simply reading the news, going about our day, and wondering if we still need to wear that protective face mask.
---
Reporting and research from Channel News Asia, AFP, The BMJ, Reuters, New Straits Times, CNN, Associated Press, and BBC contributed to this article.
---
"ExpatGo welcomes and encourages comments, input, and divergent opinions. However, we kindly request that you use suitable language in your comments, and refrain from any sort of personal attack, hate speech, or disparaging rhetoric. Comments not in line with this are subject to removal from the site. "
Comments