While exploring Cambodia, budding archaeologists can visit a number of wondrous temples as they attempt to unravel the enduring mysteries of the ancient Khmer Empire.
The Khmer Empire was a powerful Southeast Asian state between the ninth and early 15th centuries. At its peak, it extended over much of what is now Cambodia, Laos (Lao PDR), Thailand and southern Vietnam. Though long-lived and powerful, it didn't go on forever, and its demise has long baffled historians. It isn't easy to imagine that a vast city centred on Angkor Wat, with a population larger than London at the time, could have simply ceased to dominate the region as it once did. There are suggestions that the decline was the result of the great Thai migration of the 12th to 14th centuries.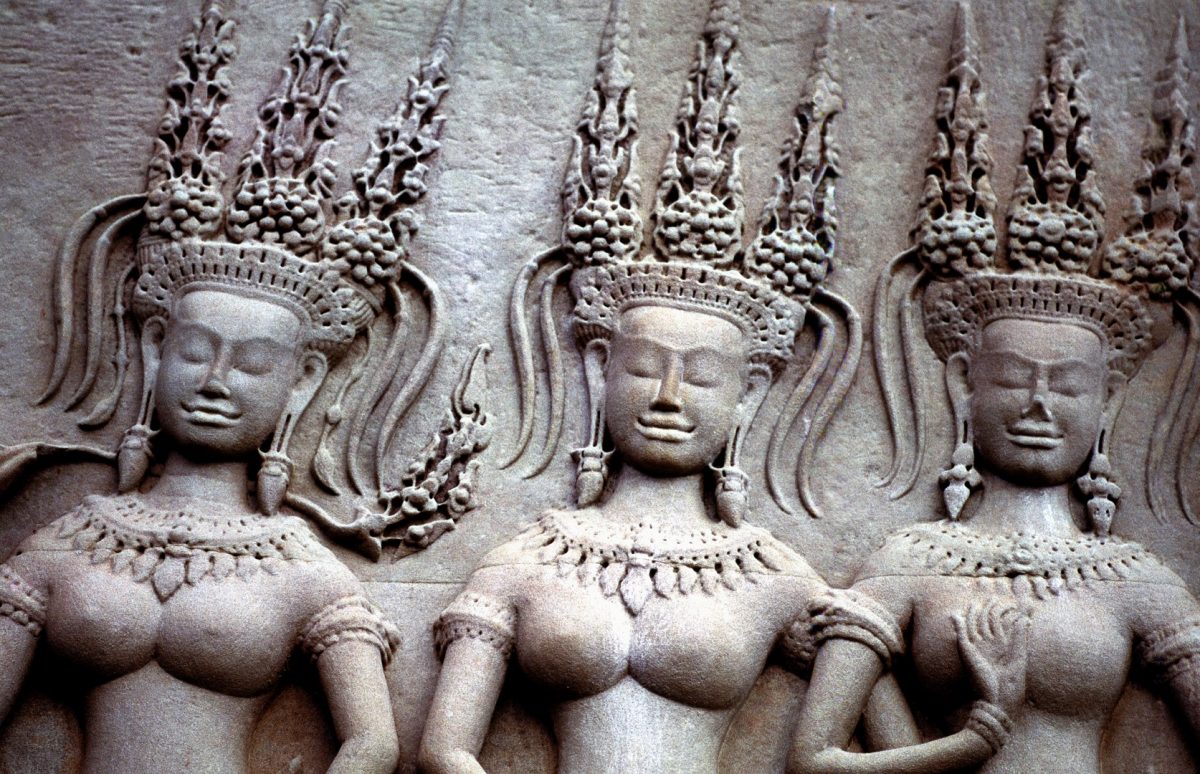 Perhaps the complex hydrological infrastructure seized up and agriculture became untenable. Being an agricultural society, water was all-important for Khmer settlements that developed close to the Mekong River and also the Tonlé Sap, the region's largest inland waterway. Flat lands on the Mekong's delta were heavily farmed, and maritime trade expanded from coastal ports into the region as far away as India, a nation which was very influential in shaping early Khmer culture, art, and religion.
The Angkorian settlements were based upon harnessing water from the Kulim Mountains and the adjacent waters of the Tonlé Sap for irrigating crops and sustaining life. There was an intricate network of reservoirs (called barays) and irrigation canals that flowed through the Angkorian temples and the adjoining farming land. It's unclear as to whether this system failed, but the Khmer Empire had declined in regional importance by the 15th century and did not resurface until the 19th century. A suggestion has been made that the Angkorian irrigation system silted up. However, siltation is a slow process, and clearing these canals should have been a fairly simple task for an advanced civilisation like Angkor. 
Anyone who has visited the massive Angkor site will appreciate that the famous temples couldn't have just 'disappeared.' It's true, nevertheless, that the living forests took back many temples, with Ta Prohm retained in a semi-wild state, with tree roots entwining the temple stonework like a lecherous octopus.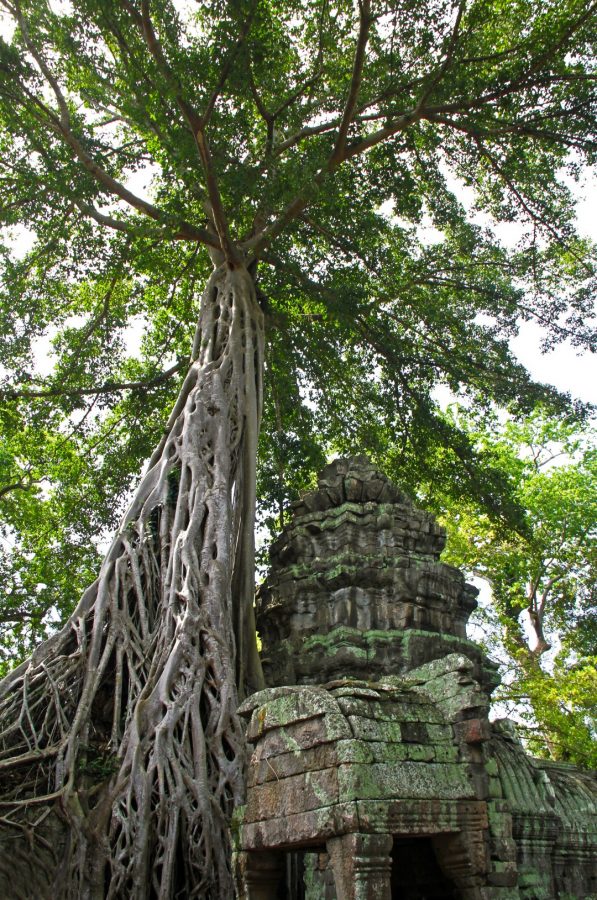 Initially, the Khmers were animists, then followers of Hinduism, with Buddhism coming later. Some Angkorian temples exhibit evidence of both Hinduism and Buddhism. In 1431, the Thai kingdom of Ayutthaya took Angkor, leading to the cessation of the mighty Khmer Empire.
BUILDERS AND IRRIGATORS
The Khmer were great builders, covering their lands with monumental temples. Their empire was connected by a network of roads that extended from Angkor for some 1,000km into the region. Significant cities and towns like Angkor (Cambodia), Phimai (Thailand), Vat Phu (Laos), Sambor Prei Kuk (Cambodia), and Phanom Rung (Thailand) were connected by well-constructed roads.
The Khmers expanded their empire via these roads from their base in Angkor. This mainly occurred in the west and the north of the empire, while wars were fought with the Cham in the east. The Cham Kingdom, from central Vietnam, fought frequent wars with the Khmers. Despite their differences, the two empires traded with each other, and their cultural influences moved in similar directions. Grand stone temples and associated buildings were erected with each land conquest. Most took years to complete, with work on the famous Angkor Wat taking some 30 years to complete.
The greatest Khmer king was Jayavarman VII (1181 CE to 1215 CE). After expelling the Chams, he set about building temples, monuments, roads, and the spectacular Angkor Thom complex dominated by the famous Bayon Temple. The richly decorated Bayon is noteworthy for its 200 huge smiling Buddha faces set in the massive stone structure. Its outer walls are also adorned with intricate bas-reliefs (stone carvings) depicting Angkorian life during the era.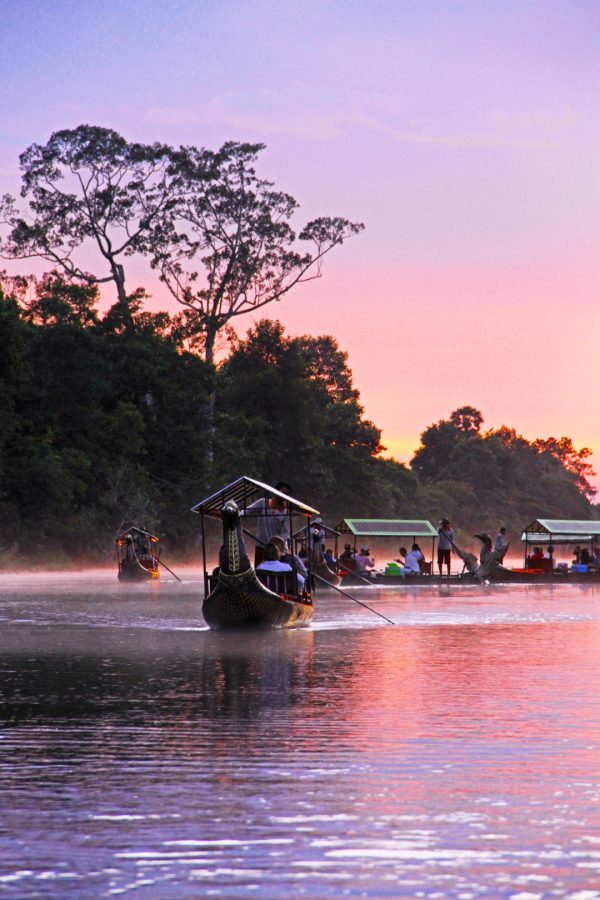 Angkor Thom is surrounded by a massive moat, making it a city within the city of Angkor. Truly, there are insufficient superlatives to describe Angkor Thom, with its numerous twists and turns that could easily distract budding archaeologists for days. On my last visit, I was shown Khmoch Gate (the Gate of Death), a site that had escaped me for decades. It features two high stone façades on either side of the forested arched gateway. Each one is adorned on four sides by friendly Buddhas.
The Bayon and its neighbouring temples were off-limits for decades due to civil unrest during the Khmer Rouge era, but things are altogether different now. The temples and the tourist town of Siem Reap are now one of the region's hottest travel destinations.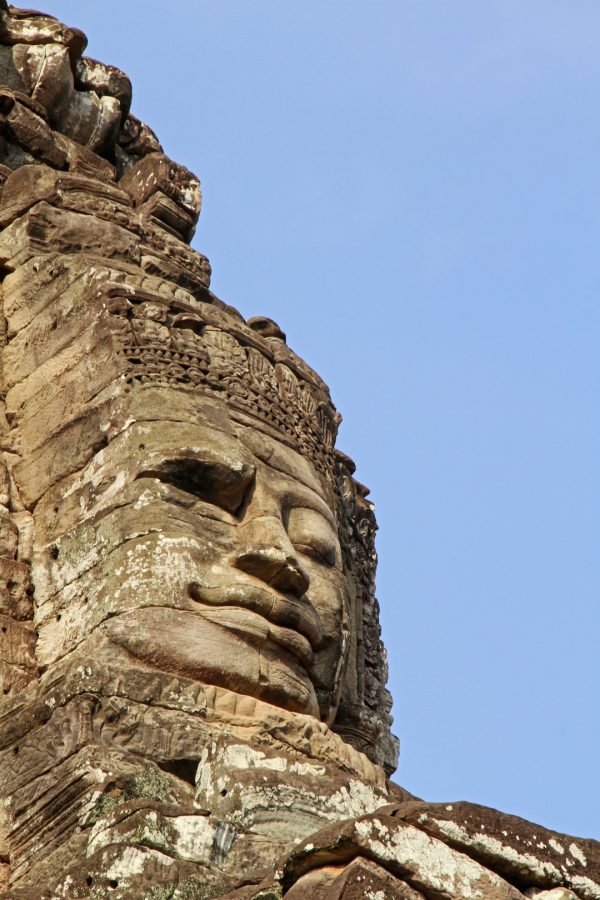 THE THAI CONNECTION
Northeast Thailand has some of the finest examples of ancient Khmer temples outside Cambodia. Four of the finest monuments are within easy half- or full-day excursions from Nakhon Ratchasima (Khorat).
Phimai, 70 km to the north, is one of the most famous of all the Khmer sites. The expansive 12th-century Buddhist temple complex, built from brick, laterite and sandstone, has been restored by Thailand's Fine Arts Department to enable full appreciation of its original grandeur and the architectural achievement it represents. Phimai Historical Park is home to various structures that are similar to Angkor, and both were once connected by an ancient highway. Phimai differs in that fewer visitors make it here, and on a slow day, you feel like you have temples like Prasat Hin Phimai all to yourself.
Another significant religious site is Prasat Hin Phanom Rung, a massive stone structure, strategically perched 350 m up on a volcanic hill southwest of Buriram and 60 km to the southeast of Phimai. Phanom Rung dates from the 10th to the 13th centuries and was initially a Hindu temple, built from pink sandstone. It, too, is located along an ancient route that connected it with Angkor.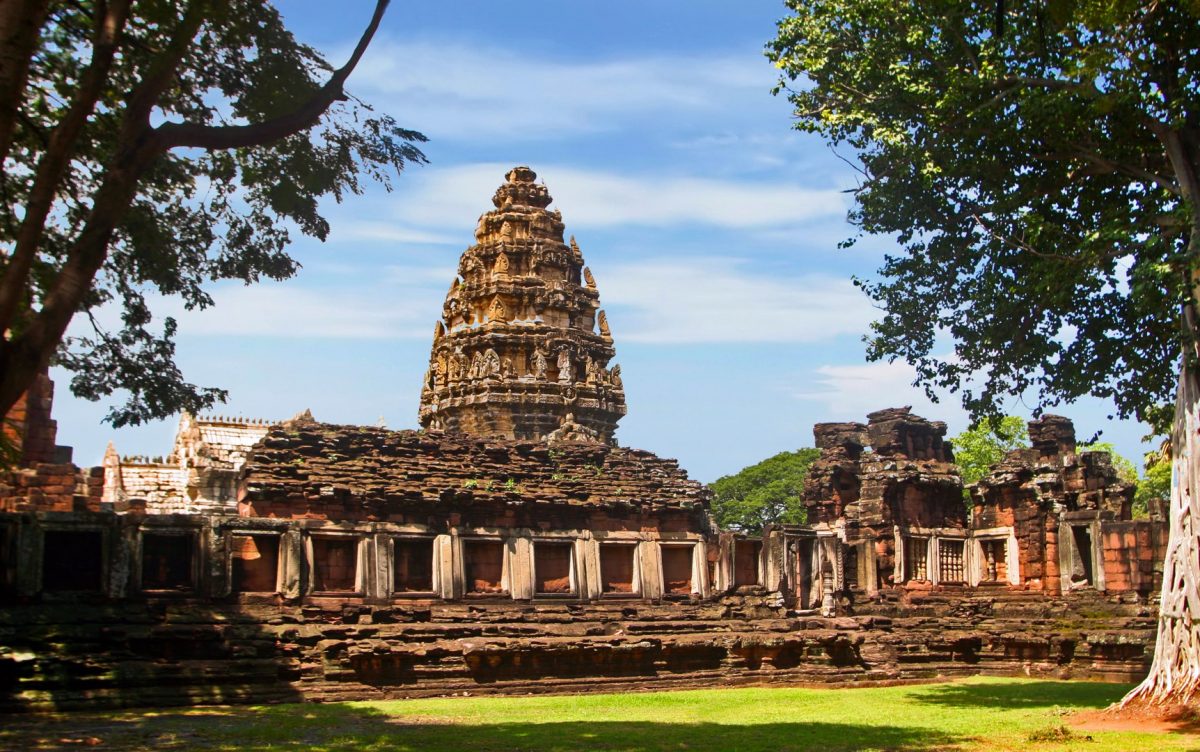 One of its most famous carvings is the Phra Narat lintel, located above a doorway. The lintel went missing in the 1960s, and years later, it was placed on display at the Art Institute of Chicago. After outcries from art lovers and the Thai Government, it was eventually returned to its rightful location.
LAO LOOP
Some 375 km to the east of Buriram, near Pakse in the southern parts of Laos, Wat Phou (Vat Phou) is an important piece in the jigsaw puzzle that is the Khmer Empire. Archaeologists date the initial site near the western bank of the Mekong River to the fifth century, but the remains of the temple that I admired when I was last there, only date back to the 11th and 13th centuries. Wat Phou was part of the Khmer Empire and predates the more famous Angkor Wat.
I began to understand the sphere of influence the Khmers had over the region, as Pakse is a long way from Angkor (a half-day bus journey today). Initially, Wat Phou was dedicated to Hindu gods but became a Buddhist site over time. Now little more than a ruin, this UNESCO World Heritage Site (Champasak Cultural Landscape) is one of the most important religious sites in Laos.    Wat Phou is an hour south of Pakse, and road access can be problematic after heavy rain. First-time visitors are advised to join an organised tour from Pakse.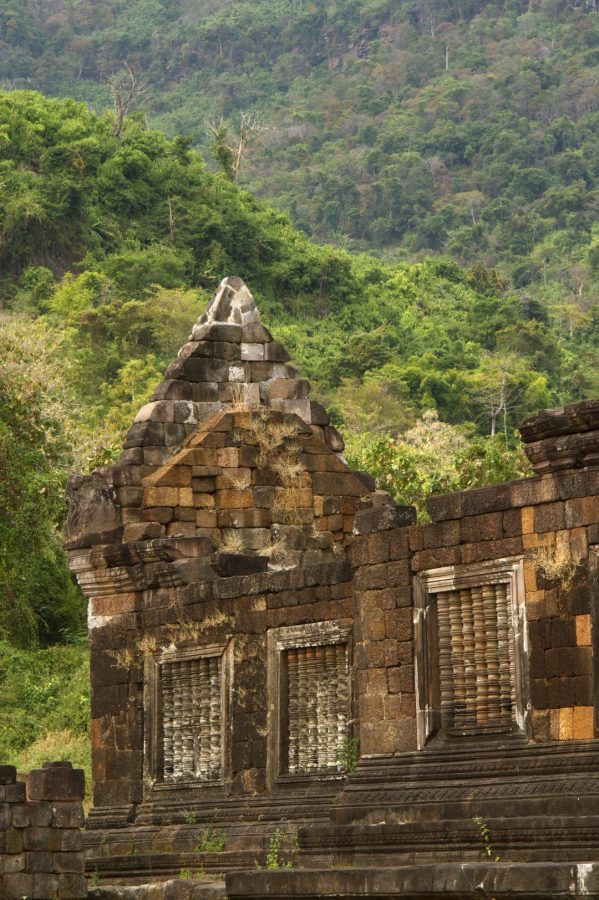 BORDER PATROLS
ASEAN is working towards opening its borders so that citizens from member countries and a growing number of other nationalities can move freely between countries. Remote border crossings aren't as problematic as they once were, despite some only being open during daylight hours. It's always best to check with the various embassies before travelling, especially if you're from a country that requires a visa.
In a moment of either weakness or stupidity, I once signed up for a blitzkrieg tour that took in several archaeological sites in Thailand, Laos, and Cambodia. While I don't recommend a '10 days, 10 temples'-style tour, seeing all these sites in one trip would require precision planning and some long hauls on a circuitous road journey of discovery. Advice more professional and experienced than mine may be required, as such a journey requires several remote border crossings and the need for visas in some countries. While not easy, it's not impossible, as borders have been opened to encourage tourism.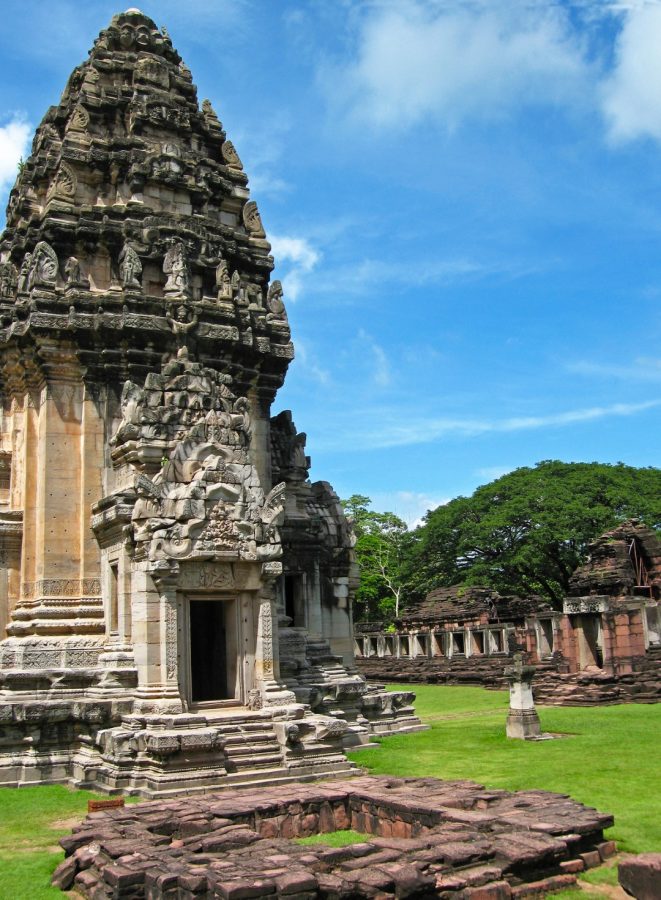 Most of the sites are easily accessible by road. From Bangkok, head eastward to Nakhon Ratchasima. Phimai and Wat Rung are easily accessible by car. From Wat Rung, drive east towards Pakse, near the Lao border. Wat Rung can be challenging to reach via a conventional road vehicle, and it is best to seek advice in Pakse before proceeding southward to the archaeological site.
Reaching Angkor from Pakse can also be challenging, with the road leading south to the border and then through northeast Cambodia to Stung Treng, across the Mekong River, and then westward to Siem Reap (Angkor). The 400-km road from Siem Reap back to Bangkok crosses the Thai border at Poipet.
British novelist Somerset Maugham travelled through Cambodia in 1922. Maugham noted in The Gentleman in the Parlour (1930), "I have never seen anything in the world more wonderful than the temples of Angkor." The stunning temples of Angkor and the other wondrous ancient Khmer archaeological sites are now within range of intrepid travellers who can head off by car on a journey of discovery through neighbouring lands.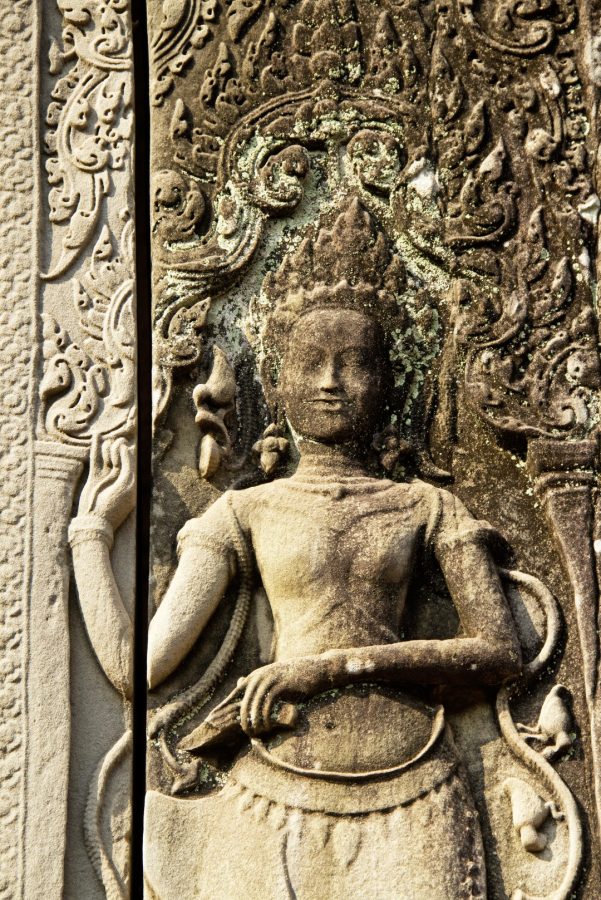 ---
"ExpatGo welcomes and encourages comments, input, and divergent opinions. However, we kindly request that you use suitable language in your comments, and refrain from any sort of personal attack, hate speech, or disparaging rhetoric. Comments not in line with this are subject to removal from the site. "
Comments