In this ongoing ExpatGo series, we meet and get to know some of the expats who are living and working here in Malaysia. In this instalment, we talk to Mr Daniel Kaeflein.
What's your name, home country, and occupation?
I'm Daniel Kaeflein, and I'm from Germany. Currently, I'm the General Manager of Traders Hotel, Kuala Lumpur (by Shangri-La Group).
How long have you been in Malaysia?
Since 2017.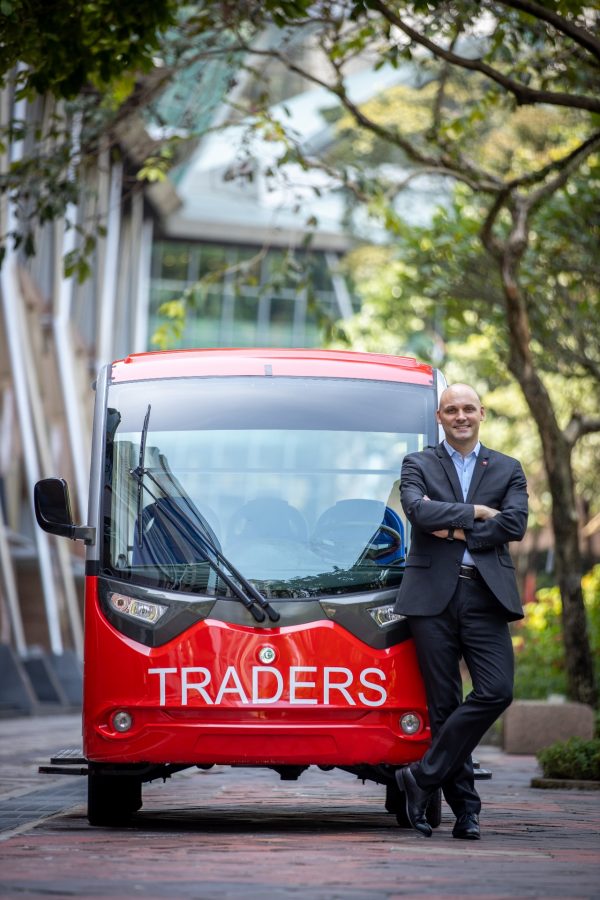 What brought you to Malaysia?
I initially transferred with Shangri-La Group from Jakarta to Shangri-La Kuala Lumpur before transferring to Traders Hotel, Kuala Lumpur as the General Manager in 2019.
What have been the high points during your time in Malaysia?
There have been many high points. I could mention the first time we experienced New Year's Eve at SkyBar and in the middle of KLCC with those iconic twin tower views, fireworks, and a big crowd celebrating. That was very memorable. More recently, having our hotel running back in full swing following the opening of the Malaysian borders in April 2022 and the launch of our new grill and gin bar, Bara on Six. Conceptualizing the dining venue with the team has been super exciting, and to see it come to life after months of planning has been extremely fulfilling.
Any other anecdotes, perhaps some difficulties?
Of course, the long pandemic was an unforeseen challenge during our Malaysia stay so far, but I have to also have to say in retrospect that we were lucky to be in Malaysia during that trying time, as I personally feel that Malaysia handled the pandemic rather well on the whole.
Funny stories of your experiences in Malaysia?
I'm a regular fun-runner here in the KLCC park and typically run a 5K route a few times a week.
A few years ago, I enrolled for a 5K charity run here in KL on the same route of the car-free Sunday. I started running in a crowd just following the person in front of me, and it felt odd as the distance stretched and stretched. When I reached the half-hour mark, I still didn't have any sight of the finishing line. I kept going and my 5K run went on for nearly another half-hour.
When I arrived, I realised that I went mistakenly along the 10K route; unfortunately, I therefore missed the 5K cut-off time and my run didn't end up being registered, but at least I know now that I can go for 10K if need be!
What keeps you in Malaysia?
Our family loves it here, we have a great community and friends here, and of course, as almost every expat would say, great food and year-round good weather!
What's your favourite Malaysian saying and why?
I don't have a favourite saying, per se, but I found it very fascinating when I came here first, that complete strangers directly ask you about your family, if you're married, how many kids you have, how old they are, etc. It is not common everywhere but clearly shows the focus on family in Malaysian society which is a very warm social element I like.
Best-kept secret in Malaysia?
Being as vibrant and diverse as it is, Malaysia has plenty of hidden gems. But what comes to my mind at the moment is Jao Tim in Chinatown. It is not only a bar, but it provides a platform for up-and-coming jazz performers to showcase their talents. I think this is wonderful in supporting the artists and industry.
Can you name a favourite place for a holiday in Malaysia?
It's a toss-up between Redang and Perhentian Island. Who doesn't love a beach getaway with snorkelling at your doorstep?
Favourite watering hole?
KL has a great array of fantastic pubs and cocktail bars. But my personal preference would likely have to be Pisco Bar, just off of Changkat Bukit Bintang.
And what about your favourite restaurant?
Again, there are too many to choose from! From the many omakase places in town to eclectic and truly great eateries… for example, Nadodi provides a fantastic dinner journey. Generally though, I like to see and support local chefs doing great things in KL. On that point, Dewakan provides a nice hand-crafted experience through Malaysian cooking techniques. Probably near the top of my very long list would still be Akar Dining; it's a small, intimate place with an open kitchen and two excellent and passionate Malaysian chefs at the helm, cooking fresh seasonal menus.
What's it like working in Kuala Lumpur?
I'm a global citizen now, having left my native Germany about 23 years ago. After living in eight different countries around the world, I have to say that our Malaysian experience as a family has been one of the smoothest. It's a great country to live in because of its friendly and welcoming people. Things generally work well and most items you may miss in some places around the world are available here.
Working for Shangri-La Group, one of Malaysia's very own company success stories, has been a fantastic experience I will treasure. I am working with a great team and now that the pandemic is coming slowly to a close, we really feel the best is yet to come!
What do you miss the most about Germany?
Having grown up in the beautiful region of Baden along the Rhine River, next to Alsace, I do miss sometimes being there in spring during asparagus season or being able to sit in a local winery at harvest season… but I can also say it makes those events even more special when they become possible. There is also true magic in a cold winter being able to visit one of the many unique Christmas markets across Germany, enjoying local food and a Glühwein, even though I am then also happy to escape to milder weather again.
What do you want to see more of in Malaysia?
More marketing (both internal and external) of Malaysia as a tourist destination and "where to go" when you are in the country! I remember these excellent campaigns promoting Malaysia back then that have now dwindled down a bit. It's time they bring these back to show the world once again how, Malaysia is Truly Asia.
Do you mix in the German community in Malaysia?
Yes, I have a lot of interactions with the German community here in KL in multiple forums and communities.
Can you compare Malaysia to other places: Germany, China, or some of the others?
I never compare between countries because I find all the places I've lived have had their own specialties which we really loved. I can honestly say that, for us, Malaysia is definitely one of the best places in the world to live, with a good balance of all things you could need and great connectivity within Southeast Asia.
What's it like living in KL?
Living in KL means living in a cultural melting pot. It is vibrant and full of energy if you're in the city centre area, and has everything you would expect from a world city, including some of the world's nicest food cultures. It also has good inner city access to parks and greens, which helps my passion for runs and my daily (most of the time) workout. It has great communities, and life is generally very pleasant here.
---
"ExpatGo welcomes and encourages comments, input, and divergent opinions. However, we kindly request that you use suitable language in your comments, and refrain from any sort of personal attack, hate speech, or disparaging rhetoric. Comments not in line with this are subject to removal from the site. "
Comments