In this ongoing ExpatGo series, we meet and get to know some of the expats who are living and working here in Malaysia. In this instalment, we talk to Australian expat Mr Luke Kerslake.
Hi there, what basics can you tell our readers about yourself?
My name is Luke Kerslake. I'm from Australia and working here as the HR Country Head, GSK Malaysia.
How long in Malaysia?
I've only been here for about eight months – so, still a newbie.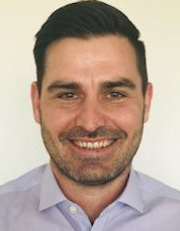 What brought you to Malaysia?
I've only ever heard great things about this wonderful country and its diverse culture. Coming here will provide myself and my family with new experiences, enable me to further develop my career and enhance my work within the diversity, equity, and inclusion (DE&I) field of human resources, which is something I am passionate about.
What's it like working in KL?
Malaysia is brimming with talented, dedicated, and inspirational people, and I'm surrounded by them every day. I've worked at GSK for more than 10 years now, and there are many reasons people tend to stay with the organisation for long periods. First and foremost, it's always inspiring being with GSK with our ambition to Get Ahead of Disease Together, while helping people to have better health, improve quality of life, and ultimately save more lives.
For employees, the company culture and dedication to people makes each local operation feel similar, but of course with local differences, which makes each one also unique and interesting. I am privileged to have worked alongside so many amazing GSK colleagues across different markets, and am happy to now count Kuala Lumpur among them.
Funny stories of your experiences in Malaysia?
Each March, our annual bonuses are shared with employees, which is obviously always a welcome day in the office. I was in the lift on "Bonus Day" and said to a colleague, "Good morning, it's bonus day!" His response was to begin telling me about his commute to the office, noting how long it takes with and without traffic jam. I was confused, but assumed he wanted me to be aware because I am HR. Later the same morning, I bumped into another colleague in the corridor and said the same thing to her – "Good morning, it's bonus day!" She also responded by telling me where she lives and how long it takes her to get to the office. I was totally baffled at this point.
Later in the day, I was chatting to another colleague, this one also an expat (but not Australian). I mentioned both employees' odd responses, and he immediately started laughing. He said that with my accent, "It sounds like you're asking 'Where do you stay?', which is a common question people ask others here." It was a funny reminder that whilst most Malaysians have a good grasp of English, it's important as an expat to remember that our accents, particularly Australian, can still cause confusion at times!
What do you think about Malaysia compared to other places: Singapore, UK, and your home country?
I've lived and worked in Australia, the UK, and most recently in Singapore. I've enjoyed all those experiences. Malaysia is such a diverse and culturally rich country, and KL such a big, cosmopolitan city, that it can generally offer most of you're after, not forgetting the awesome people you get to interact with on a daily basis.
How has your transition been?
After experiences living abroad in the UK and Singapore, the transition could not have been any smoother, even compared to returning to Australia. However, whilst I set out to quickly learn as much as I could about Malaysian culture, practices, and diversity, I quickly realised how much I still have to learn and experience here! Malaysia's an incredibly diverse and complex country, which makes it really interesting.
What have been the high points during your time in Malaysia?
The realisation that Malaysians are possibly the warmest and most welcoming people that I have experienced. They also have a fantastic sense of humour. I've really appreciated visiting different states. It's incredible how different each state is, and I've enjoyed sampling variations of local cuisines.
What do you look forward to with regard to living in Malaysia?
It's an awesome place to live. The city caters for whatever you want to do, live music, local sports, hiking, eating out, etc, and if you want a break from KL it is easy and affordable to take a short trip to one the other states, it's magnificent islands or even elsewhere in Southeast Asia for a real getaway. Ultimately, what makes the country is its people, and they have been one of the, if not the most important experiences that keeps me here in Malaysia.
What's it like living in KL?
KL is an awesome city, and my family and I love it here. There is so much to explore and enjoy, and I have only so far experienced the tip of the iceberg. Public transport is fine when accessible; however, taxis or e-hailing services are usually very convenient and affordable, and so it's never a big issue getting around.
Any favourite watering hole?
The Attic Bar and Rimbar in Chinatown are my favourites. I don't visit as much as I'd like to but love the atmosphere, view, and cocktails in each of these bars. Both are intentionally a little hard to find, but worth it once you do.
And what about a favourite restaurant?
Too many to choose from! I have tried several nasi kandar restaurants and have yet to find a bad one. When it comes to eating out in Malaysia in general, the selection, quality, and affordability is fantastic.
What do you miss the most about Australia?
For sure my family and friends.
What do you wish you had in Malaysia but can't find?
I wish it had four seasons! I do love the warm weather, but sometimes miss the changes in seasons that you experience in some other countries.
What do you want more of in Malaysia?
The local music scene is fantastic. Many bars have live music, particularly on weekends. Unfortunately, I've noticed that not all but most big international bands tend to overlook Malaysia when planning their world tours. I would love to see more international acts visiting here.
Do you mix in with the Australian community in Malaysia?
I've met a few, but only by chance. As with most MNCs here, the vast majority of employees are Malaysian, so I interact mostly with locals, who are always fun to socialise with.
So far, what's your favourite Malaysian saying and why?
"Boleh!" It took me a little while to understand when I should use this, but realised it was almost always a very funny response to the situation. It translates simply to "can" and is typically used as sort of an "okay, can do" response by most Malaysians. Of course, sometimes there can be an element of sarcasm – depending on the context – which is also humorous.
What's something you really only learn about Malaysia after you've actually lived here?
People are generally warm and welcoming in person, but as soon as they are behind the wheel in KL traffic, it's every person for themselves!
Do you have a favourite place for a holiday in Malaysia?
I have not had the opportunity to visit everywhere I intend to yet, but I did enjoy a week in Penang for our annual conference in January. Nice beaches, great food, and I loved George Town. Looking forward to my next visit.
---
"ExpatGo welcomes and encourages comments, input, and divergent opinions. However, we kindly request that you use suitable language in your comments, and refrain from any sort of personal attack, hate speech, or disparaging rhetoric. Comments not in line with this are subject to removal from the site. "
Comments