The Cambodian capital is a worthwhile travel destination, offering visitors far more history and modern interests than just the disturbing tales of its more recent past. In Phnom Penh, enjoy the travel pursuits of exploring, shopping, and eating.
Just a few decades ago, Phnom Penh was considered one of Asia's most picturesque cities, likened to Paris. The Khmer Rouge put an end to that in the mid to late 1970s with its reign of terror that saw Khmers turn on other Khmers with possibly up to three million – or 25% of the country's population – killed. The residents of Phnom Penh were forcibly marched out of the capital and into the countryside to toil in the paddy fields, and the genocide swelled to horrific proportions. Mostly in ignorance, the rest of the world sat by while this unfolded in Phnom Penh and throughout the rest of the country renamed Kampuchea during these dark years.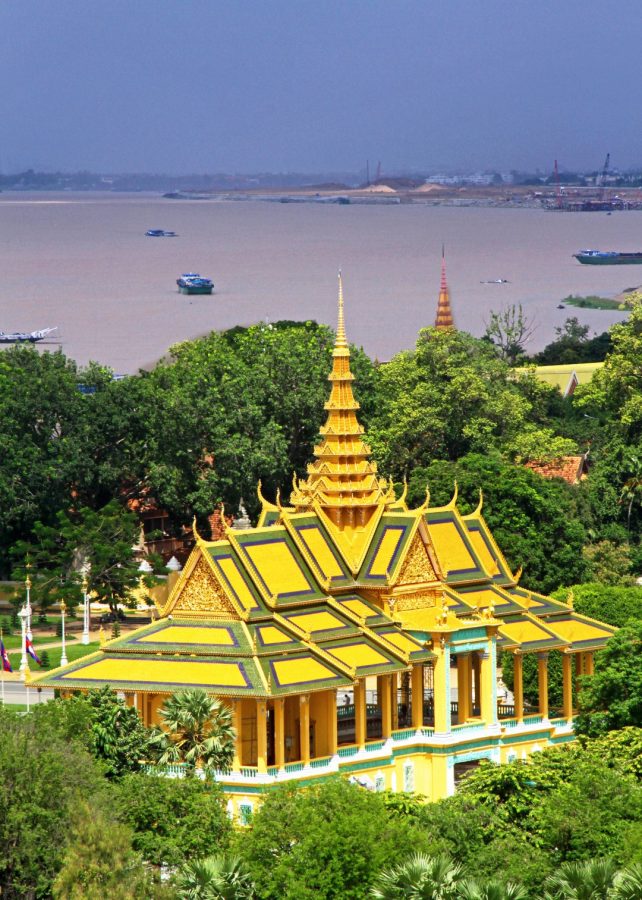 Like much of the country, Phnom Penh began rebuilding after the Khmer Rouge was toppled and some semblance of democracy was put in place. While few who survived the Khmer Rouge genocide will ever forget what happened, young Cambodians now have many opportunities and Phnom Penh is forging ahead with buildings reaching ever skyward. Visitors quickly get a sense of this energy as they attempt to cross some of the city's main thoroughfares. The capital is as vibrant as other rapidly expanding Southeast Asian cities, but with local touches that ensure it is a most appealing destination for a weekend escape.
RIVER CONFLUENCE
Its location at the junction of the Tonlé Sap, Mekong, and Bassac Rivers makes the downtown very pleasant and scenic, while its many old colonial building offer visitors an indication of its former grandeur. Many restored buildings are located near the riverfront and around the Royal Palace.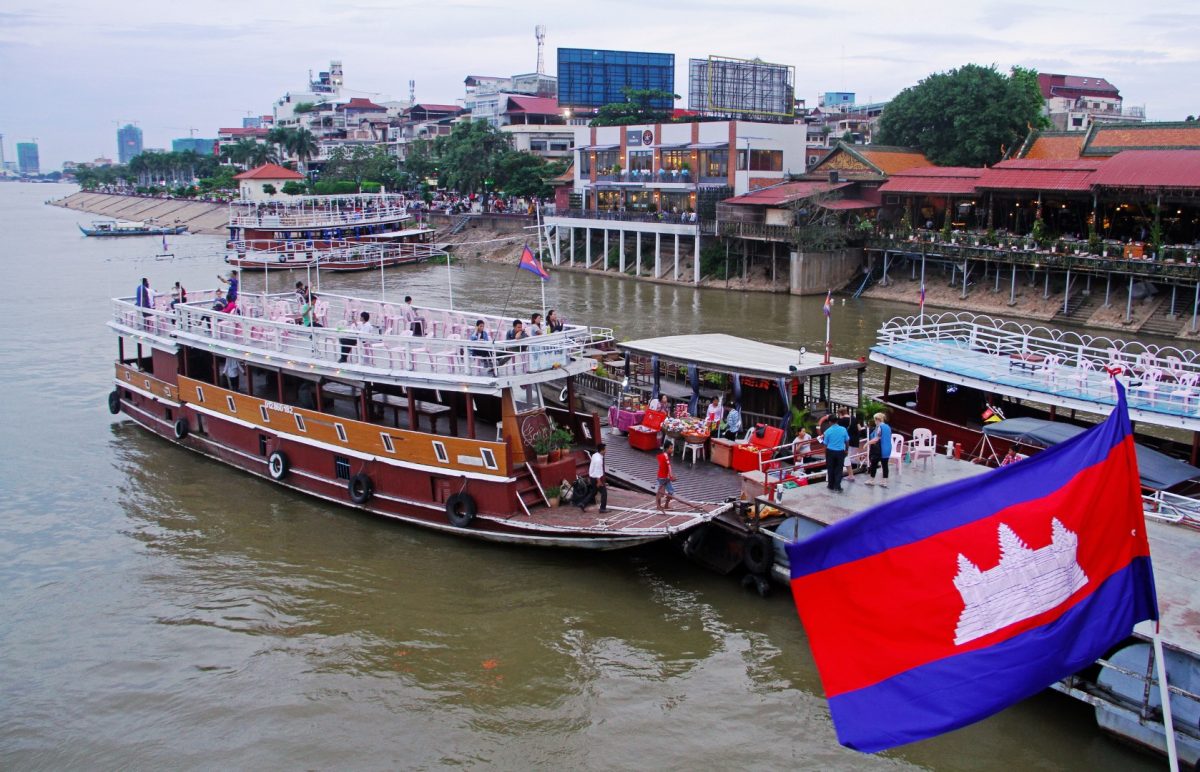 The palace, built in 1866, is a place to admire from afar, although it is possible to visit the Silver Pagoda, so named for its silver floor, made from 5,000 tiles, each weighing 1.1 kilograms. A solid gold Buddha, encrusted with 10,000 diamonds, gives some indication of the wealth and power of the royal household.
Nearby, the National Museum houses the world's finest collection of ancient Khmer art, and it is also a peaceful retreat with a pleasant courtyard. The terracotta-coloured building is one of the capital's finest architectural structures and boast over 10,000 objects, some of which are on display.
The Royal Ploughing Festival, held in May, is a colourful ceremony staged at the beginning of the sowing and planting of rice in the hope of a bountiful crop. At the end of the ceremony, royal oxen are encouraged to eat at seven trays containing different foods. Royal soothsayers then make predictions on the crop's bounty based upon what the oxen eat.
Of course, the more recent events of Cambodian history cannot be overlooked. While maybe not for everybody, Tuol Sleng Museum is a frightening reminder of the horrors of the Khmer Rouge reign of less than half a century ago. Additionally, Choeung Ek, or the 'Killing Fields' located on the outskirts of Phnom Penh, is another grim memorial to the countless Cambodians who died here. Many visitors to these memorials, much like those who visit former Concentration Camps, find it takes considerable time to process and move on from visits to these centres, which are dedicated to preserving and telling the disturbing stories of the worst of humanity.
A far more pleasant and relaxed time is assured on a river cruise, with a minimum of one hour recommended to take it all in. Sit back and soak in the village views, and passing scenes of agricultural and river life.
Meanwhile, on Oknhatey Island, tourists can observe villagers weaving silk, making pottery, and carving timber. Alternatively, you can hire your own boat to visit cottage silk weavers or to just relax and watch the riverine activities.
KHMER CUISINE AND ANGKOR ALES
While there are some similarities with other Asian cuisines, the food of Cambodia is unquestionably different and Khmer people are proud of its uniqueness. Some delicious local dishes to try include amok (coconut and fish steamed in banana leaves), brohor tropeang (light and crispy soup), nom banhckok (noodles) and samlor machu sre (fish soup). Prahok (fermented fish paste) and kapi (fermented prawn paste) are the Khmer equivalents of Malaysia's sambal belacan.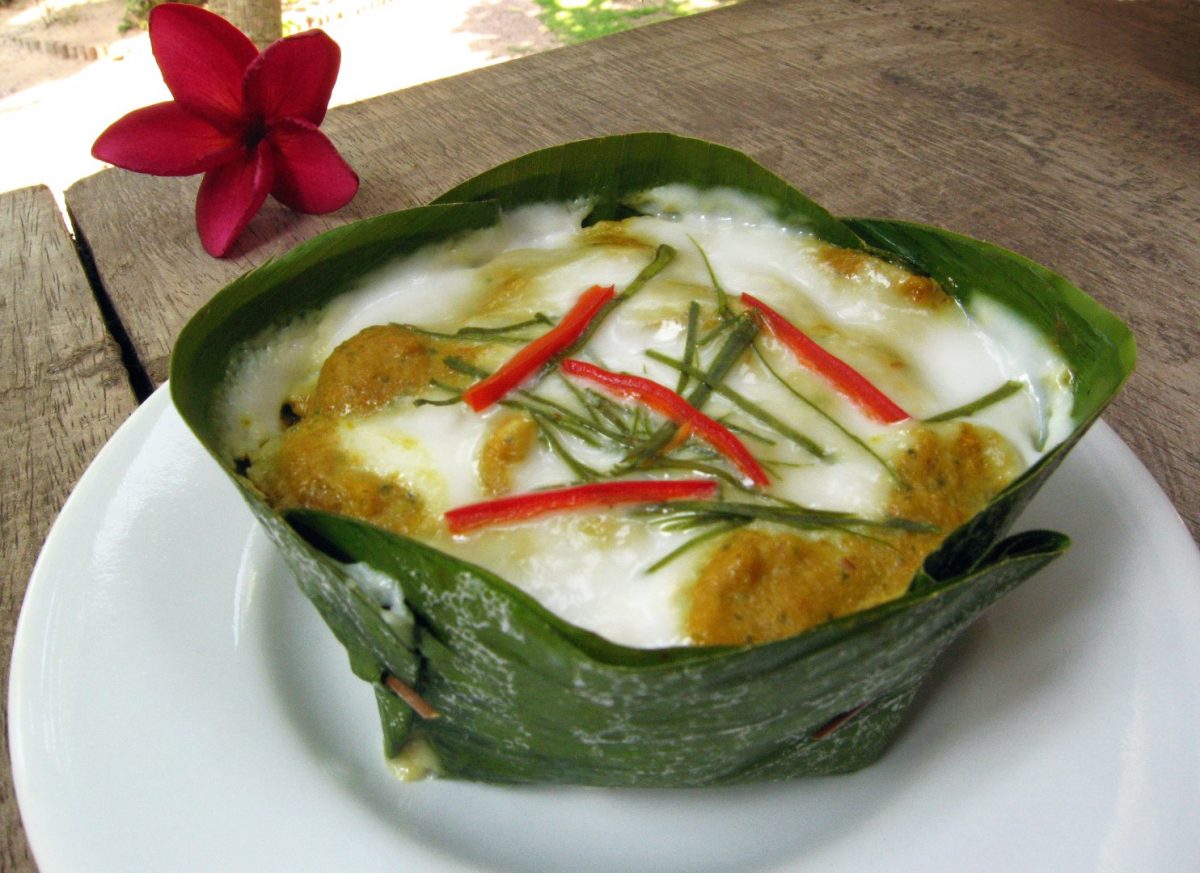 France had a strong influence in Indochina during the last century, and one venue that combines Royal Khmer and modern French cuisines is in the Restaurant Le Royal within Raffles Le Royal Hotel. The Phnom Penh riverfront area has been booming with restaurants, cool cafés and boisterous bars. Acclaimed restaurants include Mali's (run by celebrity chef Luu Meng), Topaz (French), Backyard Café (vegetarian and vegan), The Sushi Bar, Khéma Pasteur (European/Asia), Black Bamboo (restaurant with a heart that offers vocational training for young Khmers), and Romdeng (proceeds help street children).
Cambodia's beer must be firmly among the region's cheapest, with happy prices being ridiculously cheap. There are many bars and restaurants along Preah Sisowath Quay and the riverfront with the Foreign Correspondents Club (FCC) being a legendary Asian bar to visit. While some remark that it has seen better days, it's still worth dropping by, if only to seek out a chilled Angkor beer.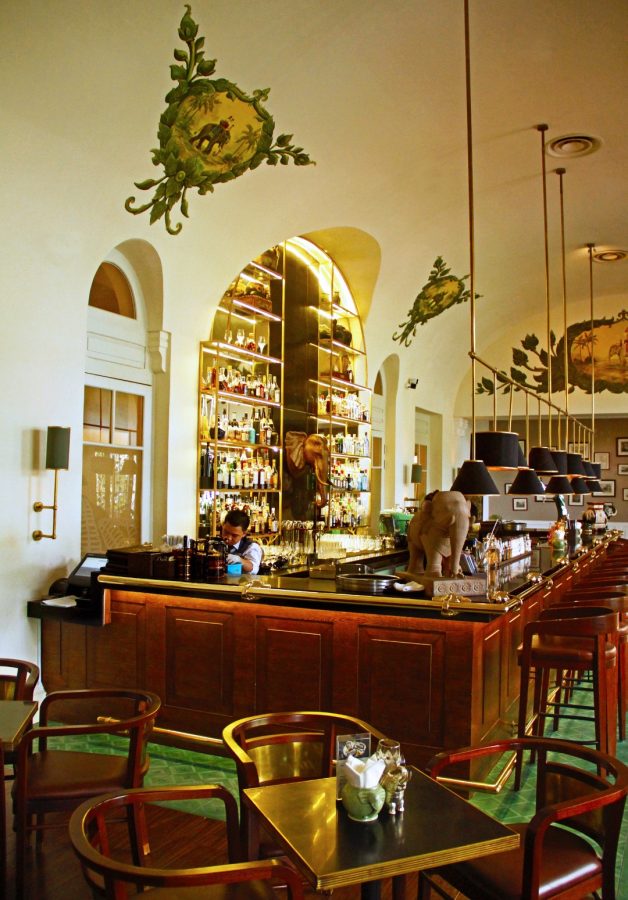 The best nightlife streets are along those numbered 104 and 136 while Streets 108 and 51 are lined with bars that most appeal to a male clientele. However, the city's most elegant bar has to be the Elephant Bar in the Raffles Le Royal. While happy hours here are extensive (4pm to 9pm), the prices aren't as generous as those on the street, but then again, there are few places in Asia that boast the panache of the Elephant Bar. This cool and chic bar is the place for heritage hounds to relax in deep leather lounges and sip a cool beer or cocktail beneath the high arched ceiling decorated with elephant murals.
Legendary cocktails include Residents Gin and Tonic (Sigsmiths Raffles 1915 gin, East Imperial Burma tonic and bitters), Singapore Sling (it is Raffles, after all), and Raffles Pimms for Two. A special tapas menu includes local snacks such as fried crickets, stuffed frogs, and Kampot cockles alongside more recognisable dishes such as barbecued truffle-flavoured buffalo wings and Iberian chorizo.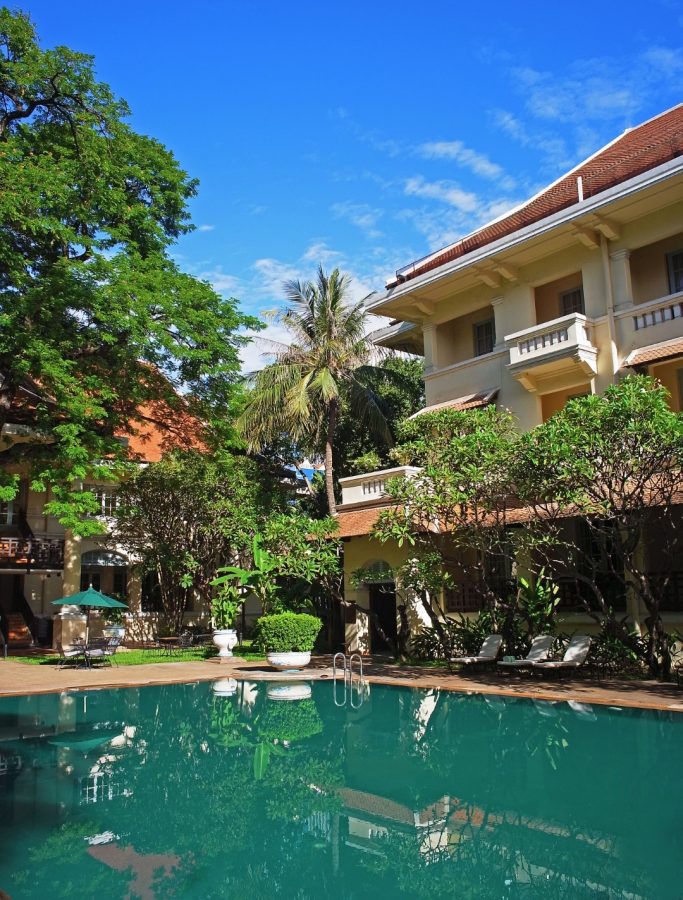 DAILY DIVERSIONS
There are many great Khmer souvenirs to purchase and the Russian Market is a great place to start for those seeking silverware and textiles. The Night Market (Phasar Reatrey) located along the riverfront is good for handicrafts, silks, art, and locally made souvenirs. Central Market, or Phasar Thmei, is the largest market and delightfully art deco in its design. It is home to traders who offer many products from clothing to silverware, gemstones, photographic equipment and fresh produce.
While there are a handful of golf courses in Phnom Penh, the one considered as the course to play is Garden City Golf Club, located beside the Tonle Sap River on the outskirts of the city. The challenge for the golf architect was to develop this dead-flat floodplain into a 7,300 yard-long, 18-hole, par 72 championship course, and most golfers agree that the course is tough enough for the professionals, while remaining kind enough to golfers of more modest talents. There is a 254-room deluxe hotel attached to the course, and while it is a tranquil setting, it's likely so because it's some 15km from the city centre.
ROYAL TREATMENT
There is nothing as cool as the pool in the city's most prestigious five-star hotel, Raffles Hotel Le Royal. Its rooms have provided comfort and luxury to discerning travellers for decades, and while new properties keep opening, those in the know keep checking into this gracious property. Established in 1931, the hotel appeals to an international clientele of adventurers, writers, journalists, dignitaries, and royalty. Heritage photos and personalised celebrity suites such as Jacqueline Kennedy, W. Somerset Maugham, and Charles de Gaulle provide a historic reference. Tastefully appointed with art deco furnishings and Cambodian objets d'art, the main building has been faithfully restored to its previous elegance while the new wings are in sympathy with the original architecture.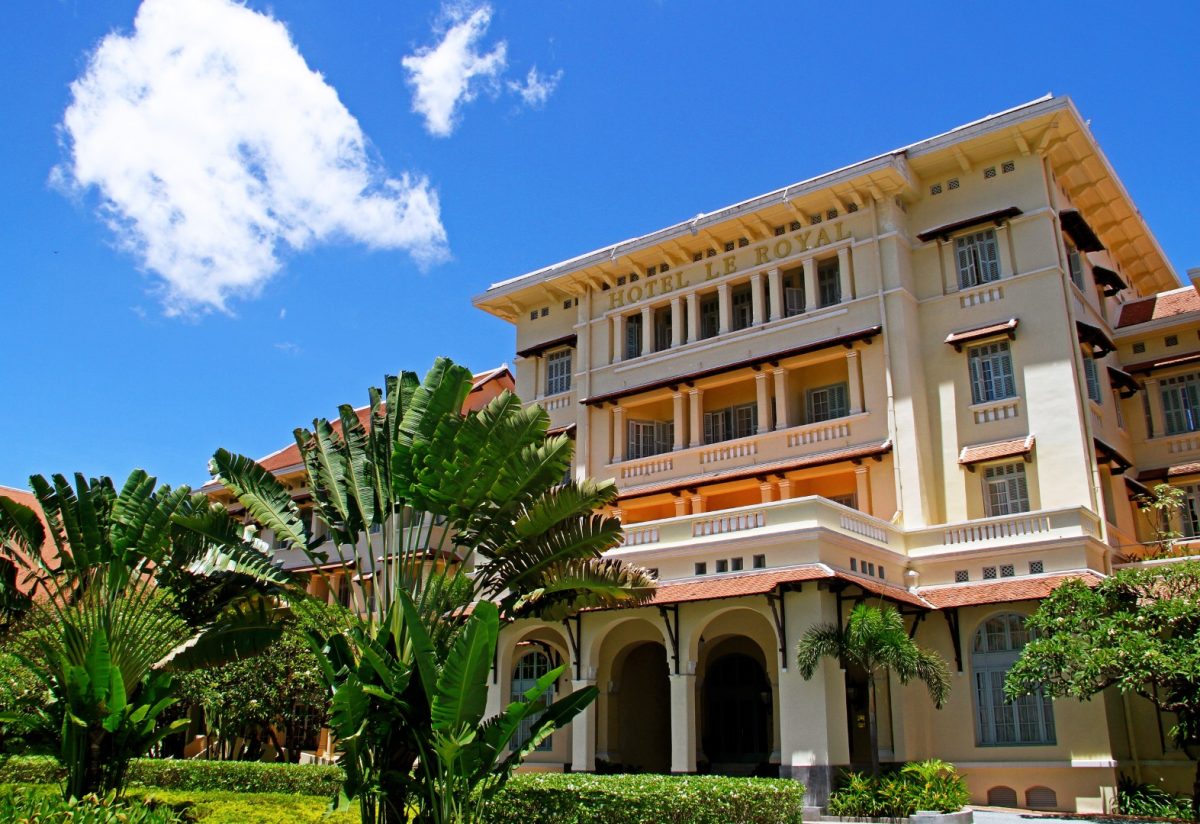 Phnom Penh contrasts markedly to the archaeological site of Angkor located in Cambodia's northwest. It is a lively city with fascinating attractions, bustling markets, and some great restaurants. Visitors to Cambodia do themselves a disservice if they don't spend time here, either as a standalone visit, or a stop on their way to Angkor.
---
"ExpatGo welcomes and encourages comments, input, and divergent opinions. However, we kindly request that you use suitable language in your comments, and refrain from any sort of personal attack, hate speech, or disparaging rhetoric. Comments not in line with this are subject to removal from the site. "
Comments