At least from a business perspective, Malaysia is likely harming its global image by choosing to escalate its row with Swatch over the Home Ministry's seizure of dozens of Pride-themed watches.
It's another unforced error for Malaysia in the international press as the Home Ministry doubles down on its purportedly illegal seizure of timepieces from numerous Swatch retail stores throughout the country, now seemingly compounding the issue by making false claims about it.
As a bit of background, Swatch is a well-known Swiss watchmaker with worldwide popularity, and the company operates numerous outlets across Malaysia. Swatch was founded in 1983, and its parent company, The Swatch Group, is the world's largest watch company, employing about 36,000 people in 50 countries, including Malaysia. The group owns not only the Swatch product line, but a number of other brands, including Blancpain, Breguet, Certina, ETA, Glashütte Original, Hamilton, Harry Winston, Longines, Mido, Omega, Rado, and Tissot.
Two weeks ago, Malaysia's Home Ministry, in a clearly orchestrated move, raided 11 Swatch retail stores all over the country and seized dozens of watches with rainbow designs.
Home Ministry enforcers confiscated over 160 watches from Swatch outlets in Pavilion Kuala Lumpur, 1 Utama, Sunway Pyramid, Setia City Mall, Mid Valley Megamall, Southkey, Sunway Putra Mall, Sogo KL, Queensbay, Fahrenheit 88 and Suria Sabah on May 13 and 14. The watches, which mostly retail between RM350 and RM570 each, have an aggregate value of more than RM64,000.
Additionally, Swatch stores in KTCC (Terengganu), Aeon KB, Aman Central Kedah, City Square, and Viva City Kuching were also issued warning notices.
Though the motive is unclear, critics in Malaysia have speculated that this was done so the Prime Minister's "unity government" could still point to its hardline conservative detractors and say, "See? We stand up for traditional values, too!"
The raids were met with plenty of criticism, although of course a few comments from netizens suggested that some felt the raids were appropriate.
Needless to say, the Home Ministry's raids quickly made global news, casting an unfavourable light on Malaysia, from both business and human rights perspectives.
ECHOES OF FLORIDA?
The Swatch raids here in Malaysia have some elements in common with recent events in the US state of Florida, where far-right governor Ron DeSantis cemented his legacy in infamy in 2022 by signing into law a bill that soon became known as the "Don't Say Gay" bill. The law banned public school teachers in Florida from giving any classroom instruction about sexual orientation or gender identity. Initially, it was limited to kindergarten through third grade (roughly four to eight years old), but vague wording in the bill later allowed it to easily be expanded to encompass ALL grades.
Ahead of the bill's signing into law, the Walt Disney Company publicly took a stance against the law and its ramifications. DeSantis then targeted them in retaliation, which critics said was a clear breach of the First Amendment to the US Constitution, in that a government official was using official power to silence free speech, in this case, of a corporation. Disney not only operates the huge Walt Disney World theme park in Orlando, Florida, it is the state's largest employer.
The very public fight has been going on ever since, and in March, Disney called DeSantis "anti-business" for his scorched-earth attempt to tighten oversight of the company's theme park resort near Orlando. Last month, when Disney sued the governor and his allies for what it called "a targeted campaign of government retaliation," the massive company made clear that $17 billion in planned investment in Walt Disney World was on the line. Two months later, they showed that it wasn't a bluff.
In response to DeSantis's continued campaign of attacks, Disney recently cancelled a huge development in Florida. The $1 billion office complex was slated for construction in Lake Nona, and would have brought more than 2,000 high-paying Disney jobs to Florida, with an average annual salary of $120,000, according to the Florida Department of Economic Opportunity.
Not only that, the project's cancellation has already had a profound spillover effect on other business and developments that were proceeding because of Disney's mammoth investment. Housing, restaurants, and retail developments were all under construction in anticipation of the business Disney would bring in. All that is gone now with Disney pulling the plug on the project, thanks to DeSantis's crusade against LGBT Floridians.
Over and over again, American enterprises have found that hate and discrimination are bad for their business. While some of course may get a short-term boost in business from like-minded people – indeed, plenty of people angrily said they'd boycott Disney after they publicly opposed the "Don't Say Gay" bill – over time, corporations have clearly learned that concepts like diversity, inclusion, and acceptance are actually good for business, something which studies have repeatedly affirmed – not just in the workplace, but for the company's bottom line, too.
IS DIVERSITY CELEBRATED OR ISN'T IT?
Of course, Malaysia is a different country from the United States, with its own cultures and social practices, but one of the things people seem to genuinely appreciate about living here is that there is a spirit of tolerance and inclusion, at least in theory. Even the large official "welcome" displays for Kuala Lumpur celebrate the Malaysian capital as "A City of Contrasts and Diversity."
So it's easy to understand the anger and confusion that arose when retail shops of one of the world's most popular watch brands were raided by government officials because they sold watches with rainbow iconography. Is diversity only valued and embraced when it fits a specific narrowly defined narrative? Or is it just empty virtue-signalling to begin with, with no real meaning in actual practice?
Every country must chart its own course with regard to how it handles social matters, and of course, these views evolve and shift over time. Should the tolerant hand of diversity be extended to everyone, including members of the LGBT community?
In a vote for diversity – and in explaining the idea behind Pride, as part of a lengthy op-ed piece published by Malaysiakini – local human rights group Justice for Sisters wrote, "Pride is typically celebrated in June by LGBT people globally to commemorate the community's resistance against discrimination, violence, and oppression. LGBT people are criminalised and shamed into believing that they are wrong, deviant, sinners, and unworthy, among others.
"Against this context, Pride is a celebration of LGBT persons to uplift themselves individually and collectively from the shame imposed by society and the state."
RAIDS AND RECRIMINATIONS
According to reports, the Swatch watches seized in Malaysia featured nine different designs. Six of the designs under the watchmaker's 2023 Pride collection are watches in the individual colours of the six-striped Pride Flag, with these watches coming with two "rainbow loops". When the two loops are placed together, the patterns on the loops form the Pride Flag, the Swatch website explains.
The fallout from the raids was predictable and swift, with legal experts denouncing the action as both illegal and unconstitutional. Political party MUDA took an immediate stance against the raids, asking the Home Ministry to explain itself, and clarify its position with regard to the issue of LGBT rights.
In response to the backlash, the Home Ministry tried to defend its actions, saying that they only seized watches with 'LGBT' printed on them, not just the rainbow colours. But this is problematic for two reasons.
First, that doesn't necessarily make it okay, though opinions are sure to vary on this point. The letters 'LGBT' are found in publications in Malaysia all the time. Like the people it describes, the term exists, and it's in widespread use, so seizing the watches because they have those letters somewhere on them is not only absurd, it's potentially a very slippery slope.
"Are they just going to pretend that we don't exist?" one netizen posted on Twitter. "By banning anything with LGBT written on it, do they think that will make all LGBT people disappear?" she added.
Second, as Swatch has now pointed out, the Home Ministry's defense was not even true. When they say they only seized watches inscribed with LGBT, that is simply not the case. Some of the watches did have those letters, but most did not.
As noted, nine different designs of these watches were seized by the Ministry. According to Yahoo News, the total tally based on designs shown on Swatch's website: One design features the letters 'LGBTQIA2S' and rainbow loops, seven designs feature rainbow colours and rainbow loops without any LGBT text, and one design features the six-striped colours but does not have rainbow loops – and also no LGBT inscription.
So even if the original argument – the inclusion of the letters LGBT – made the raids and seizures justifiable or even legal, the truth of the matter is, only one out of the nine designs confiscated bore such lettering, making the Home Ministry's weak and clearly erroneous defense quickly fall apart.
The Swatch Group has advised they will be not only be restocking the seized watches, they'll also be taking legal action against the Ministry. Based on both comments from legal experts and precedent, the Ministry should not expect to fare very well.
In late 2015, the Home Ministry tried to effectively ban the colour yellow in response to the Bersih movement to advocate for clean, honest elections. The yellow shirts became symbolic of their movement, and in a bid to quash the group, the Ministry banned yellow clothing with the word 'Bersih' on them. The ban was overturned in court following a lawsuit, with the appellate court characterising the Ministry's ban as "irrational."
More recently, from 2020 to May 2023, the Ministry banned at least six LGBT-themed books, on broad grounds of a so-called threat to public morality, order, and security.
The Kuala Lumpur High Court in 2022 overturned one of these bans (on the book Gay is OK!), as the Ministry "failed to justify the ban on the grounds that the book is likely to cause prejudice to public order… after more than seven years of the publication of the book."
Not giving up its crusade, however, the Home Ministry has appealed the court's ruling in that case.
A SILVER LINING BEHIND THE RAINBOW CLOUDS?
Growth often comes from difficult periods such as these. Every country in which marginalised communities have gained rights has come at a cost. Rights won are often hard-fought and are seldom freely given. And more frequently than we should, we forget the long struggles of generations who came before us and worked tirelessly to secure those rights.
Barely a hundred years ago, women in the United States didn't even have the right to vote, and certainly didn't enjoy any glimpses of true equality until another 40 or 50 years after that. Today, nearly a quarter of the way through the 21st century, women still have to fight for their rights which are clawed back from them like the ocean tide reclaiming the sands of the coast.
Throughout history, minorities in almost every society have struggled against the oppression of the majority. Sadly, the rights many of us take for granted are not at all equally distributed.
It remains to be seen what the fallout from the Swatch raids will be in Malaysia. Certainly it's had a chilling effect on the business community, and the spectre of a global brand suing the Malaysian government certainly isn't a good look for the country.
It seems if you're trying to entice global companies to invest in Malaysia and set up shop here, a message of friendliness and inclusion would be a better way to go, instead of illegally raiding their company's stores.
As for the impact on Swatch, time will tell (no pun intended). According to media intelligence company CARMA, as reported by market intelligence firm Marketing-Interactive, in the last seven days, the Swatch brand saw a spike in the volume of its mentions on social media. Sentiments of the conversations over the last seven days were 29.1% negative, and only 3.4% positive. However, most of the negative sentiments were not directed towards the brand; instead, it seemed that netizens found the decision by the Home Ministry 'confusing' and a 'waste of resources,' said a spokesperson.
"When it comes to the incident's impact on Swatch brand sentiment in Malaysia, it's a bit of a mixed bag. To truly grasp the situation, we need to understand who Swatch appeals to. With its fun and upbeat vibes, I can imagine it resonates with the young, trendy, and 'progressive' crowd, if you catch my drift," said Joey Gan, the market lead at PRecious Communications.
Surprisingly, though, Gan highlights that the incident brought forth a number of positive things for the Swatch brand.
"Firstly, it highlighted their commitment to celebrating inclusivity, which I believe struck a chord with its audience. Secondly, it brought awareness to the collection. I mean, have you seen their Pride collection? I'm actually considering getting one for myself now," she said with a laugh.
She noted, however, "Here in Malaysia, even minor issues can blow up once they gain political attention." Gan conceded that finding the right balance between staying true to one's brand promises and catering to local sensibilities is no easy task.
Unsurprisingly, business groups based here have decried the raids, saying it sends the wrong message to international businesses, and would make companies "think twice about doing business in Malaysia."
Indeed, some of the most valuable and popular global brands operating in Malaysia take a strong stand on LGBT issues, with Mercedes-Benz among the most notable, saying on its website:
Mercedes-Benz is a strong brand with strong values. We value individuality and we are enriched by our sense of diversity. We stand for openness, trust and fairness. With us, it does not matter where you come from, who you love or what gender you feel you identify. With Mercedes-Benz Pride, we raise our flag for exactly that.

From the Mercedes-Benz website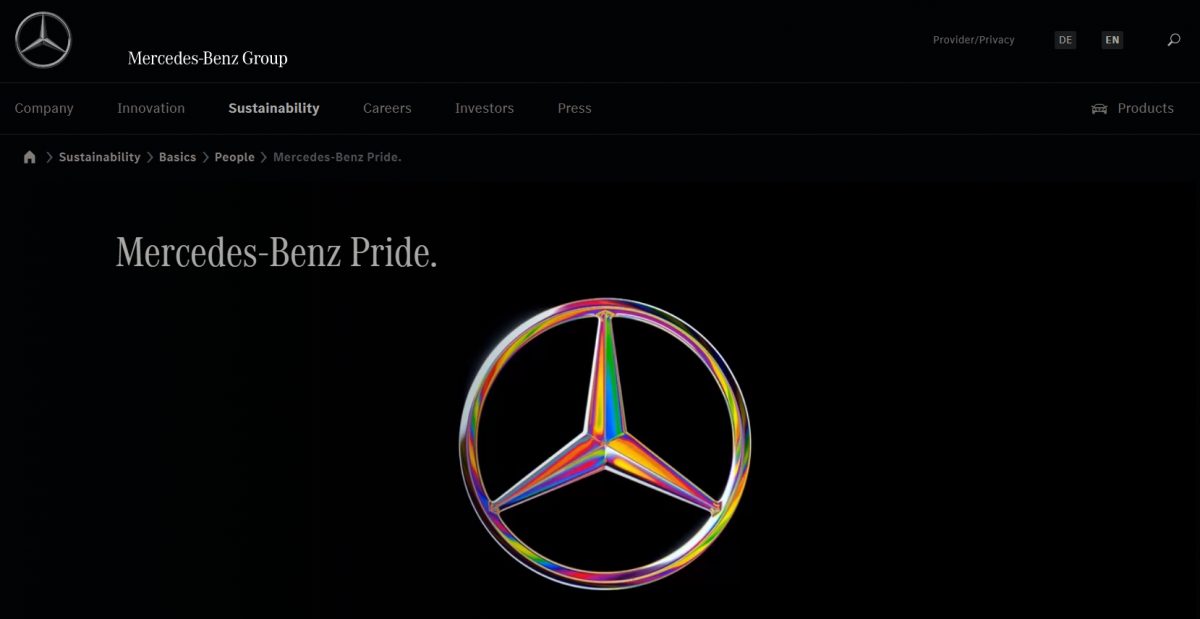 Perhaps cooler heads will prevail, and those in the relevant ministries can see that more harm than good will come from continuing down this path. That this is not an unsalvageable situation, and it's certainly possible that something positive can come from it, which appears to be the hope of at least some of the many netizens who are commenting on it.
It seems self-evident that in any peaceful, pluralistic, and multicultural society, tolerance and respect must go both ways. Hopefully, the right lessons will be learned, and the Swatch Raids of 2023 will be looked back on as a teachable moment that ultimately saw us take another slow but sure step towards true inclusion and equality, in both Malaysia and the world.
---
"ExpatGo welcomes and encourages comments, input, and divergent opinions. However, we kindly request that you use suitable language in your comments, and refrain from any sort of personal attack, hate speech, or disparaging rhetoric. Comments not in line with this are subject to removal from the site. "
Comments