No need to despair, though: Placing near the bottom of this particular list is actually a good thing for expats living in Malaysia.
This is one ranking in which not too many places would be upset about faring poorly. Yup, we're talking about the list of the most expensive cities in the world for expats. If you're just looking at the rankings, Malaysian cities performed terribly – and that's a great thing indeed, because it means that for those expats lucky enough to be living and working here, the cost of living is relatively affordable compared to almost anywhere else!
According to the latest cost of living research conducted by ECA International, a leading provider of knowledge, information, and software for employee management worldwide, Kuala Lumpur has dropped in the rankings to now become the 35th most expensive location for expats in Asia and the 175th most expensive globally – out of 207 total locations researched and ranked.
Other cities in Malaysia, namely George Town, Kota Kinabalu, and Johor Bahru, have also experienced slight decreases in their rankings. George Town now stands at 189th place, Kota Kinabalu at 195th place, and Johor Bahru at 198th place.
Conversely, Singapore has witnessed a significant rise in ECA's cost of living rankings, notably climbing eight positions to secure the fifth-place spot in the world's most expensive locations for expatriates. This marks the first time Singapore has entered the top five. The surge in its ranking can be primarily attributed to the rapidly increasing costs of housing there. Singapore stands out as one of the few Asian locations that have moved up the rankings this year, mainly due to significant rent hikes observed in 2022.
So to recap: For expats, Singapore is the world's fifth-most expensive place to live, while Kuala Lumpur is the 175th most expensive place. That these two cities are barely 300 km apart yet have such drastically different costs of living is amazing.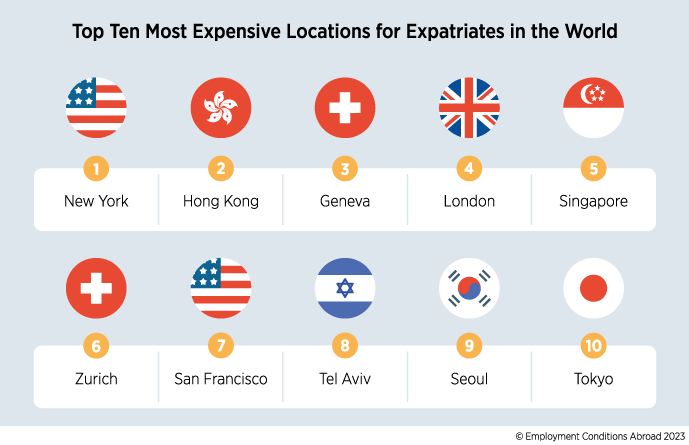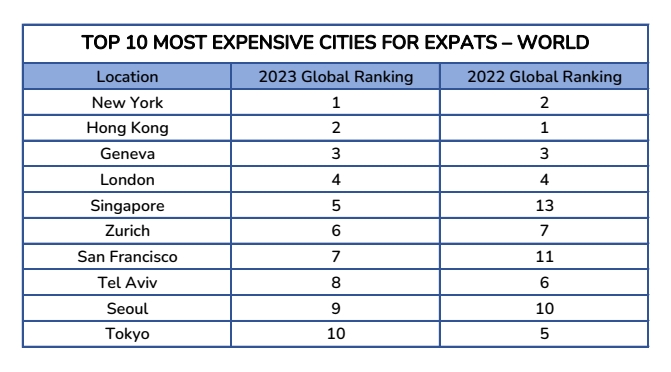 REGIONAL NOTES
Interestingly, Singapore is a bit of an outlier here, one of just three cities in Asia to have grown more expensive for expats in the last year. The latest rankings reveal that the majority of surveyed major locations in Asia have experienced declines, indicating that living in Asian cities has become relatively more affordable for expats compared to the rest of the world over the past year. This decrease can be attributed, in part, to lower inflation rates in comparison to other regions covered by the research. However, along with Singapore, Seoul and Yangon also stood out as exceptions to this trend. Seoul climbed one spot to secure the ninth position in the rankings, while Yangon rose by four places to reach 167th.
The survey provided insight into these changes, stating, "Singapore and Seoul's rise defied the overall downward trend in Asia, primarily due to significant increases in accommodation costs. However, in Seoul, the increase was caused by changes that restricted supply rather than an increase in demand. On the other hand, Yangon's rise can be attributed to ongoing socio-political issues, leading to substantial inflation in day-to-day goods and services."
In Southeast Asia, Singapore maintains a significant lead in the rankings, further widening the gap between the city-state and its regional counterparts. Bangkok, the second most expensive city in the region after Singapore, dropped by 13 positions to become the 60th most expensive location globally.
Elsewhere in the region, Manila fell by nine places to occupy the 75th spot, while Jakarta experienced a significant drop of 22 places, landing at the 114th position.
DETAILS AND METHODOLOGY
About ECA's Cost of Living Ranking
ECA International's cost of living rankings combine ECA's Cost of Living research and Accommodation research to enable a comparison of costs faced by expatriates around the world in 207 cities in 120 countries and territories.
This comparison of cost of living is calculated on a base composed of various developed countries and is used to reflect an international lifestyle. Other indices available from ECA reflect specific city-to-city comparisons and different levels of shopping efficiency.
ECA's Cost of Living Research
ECA International's cost of living research is carried out in March and September using a basket of day-to-day goods and services commonly purchased by assignees. The data used above refers to the March 2023 data collection period with changes compared to the March 2022 period. ECA's Cost of Living rankings began in 2005.
Cost of living indices are used by ECA clients to calculate cost of living allowances for assignees. The research covers:
• Food: Groceries; dairy produce; meat and fish; fresh fruit and vegetables
• Basic: Household goods; recreational goods; general services; leisure services
• General: Clothing; electrical goods; motoring; meals out; alcohol and tobacco
• Utilities costs
• Public transport
---
"ExpatGo welcomes and encourages comments, input, and divergent opinions. However, we kindly request that you use suitable language in your comments, and refrain from any sort of personal attack, hate speech, or disparaging rhetoric. Comments not in line with this are subject to removal from the site. "
Comments