As Singapore cashes in, Malaysia is finding out the hard way the high economic cost of putting up so many obstacles to having foreign artists performing in the country.
Okay, so just to recap for anyone who hasn't heard: Quite literally two of the biggest musical acts in the worldwide music scene over the past decade-plus are coming to Southeast Asia in the coming months. These two acts have collectively amassed a staggering 85 Grammy Award nominations, and taken home the coveted trophy 19 times.
And between them, they have each scheduled six concert dates in Singapore for a total of 12 shows. TWELVE shows! Meanwhile, Malaysia got a grand total of one single show.
Let that sink in.
With seven Grammy wins, Coldplay is one of the 21st century's most popular and acclaimed bands (and with over 100 million albums sold to date, one of the best-selling music acts of all time). They have scheduled a whopping six concerts in Singapore, adding two dates after the first four sold out in a flash. The two additional concerts also completely sold out almost instantly.
I've been around awhile – probably longer than I'd care to admit – and I've seen a lot of concert tour schedules over the years. And while it's not uncommon to see two concerts scheduled in a single city on a tour, and occasionally three (rarely, more like it), I have never seen an artist schedule SIX shows in a city on a single tour.
Meanwhile, Malaysia got one date scheduled from Coldplay.
Then there's Taylor Swift… you may have heard of her. Twelve Grammy Awards, over 200 million albums sold, and an absolute tsunami of accolades. She has been featured in critical listicles such as Rolling Stone's 100 Greatest Songwriters of All Time, Billboard's Greatest of All Time Artists, the Time 100, and Forbes Celebrity 100.
Among those 12 Grammy Awards are three Album of the Year wins; she also notched a Primetime Emmy Award; 40 American Music Awards; 29 Billboard Music Awards; 12 Country Music Association Awards; three IFPI Global Recording Artist of the Year awards; and 98 Guinness World Records. And beyond the actual songs, Swift has been honored with titles such as Artist of the Decade and Woman of the Decade, Swift is an advocate for artists' rights and women's empowerment.
Swift's worldwide "Eras" tour initially saw three shows scheduled for Singapore, but overwhelming demand compelled the tour managers to add another three concert dates, matching Coldplay's six scheduled performances in Singapore.
Suffice it to say, even if you don't know much about Coldplay or Taylor Swift, it's impossible to deny the immense influence they've had on the popular music scene.
And yet, they barely give Malaysia a glance while showering attention on a tiny neighbouring country with less than one-sixth the population of this one.
I wonder why that is! Why would huge global artists choose to pass up Malaysia with its 33 million people in favour of city-sized country a couple of hundred miles south, with only 5.5 million potential concert-goers – and then schedule multiple shows there, too!
Take all the time you need with that particular thought experiment. If you've been in Malaysia for more than a week, I'm sure you'll figure it out.
The simple truth is that too many roadblocks exist here for international performers. Even scheduling a date in Malaysia as part of a long, complex, and international touring calendar can be a big challenge as there are many days here on which large performances are simply not allowed.
Complicating matters for international tour organisers is the fact that many of the prohibited dates correspond to holidays and religious observances on the Islamic calendar (as well as the night before those dates), a number of which can and do change each year, and are sometimes not precisely known until very near to the date itself (as certain holidays involve the lunar calendar). For a huge concert tour that's planned many months in advance – or more than a year – this can be a logistical minefield.
So what does a big-name artist do? Well, judging by the serious lack of major acts appearing on stages in this country, it seems most take the easy route and avoid those potential mines by just skipping Malaysia altogether.
A HUGE MISSED CHANCE
Muar MP and MUDA President Syed Saddiq took to social media last week and in a series of tweets, explained how this is a real economic loss for Malaysia. He laid out the arithmetic of a big concert's spillover and multiplier effects in the economy.
"Singapore National Stadium can fit approximately 50,000 people. The average price of a Coldplay concert ticket would be about RM600. One day = RM30 million. If it was six days? The total collection would exceed RM180 million, if not more than that," he explained, rather oddly conflating a Singapore concert venue with Malaysian currency. It's unclear why he didn't just use the seating capacity for Bukit Jalil National Stadium, which is considerably higher than 50,000 – in fact, it is the largest stadium in Southeast Asia, with a seating capacity of some 85,000.
Saddiq then went on to explain that more than just Malaysians would no doubt attend such a concert, so even if a tiny fraction of attendees flew in from other countries, it would be a boon to the airlines.
Calculating the flight cost, he estimated that a round trip from Kuala Lumpur to Singapore would cost about RM350.
"Let's say not a lot of people go, just a thousand — airlines would be able to capture RM350,000! Six days = RM2.1 million. This doesn't even count our neighbours from other countries like the Philippines and Thailand," he added. (The airports themselves would also enjoy a little financial boost from taxes, landing fees, etc., although 6,000 extra passengers over six days is a tiny blip in overall passenger traffic.)
Addressing the broader impact of such a trip, Saddiq also noted that people would not be coming to the country solely to attend a concert, only to turn around and go immediately back home with no eating or shopping involved. They'd likely be here for at least a full day and night… and money would be spent!
"Coming from afar by flights, they aren't only going to attend a two- to three-hour concert. They'll definitely be eating and walking around," he posted. "Let's assume that someone spends RM500 in just a single day. 1,000 travellers = RM500,000, six days = RM3 million.
"This is a huge sum of money that can be generated," he wrote in his tweet. It's reasonable to assume that quite a few of those people would also get hotel rooms in the city, as well – boosting those businesses' bottom lines and adding to Malaysia's tourism receipts.
"While we're over here arguing over Malaysia hosting concerts, countries out there are grabbing golden chances to generate economic surplus," Saddiq concluded.
And those economic opportunities are plentiful. Vendors setting up outside the concert venue, for example, could potentially see a month's worth of income over the course of a single six-day concert event. Veteran journalist Norman Goh explained this in his tweet (scroll to the end).
In fact, while writing this, I was reminded of my long-ago days working as a manager in Domino's Pizza in Denver, Colorado. The store I worked in at one point was near a popular concert venue called Fiddler's Green Amphitheatre, so whenever they had a big show, we'd set up a mobile pizza sales unit. The logistics were a bit complex – getting hundreds of personal-size pizzas shuttled repeatedly from the store to the kiosk set up outside the concert venue – and we had to staff for it like crazy. But the sales of all those little pizzas always, always pushed our store to the highest-performing top spot in the whole district for the month, and typically added a hefty sum to the quarterly bonuses for managers.
This was like 30 years ago and we still cleaned up selling those little pizzas. I think they were only $2 or $3 each. But multiply that by thousands of concertgoers leaving the show, all amped up and hungry, and you can see how financially lucrative concerts can be to the surrounding community.
Here, you've got not a franchisee of a global pizza chain, but small-scale "mom and pop" type food vendors, selling local treats. The example Mr Goh noted in his tweet saw one woman making RM4,500 in a night selling RM3 donuts – RM4,000 of which was profit! And there's no way she was the only vendor setting up shop outside the concert venue. There were doubtlessly many others. The economic impact of a big concert extends far, far beyond the actual show itself.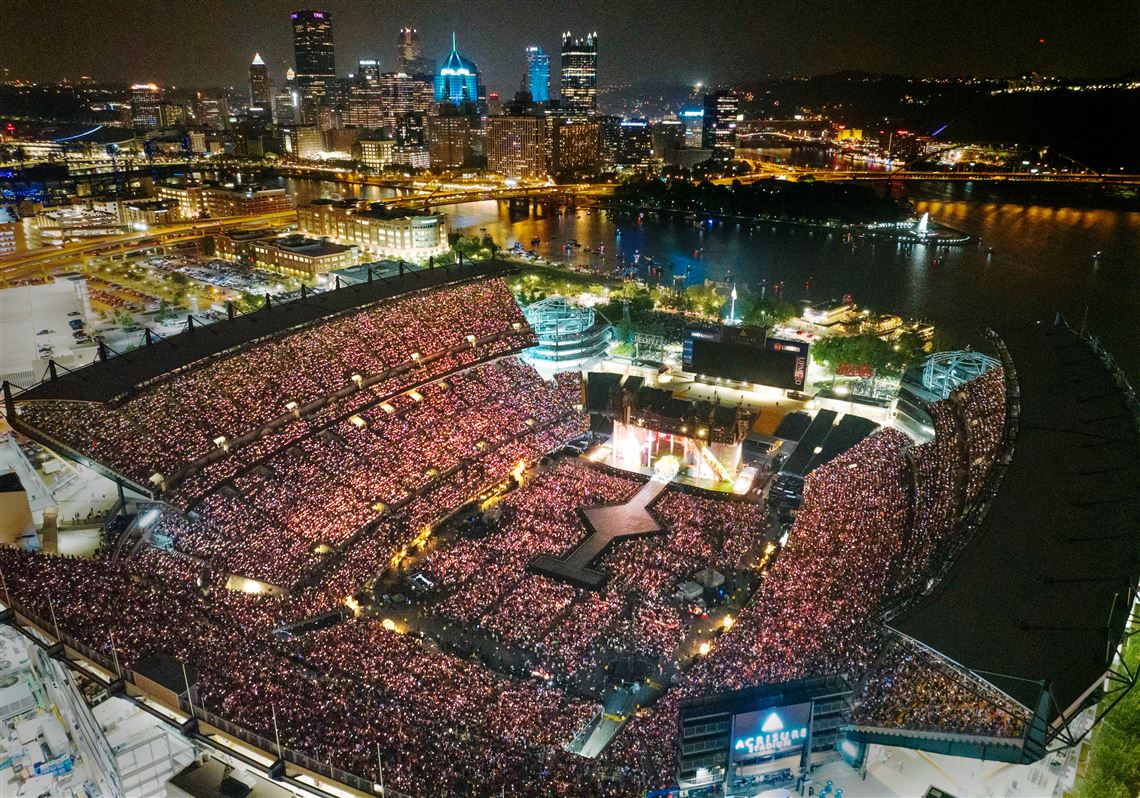 Critics have predictably piled on, saying that instead of calls from the usual quarters for Malaysia to "ban" this or that artist from performing here, the country should strive to be more welcoming.
Obviously, there are surely some musical acts that would admittedly be inappropriate here. But mainstream bands like Coldplay, and artists like Taylor Swift and Beyoncé aren't especially outrageous or provocative at all, and if it was just a matter of adhering to a reasonable and straightforward code of conduct while performing here, I have to believe most acts would happily abide by that. After all, concert tours are stupendously lucrative for these musicians.
But when tour organisers are confronted with a lengthy list of dos and don'ts, a calendar peppered with prohibited dates, a reputation for intolerance, and even a growing perception of not welcoming foreigners, perhaps it's all just a bit too much to be getting on with, and they and the international artists they represent simply look to other countries.
It's a shame, too, because performers and artists do seem to genuinely enjoy their fans here in Malaysia, and when they do perform here, it's easy to see how hungry the people are for big concerts and quality entertainment.
For now, though, all those Malaysian fans will have to content themselves with the one lone Coldplay date scheduled in November… but you can bet a lot of them are trying to get tickets to one of the many Singapore shows for Coldplay or Taylor Swift, meaning our neighbour to the south will reap financial rewards not just from their own residents, but from Malaysia's, as well.
---
Editor's note: The tweets from Syed Saddiq have been edited to correct an error in translation from the original media source.
---
"ExpatGo welcomes and encourages comments, input, and divergent opinions. However, we kindly request that you use suitable language in your comments, and refrain from any sort of personal attack, hate speech, or disparaging rhetoric. Comments not in line with this are subject to removal from the site. "
Comments