The province of Palawan, part of the Philippines' vast archipelago, is tantalisingly close to East Malaysia, but not easy to get to. Despite the extra effort required, however, this incredible destination is worth it.
This article written by Gordon Reid.
In the westernmost part of the Philippines lies the enchanting province — and namesake island — of Palawan. Known for its breathtaking natural beauty and pristine landscapes, Palawan is a tropical paradise that captivates visitors, both by land and by sea. With its turquoise waters, powdery white sand beaches, and towering limestone cliffs, Palawan is a true gem that beckons divers, adventurers, and nature lovers alike, but reaching it often requires a bit of extra effort.
HOW DO I GET THERE?
The large elongated island on the far western side of the Philippines, Palawan seems on a map to be almost in touching distance of Malaysia – of northern Sabah, to be more precise. But you cannot, indeed should not, get there by that route. Sadly, there are no flights from Sabah to Palawan. Nor are there any proper ferries. Moreover, the waters between Borneo and Palawan are considered dangerous because of the risks from pirates and kidnappers from the lawless Philippine Sulu Islands further south.
So instead, you have to fly either to Cebu or Manila, and from there to the Palawan capital of Puerto Princesa. The Cebu route is a bit shorter (and you could add in a visit to that attractive region), while the Manila one has a wider choice of flights. Or for variety, you could go one way and come back the other. If you pick your flights carefully, it's not that expensive either.
WHY GO THERE?
My main motive for heading there was scuba diving. There is some excellent diving in and around Palawan, which I'll detail. But that's not the only reason to go. Palawan also has some excellent beaches, bays, and resorts. Beyond diving, it's a great destination for beach lovers and landlubbers alike, especially if you are looking for something more laid back than Manila or the bustling parts of southern Thailand.
My own itinerary was, let me say up front, rather extensive, adventurous, and long – see the map. Not all of the places will be for everybody. But you can cherry-pick à la carte.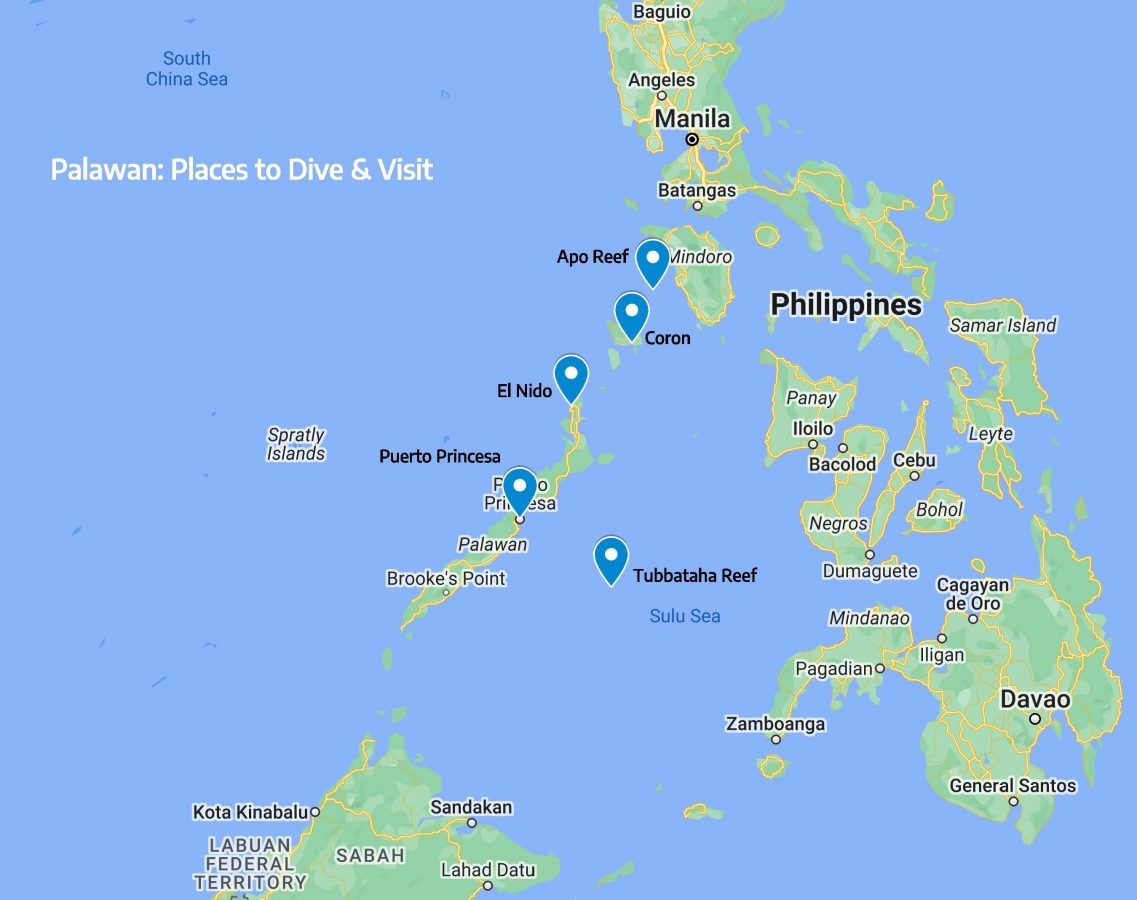 PUERTO PRINCESA
My first stop was where most visits to Palawan start: Puerto Princesa. With a low-density population of just over 300,000, it is a very manageable and liveable city. It is also clean and quiet by Philippine standards – far removed from the noise, grime, and grinding traffic of Metro Manila.
I stayed only a couple of nights in Puerto Princesa, unlike my other (principally diving) destinations. But I could, and probably should, have stayed longer. The city and nearby region have plenty to offer. First of all, a wide range of hotels and resorts, at different levels of comfort and budget, both in the city and on the likes of nearby Honda Bay, with its beautiful white sand beaches.
Sights worth seeing in Puerto Princesa itself include a handsome cathedral, some decent museums (one being Plaza Cuartel, a former military base that is now a memorial to the 139 American prisoners-of-war massacred there by the Japanese during World War II), as well as parks and seafronts, not to mention a good range of restaurants and shops.
TUBBATAHA REEF
This next section is for hard-core divers only. Why? Because Tubbataha is located in the middle of the Sulu Sea, a large body of largely land-free water bounded by Palawan, Cebu, and Mindanao in the Philippines, as well as Sabah in East Malaysia (see map). Now before you get alarmed by the mention of Mindanao, let me add that Tubbataha is a safe destination. It is very remote, far from Mindanao, and even further from the Sulu Islands. It is patrolled by state rangers who allow only a small number of licensed (mainly dive) boats in the area. There have been no reported incidents of attacks or kidnapping there.
The other reason Tubbataha is for hard-core divers only is because there is literally nothing to see above the sea, apart from a small lighthouse and a ranger station perched precariously on the reef. All the action is underneath the waves, on what is the largest and arguably most pristine reef in the Philippines. It is kept pristine by its very remoteness, as well as by the protective measures taken by the Philippine authorities. There is no fishing at all in the main reef area!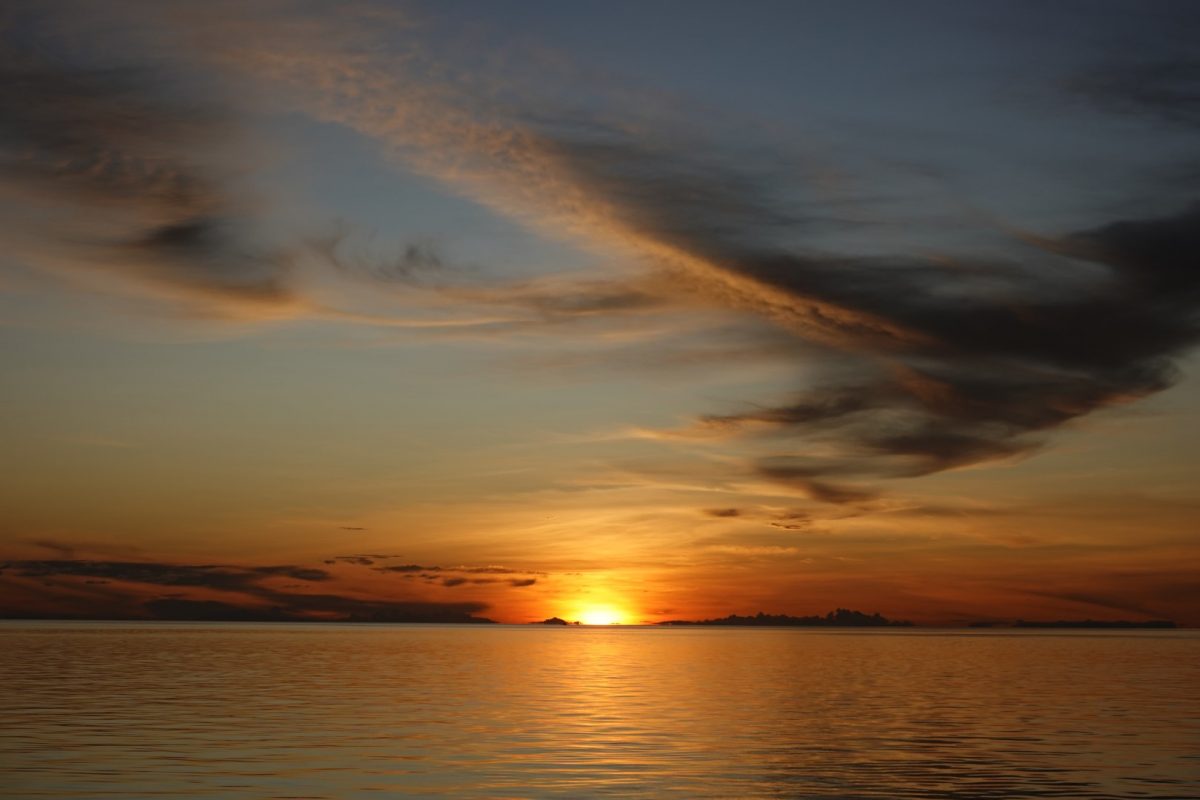 Take note that the only way to dive on Tubbataha Reef is on a liveaboard, of which there are at most a dozen boats in operation, none of them cheap. Moreover, you can only go there between March and June. The marine park is closed for the rest of the year – because the sea is just too rough.
Yet it is worth it. Especially if you want to see 'big stuff.' We saw manta rays, whitetip and blacktip sharks, plus tantalising glimpses (but no photos, sadly) of hammerheads. We also saw schools of bumphead parrotfish; large groupers; turtles; not to mention huge schools of silvery jacks. The one big thing we missed were whale sharks, but these are regularly spotted on Tubbataha. The beautiful corals were in excellent condition, with many huge fan corals being the standouts. All in all, while not as prolific or incredibly diverse as Raja Ampat in Indonesia, Tubbataha is definitely well worth diving.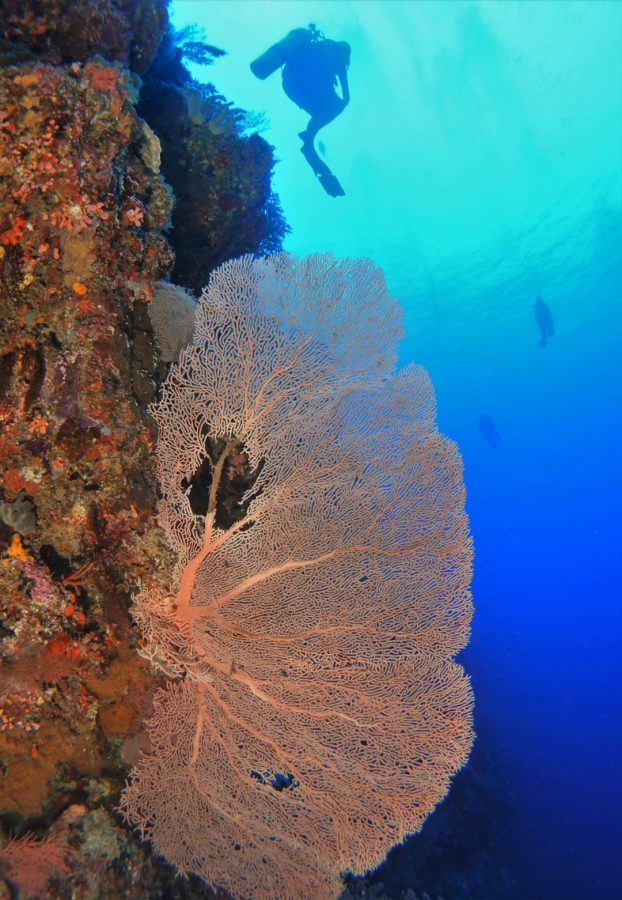 EL NIDO
Returning to dry land in Puerto Princesa, I set off for my next destination: El Nido, in the far north of Palawan. This is a place with appeal to divers, snorkellers, and beach island lovers alike. Like many parts of the Philippines, however, it is not easy to get to. You can fly in (or out) direct from Manila or Cebu, but annoyingly not Puerto Princesa. Moreover, these flights are pricey. So if you want to take in both Puerto Princesa and El Nido, you'll have to take a four-hour plus minibus ride at least one way, as I did.
But why go all the way to El Nido? The main reason is the setting. The surrounding bays of El Nido and Bacuit, with clear blue water and numerous small islands to hop around, are absolutely gorgeous. So are the white sand beaches. To add to that, the town has a nice feel. It's small enough to feel cosy (and safe to walk around in), but big enough to have a good selection of hotels, restaurants, and bars to while away those balmy evenings. Sit right by the beach, sip a very reasonably priced local beer or cocktail, and enjoy!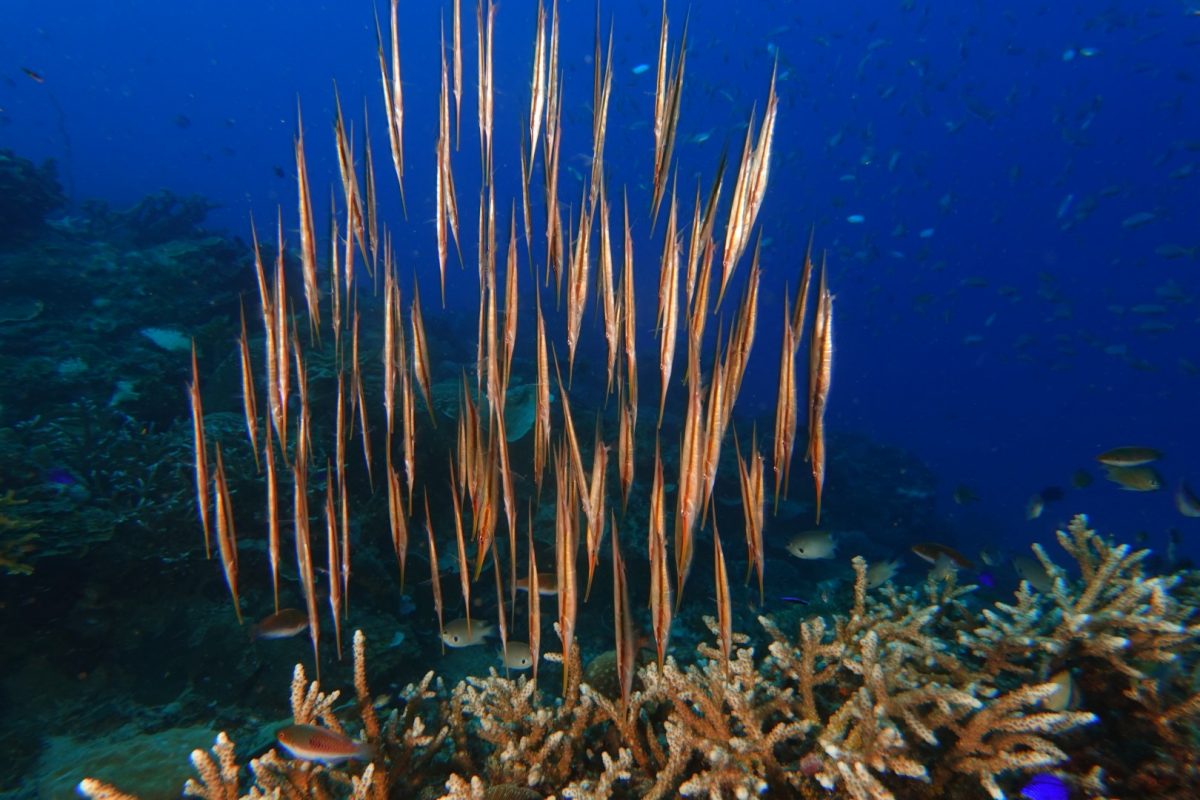 I should also mention the diving and snorkelling. Some of my liveaboard trip-mates told me not to waste my time diving in El Nido, but I cannot agree. Okay, it's not in the same league as Tubbataha. But the diving was extremely pleasant, with clear blue water and a good range of colourful corals, as well as plentiful medium to small marine life (including macro creatures such as nudibranchs and pipefish). Moreover, since most of the reefs and islands are reasonably near, you can opt to do one, two or three dives (or snorkel trips) a day, and chill for the rest. In sum, a great place to learn or re-learn to dive; or just to spend several days mixing marine activities with onshore relaxation.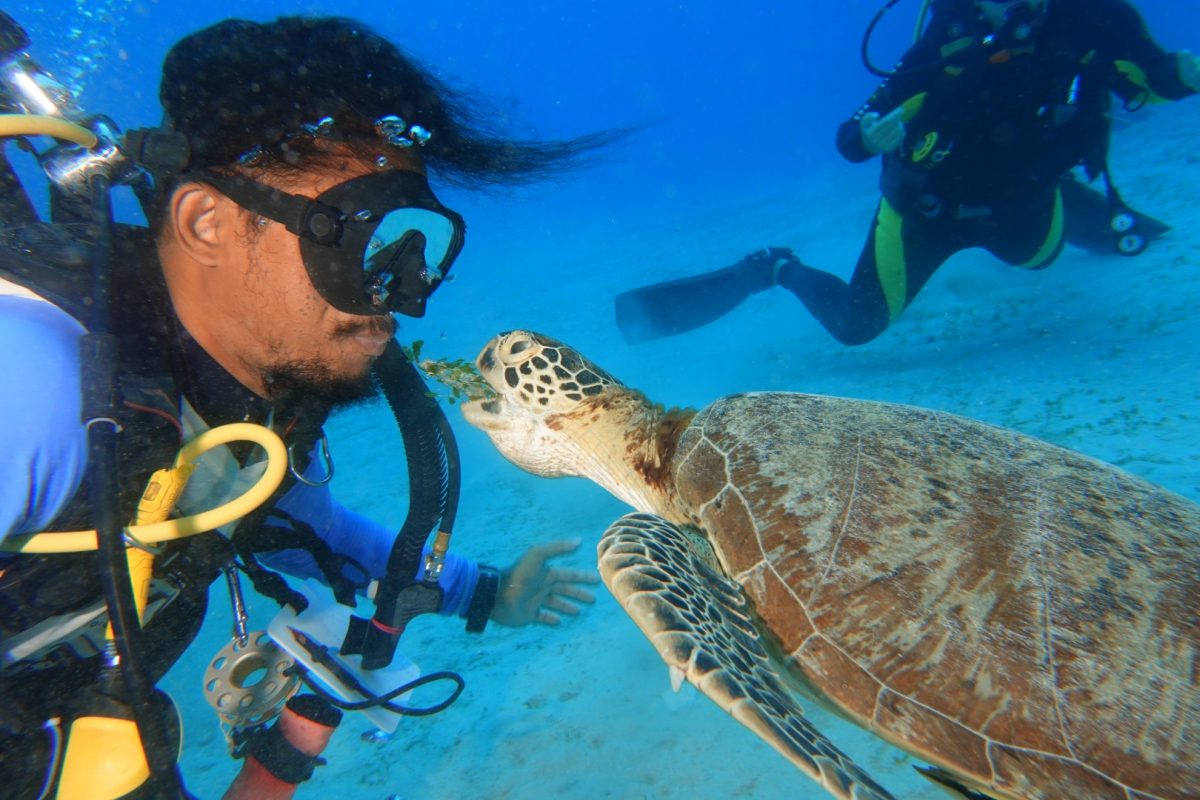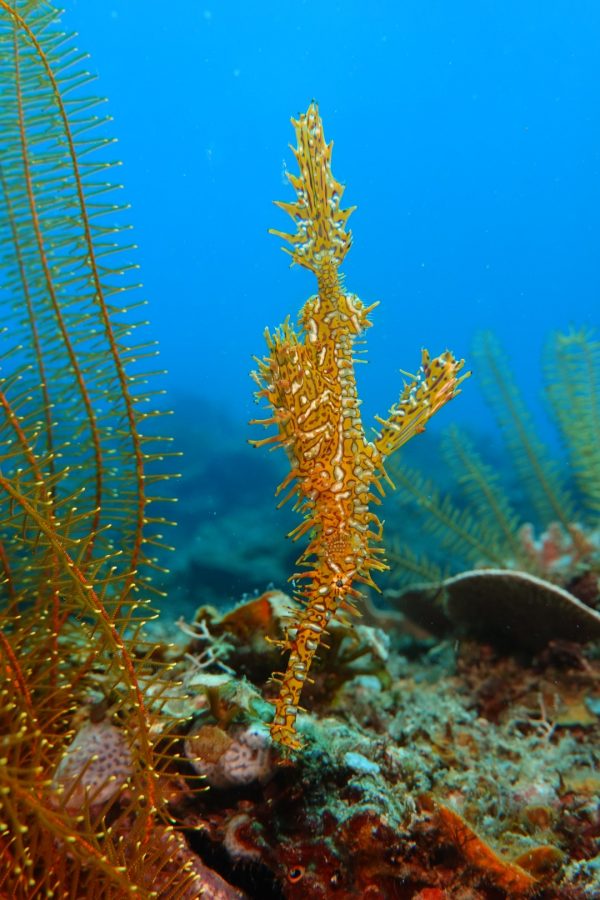 CORON
My next stop was Coron, the second-biggest island in Palawan province. This is about half way between El Nido and the much larger island and neighbouring province of Mindoro. You get there by ferry, which conveniently leaves from the El Nido town jetty. Although described as 'fast,' the ferry actually takes around four hours, but it's quite a pleasant trip, gliding past various picturesque tropical islands on the way – provided the sea is calm. Alternatively, if you are not on a tight budget, you can fly direct from El Nido to Coron. Or you can fly direct between Coron and either Manila (as I did to get home) or Cebu.
My main reason for going to Coron was… you guessed it… diving! But before that, let's talk about other attractions. I have to say first that Coron Town itself, where I stayed, is not particularly attractive or even all that developed. That said, the town is the best jumping off point for excursions and trips. It also has a decent selection of hotels and small resorts to stay in, as well as restaurants and bars to eat and drink in – including an in-house craft brewery that sells some surprisingly good beer!
The island complex, like Palawan, does offer some fascinating and beautiful places to visit. There are lovely beaches along the coast and on the adjoining small islands, some dotted with high-class (and expensive) resorts. In addition, there are various picturesque lagoons and lakes to cruise to – including Barracuda Lake, which has no barracuda in it but, thanks to a feeder hot spring, offers the weird experience of diving or snorkelling in seawater reaching bathtub temperatures of more than 40°C! There is also an excellent hot spring bathing complex only a few kilometres along the coast from Coron Town. Last but not least, do make the walk up the 720 or so steps to the Mt Tapya lookout point, right above Coron Town. This affords excellent views onto the town and surrounding bays, lagoons and islands – ideal for photographers like me.
Finally, back to the diving. The main attraction in Coron are wrecks. In late 1944, a chunk of the Japanese fleet was sunk in Coron Bay in a daring American air raid. There they still sit. There are 10 wrecks that are regularly dived, eight of them within easy reach by boat from Coron Town. They are impressive: large, well-preserved, and for suitably experienced and qualified wreck divers, penetrable deep inside. Note, however, that most of the wrecks are at depth – from 20 m downwards – making them quite unsuitable for beginners or basic Open Water divers.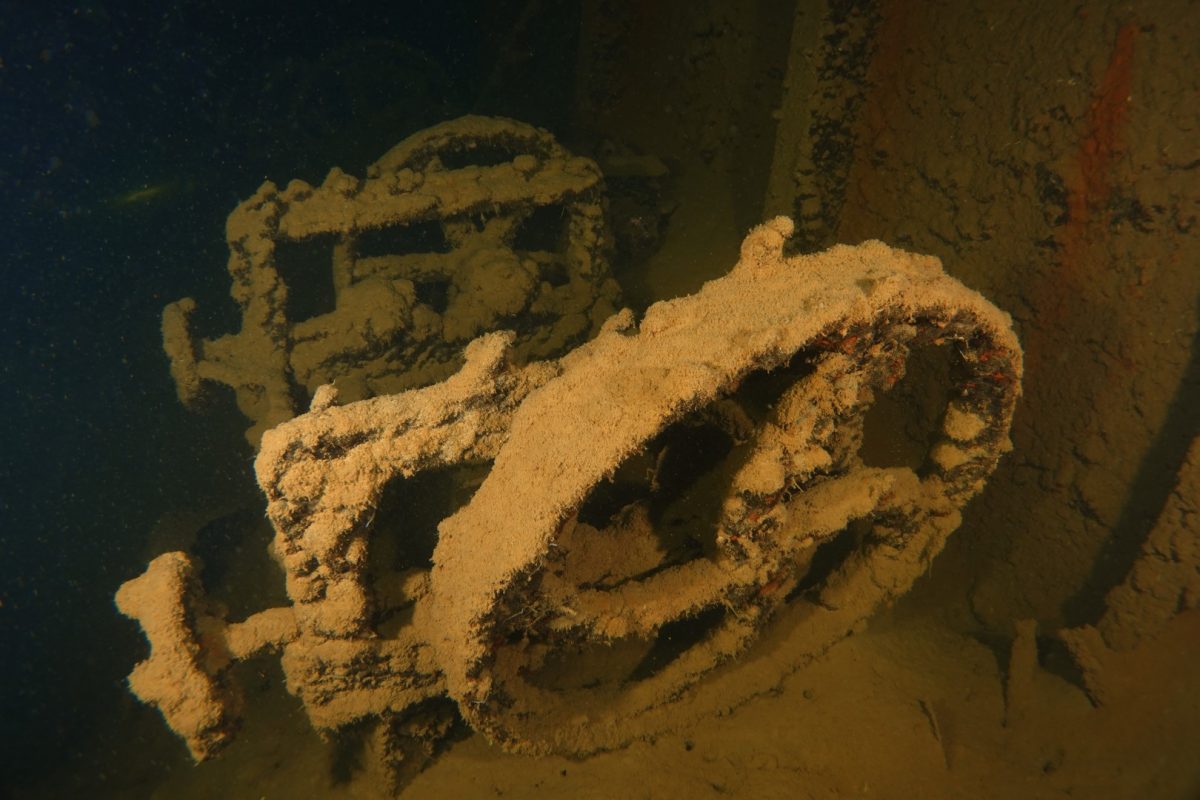 I am glad I visited what is arguably the best wreck diving spot in Southeast Asia. Yet I also confess to a little disappointment. First and foremost, because of the visibility. Coron Bay receives a lot of rain-driven runoff from the surrounding islands, which brings soil and other particles into the seawater. As a result, the visibility tends to range from medium (say 10-15 metres) at best to poor or very poor (barely a metre). This makes it difficult and rare to get good overviews of the large wrecks, and even more difficult good wide-angle photographs. In addition, while many of the wrecks have eye-catching coral and other marine life cover on top, the marine life inside them is relatively sparse compared to wrecks I have dived elsewhere.
APO REEF
A brief word for divers about my final stop: Apo Reef. Like Tubbataha, this is remote and not easy to get to. A liveaboard is the best option. Most depart from Batangas in southern Luzon (reached via Manila, then by land), with one or two from Coron or El Nido. There are also some day trips from nearby central Mindoro.
The reef itself is perhaps best described as a 'mini-Tubbataha.' Not as big; not quite as pristine; and not quite as much marine life – particularly big stuff – as the latter. That said, if you don't have the time or money to make it all the way to Tubbataha, Apo Reef is a worthwhile, cheaper, and more accessible alternative, with decent chances of seeing some exciting large creatures.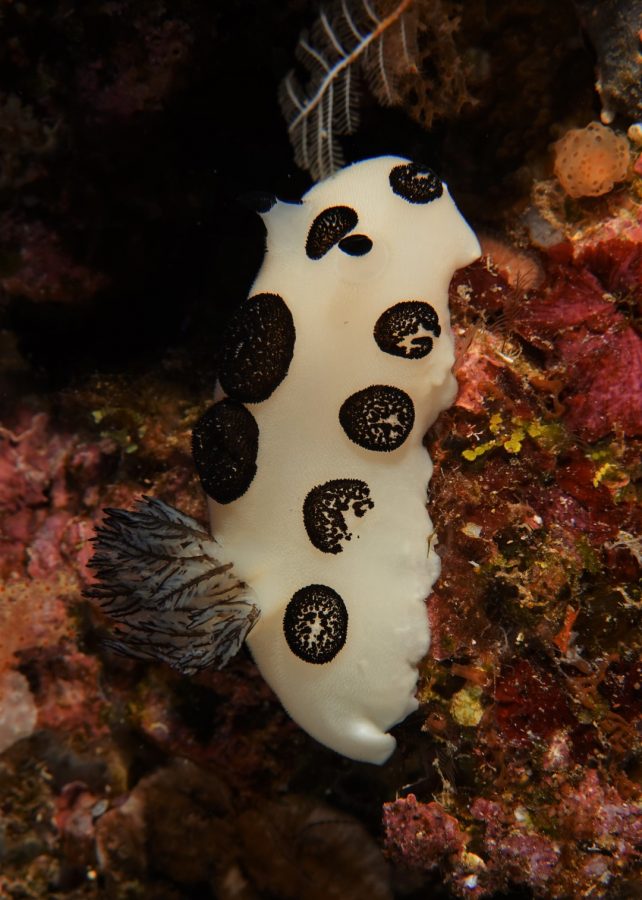 SOME FINAL TIPS
For the suitably licensed and experienced, hiring a small motorcycle is a convenient low-cost way of getting around, particularly on Coron. But be careful on the roads, many of which are in a poor state and with chaotic, if generally slow-moving, traffic.

Unless otherwise noted, all photos provided by the author.
---
"ExpatGo welcomes and encourages comments, input, and divergent opinions. However, we kindly request that you use suitable language in your comments, and refrain from any sort of personal attack, hate speech, or disparaging rhetoric. Comments not in line with this are subject to removal from the site. "
Comments