In a country marked by diverse travel experiences, Vietnam's beautiful Cam Ranh Peninsula is not yet on Malaysians' travel radar. But with the transformative efforts being made (along with some terrific beachfront resorts), this amazing destination isn't going to remain a secret much longer.
Following a three-year stretch with all my travels confined to Malaysia, fuelled largely by the long period of Covid restrictions, the time finally came to embark on an international trip. I wouldn't have guessed that Vietnam would be the destination for my first post-pandemic international flight, but indeed it was.
It also marked my third time to this captivating Southeast Asian country. Having already been to the prime tourist-drawing cities of Saigon and Hanoi, this time, my travels would take me just a bit more off the beaten path – the coastal cities of Cam Ranh and Nha Trang.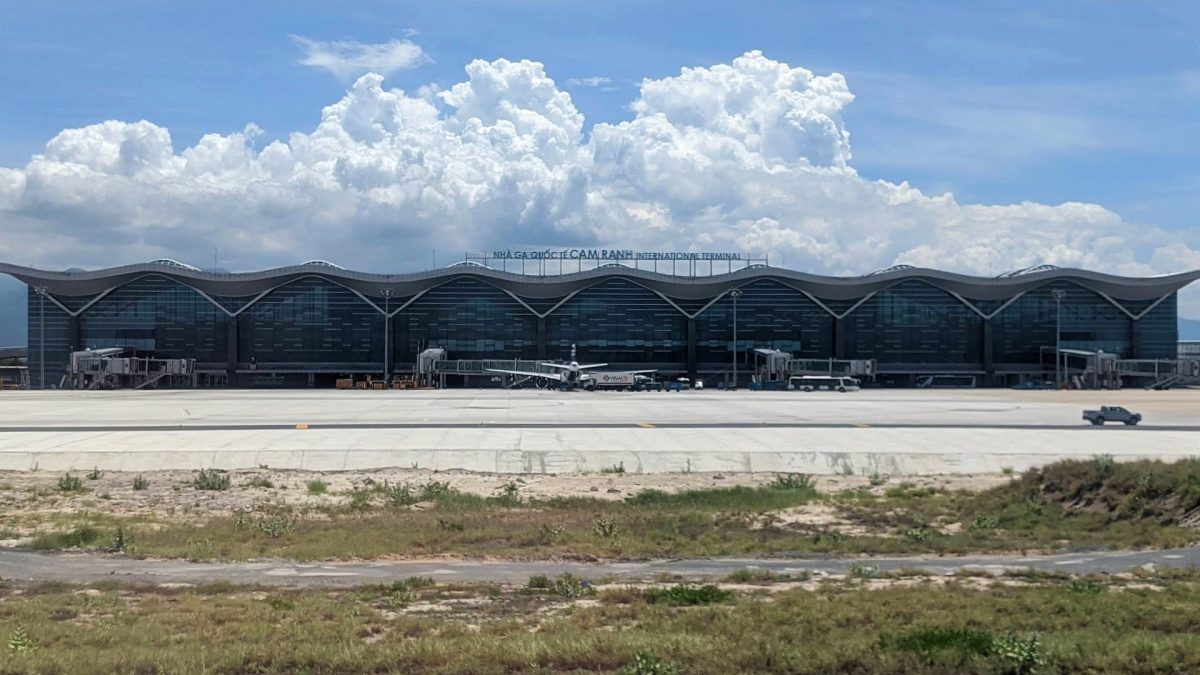 With direct flights from Kuala Lumpur to the attractive new international terminal at Cam Ranh's airport, the journey takes less than 2.5 hours. Just inland from a magnificent 16-km stretch of wide, white sandy beachfront, the small airport was a breeze to navigate. Immigration was a bit of a slog, but certainly bearable, and after collecting our luggage, we were off to the nearby Alma Resort.
Did I say 'nearby'? That may actually be an understatement; Alma is in fact less than 10 minutes from the Cam Ranh airport, meaning you can quite literally be poolside or on the beach just minutes after clearing Vietnamese immigration and collecting your luggage!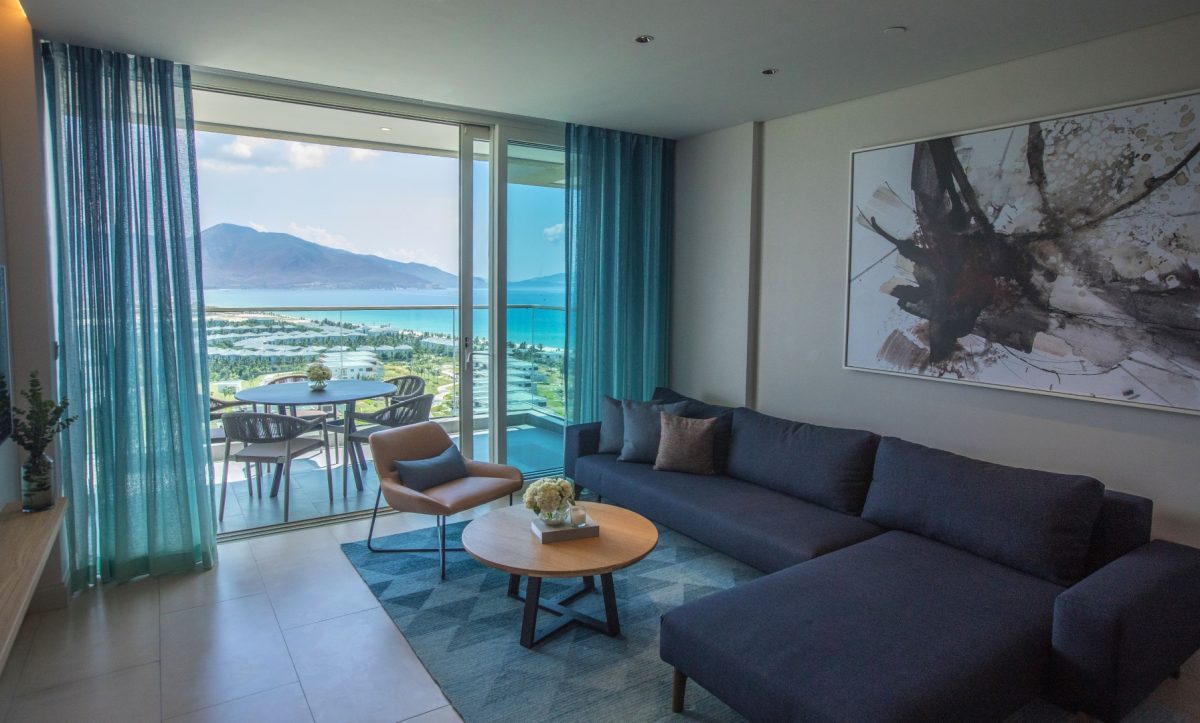 AN EMERGING TRAVEL PARADISE
Located along the picturesque coastline of Vietnam, Cam Ranh seems poised to become a world-class destination, enticing travellers with its breathtaking beaches and a vision for exceptional development. With that stunning 16-kilometer stretch of white sands, this emerging beachfront area promises a memorable escape for visitors seeking sun-soaked serenity. Cam Ranh's long-term plan encompasses the creation of upscale resorts, alluring golf courses, and a state-of-the-art international airport terminal, drawing inspiration from the desire to offer an unrivalled vacation experience.
Conveniently situated in proximity to the larger city of Nha Trang, Cam Ranh benefits from its close association with this bustling hub while maintaining a distinct allure of its own. Direct flights from key markets, including Kuala Lumpur, connect travellers to this coastal paradise, making it easily accessible for those seeking an idyllic getaway. Embracing the concept of a 'fly and flop' vacation, Cam Ranh's full-service resorts provide a seamless escape, where guests can luxuriate in the comfort of exquisite accommodations, indulge in world-class amenities, and surrender to the tranquillity of the surroundings.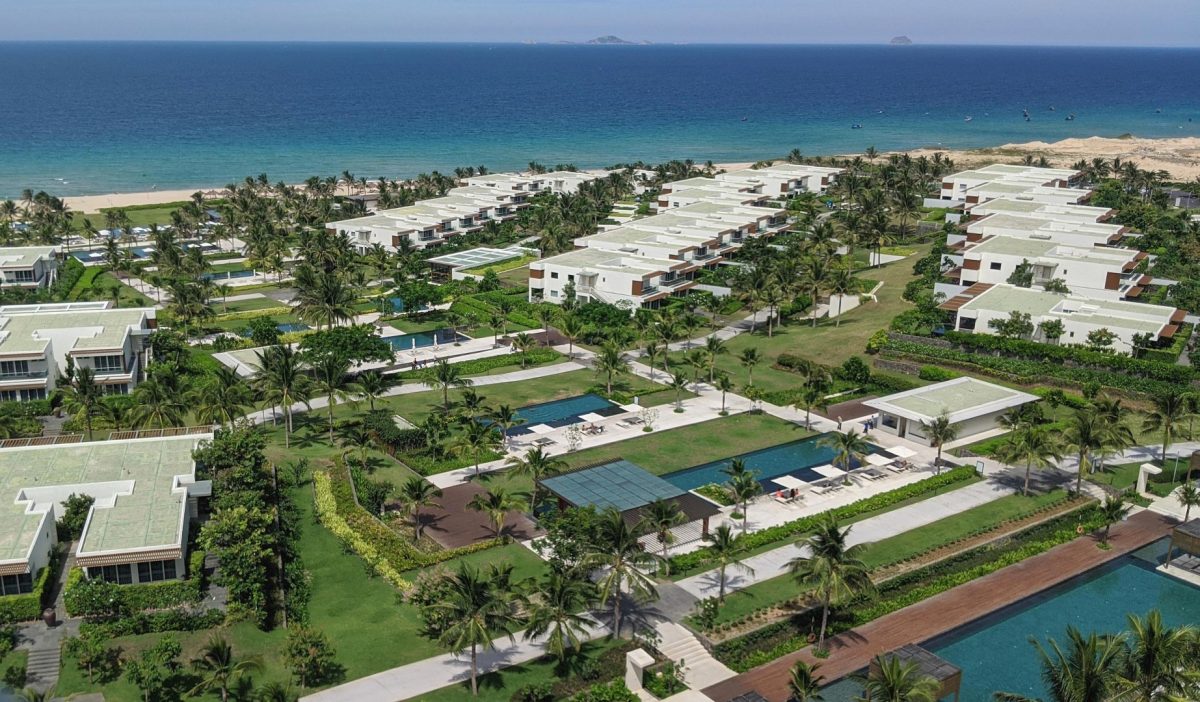 As we experienced, quite beyond the scenic landscapes and upscale offerings, the genuine warmth and hospitality of the Vietnamese people contributes to a most enjoyable vacation experience for visitors, too, promising an unforgettable journey that showcases Vietnam's coastal allure at its finest.
SO WHAT IS THIS PLACE?
The Cam Ranh peninsula, a 360-km drive east from Saigon, extends from Vietnam's southcentral coast, mostly enclosing the lovely Cam Rahn Bay. The city itself, on the west side of the bay, has a modest population of about 125,000. A number of sprawling resorts currently dot the peninsula's prime beachfront, along with a magnificent golf course, and even a cursory look around makes it clear that there are big plans for this area, with a handful of new resorts well under construction.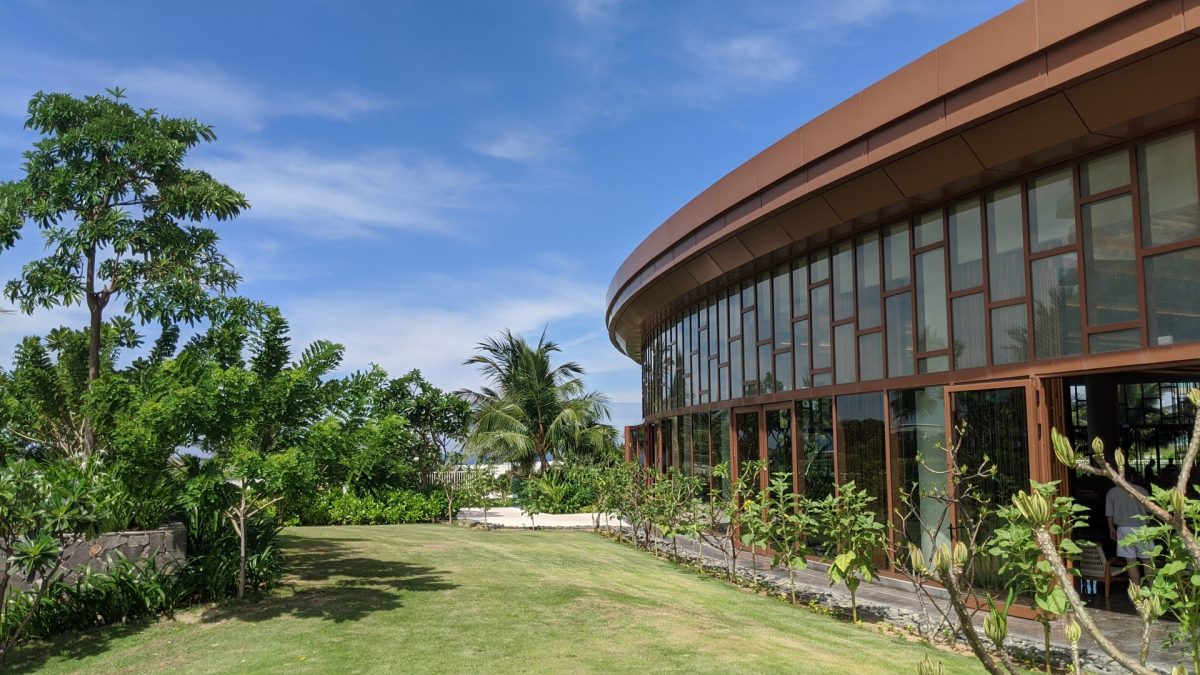 Already beloved by Vietnamese coming from the country's urban centres, Cam Ranh has also been well and truly discovered by South Korean tourists, who easily comprised the largest foreign demographic when we were visiting. Here in Malaysia, though, any mention of my going to Cam Ranh was met with a blank stare every time. It's just not yet on the radar for travellers here… but that should change, because this is a genuinely appealing destination, and especially when coupled with nearby Nha Trang, makes for a fantastic regional travel experience that's only a short flight away.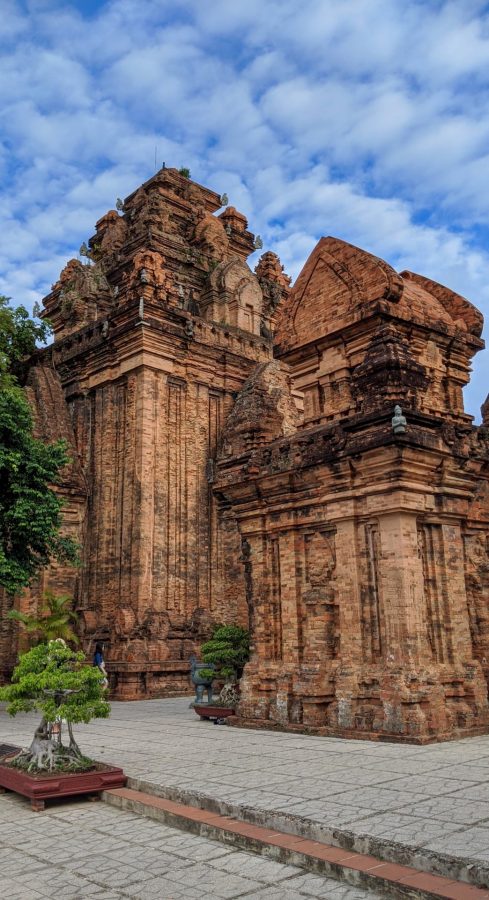 The aptly named Long Beach cuts a gorgeous ribbon of white between the land and the sea, and with sunny days turning the ocean into a canvas of aquamarines and deep blues, it's easy to understand why this is such an up-and-coming destination.
Arriving at Alma's grand lobby was quite an experience. With the sheer volume of guests coming and going, resort staff zipping around everywhere, and all the suitcases for various tour groups dutifully lined up under the vast portico, the lively buzz and impressive scale of the entry was reminiscent of a huge Vegas hotel check-in experience – yet frankly far more efficiently handled!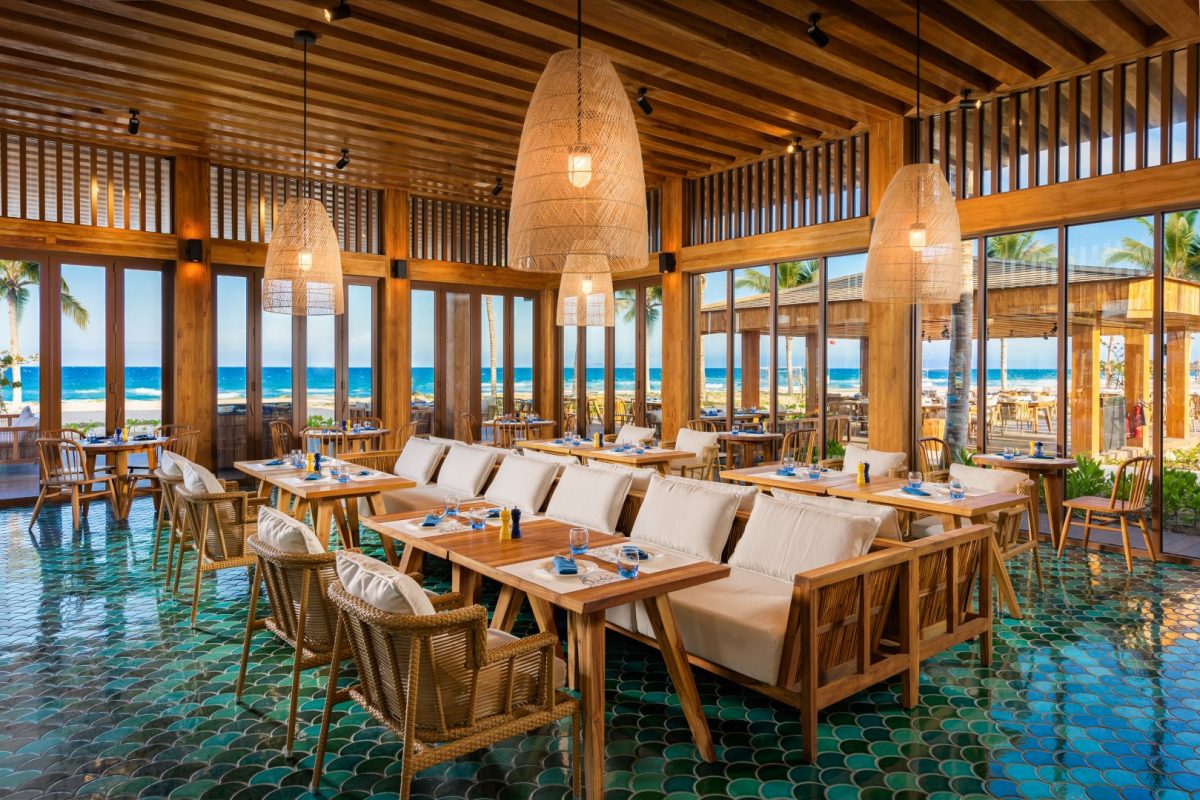 There are many adjectives that fit the multiple-award-winning Alma Resort, but as you may have already guessed, the easiest one is BIG! Occupying over 30 hectares – that's about 50% larger than the entirety of KLCC Park for a local reference – Alma never feels crowded, even when it's rocking a totally full house, as it was when we visited. There are 14 dining outlets and lounges, 12 swimming pools, a fully fledged waterpark, a 70-seat cinema (plus an outdoor theatre, too), an 18-hole mini golf course, an archery range, a gym, a 13-room spa, and plenty of sporting options with basketball, tennis, and volleyball courts, along with a comprehensive watersports centre. The resort even has an onsite grocery store!
Alma is very clearly designed with families in mind, and while the parents are well-catered to by all of the luxury resort's amenities, for the kids, there's a science museum (which we found pretty fascinating ourselves), a kid's club, and a youth centre for teens. There's even a karaoke lounge. Most of the kids we saw, however, seemed extremely happy to stick to the pools and waterpark!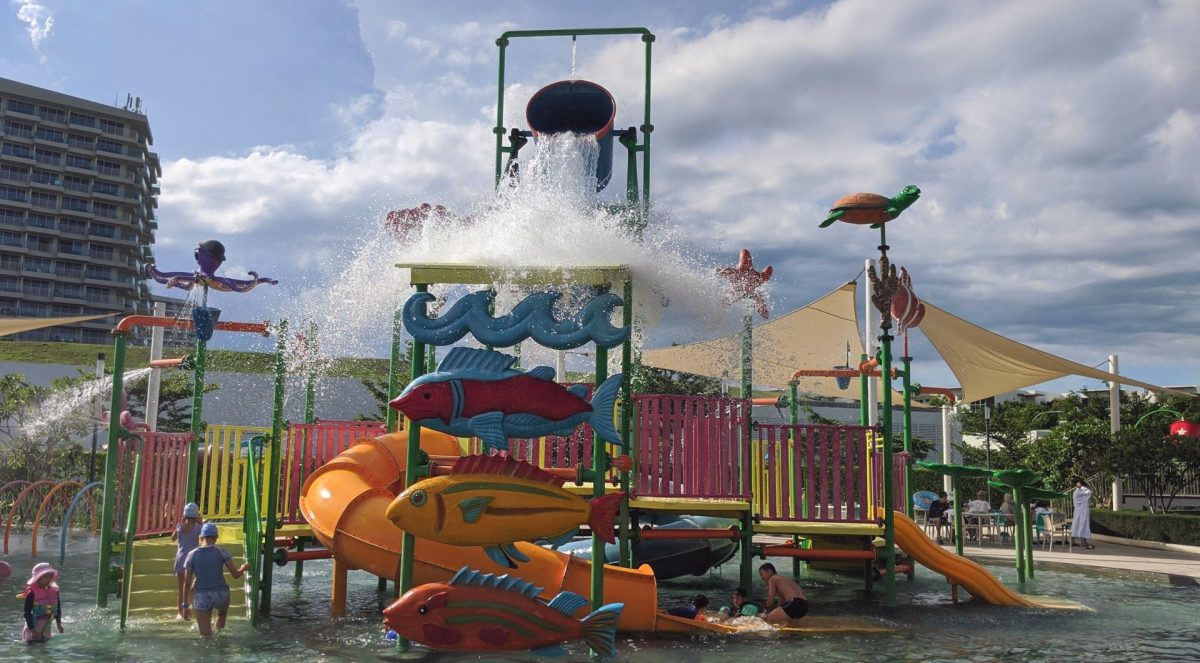 Accommodation at the resort comprises a mix of 1-, 2-, and 3-bedroom suites located in two tower blocks and a whole array of double-storey private pool pavilions arranged on the grounds. Even the smallest rooms are in fact oversized 1-bedroom suites of some 750 sq ft, with the largest pavilion rooms sprawling over 2,300 sq ft. For families, it's hard to imagine a better place to be – the best analogy for the resort might be a giant cruise ship, except even bigger, and on land. There is just so much to choose from, so like those massive ships, guests can do as much or as little as they want. What's more, the kids will never get bored, and the facilities, rooms, and landscaping are all really top-notch.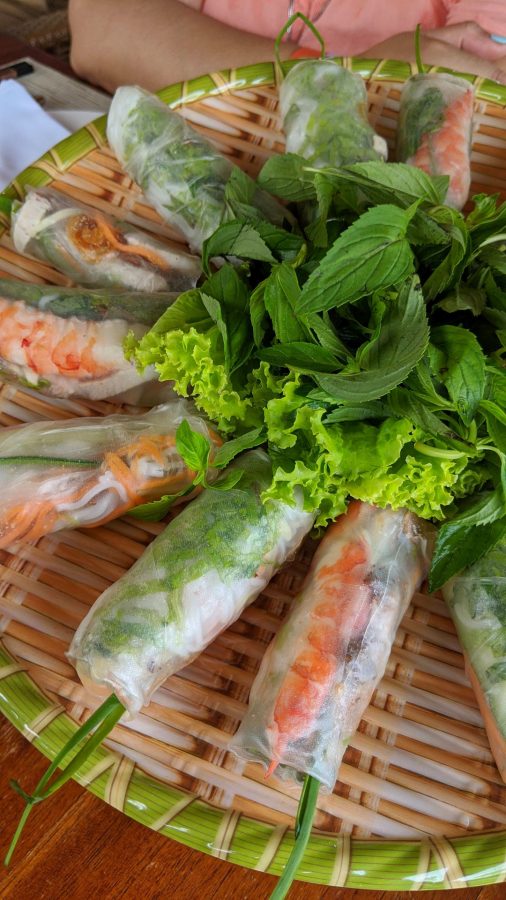 We also really liked that Alma Resort is taking some meaningful steps to improve and protect the ecosystem. They've recently spearheaded a major large-scale initiative, joined in by other resorts in the area, to collect and upcycle plastic waste from Long Beach, with the ultimate goal of establishing a local centre that accepts and upcycles all sorts of plastic waste. The resort also grows quite a bit of their own food at an onsite farm, and last year, they launched what is believed to be Vietnam's most ambitious hotel solar power project. Every little bit helps, so we're always encouraged to see hotels and resorts putting forth the effort to make their operations more sustainable.

CITY PURSUITS
A little more than half an hour away from Cam Ranh is the city of Nha Trang (pop. 336,000). With its beautiful beaches and crystal-clear waters, it's no wonder that visitors flock to this popular destination. A fairly well-known coastal city in Vietnam, Nha Trang is a bustling tourism magnet that exudes a vibrant and lively atmosphere, despite its relatively modest size.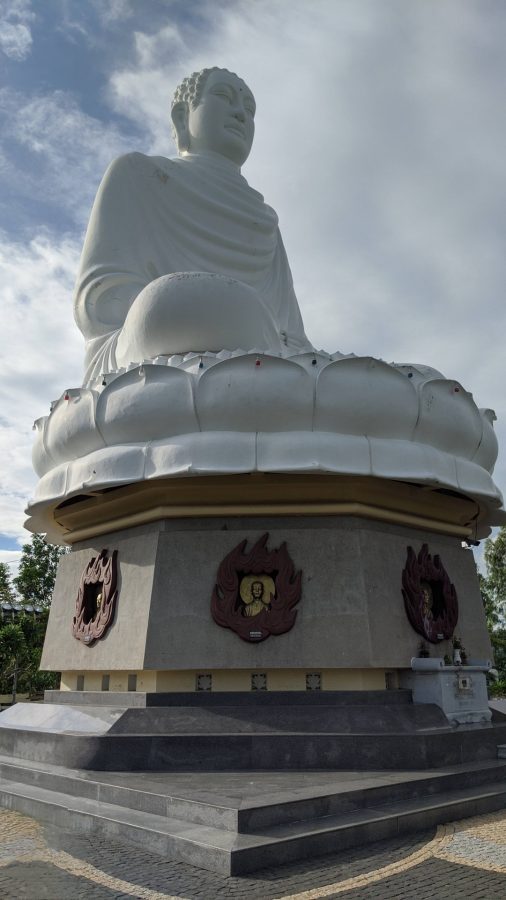 Arranged by the resort through a delightful tour company called Zazen Travel, we spent a day seeing the city sights, checking out cultural centres, and visiting temples, scenic riverside overlooks, and even the city's grand cathedral!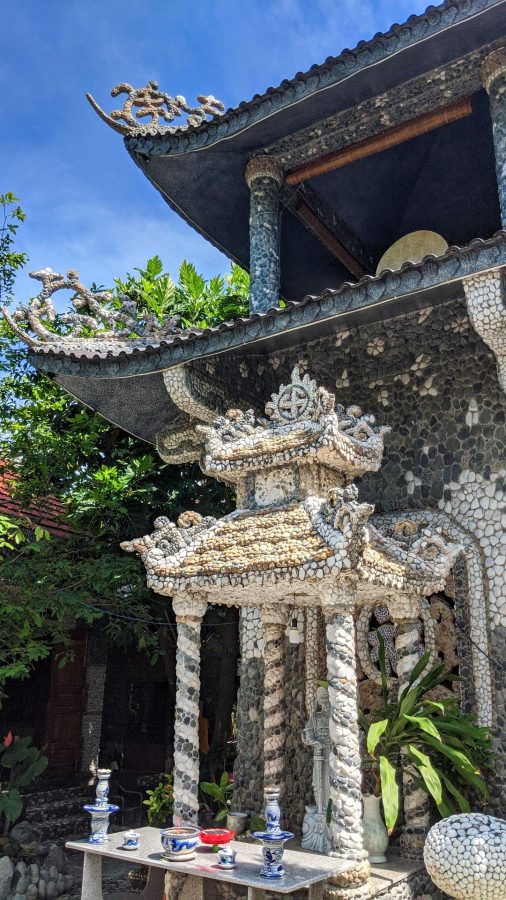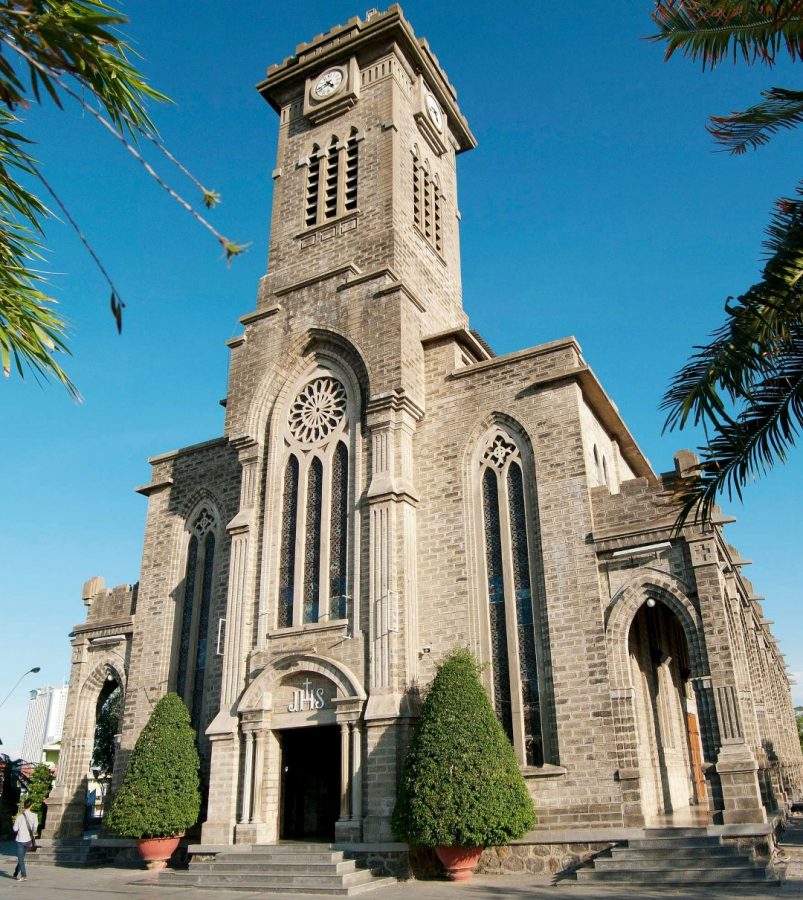 As the sun was setting, we found ourselves at a beachside bar and grill called Sailing Club, watching as hundreds of other people began dotting the sandy shores. It's safe to say the beaches of Nha Trang really come alive with a flurry of activity as the afternoon gives way to evening. Tourists and locals alike thronged along the shore, enjoying the warm evening breeze and the lively ambiance as they tip back their sundowners and ready themselves for dinner. Just offshore a couple of large dinner cruise ships dropped anchor, where their onboard guests were presumably getting seated for an early evening meal.
As for us, we enjoyed some fine local craft beers and just marvelled at the scene on the beach. (If you've ever been to Kuta Beach in Bali before, and borne witness to the crowds of people hitting the beach at sunset, well… it's something like that in Nha Trang.)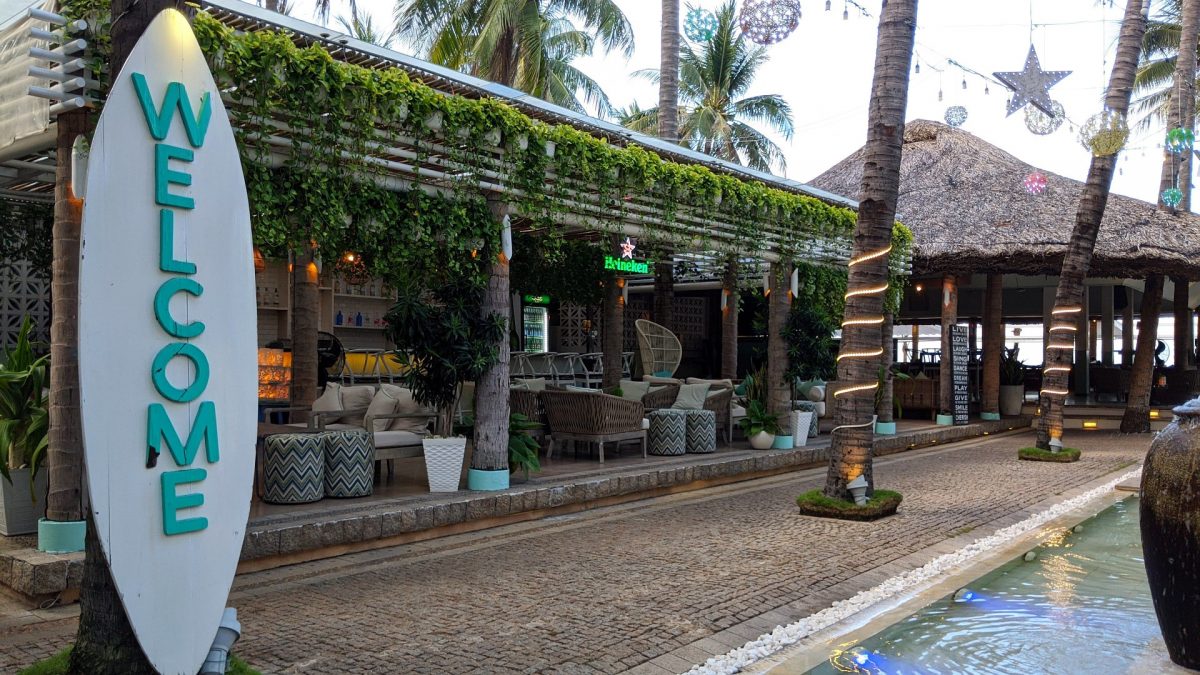 The vibrant colours of beach umbrellas and the sound of laughter and conversation created a lively backdrop, and it really created a strong memory. We saw tourists standing around eating local street food (er… beach food?), taking selfies, jogging along the shore, and just soaking up the vibe. It was an awful lot of people, to be sure, and it was by no means serene and quiet, but it was still really enjoyable and certainly memorable!
Just inland a bit, visitors can take a leisurely stroll along the promenade, lined with bustling cafés, bars, and street vendors offering a variety of local delicacies and refreshing beverages. We found ourselves doing this, too, the aroma of freshly grilled seafood permeated the air and really tempted us, but we were just there for drinks – our dinner was to be savoured elsewhere.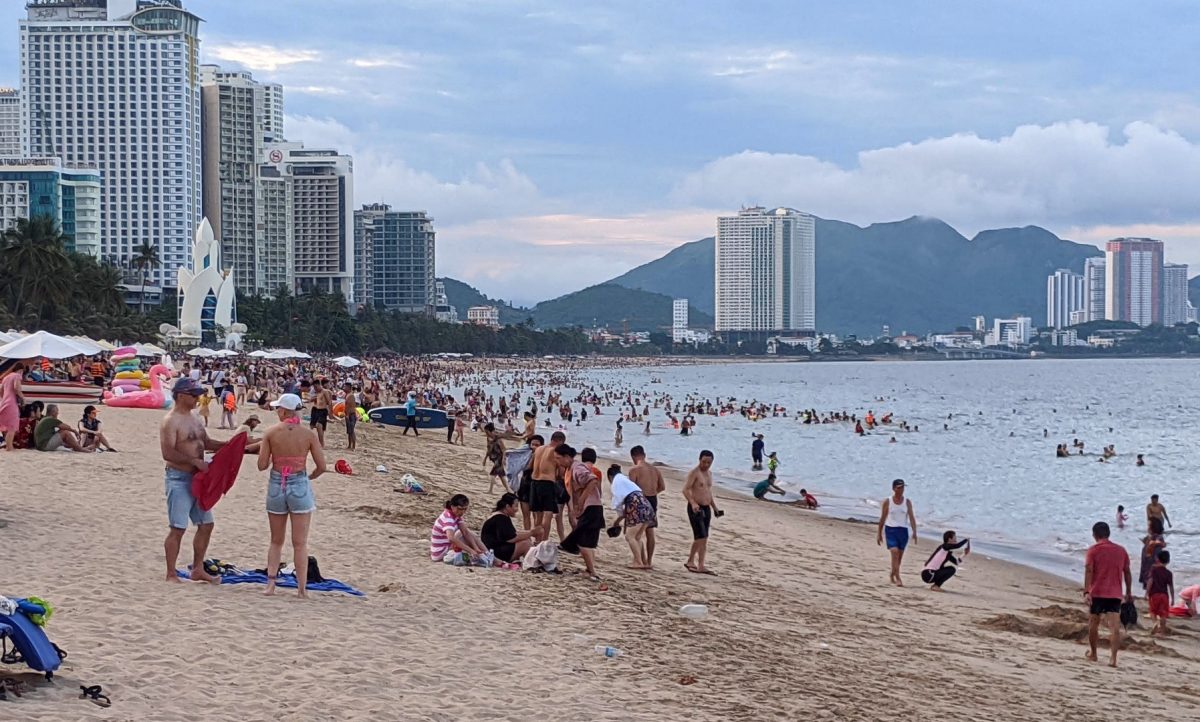 Beyond the beach, Nha Trang offers a range of attractions and activities to suit different interests. The city is home to historical landmarks, such as the ancient Po Nagar Cham Towers, where visitors can delve into the rich cultural heritage of the region. For those seeking adventure, snorkelling and diving opportunities abound in the surrounding waters, revealing an underwater world teeming with vibrant coral reefs and diverse marine life. Alas, our time in Nha Trang was strictly land-based.
Dinner that night proved to be a remarkable experience. We dined at a charming place called Nha Trang Xưa ('Ancient Nha Trang'), which is as much a cultural destination as a dining one. About a 20-minute drive from the beach, this place really is a local gem. We tucked into plates of Vietnamese specialties, including salads with fresh herbs, crispy savoury pancakes, wok-fried veggies, and a steaming fresh fish hotpot with all the trimmings. At barely more than the equivalent of RM20 per head for our group, the value was incredible, considering the ambiance, delicious food, and attentive service.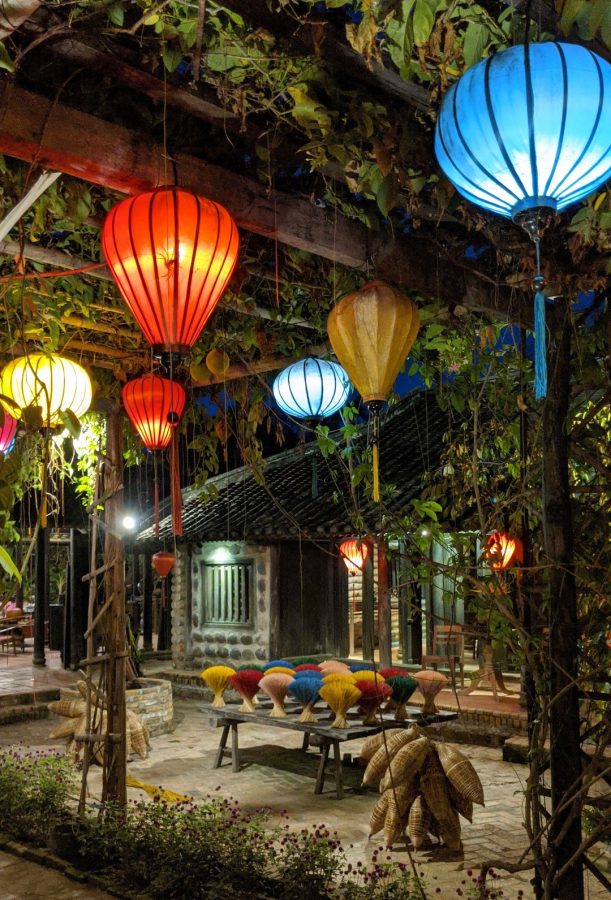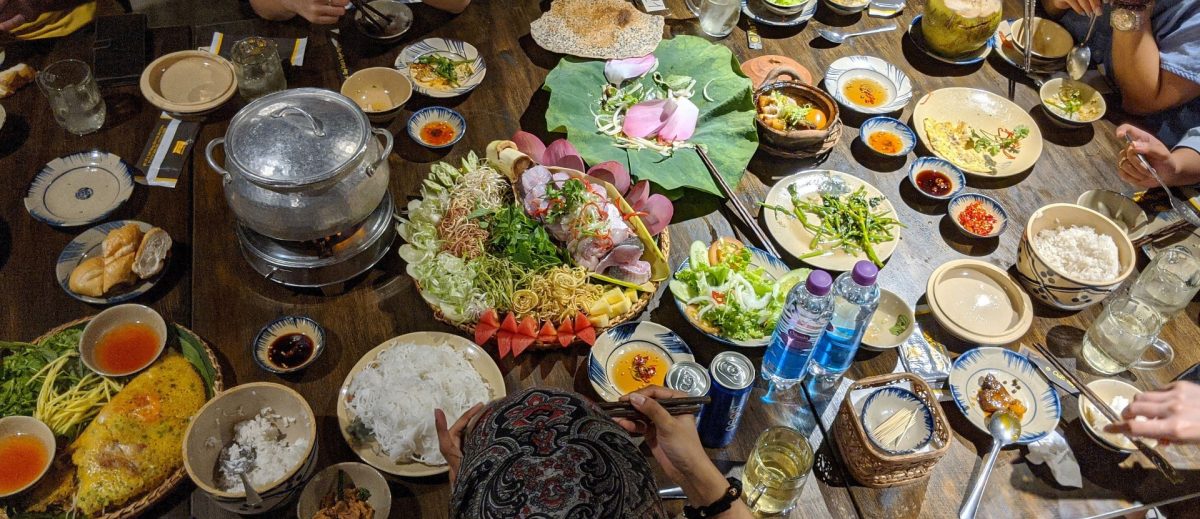 Nha Trang is one of those destinations that just hums with its own unique energy. It would be great to plan a return trip there to explore more of what it has to offer, but in the day we spent wandering around – exploring, sightseeing, eating and drinking – it really managed to make an impression.
CAM RANH RECOLLECTIONS
This was my third time to Vietnam, and every trip has been an absolute delight, albeit for varying reasons. Cam Ranh is a big change from chaotic, buzzy Saigon or the teeming, yet oddly languid Hanoi. But what a terrific destination. It's nearby and easy to reach, and apart from the visa that's required for most people, it's super accessible. The beach is outstanding, the people are warm and friendly, Vietnamese cuisine is incredible (and we all enjoyed the local beers on wide offer – Bia Saigon and 333), there's a great laid-back vibe that Cam Rahn just exudes, and we were fortunate enough to have caught four successive days of postcard-perfect weather.
Is Cam Rahn a place I'd visit again? Absolutely. But where our chosen resort really shines, admittedly, is for families and groups. That's its niche, and if that's what you're looking for, you will undoubtedly be impressed at how well virtually everything at this expansive resort is executed. We'd also point out that the shoulder season seems to be approaching and rates at Alma and the other half-dozen or so beautiful resorts shared by the same lengthy stretch of beachfront look super-appealing in the months coming up. Check it out, and add a new Vietnamese destination to your Southeast Asia bucket list.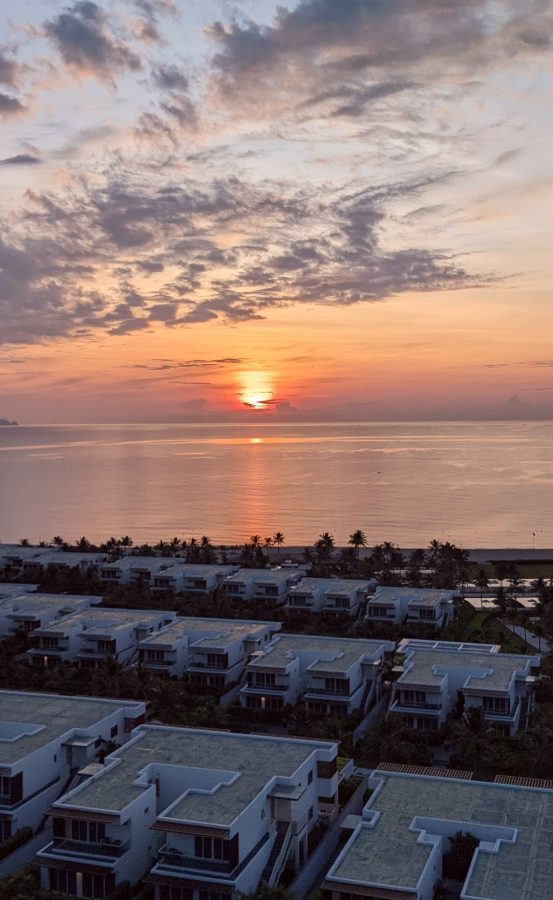 TRAVEL TIPS
Fly
AirAsia flies direct to Cam Ranh (CXR), which is also the airport for Nha Trang, as this is where most visitors are heading. The flights are less than 2.5 hours (note that Vietnam time is one hour behind Malaysia).
Stay
The five-star Alma Resort (www.alma-resort.com) offers excellent accommodation along Long Beach, catering particularly well for families and groups. The numerous amenities, activities, restaurants, and bars at the resort mean that 'fly and flop' guests can check in and have a complete holiday without ever leaving the resort – unless they'd like to do some touring in the area, which is highly recommended.
Explore
Zazen Travel (www.zazentravel.com) offers enjoyable tours into Cam Ranh town and Nha Trang.
Eat
Sailing Club Nha Trang (www.sailingclubnhatrang.com) offers beachfront dining and excellent drinks.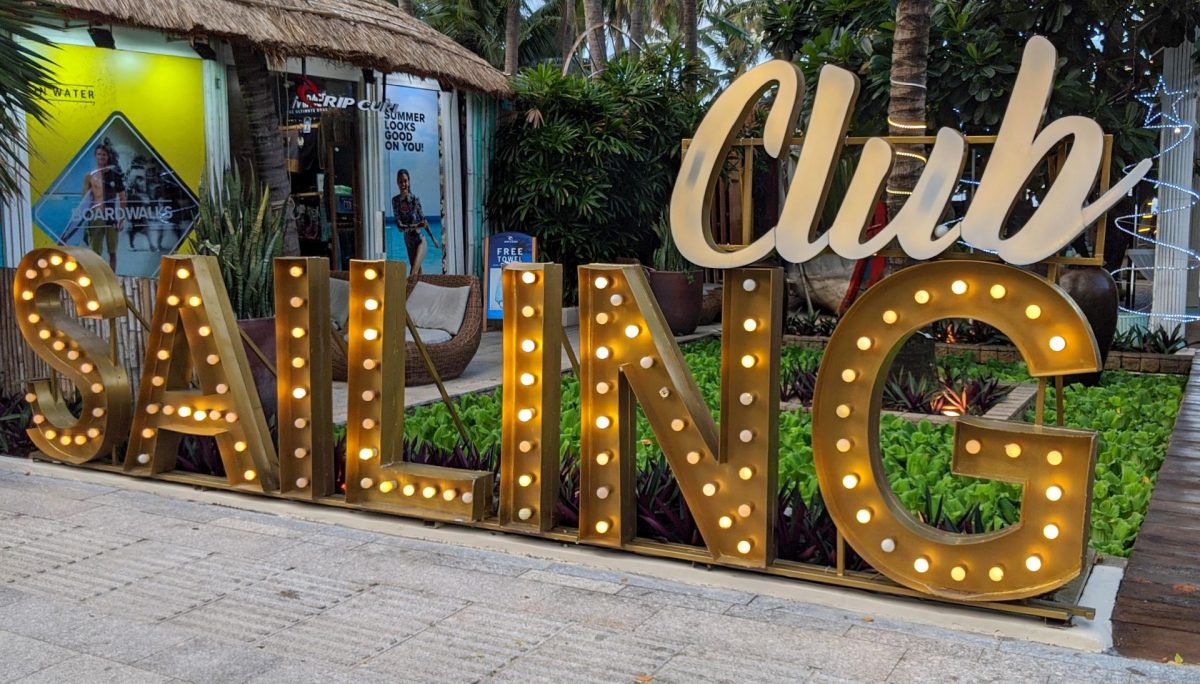 Nha Trang Xưa (www.vi-vn.facebook.com/NhahangNhaTrangXua) provides authentic Vietnamese dining in a charming setting at very attractive prices.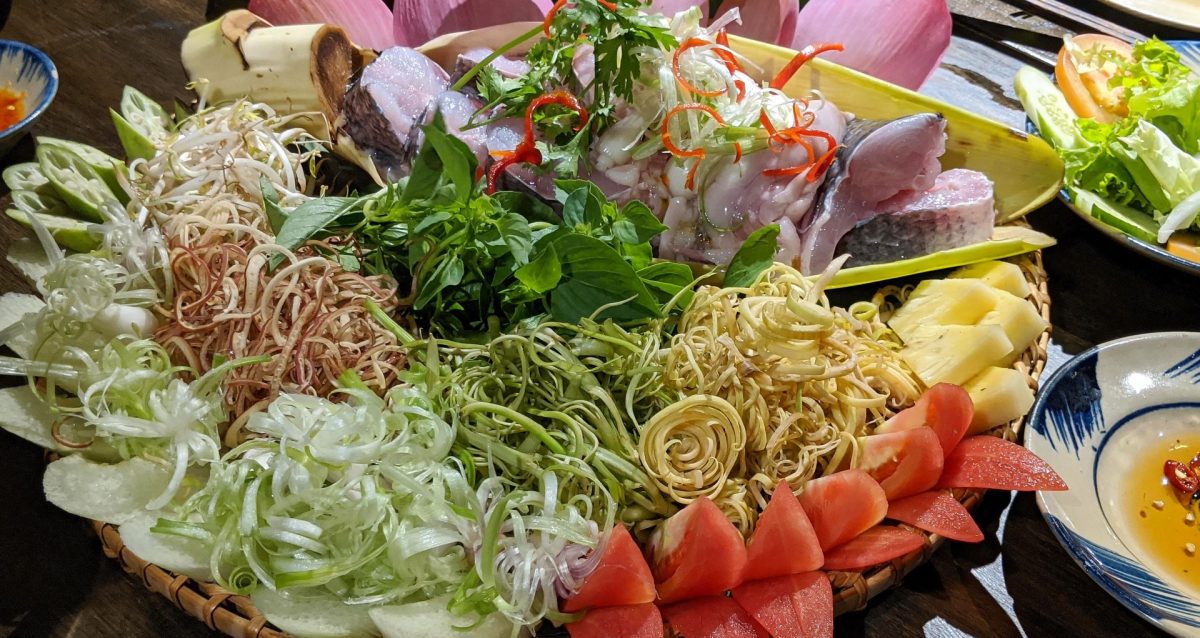 Visas
Citizens of ASEAN countries don't need a visa to visit Vietnam, though most other nationals do. (A few countries in Europe, including the UK and Germany, are also exempt, as are Japan and South Korea.) An easy way to get your visa is by applying online at least three days before travel. A number of good agencies provide this service, but to avoid the agency surcharge, apply directly to www.evisagov.vn/official/en-us.
The site says that visitors must download a PC-Mobile Covid app to be shown at all entry checkpoints; however, this does not appear to be the case anymore, based on our experience.
---
"ExpatGo welcomes and encourages comments, input, and divergent opinions. However, we kindly request that you use suitable language in your comments, and refrain from any sort of personal attack, hate speech, or disparaging rhetoric. Comments not in line with this are subject to removal from the site. "
Comments