This first-person account commences with an exploratory visit four years ago to the Thi-Ho-Shin pagoda in Pakokku in Myanmar and triumphs at its recent Buddhist festival.
This article contributed by Judyth Gregory-Smith, with photos by Win San and Saya Htay
We were running around outside the pagoda, or paya, from one side to the other. No two more enthusiastic pilgrims had possibly ever been seen. Why? Because we were shoeless, as one has to be, not just inside the paya but around the compound outside, too. And I quickly learned a valuable lesson: marble is much cooler to walk on than large, shiny tiles or even cement. We darted from one tree-shaded marble spot to another and finally found a bench beneath a tree, the perfect vantage point from which to admire this beautiful pagoda.
The Thi-Ho-Shin pagoda is in Myanmar's central arid zone and, particularly in the rainless season, dust piles high on everything. This did not, however, diminish its beauty.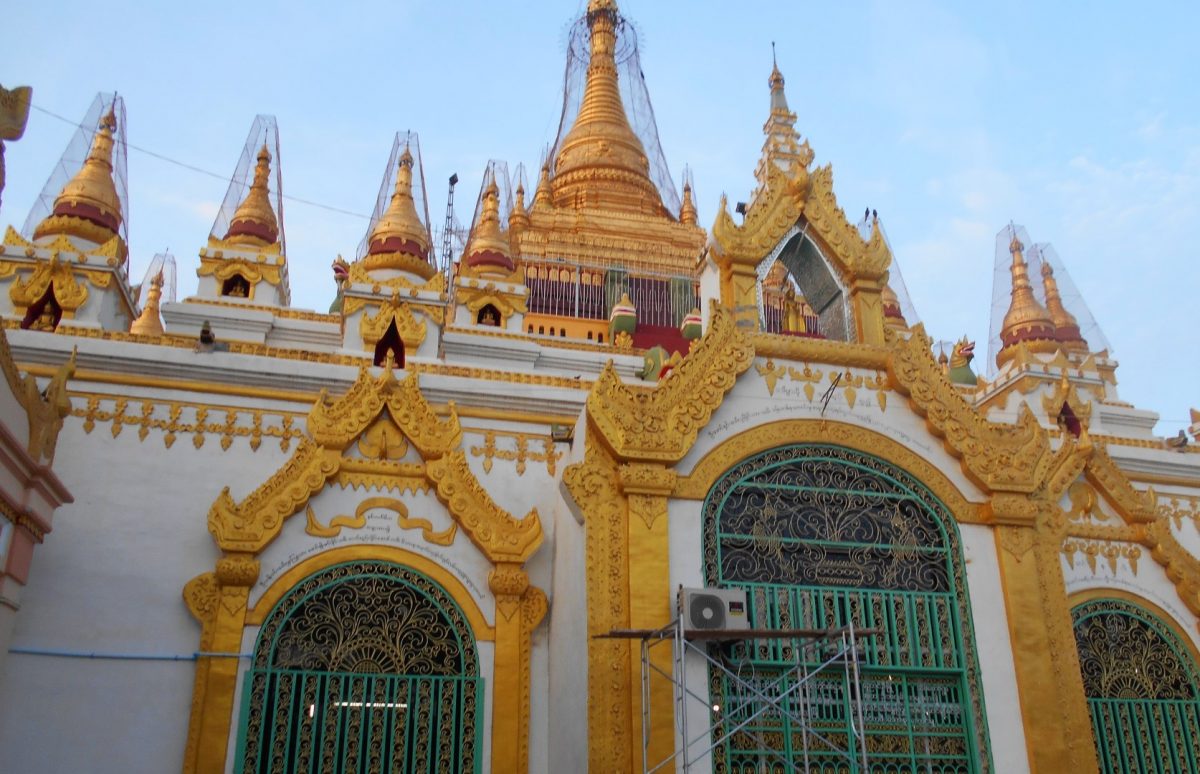 On all four sides of the main spire, identical smaller spires radiated outward, each in gold. In the old days, these smaller spires were painted white with lime. But as each wet season came, the lime dripped away unattractively and had to be re-done. Now, gold is used, which lasts much longer and shines under the sun's rays. The diamond-shaped top of the hti, or umbrella, is always the highest point of a paya. It is of – and contains much – gold and many jewels. A portrait of this hti shows rings and earrings and pendants of rubies, sapphires, and diamonds. The four massive gateways at the cardinal points were deeply embossed with intricate designs, and small birds often build their nest in the holes that form.
We walked the aisles inside the paya where there were many sitting or standing Buddha images. Each image had its individual wooden 'cupboard' with a pane of glass sealing the front to keep the image clean. The middle standing Buddha image at the main altar came from Thi-Ho, or Sri Lanka, which was known in the past as Ceylon. Constructed of many different woods, it was brought over at the behest of King Alaungsithu in the 11th century. The images here have recently received much attention and now stand tall, slender, and golden.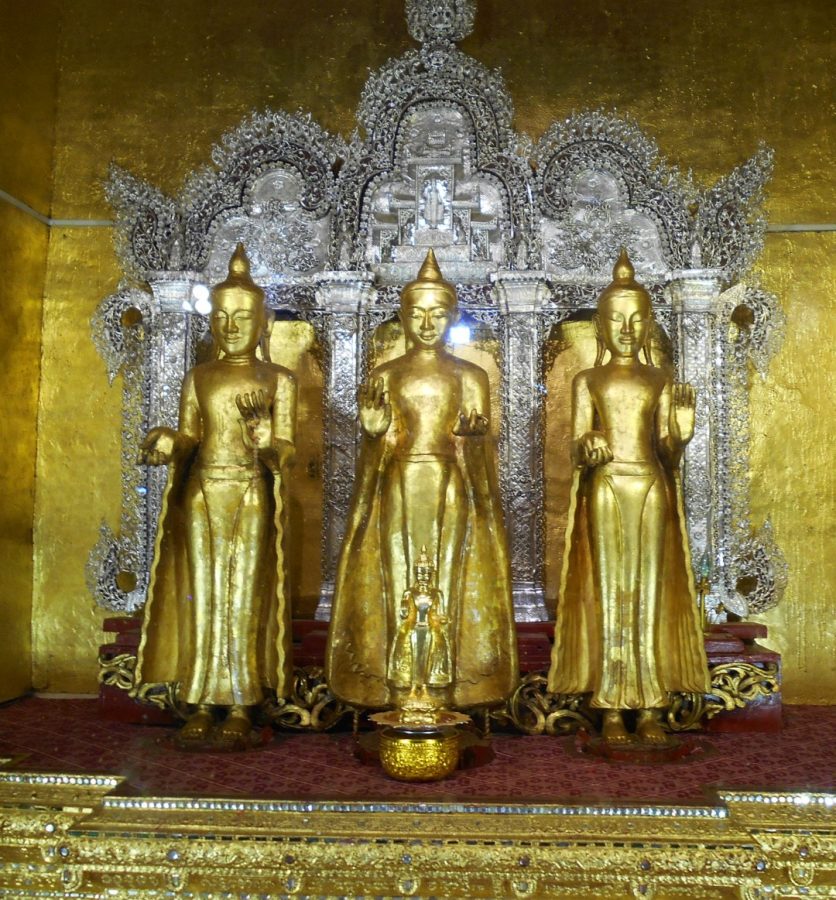 During our visit, steady files of worshippers walked to the glass doors and knelt to make their oblations. Their offerings to the Buddha were long white garlands of sweet-smelling jasmine, while in earthenware pots lining the steps pale blue lotus flowers lay, from which tiny bees collected nectar. The enormously high ceiling was a deep ruby-red with sprinklings of gold stars and golden devas that resembled angels, worshipping the Buddha, who in this image was seated beneath bamboo trees rather than the usual Bodhi tree.
I was given the history of the Thi-Ho-Shin Standing Buddha Statue by my friend Win San, who knows, because he is a tour guide. He told me that Thi-Ho was an island ruled by King Thi-Ho, who asked a woodcarver to make him a statue of the standing Buddha. King Thi-Ho told the woodcarver that he would like a special standing Buddha, not the same as other Buddhas.
"What kind of Buddha would you like?" asked the woodcarver. "I would like it to be made from 10 different kinds of wood," he replied. "That is, 10 kinds of wood in one standing Buddha."
The woodcarver said it would be difficult to find 10 kinds of wood, but he could do it. He chose the following: Bawdi wood from the Pipal tree, sandalwood heart, red sandalwood heart, Eugenia heart, pine heart, Erthtina indica heart, raintree heart, trumpet heart, luxuriant heart, and fragrance heart.
King Thi-Ho was happy because the newly carved Buddha image looked very nice, as 10 different kinds of wood had gone into making it. He said he wanted to give the image to his friend, but that he would keep it for one week on the island first so that all the people could see it, pray, and hold a festival on the island. After the festival, he would contact his friend King Alaungsithu and give him the Buddha image. King Alaungsithu said he would bring back the image by boat from the island to keep it safe in his palace.
At that time, Ta-Kyar Min, who was the leading Good Nat of the Nat Spirit world (which is just as revered as Buddhism in Myanmar), asked King Thi-Ho why he wanted to keep the statue only for a week on the island. "Why don't you keep it forever? Is it because there is some problem? Is your country not safe?" King Alaungsitu didn't say whether it was safe or not. He just advised that the best place for the special Buddha image was near the Ayeyarwady River. The name of the place was Pakokku.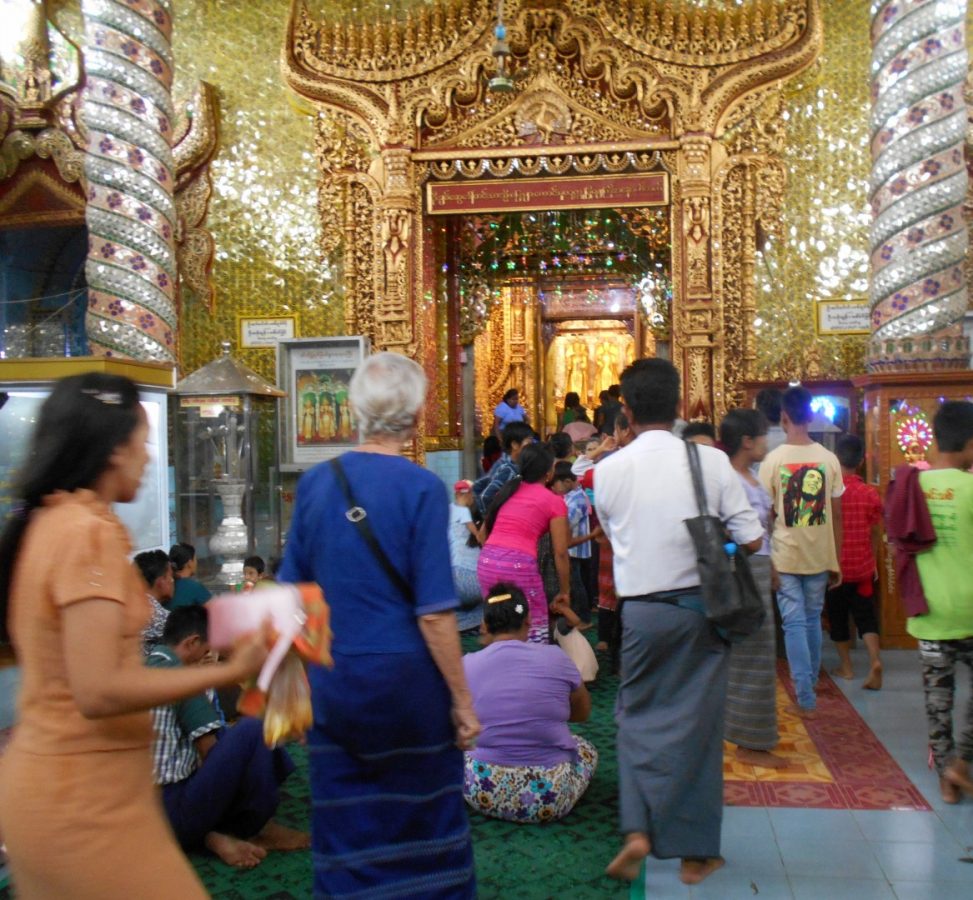 So that is how the Thi-Ho-Shin Pagoda Festival arose. Every year, it is held to celebrate the special Standing Buddha made of 10 kinds of wood. And now, the festival time has come. Our first and most important destination was the paya itself. We parked our shoes with a lady who sold us blue lotus flowers with which to pay homage to the Buddha. Then we gazed left and right to study Buddha images behind glass and in little alcoves. The crowning glory of displays protected securely against well-wishers and others was the trio of the Buddha with Ashin Ananda on one side of him and Ashin Mout Kalane on the other.
Off down a little sideway was a museum. Plentiful dust, especially on the windows, made photography a challenge. However, we found some images that were not behind glass or bars or anything – perfect for photos. We learned that one likeness was of Ta-Kyar Min, the leading Good Nat of the Nat Spirit world. This seemed like a good omen and a good time to do some shopping as the corridors of the paya were filled with almost anything portable you can think of. My purchases were necklaces and hair bands, and not much more as we still had much travelling to do.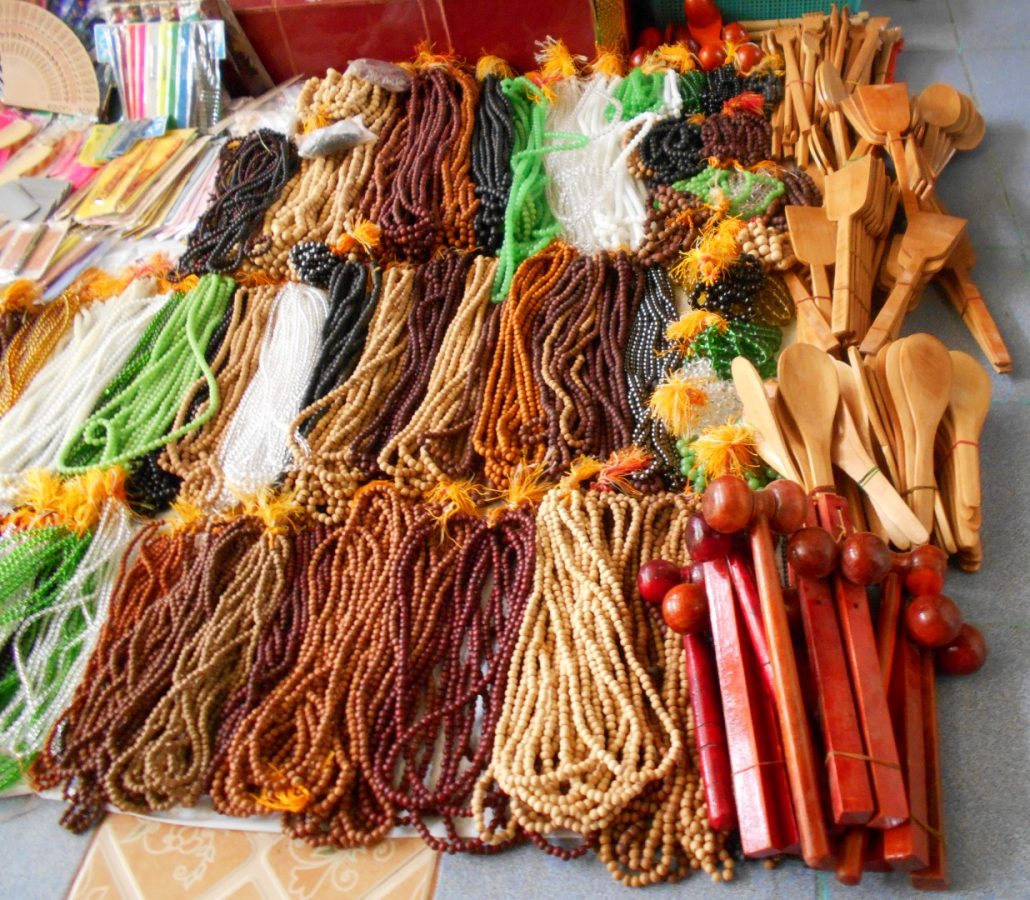 What had changed over the years, I wondered. The first thing I noticed in a glass case inside the pagoda were three copies of the Buddha's golden head, but with strange lumps and bumps on them. I learned that until recently, people were allowed to pay homage to the Buddha by physically sticking on gold leaf. As hundreds of people were doing this, the head became misshapen and unattractive over time. So the Buddha image now, along with two others – Ashin Ananda on the left and Ashin Mout Kalane on the right – are displayed in a very sturdy people-proof glass case and now we can see exactly what King Thi-Ho-Shin wanted us to see: the very special Standing Buddha, created from 10 different kinds of wood.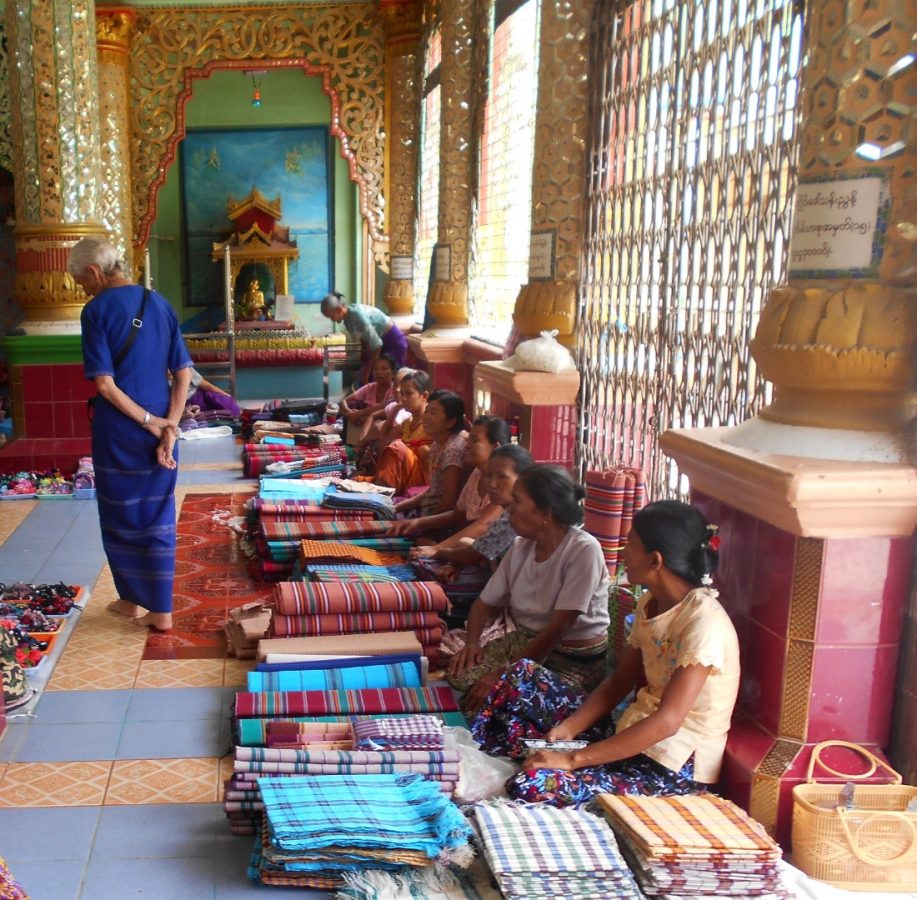 ---
"ExpatGo welcomes and encourages comments, input, and divergent opinions. However, we kindly request that you use suitable language in your comments, and refrain from any sort of personal attack, hate speech, or disparaging rhetoric. Comments not in line with this are subject to removal from the site. "
Comments